We use affiliate links. If you buy something through the links on this page, we may earn a commission at no cost to you. Learn more.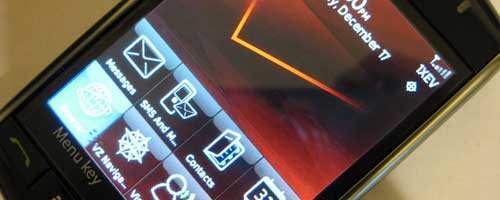 I've decided to approach my review of the BlackBerry Storm (9530) Smartphone from Verizon differently than I normally would. Instead of using the phone for several days and posting a complete review all at once, I'm going to journal my experiences with this phone over the next seven days. Be sure to come back each day to see how this phone is working for me and what my final thoughts are at the end of the week.
Day Zero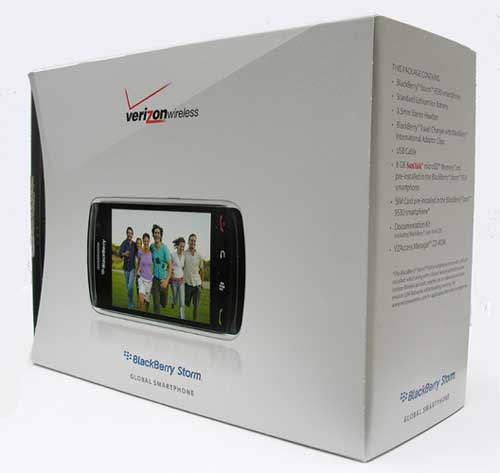 Hardware Specifications
Network Support: Dual–band 800/1900 MHz CDMA/EV–DO Rev. A networks; Quad–Band: 850/900/1800/1900 MHz GSM/GPRS/EDGE networks Single–Band: 2100 MHz UMTS/HSPA networks
Memory: 128MB Flash Memory, 192MB RAM, 1GB On–board memory
Display: High resolution (480×360 pixel), 3.25″ color, TFT LCD. Supports over 65k colors
Memory card support: 8GB SanDisk microSD card installed (device supports up to 16GB)
Camera: 3.2 Megapixel Camera w/Flash, auto–focus and Video Capture
Integrated speaker and microphone, Hands–free headset capable (3.5mm 4 Pole)
Bluetooth: (v2.0) including A2DP for Stereo sound
Standard Lithium Cell (1400 mAh)
Usage: Up to 270 minutes of talk time or Standby: Up to 372 hours
SAR Information: 0.50 W/kg at ear; 0.57 W/kg on body
Dimensions: 4.43″ (H) x 2.45″ (W) x 0.55″ (D)
Weight: Approximately 5.47 oz. including battery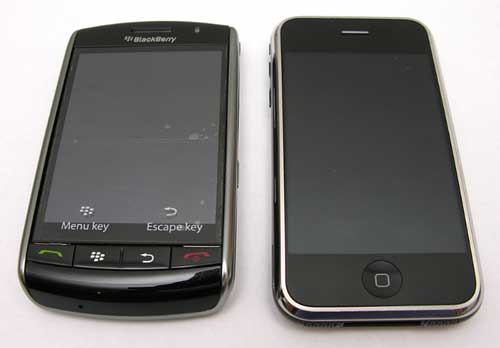 My first impression of the BlackBerry Storm as far as looks, is that it's no iPhone. It tries to look like one, with the large display, chrome sides and shiny Black body, but it's missing that 'thing' that makes an iPhone an iPhone. Know what I mean? That being said, I don't think the BlackBerry is ugly. It's just not… all that sexy in my opinion.

It's pretty much the same length and width as the iPhone, but as you can see from the image above, it's slightly thicker than the iPhone 2G.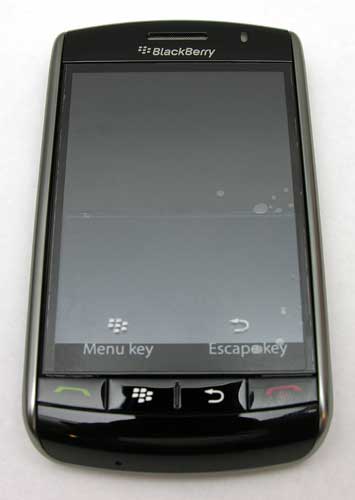 Almost the entire front surface is the display. At the top is the speaker and beside it a status LED. Below the display are four buttons: Call/Send, Menu, Escape/Back and End/Power. You probably already know that the display is a touch screen and that it is also one large button. More about that as we go along…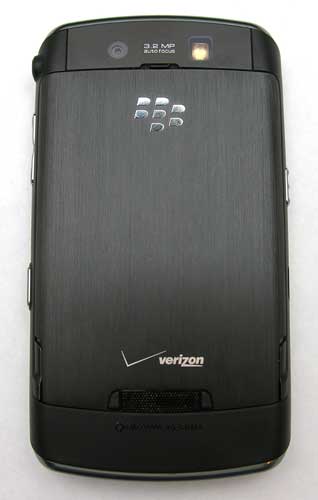 You will find the 3.2 MP camera lens and flash on the back of the Storm, along with the battery cover, which is metal.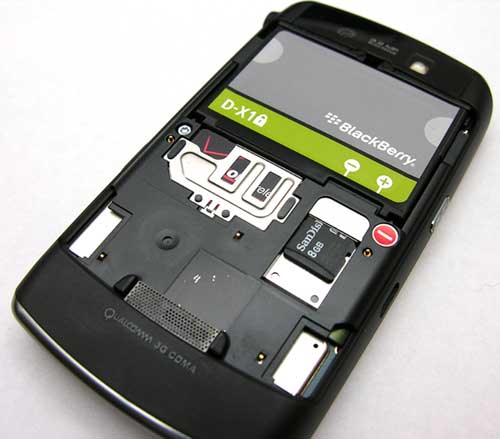 When I removed the battery cover (which, to my delight is easy to remove), I saw something that I was not expecting to see – a Verizon branded SIM card. Apparently the BlackBerry Storm is one of Verizon's World Phones and uses CDMA here in the US, but GSM in other countries. You can also see the microSD card slot next to it.

On the Left side of the phone, you find the voice command button and micro USB connector for charging.

On the opposite side of the phone, there is a standard sized (3.5mm) stereo earphone jack, a volume up/down button and the camera application launch / shutter button.
In hand the phone feels solid enough and doesn't complain with creaks or flexes when I apply my ever popular gadgeteer squeeze test on it.
I'm leaving it to charge overnight and tomorrow I'll actually begin using it… 🙂
Day One
I started the day wanting to get my calls forwarded from my iPhone to the Storm. The iPhone actually has a setting to do this, but for some reason it wouldn't work for me and kept giving me an error saying that it could not save settings. Multiple google searches turned up some sites with GSM codes that were also supposed to enable this feature.  But they would not work for me either. I ended up having to call AT&T tech support and have them manually set it up for me. The trouble is that I wasn't able to do this until late in the afternoon, so I didn't get much hands-on quality time with the Storm today.  I anticipate a lot more use out of the phone tomorrow. But here are some things I noted today…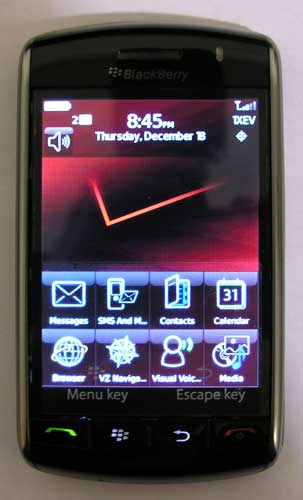 The touchscreen display is ummmm…. touchy 😉 First of all, like the iPhone, it will auto rotate when you turn it from portrait to landscape mode. But it seems to have a very sensitive sensor because it rotates when you barely turn it. Which means, I'm always having to correct the orientation – which gets a little tedious.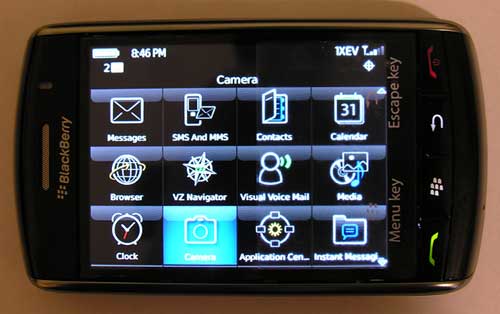 When the BlackBerry Storm is in portrait orientation, there are two rows of application icons at the bottom of the display. In reality, there are many more apps available to you. If you try to use your finger to scroll the list, you won't be able to unless you turn the phone into landscape orientation. Then you can scroll up and down with your finger. If you want do this in portrait orientation, you have to press the menu key first. This isn't a really big deal, but just something to be aware of.
The display is a touch screen, and it's also one large clickable button. Interacting with the display does require some acclimation. At first it just feels wierd. To move around on the display and select icons, you use your finger to tap items. But then to actually select something you have to then press down on the display and click it. Selecting icons this way is easy, but selecting items in a list is a bit harder. I find I sometimes touch the item above or below the one I really want, or have to tap twice for it to register.
One of my complaints about the iPhone is that you can't use the touchscreen with gloves on. Right now in Indiana, it's winter and that means it's freaking cold 😉 I wear gloves on the way too and from work. Interacting with the iPhone when I'm driving is impossible with gloves. I assumed that the BlackBerry Storm would  not have that problem because it's a big button in addition to a touchscreen. I was wrong. You can't wear gloves and use the touchscreen. You also can not use your fingernail. You have to use the flesh of your finger to touch the screen.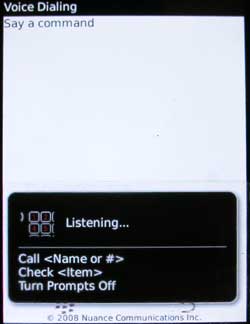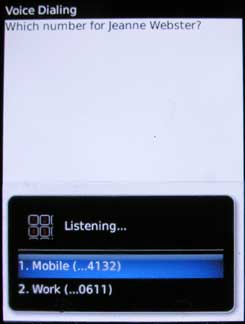 Luckily you can make calls with the Storm without using the touchscreen because it has voice dialing. Yay! Just press the button on the Left side and it will prompt you to speak a command. You can say something like "Call Jeanne Webster". It will then come back and ask you which number to dial if there are multiple numbers listed for that person. You can then say "mobile" and it will dial the number. Nice!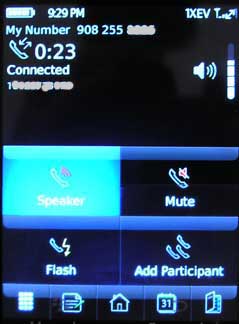 I made a few calls with the Storm and was happy with the audio quality. Nice and clear with no clipping, static, etc. Great volume too. Most phones I have to crank the volume up to maximum when I am driving, but with the Storm, I had to turn it down to between 50-75%. The in-call display gives you the ability to toggle the speaker phone, mute the call, add another person to the call, flash, bring up the keypad, make notes about the call, go to the home screen, bring up the calendar and bring up the address book.
Tommorow I plan to do some texting, IM'ing and browsing.