We use affiliate links. If you buy something through the links on this page, we may earn a commission at no cost to you. Learn more.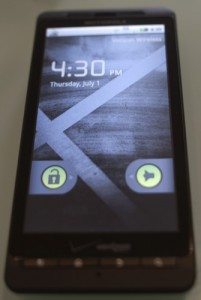 My birthday came a little early this year as I received the Droid X for review. I only get to keep it for a week, but I may be getting my own soon. This is essentially Verizon's answer to the EVO. It has similar specs but doesn't have the front-facing camera.
As we have done in the past, I will do a multi-part review of the phone over the next week, but I wanted to give my first impressions in this post.
Wow. This is a big phone. Just like the EVO, though, it doesn't seem too big to me. I pulled out my old Clie TH-55 which is a little wider and thicker than this phone, but the phone is a tad taller. The size of the screen is breath-taking (assuming you are a gadget geek who likes those kind of things).
It does not have a physical keyboard like the original Droid, but does have physical buttons along the bottom for Menu, Home, Back and Search.
What's in the Box?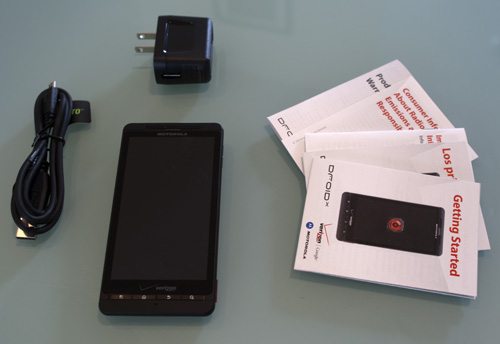 The phone comes with a number of manuals, the phone, a USB cable and an AC adapter. It arrives with the back off and the battery in its own bag. It is very easy to install the battery in the phone.
Slim
The phone is very slim, with a bump at the top to accommodate the camera:

The red button is the camera shutter button. I am a big fan of a camera button, it just makes the camera application easier to launch and more convenient to use. The pair of buttons to the right are the volume controls.
HDMI
Just like the EVO, this phone comes with an HDMI out. It is a micro-HDMI connector which are pretty rare right now. I am hoping to get a cable to test it out. There is also a micro-USB port.

Power and Headphones
I'm encouraged that most manufacturers have figured out that we want a standard headphone jack on our phones now. It is located at the top with the power button:

I am not a fan of the location of the power button. I find it inconvenient. However, that may be because it is not in the location I am used to.
8 MP and Dual LED Flash
The camera is 8 MP, with a dual LED flash. I'll await judging it until a later post. I would rather have fewer pixels to get more low-light sensitivity, but again, I will wait to test the camera.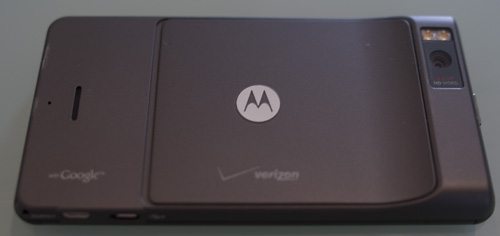 I did a quick, basic unboxing of the phone. I will get better. Unedited, a little over 8 minutes.