We use affiliate links. If you buy something through the links on this page, we may earn a commission at no cost to you. Learn more.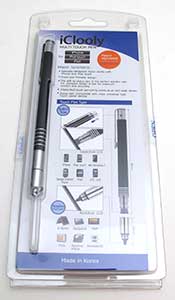 The best thing about the iPhone and iPad is that they are finger friendly. No stylus needed. Sometimes a stylus does come in handy though and regular ones will not work with these devices due to their capacitive displays. I've reviewed other capacitive styli in the past, but today I want to tell you about the one that I think maybe the best – at least for the task I have for it. It's the iClooly Multi-Touch Pen from Pyramid Distribution.
This iPad / iPhone stylus is the nicest one I've had the opportunity to review. It looks like a real pen, pocket clip and all.

The entire body is made of metal. The barrel is Black with Silver accents (there's another version available in Pink) and the ends are both Silver. The length of the pen is 4.5 inches.

The outermost cap unscrews to reveal a regular stylus (non-capacitive). This won't be of use to you with the iPad, but will work with devices that have a resistive touchscreen.

To access the iPad compatible stylus, you have to pull off the entire cap. Unfortunately, there's no where to store this cap when when you're using the stylus.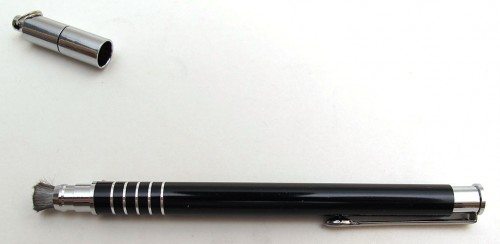 Pressing the opposite end will extend the 'stylus' tip.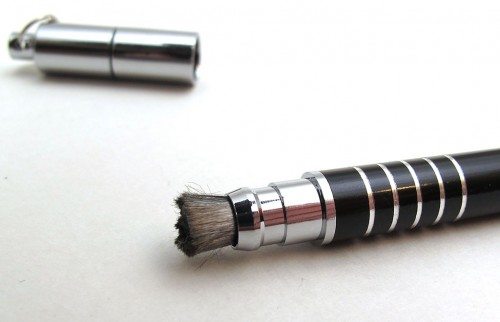 You're probably thinking the same thing I was at this point – what the heck kind of stylus is that? It looks like a brush instead of a stylus.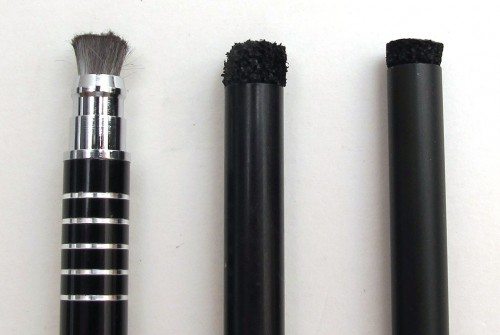 For comparison, here is the iClooly next to the Pogo Stylus and Radtech Styloid styli. The iClooly seems to work a lot better than the other two for me. I don't use it for ordinary tasks of tapping icons to launch apps or scroll through lists though. My main purpose for the iClooly has been for drawing apps. And it works perfect for that.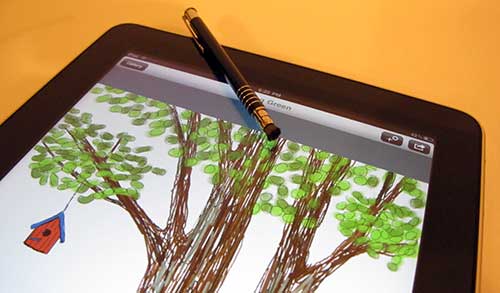 It feels very similar to using a brush to paint. I've been having a lot of fun doodling with it using an app called Layers. And at $10, the price is right.
Product Information
Price:
$9.99
Retailer:
Pyramid Distribution
Pros:

Great for art programs
Capacitive and Resistive stylus tips in one pen

Cons:

Can't store cap on opposite end of pen