We use affiliate links. If you buy something through the links on this page, we may earn a commission at no cost to you. Learn more.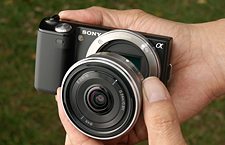 Sony has finally announced their new camera to compete in the Micro 4/3 segment. You can check out all the details on their web site.
If you are not familiar with this segment, it is characterized by smaller size compared to dSLRs and larger sensor than point and shoots. These cameras also have the ability to use interchangeable lenses.
Specifications
14.2 megapixel APS-C type (23.4 x 15.6 mm) sensor
New E-Mount for interchangeable lenses
Supports RAW Format
Records HD video in 1080 (NEX-5) or 720 (NEX-3)
Memory slot can use Memory Stick Duo or SD card.
USB
HDMI mini connector (Type-C)
Built-in stereo microphone
Speed-priority max 7 fps (continuous mode 2.3 fps)
Be sure to go to the web site to see more detailed specifications. There is a one-page PDF you can download there.
Things That Stand Out
APS-C sized sensor. This is actually larger than 4/3 cameras. It should translate in better low-light performance.
Video Support. As an Alpha owner, I hope this quickly makes it into their dSLRs.
Interchangeable Lenses. They currently list 3 lenses, and two adapters:
SEL 16F28, 16mm F2.8
SEL 1855, 18-55mm F33.5-5.6 OSS
SEL 18200, 18-200mm F3.5-6.3 OSS (Autumn 2010)
VCL-ECU1 Ultra-Wide Converter for the 16mm lens (Autumn 2010
VCL-ECF1 Fisheye Converter for the 16mm lens
Mount Adapter for A-Mount lenses. This will let you put Alpha compatible lenses on your NEX camera. It seems to be implied in the description that it may not work with all lenses, and will not support AF in all lenses.
Family Beginnings. Digging a little deeper, it looks like Sony is just beginning with the E-mount. They also announced that they are developing a camcorder that can use the e-mount lens (and A-mount with adapter) and uses the same sensor.
The NEX-5 will run $650 with the 16mm and $700 with the 18-55mm lens. The NEX-3 will run $550 with the 16mm and $650 with the 18-55mm.
In looking for more information in the camera, I did find a review at Imaging Resources.