We use affiliate links. If you buy something through the links on this page, we may earn a commission at no cost to you. Learn more.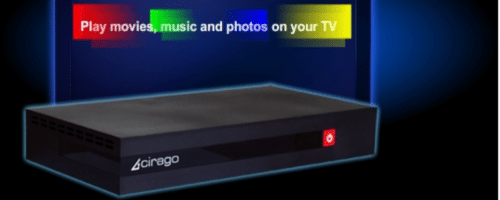 The Cirago TV Pro CTP1000 Multimedia Player is a slick device that lets you play a wide variety of digital media on your TV. This sounded like the perfect thing for me- I have a bunch of photos, videos, and music scattered over several computers and it would be nice to store them all in way that lets me easily view them on my TV set.
The Cirago TV Pro is a smallish unit- only 10x6x1.8″, which makes it reasonably portable. It can handle a variety of media formats- MPEG1, MPEG2 and MPEG4 for video, MP3 and WMA audio, and JPEG images. It comes with either a 500Gb or 1Tb hard drive and includes jacks or ports for for USB-B, USB, HDMI, A/V RCA (yellow, red, and white cords), Composite RCA, and a slot for SD, MMC, and MS cards.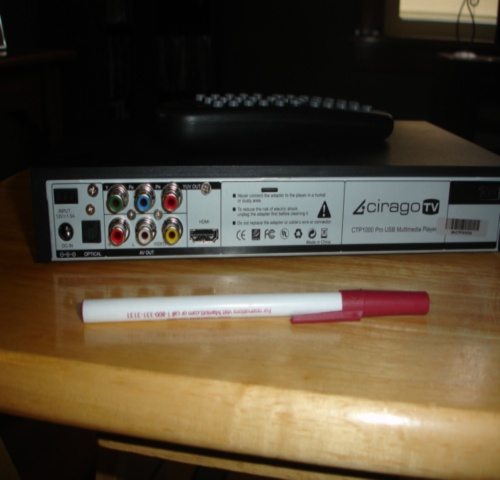 Inside the box is the main player, a remote, batteries, a USB to USB Type B cable, A/V and Composite RCA cables and even a nice long HDMI cable. One of my favorite kinds of power jacks, the skinny ones that share outlets on the power strip nicely, finishes off the contents.
Connecting to the computer is like connecting any other storage device and my older Windows XP desktop recognized it immediately. The transfer speeds seemed quick with the included USB-USB/B cable.
I could not tell from the manual or website if there was a preferred file structure or anything for the contents. As it turned out, this may be something that needs more research but we'll get to all that later.
I choose the HDMI cable to connect to the TV so it would not have to fight with the other things hooked up, and installation was a snap. Turn the unit on, turn the TV to HDMI1, and give it a second to load- viola!
You are presented with a simple, but nicely done, menu- photos, music, videos, files, and settings. Click on the one you want and wait… and wait… and wait… It takes forever to search for all of the chosen file types- and the only way I found to interrupt a search was to cold crash the unit. More distressingly, it searches anew each… and… every… time. OK, so it finally eventually, after several long minutes, loads up and you can play. (We will revisit the searches later.)
Photos
Never miss one of our posts again. Sent MON, WED, and FRI with the latest gadget reviews and news!
You can just select one image from a series of thumbnails to look at, almost like a screen saver, or you can set it to slideshow. The slideshow even has several transitions options, including a Music + Photos version. I loaded it with a large folder full of photos taken by several cameras over several years as well as downloaded images. It did not recognize all of them but caught the vast majority of them. The on-screen images were very nice and vibrant, within the limits of things like pixel count and type of TV.
OK, this is a media player, so don't expect a lot of finesse- it does not allow for things like rotation or editing, and it tends to stretch pictures out to fit the screen (this may be correctable in the settings, but not that I have found yet.) I was unable to get the Music + Photos version to play, probably due to too many files loaded. I was also frustrated at the inability to find a way to just show a specific folder or category of photo.
Music
Sound quality will of course be based on that of your system, in my case, it sounded very nice.
This is not a dedicated MP3 player, so it does not do playlists, shuffle play, album covers, etc. It also lists your music by file name and does not sort by artist, album, etc.
Videos
This is the strong selling point of the TVPro- it plays videos beautifully! It is nearly as easy as playing a DVD and the images are great (again, limited by the video quality and your TV). These files are listed by file name again, but this is not as awkward here as it is in other areas. The remote is well-designed for DVD-like video play.
Overall
This is a fun unit that is easy to use and offers some great entertainment- especially if you use it wisely.
Because it does not seem to have much in the way of an internal organization, it would seem to work best with fewer files on it- it appears to me to be designed more to hold a smaller number of larger files, like movies, etc. I loaded it with just heaps of stuff and the search times were running five minutes or more each time. Avoid over-loading it with a lot of small files. After all, you can always run more stuff from a thumb drive or card!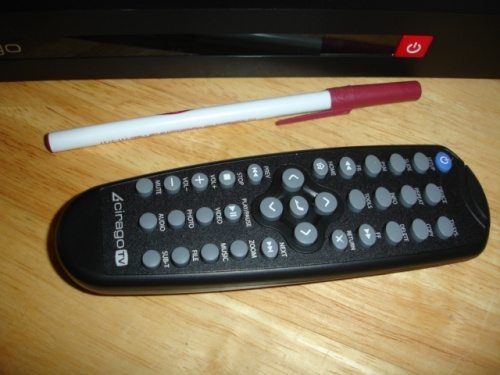 The remote is chock full of almost identical small buttons that can be tricky in low light conditions, and has a couple of niggling things- like I cannot find how to hit the 'yes, delete this file' command- but it is not a big deal.
If you want to play all those movies from your hard drive on a bigger, better screen- this is a great device for you!
Product Information
Price:
$150 (1TB version, Amazon.com, etc.)
Manufacturer:
Cirago TV Pro CTP1000 Multimedia Player
Pros:

Easy to set up and use.
Great images and sound.
Portable.

Cons:

Large hard drive can be slow to search through if there are a lot of files.