We use affiliate links. If you buy something through the links on this page, we may earn a commission at no cost to you. Learn more.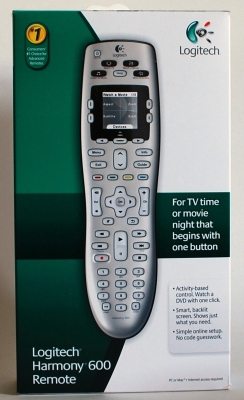 Even though I've owned tons of audio/video equipment over the years, I've never had a universal remote.  The best ones always were very expensive, and the ones I could afford never seemed to actually have enough buttons to handle all the functions of my various pieces of equipment.  And who could remember how all those buttons were mapped for each piece of equipment?  I'd given up on universal remotes and just made do with the slightly programmable remote that came with my DVR box from the cable company.  When Julie said the Logitech people were offering their soon-to-be-available  Harmony 600 remote for review, I asked if I could give it a try.  It has a plethora of buttons to handle most functions, and there are programmable buttons that handle the rest of the functions specific to a given device.  Best of all, there's a little LCD screen that LABELS those functions for you!  This remote shows a lot of promise.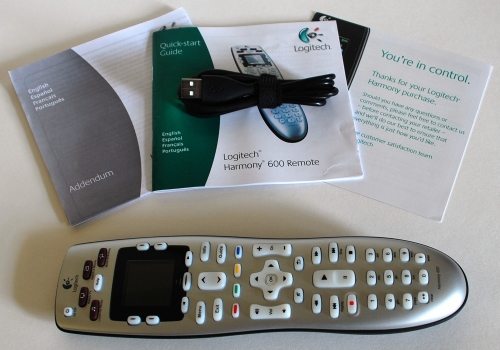 What's in the Box:
Harmony 600 remote control
USB cable
2 AA batteries
Documentation
Before using the Harmony 600, you'll need to program it for your devices.  The manual says to set aside 45 minutes for this, but it didn't take me that long.  You can control up to five devices.  Types of devices you can control include TV, DVD/Blu-Ray, cable boxes, VCR, and home theater equipment.  To get started, you need to get information about the equipment you'll be controlling with the remote.  You'll need the manufacturer and the model number for each device.  I'll be using the Harmony 600 with my Sony TV and Blu-Ray player, and with my Scientific Atlanta DVR cable box.  You'll also need to know which input each device uses to connect to the TV.  (Many of the following pictures can be clicked for an enlarged version.)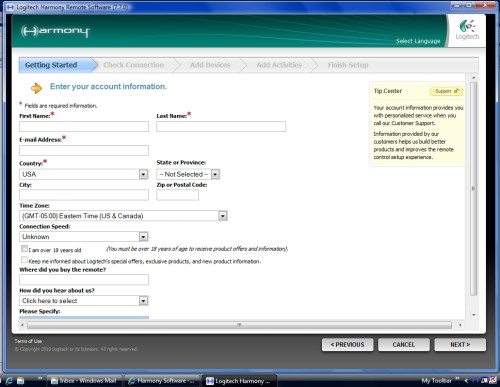 Install the batteries into the remote, connect the USB cable to your computer (works with Windows or Mac computers) and to the micro USB connector on the top of the remote.  You'll then log on to the Logitech Harmony site, create an account, and set up your devices.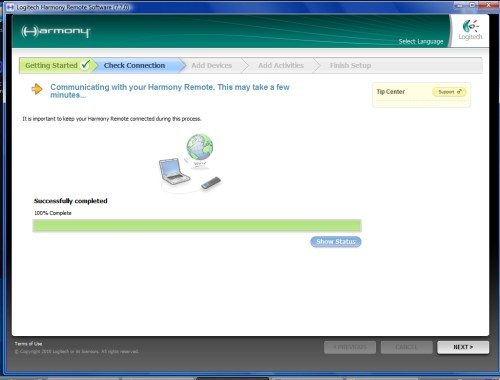 After your account is created, the Logitech setup installs a device driver and a setup program on your computer and checks the connection with your remote.  This takes a few moments.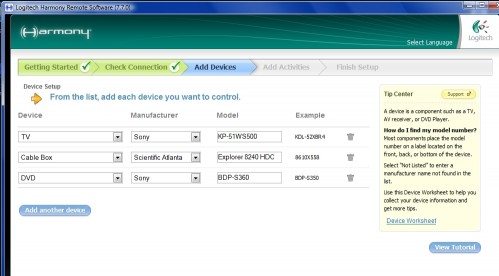 Next you'll enter information about your devices.  Choose the type of device, the manufacturer, and the model number.  Luckily all of my devices were in the huge database of more than 5000 brands and 225,000 devices.  (If your device isn't found, you can program the Logitech Harmony 600 with your device's original remote.)  There are several other setup screens involving which TV input your other devices are connected to, whether you want to turn off your cable box (called PVR in my case) when it's not in use, and the like.  You can also define activities:  for example, "Watch TV" is defined as TV is on and set to video input 5 and cable box is on, all other devices are off for my setup.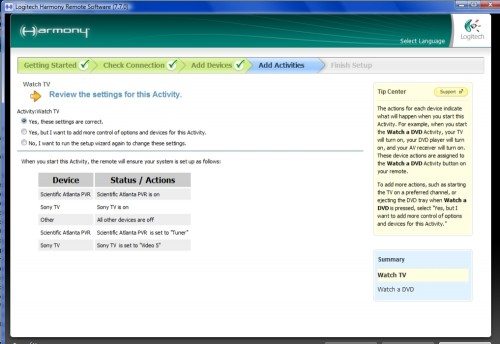 When all your settings are finished, the setup program adds the information to your Harmony 600 then prompts you to disconnect and test the remote.  My remote worked perfectly to control my TV, cable box, and Blu-Ray player.
The first time using your remote, there's a brief tutorial showing you how to use it.  When you pick up the remote, movement triggers the gray-scale LCD screen to light up.  Some of the other universal remotes offered by Logitech have color LCD screens, but I don't see how the lack of color negatively impacts the function of this remote. 

At the top of the Harmony 600, there are several buttons.  One will turn off all devices.  Three others are predefined as single-button activities:  watch TV, watch a Movie, or listen to Music.  If you defined more activities in the setup, you can access these using the "More Activities" button.  If your remote isn't functioning as you expect, use the "Help" button and follow the prompts on the LCD screen to troubleshoot.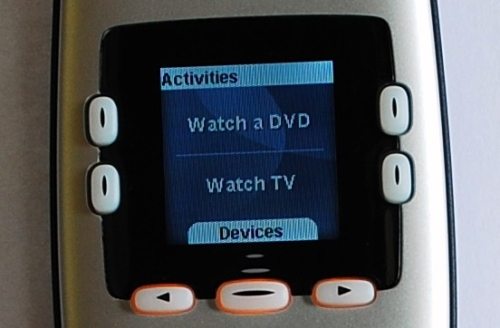 The middle button under the LCD screen lets you toggle between "Activities" (all of your predefined single-click activities) or "Devices".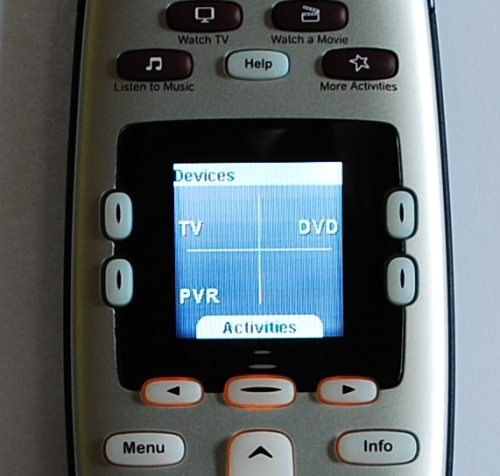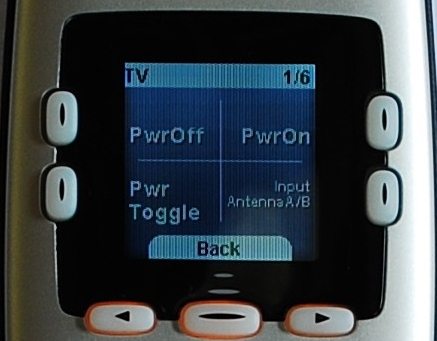 The "Devices" option allows me to choose to more fully control a single device.  For example, I can scroll through six screens of TV functions like selecting inputs, selecting an antenna, scroll through my pre-defined favorite channels, control picture mode, etc.
The rest of the remote contains a multitude of buttons.  Between these buttons and the functions on the LCD screen, I didn't find a single thing I needed to do on any of my devices that I couldn't control.  When using the single click activity buttons or the "all off" button, I found I needed to keep the remote pointed toward my equipment a little longer than I first thought.   I was clicking the button, then immediately putting the remote down, and some things weren't responding properly.   I just needed to give it time to send signals to all devices – just an extra second or so.
I found the shape and size of the Harmony 600 was easy to hold and use.  The remote is about 8.75 inches long, about 2.25 inches at the widest, about 0.5 inches thick at the top, and about 1" thick at the bottom where the battery compartment is.  The buttons seem to be made of a rubbery plastic and are laid out by their functions.  They work well, are backlit for easy use in a dim room, and they are completely silent when you click them.  Just like the LCD screen, the button backlight turns on when you pick up or move the remote.  The backlighting turns off about 8-10 seconds after the last use.
Logitech says they are constantly updating their devices database, so you'll be able to use the installed setup program to update your Harmony 600 whenever you get a new piece of equipment.
The Harmony 600 remote isn't showing up on the Logitech US site yet.  I did find it on the European site, where it's being offered for pre-sale.  Hopefully it should be available here soon.  I'm not sure of the price, but the European price converts to roughly $80 in the US.  I think that's a very reasonable price for such a great universal remote.  If you're in the market for a universal remote, you can't go wrong with the Logitech Harmony 600!

Product Information
Price:
Probably about $80 US
Manufacturer:
Logitech
Pros:

An online setup utility programs the remote for you
Nice button layout
All functions are defined & accessible through the LCD screen if there are no permanent buttons for them
Buttons and LCD screen are backlit
Single-click buttons for predefined activities

Cons: