We use affiliate links. If you buy something through the links on this page, we may earn a commission at no cost to you. Learn more.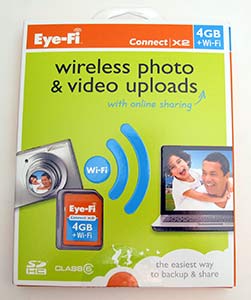 This is a Sponsored Post written by me on behalf of Eye-Fi. All opinions are 100% mine.
I have always prided myself on being an impartial reviewer. I have no problem at all letting everyone know when I dislike a product… even if the company that supplies that product happens to be one of our advertisers. However, there is a product that I am biased towards. It's the  Eye-Fi wireless SD card. I can't help it. I'm completely in love with this product and feel like it can do no wrong. I was offered the new Connect X2 version of the Eye-Fi to review, so let's check it out.
Hardware Specs
4GB SDHC Memory card
Built in Class 6 802.11 b/g/n
Wi-Fi security: Static WEP 64/128, WPA-PSK, WPA2-PSK
Range: 90+ ft outdoors & 45+ ft indoors
Uses host camera's battery for power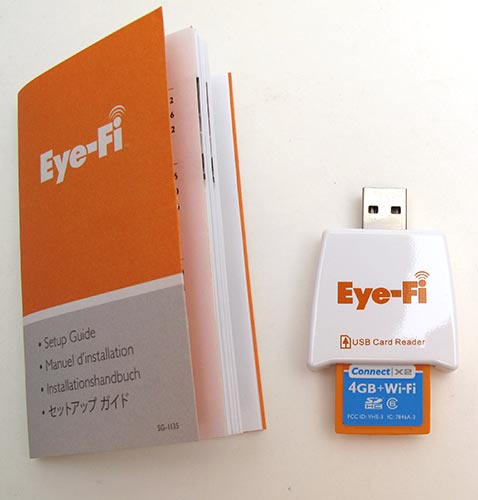 Package Contents
A 4GB SD Eye-Fi Connect X2 flash memory card with built-in Wi-Fi
Eye-Fi Center software (on the SD card)
Free USB card reader for easy setup
Setup Guide
The Eye-Fi Connect X2 is available in 4GB and 8GB versions. I was sent the 4GB version. I've had the Eye-Fi on my favorite gear list since reviewing an earlier version back in November of last year. Since that time, I've purchased other cards so that I'll have one in each of my cameras. I even use Eye-Fi software on my iPhone – but more about that in a bit.
I have a couple scenarios that I'd like to share with you. See if you can relate to any of them.
Scenario 1. As a product reviewer, I take a LOT of pictures. Before I started using Eye-Fi cards, I would snap 10, 20, 30 pictures and would pull the memory card out of my camera, stick it in a card reader attached to my computer, copy the images I'd just snapped to a folder on the computer, remove the card from the reader and put it back in the camera.
Scenario 2. I live with a non-techie person that also happens to have a digital camera and enjoys taking pictures. She will take a bunch of snapshots and will then expect me to transfer the images to her computer for her so that she can view them on a larger display. Needless to say, it gets annoying.
Scenario 3. When I'm on vacation, I like to snap a lot of pictures when I'm sight seeing. Then when I get back to my hotel room, I have to copy all the images to my laptop so that I'll have room for more pix for the next day. Then I will have to sort through all the images to pick the ones I'd like to upload to my Flickr or Facebook account so that my friends can see what I'm up to.
Now granted, the steps in these scenarios probably don't seem like they would take a lot of time, but multiply that time by several times a day, week, month and you get the idea. Everyone wants to save some time and make their life easier right? The Eye-Fi card removes all those steps because it transfers your images autoMAGICally from your camera to your computer via WiFi.
Setting up the card is super easy. Just open the package and either use the included card reader or any other card reader to connect the card to your computer. You'll be prompted to install the Eye-Fi Center software on your Windows PC or Mac.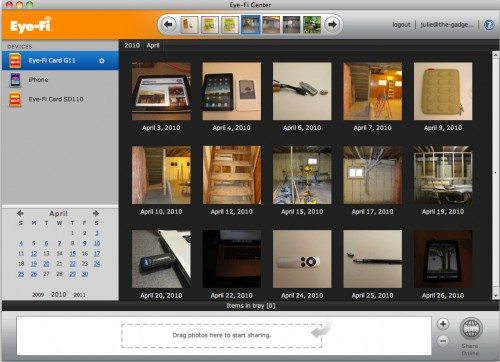 Previous versions of the Eye-Fi used a web-based helper program. This new program uses the Adobe Air platform. You really only need to open it when you want to change the settings.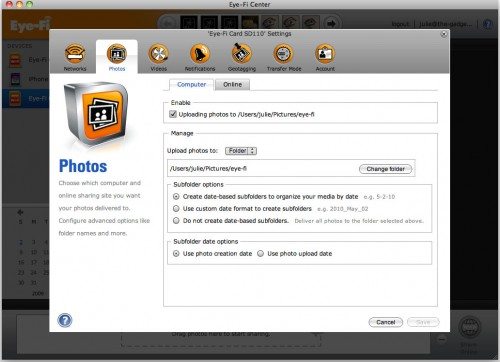 Click the thumbnails to see the full sized screen shots. Setup involves connecting to your WiFi network and telling the card where you want the images to be saved. The new Connect X2 is faster than previous versions as it supports Class 6 802.11 n. My wireless router is still stuck in the stone age with 802.11b. This card worked perfect with it though.
You can also set it up to have the images copy to a specific folder on your computer as well as to an online photo sharing site like Flickr or Facebook. One of the really neat features is that you can set it up so that it will copy all files to your computer, but only the ones you mark to the online site.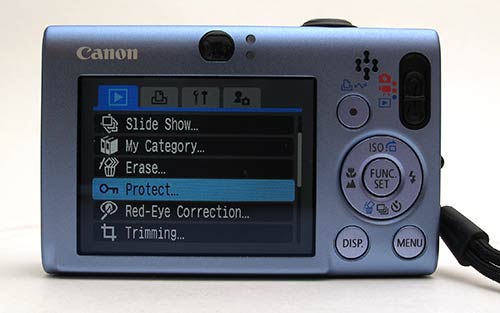 This requires that you mark the images you want to to send to the online site with the protect feature on your camera. I'd never seen that feature before, but found it easily on my Canon SD1100.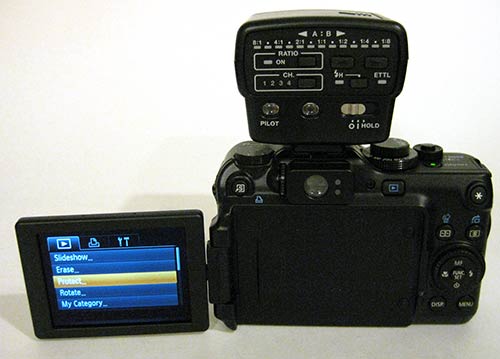 And my Canon G11.
After you have configured the settings, just remove the Eye-Fi from your computer, put it in your camera and start snapping pictures. A few seconds after you snap an image, it will transfer to your computer. You will know this is happening because there will be a thumbnail of the transferring image that appears on your computer's desktop.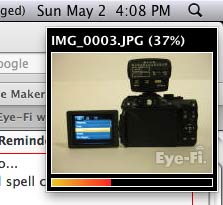 I love that I can be snapping images outside or upstairs and by the time I come back downstairs, the images are already on my computer and ready to use. Of course, you'll need to leave the camera on after you've taken the images, in order for it to transfer them to your computer. If you accidentally turn your camera off or if your computer is turned off, it's not a major catastrophe. The next time both devices are turned on and within range of each other, the images will transfer. For example, you could take your camera with you on a 3 week vacation and when you come home, the images will transfer to your computer. I love it!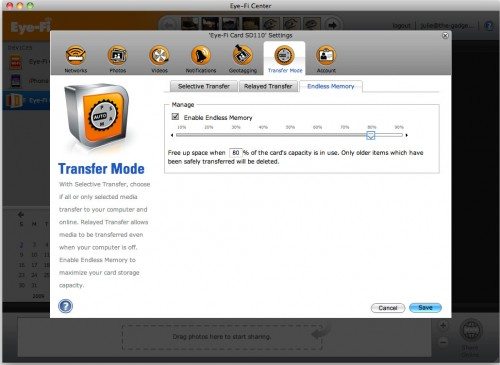 Another great feature is that you can configure is called Endless Memory. I tend to leave the Eye-Fi card in my camera and I don't delete the images. I have 100's of images on my 4GB card that are from last year. I don't even know or really care how much room I have left because of the Endless Memory feature. I have it set to make room on the card when I reach 80% capacity. The card will automatically delete files that have already been transferred to my computer if it needs to make room.
I had mentioned above that I even use the Eye-Fi with my iPhone. There's a free app that will transfer images taken with your iPhone's camera to your Eye-Fi account.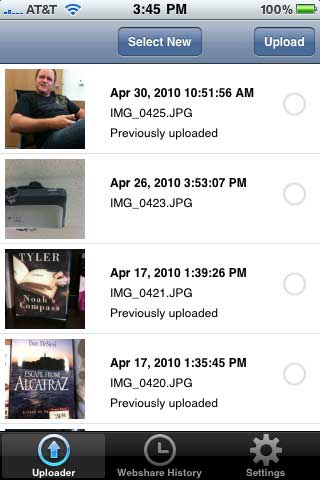 The only bummer is that it doesn't seem to do iPhone screenshots… just snapshots. Oh well…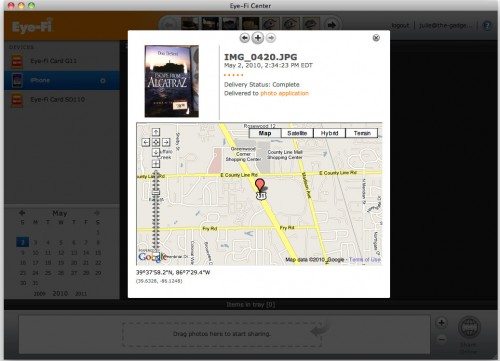 But it does do Geotagging which is nice!
Watch this short video for a quick overview of the features:
If you own a digital camera that supports SD cards and are not using one of these cards, you really are missing out on a really great accessory for your camera. They are more expensive than a normal SD memory card, but they are so much more convenient. I don't think I'll ever use a normal SD card in my camera again. Hey, I bet your Mom would love one for Mother's Day 🙂 Who else is a fan of the Eye-Fi?
I'm going to help you out, by telling you about a contest where you can win your very own Eye-Fi card…
Contest Opportunity! 10 Eye-Fi cards are being given away. You can enter by leaving a comment on this post and tweeting a message containing the hashtag "#eye-fi" with a link back to this post. Example:
Check out The Gadgeteer's post about the #eye-fi https://the-gadgeteer.com/2010/05/02/eye-fi-connect-x2-wireless-sd-card-review/
Complete contest rules are here: contest rules
Product Information
Price:
$49.99
Manufacturer:
Eye-Fi
Pros:

Very easy to setup
Backs up photos to a computer and/or online photo site
Deletes files when card becomes too full

Cons:

Must buy Pro version to support RAW transfers