We use affiliate links. If you buy something through the links on this page, we may earn a commission at no cost to you. Learn more.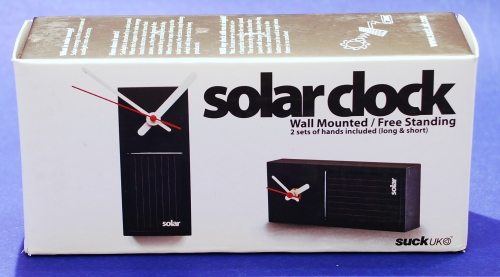 I really like clocks and watches – perhaps you've noticed I've done quite a few news posts about them.  I have several clocks around the house, and many of them aren't working.  Most of the clocks I have are battery operated, and I tend to forget to put new batteries in them.  When Julie offered a solar clock for review, I was quick to request it.  It would be nice to have a clock that can keep itself going.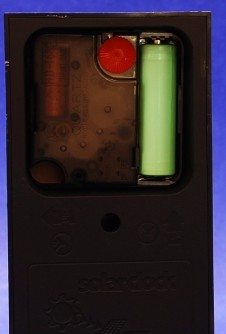 The Solar Clock sent to The Gadgeteer by Convenient Gadgets & Gifts is a simple, modern-style clock without an alarm.  It comes with a rechargeable battery that is charged by the solar panel covering most of the front of the clock.  After it's charged, the battery powers the clock even in the absence of light.
The Solar Clock comes with two sets of hands.  The long set can only be used when the clock is wall-mounted or when it is standing in the vertical position.  The short hands can be used when it is wall mounted, or when the clock is on a table in a vertical or horizontal position.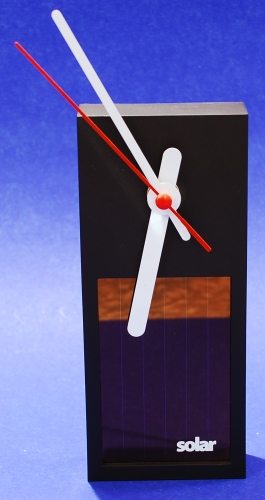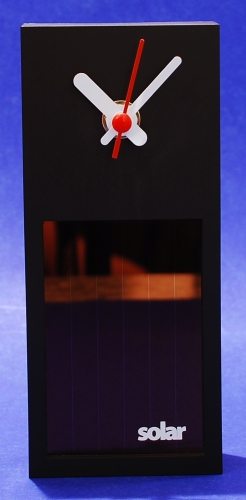 The Solar Clock needed a couple of days in my dark house before the battery was fully charged.  I had put it in my north-facing living room, and I found that I needed to put it near a window for best results in that particular room.  It was a little difficult to set the time because there are no markings on the clock body to guide you.  Instructions included with the clock made setting the time easier.  After the battery was completely charged, the solar clock has kept correct time for over a week now. 
The Solar Clock is a nice, compact clock.  It works well, and I don't have to remember to replace batteries.  I do think it would be fun if the hour and minute hands were nice, bright colors.  Maybe the hands could be white on one side and bright primary colors on the other side so you can choose what best fits your style.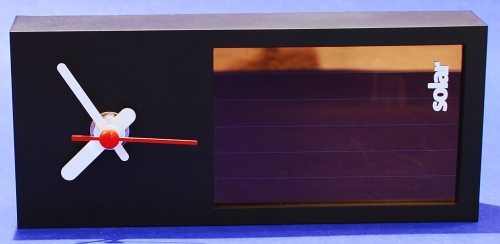 Product Information
Price:
$39.95
Manufacturer:
suckUK
Retailer:
Convenient Gadgets & Gifts
Pros:

Rechargeable battery charged by solar panel
Simple design
Keeps good time

Cons:

No markings on the clock can make it difficult to set the time