We use affiliate links. If you buy something through the links on this page, we may earn a commission at no cost to you. Learn more.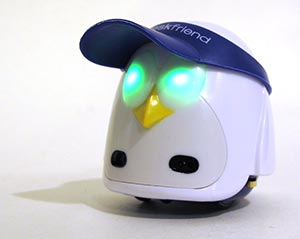 mydeskfriend from Arimaz is a 2.5 inch tall penguin that interacts with your Facebook account. It is similar to the Nabaztag wifi rabbit and Violet Mir:ror as it has some of the same features – it will read your emails, tell you the weather forecast, read the news etc. Let's take a closer look.
mydeskfriend or Pingo as he's named, is compatible with Windows and Mac OS X. It does require a Facebook account though… but of course, they are free.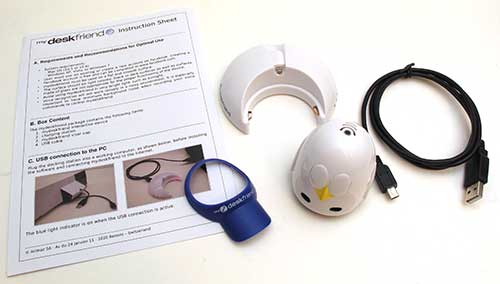 Package Contents
mydeskfriend autonomous robot
Charging station
mydeskfriend visor cap
USB cable
Instruction sheet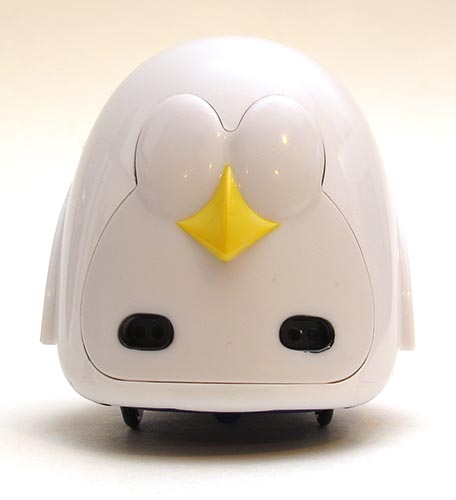 Pingo is a cute little White plastic penguin with LED eyes and two proximity sensors on the front.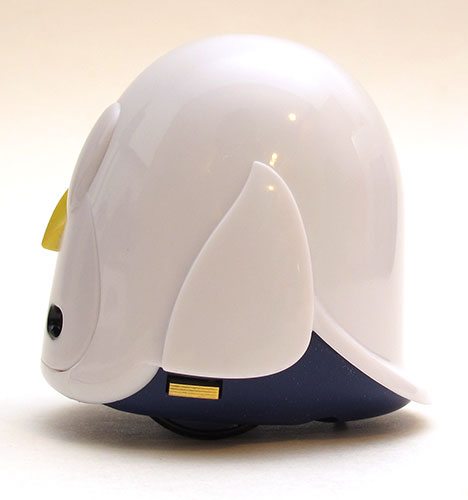 There are base station contacts on either side.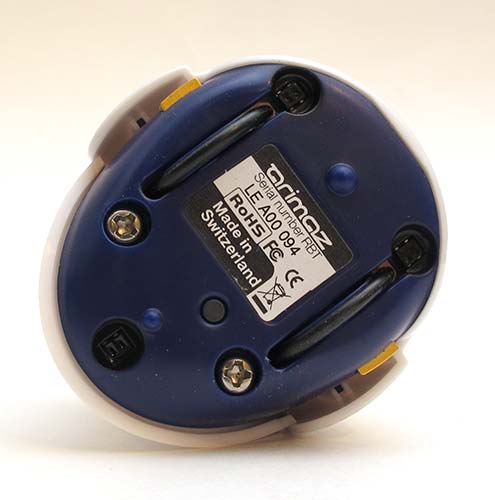 On the bottom you will find the power button and two wheels along with 3 ground sensors that keep him from running off your desk.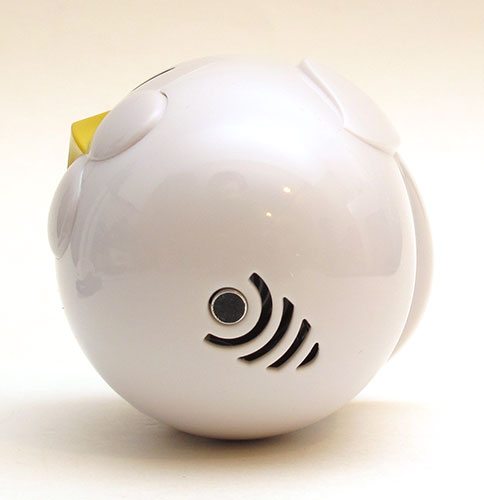 On the top of Pingo's head is a speaker and a microphone so that you can control him with your voice. More about that in a bit.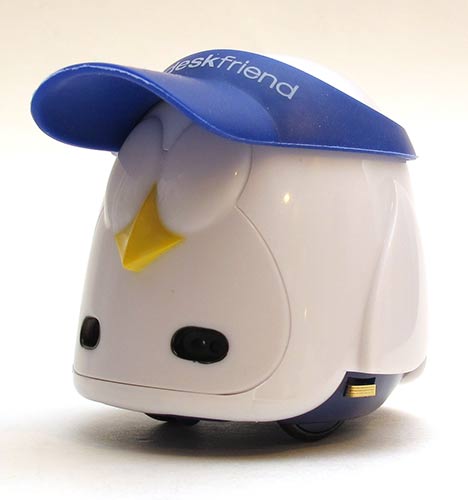 Also included with mydeskfriend is a Blue plastic visor that you can put on his little head. Isn't he cute? 🙂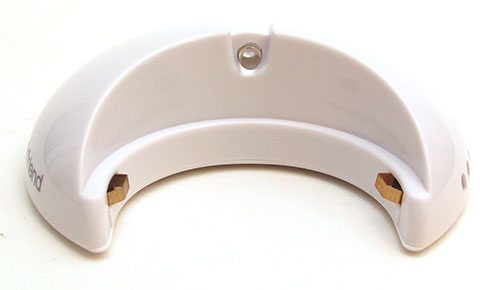 The base station is powered by USB and is used to charge the batteries inside Pingo.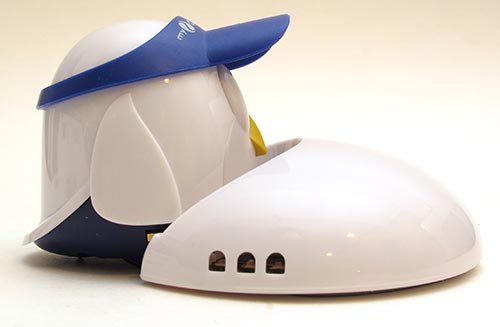 It's not hooked up to USB in the photo above, but when it is, there are three LEDs on the side that display the battery charging status.
Unfortunately, you have to manually slide Pingo into the dock. I really wish he could dock himself when needed like a Roomba robot. Oh well, maybe that's a features for mydeskfriend 2.0
Before you can do anything with your new friend, you have to install a Facebook application in your Facebook account and install an application on your Mac or PC.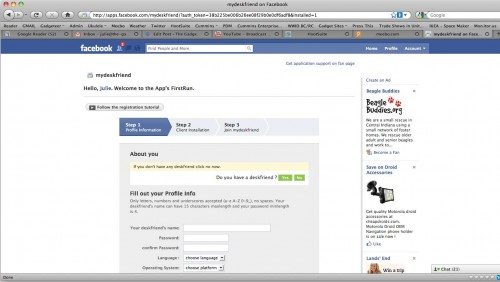 You are guided step by step through the installation procedure, which only takes a few minutes.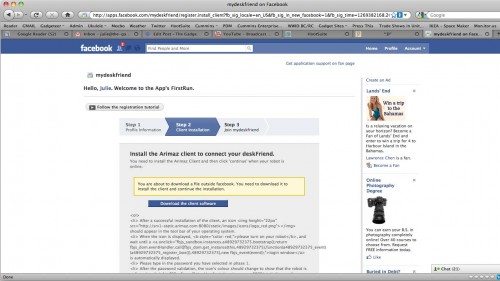 If you click the image above to see the full size screen shot, you'll notice some issues with the Facebook application. I use a Mac with Firefox as the browser and as you will see, the app has some issues with displaying the HTML text. I found these display problems to be spread through out the mydeskfriend app.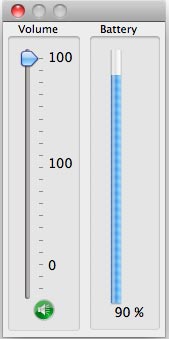 Once Pingo (you can actually name him whatever you like during the installation process) is setup in Facebook and on your computer, you need to charge him for at least an hour. The desktop has a widget that displays battery and volume levels.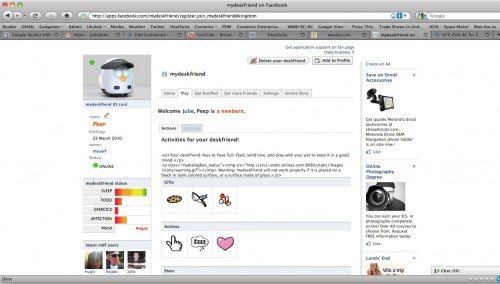 After he is charged, you can interact with him through the Facebook application. The interface reminded me of a tamagotchi style game where you have to keep an eye on his happiness and food levels. You can feed Pingo cookies, fish and vitamins. When you feed him cookies and fish, he'll make crunching noises and when you feed him vitamins, he'll do a little energy dance.
Other ways that you can interact with him include patting his head, rocking him to sleep in your hand and poking him. He'll also follow your finger around on your desk if you drag it in front of him. After a few seconds of following you around, he'll start huffing and puffing like he's out of breath. I couldn't get this feature or any of the physical interactions to work at first. Everything I did was ignored and thought I had a defective friend (how horrible) until I re-read the instruction sheet and saw the warning about not using Pingo on a dark surface. Oops… my desk is a medium Blue… so I put some White paper down and voila, I no longer had a stuck up penguin.
When you're not petting Pingo or rocking him to sleep, you can ask him to read you the news, stock info or tell you the weather. Through the Facebook app, you can record your voice commands and then interact with Pingo by name. For example, you can say "Pingo read the news" and he will do just that… Well, he will sometimes. I didn't have the best of luck with the voice command feature. It took me forever to even get it to allow me to record the commands and once I did, he didn't always do what I asked him. A lot of times he'd just say "Wait, I am searching" and wouldn't say anything else.
mydeskfriend can also be configured to automatically speak the time every 5min, 10min, 30min, 1hr, 3hr, 6hr or 12hrs. Same goes for speaking the weather and stock info. I do wish there was a setting to only have him preform these notifications at specific times of the day. If you leave your computer powered up and logged into Facebook, you might be startled in the middle of the night when he speaks.
I am hoping more features and options will be added to this product, but as it is, mydeskfriend is a cute geek toy that Facebook fans will enjoy playing with.
Product Information
Price:
$137.81
Pros:

Can interact via voice and physical touch
Charges via USB dock
Cute

Cons:

Facebook application is flaky
Needs more features
Doesn't always obey voice commands
Pricey