We use affiliate links. If you buy something through the links on this page, we may earn a commission at no cost to you. Learn more.
Ambient devices have been popping up all over the place these days. There is the Ambient Orb, Ambient Umbrella, Ambient Dashboard, and now we have the Nabaztag/Tag Wireless WiFi Rabbit. Yes, you read that correctly, a WiFi rabbit. And a cute one at that. My good friends at Think Geek were kind enough to send me a Nabaztag/Tag for review.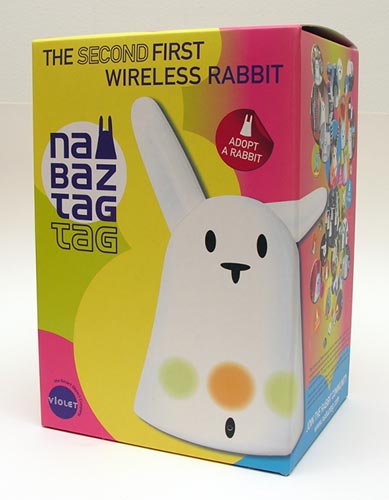 Ambient devices use a connection to the internet to continuously gather and report information via lights, dials, etc. Nabaztag/Tag connects to your existing WiFi connection to give you information is through its flashing nose, belly, rotating ears and voice.
The rabbit comes packaged with an AC adapter that has interchangeable plugs for compatibility with various countries. It also comes with an extremely brief Quick Start guide. This guide pretty much just tells you to plug it in and point your web browser to the Nabaztag.com start page. Yes, that's all the instructions that you receive. Other infomation can be found on the website.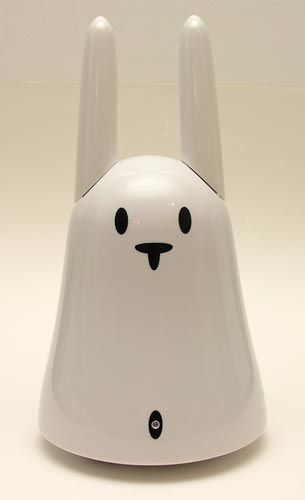 This is actually the 2nd version of the WiFi rabbit. The first version was just named Nabaztag. The newest rabbit includes a belly button, that hides a built-in microphone.
My first experience was with the prior version Nabaztag. I was never able to get it to work with my hughesnet.com satellite based ISP. These days I have 'real' broadband, so getting the Nabaztag/Tag to work was a snap.
Before I go into details about what this WiFi rabbit can do, let's get a closer look at him. He's a White shiny plastic bunny that stands approximately 9.5 inches tall from his base to tip of his ear.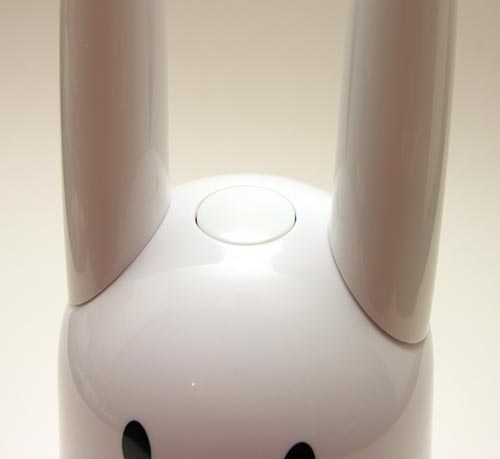 The top of his head has a button…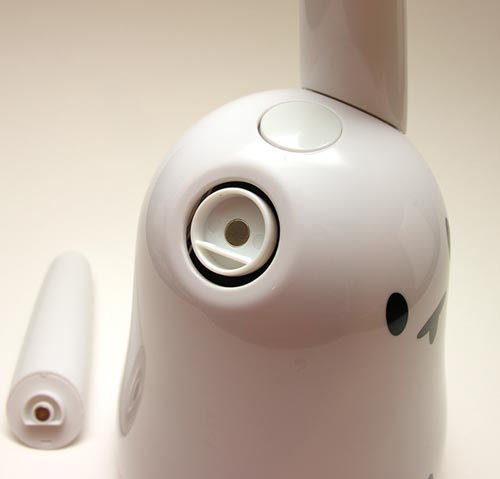 His ears can rotate manually or automatically when different events occur. They are held in place by magnets, so they are easy to remove if you prefer an earless rabbit. But that would just be creepy, so don't do it. ;o)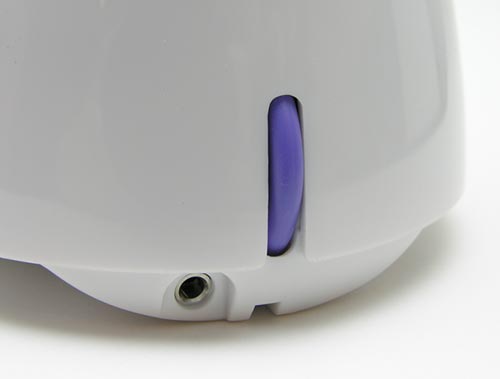 Nabaztag/Tag's bum has a Purple 'tail' that doubles as a volume control dial. Next to the tail is a 3.5mm audio out jack.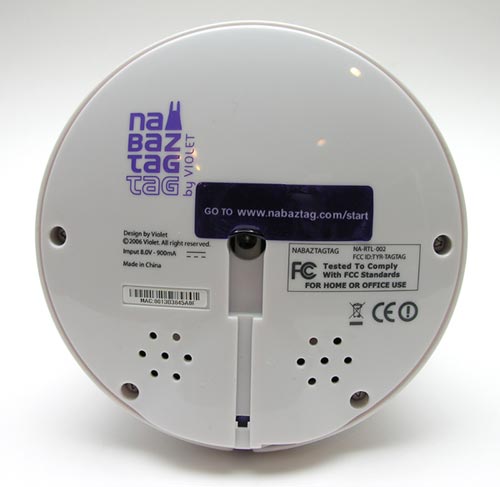 If you flip the rabbit upside down, you'll see the speakers and AC adapter connector.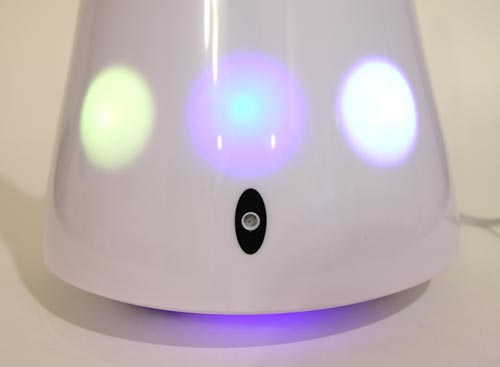 3 LEDs are located above the belly button / microphone on the front of the rabbit. These LEDs blink various colors including Red, Yellow, Green, Aqua, Blue and Pink.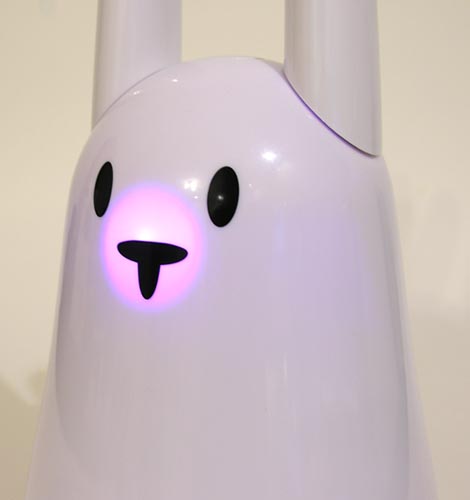 There is also an LED behind the rabbit's nose. This LED blinks when a new message is received.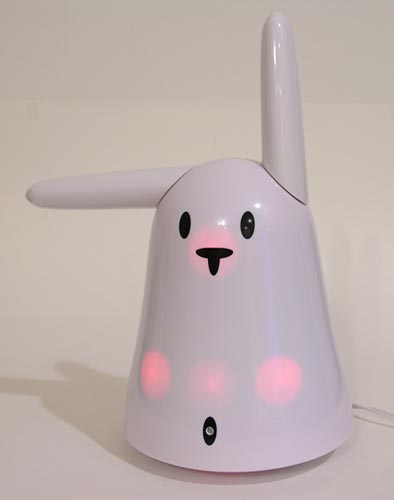 Before you can start enjoying what Nabaztag/Tag can do, you have to login to the website and set up an account. There are 2 types of accounts, a free version and a pay version. The pay version costs $6.95 per month and gives you unlimited messages sent to/from your rabbit, personalized RSS feed reading, unlimited email alerts and a few other things.
This device / "pet" is more fun if you have friends that also have one, as you can send messages back and forth between your rabbits. You can also do things like move your rabbit's ears to have your friend's rabbit's ears move to mimic yours. If you don't have a friend that has a Nabaztag or Nabaztag/Tag, don't fret… you can make new friends by viewing the online rabbit directory on the Nabaztag website. That's what I did initially and within no time, my bunny was speaking messages sent to me from its new bunny friends.
Besides sending messages, your rabbit can act as an alarm clock that wakes you up with a pre-defined message. It can also be set up to be a talking clock that announces the time at the top of every hour. You can even configure it to tell you the weather forecast for a major city twice a day. All these little 'jobs' are defined by logging into your account on the Nabaztag website and subscribing to them.
There are quite a few different things that you can subscribe your rabbit to. For example, there are lots of RSS feeds available. I haven't had much luck getting my rabbit to read the RSS feeds that I've tried so far though. You tell it what time to read the feeds and how many new items to read each time. As of this writing, I have only heard my rabbit speak news titles from the New York Times feed. It just reads the titles, which if you ask me aren't that interesting or useful. I'd rather have it read an entire story…
The built-in microphone located in Nabaztag/Tag's belly button allows it to understand your voice commands. Just hold down the button on his / her head and wait for a beep. Then speak one of the available words. You can say 'weather' to hear the local weather forecast recited, 'air' to hear the air quality report, 'market' to hear the index report (for the free account) or chosen stock value (for the pay account) and saying 'radio' will cause the rabbit to play music from one of the chosen streaming internet radio stations. I thought having the internet radio feature would work great since I now have broadband, but all the stations that I tried had slight stuttering problems or popping noises in the background.
Nabaztag/Tag is a unique gadget that will definitely prompt conversations when your friends first see it. From what I understand, new services and subscription items are actively being added to the website, which helps to keep interest alive in this somewhat expensive toy.
Who else has a Nabaztag out there? I want to hear your comments about this ambient device.
Product Information
Price:
179.99
Manufacturer:
Violet
Retailer:
Think Geek
Requirements:
Pros:

Lots of free actions that can be subscribed to
Voice recognition
Fun
Unique

Cons:

Expensive
Unlimited messages to/from your rabbit requires a monthly fee
RSS feed reading seems useless to me