We use affiliate links. If you buy something through the links on this page, we may earn a commission at no cost to you. Learn more.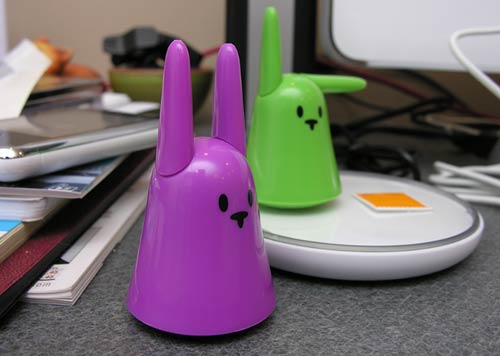 Do you ever think about how people used to get their information and entertainment in the past and how we get it now? I remember listening to my Grandma talk about sitting in front of a radio, listening to soap operas and other shows. My Mom shared stories about going to the theater on the weekends to watch serial cliffhanger movies for 25 cents. When I was a kid, we came home from school to watch the Brady Bunch and the Flintstones on TV. Today I get the majority of my info and entertainment from the internet. It makes me wonder what cool new info technologies will we have in a few years? Will our umbrella be able to tell us that it's going to rain, so that we won't forget to take it with us on our way to work? Will our house key automatically email our significant other to tell them that we've arrived home early?  Actually, we don't have to wait a few years to do those things. The Violet Mir:ror can do them now.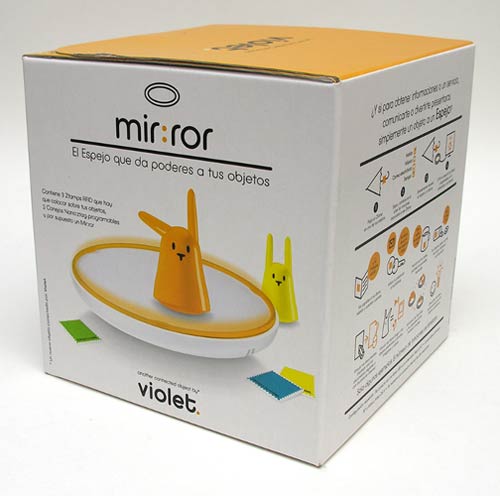 Do you recognize the rabbit on the box from the Violet Nabaztag WiFi Smart Rabbit review that I wrote a couple years ago? Yes, the rabbit is back, but it's about three times smaller. Violet's latest connected gadget is the Mir:ror. They sure do seem to have a thing for weird names don't they? 😉 What is the Mir:ror? It's a USB coaster shaped device that can read RFID tags (or Ztamp:s) and run applications connected to those Ztamps when you touch or remove them from the surface of the Mir:ror.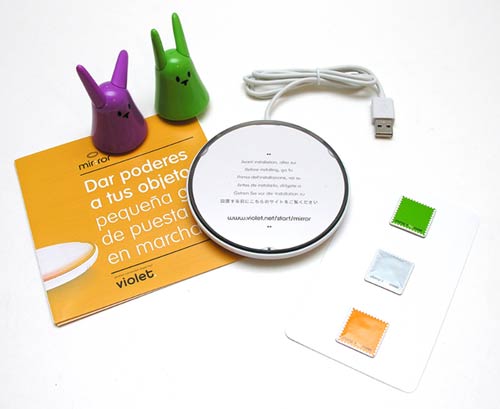 Package Contents
Mir:ror USB device
3 RFID Ztamp:s
2 Nano:ztags (rabbits)
Quick-start Guide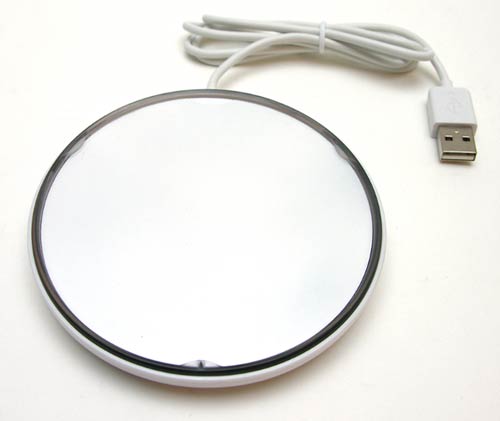 The Mir:ror is approximately 4 inches across and .5 inches tall. The top surface has a clear plastic disk that you can remove to then add your own image below it. Think customizable mouse pad.
The dark ring around the top lights up in various cycling colors when the Mir:ror is plugged into an open USB port on your PC, Mac or Linux box.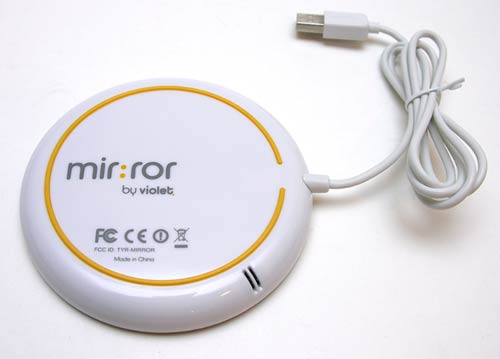 The slots in the bottom are for the built in speaker that plays various status beeps when you add or remove Ztamps.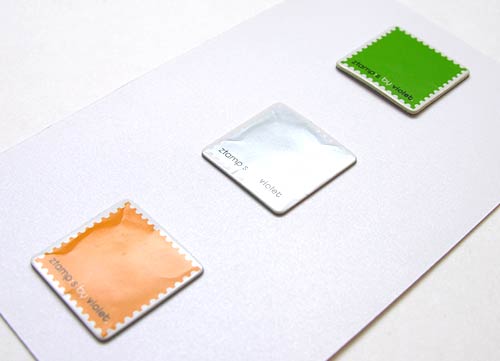 Ztamps are 1 x 1 inch adhesive stickers that have an RFID chip (Radio-frequency identification) embedded in them. You can stick these stamps on your keychain fob, your umbrella handle, etc. and then touch the object to the Mir:ror to run the applications connected to that object. Extra Ztamps can be purchased for $19.90 (for 12).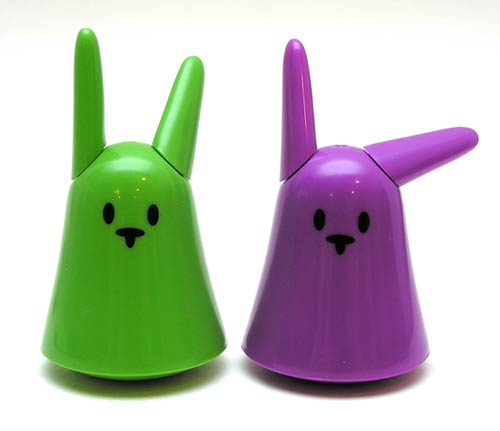 The nano:ztag micro rabbits are 2 inch tall plastic rabbits with manually rotating ears and a built in RFID chip (Ztamp). My Mir:ror package contained a Green and Purple rabbit, but the color selection is random. You can buy extra rabbits for $6.90 – $12.90 each depending on the color.
To start using the Mir:ror, you must first install the mirware application on your PC, Mac or Linux box. It's interesting to note that the Windows app is 9.8mb, the Mac app is 39.7mb and the Linux app is only 3.3mb. Installation is quick and easy.
The next step is to register your Mir:ror on the Violet site. Once all that is done, you're ready for the fun stuff – programming your Ztamps and nano:ztags.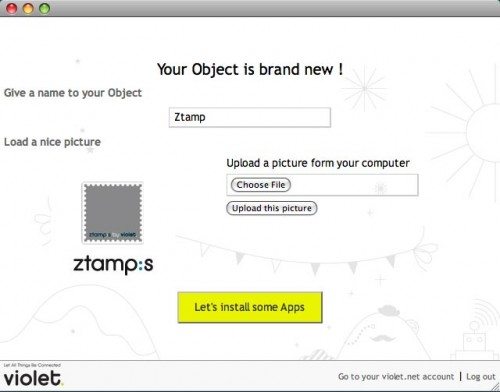 The first time you place a Ztamp or nano:ztag on the mir:ror, a window will pop up asking you to name the object. You can also customize the image associated with the object.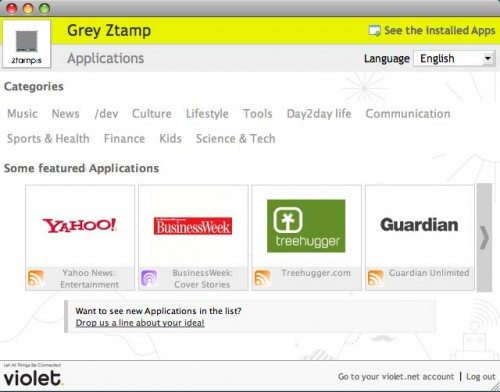 Then you are presented with different applications that you can connect to the object. Some application examples include:
Launches applications and files on your computer
Connects to websites
Plays videos, photos, music
Text-to-speech playback of news from your websites (RSS feeds)
Sends emails
Sends spoken messages
Launches Podcasts
Launches Internet radios
Weather, Markets, Air Quality
Counts, records and gives reminders of an object's recent use
Launches and pilots iTunes
Launches Skype and calls
Sends data to external websites
Sends Twitter messages

and Facebook

status
Reads out books (books sold separately)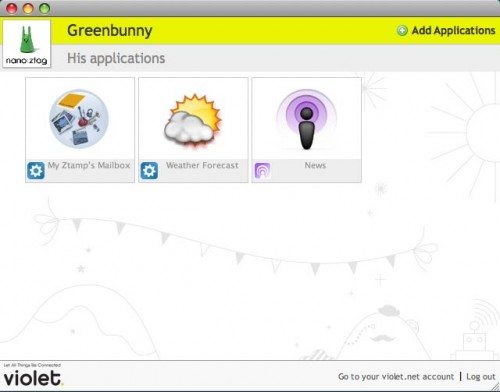 The connected applications show as thumbnails whenever you place one of the objects on the Mir:ror. From this popup window you can add more applications, delete ones that are already installed or edit their settings.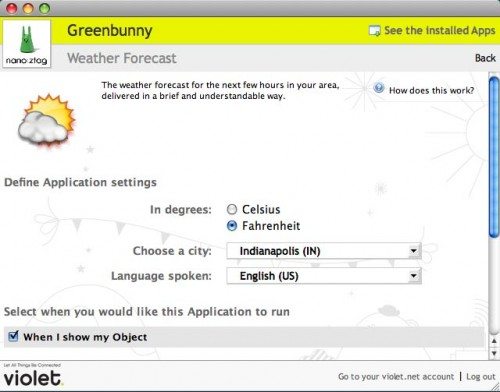 Each application can be triggered to run either when the object is showed to the Mir:ror, removed from the Mir:ror or both.
To demonstrate two very simple applications, I assigned the weather app to the Green rabbit, and the iTunes application to the Purple rabbit. The weather app allows you to choose the city and the iTunes app allows you to choose a song, artist or playlist. I set the action so that a playlist would begin playing when I showed the rabbit to the Mir:or and then stop playback when the object is removed.
See it in Action
Nifty huh? This was just a very simple demonstration. You can construct scripts to do all kinds of tasks when you show or remove an object from the Mir:ror.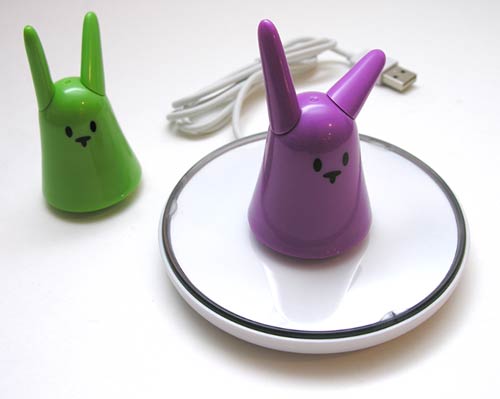 During the week or two that I've been testing this product I have noticed that the mirware application is a bit buggy. Sometimes it will get in a loop and play the weather over and over until I kill the mirware application. Other times it will ignore an object that I place on the Mir:ror until I restart the mirware application. I've also had settings disappear from attached apps. For example, I setup one Ztamp to play the CNN hourly news podcast. It had been working perfectly for days, but today it would not play at all. When I checked the settings for that connected app, the URL for the podcast was missing. I added it back, but now it gives me an error every time I try to save the settings. 🙁
I also have a pretty big gripe about apps that read RSS feeds or play podcasts. When the audio first starts to play, a quick popup will come on your screen that you can click to have it stay on the screen for pausing and stopping the audio. If you miss clicking it, there's no way other than stopping the mirware application to kill the playback. Kinda lame.
The Mir:ror is definitely a cute and fun product, but it could be so much better if it were completely wireless and did not have to be connected directly to a computer. I mean, we can already do all the same tasks that the Mir:ror can do by just clicking a few keys on our keyboard or mouse. The advantage with the Mir:ror is that you can trade those multiple key strokes and mouse clicks for just placing or removing nano:ztags and ztamps on a round disc. I hope that the next version of the Mir:ror will be completely wireless and can be placed anywhere in a WiFi enabled house house and have the audio play through a built in speaker.
Product Information
Price:
$49.99
Manufacturer:
Violet
Pros:
Cons:

Can't stop / pause podcasts
Mac version of the mirware software is buggy
Have to connect it to a computer