We use affiliate links. If you buy something through the links on this page, we may earn a commission at no cost to you. Learn more.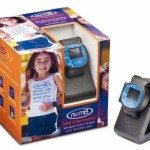 I first learned about the LOK8U nu.m8 GPS locator from a Gadgeteer post earlier this year.  I was intrigued.
I've had friends who have lost track of their children in crowded places.  While it's never happened to my 4-year old son yet, and I consider myself an attentive parent, I want all the help I can get in a worst case scenario.  Would the nu.m8  work?
Not too long ago my in-laws got stuck in traffic for 8 hours in a snow storm in the mountains.  After that incident I researched GPS locating devices.  I experimented with a GPS/GSM cellular device the size of a pager that reports in real-time just like in the movies:  You get a moving "dot" with a breadcrumb trail on your computer screen.  Perfect!  But the problem is, they're not kid friendly, even though they're the size of a small cell phone.
Even if I could convince my son to wear a pager-sized gizmo, it would look ridiculously obvious.  He'd either lose it, break it, or become separated from it if left in a backpack, jacket, etc.  Clearly, such a thing would need to be attached to a child, or person, yet not be too big.  He's a little young to carry his own cell phone, so carrier-based location services are out (for now).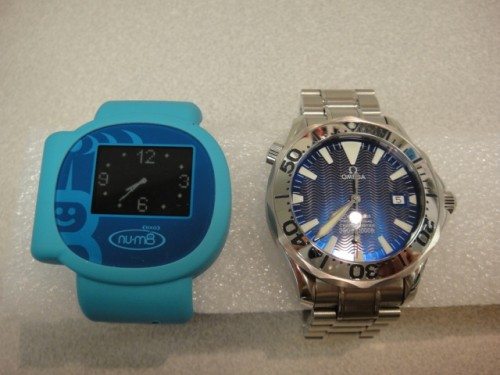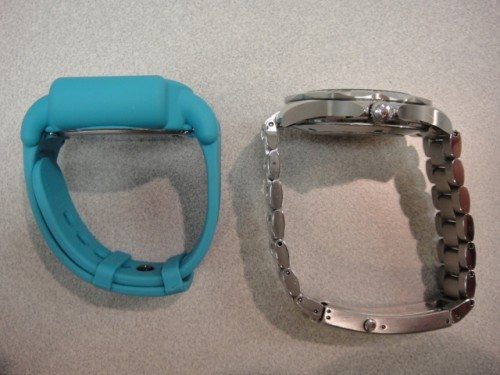 Specs:
Waterproof to IPX7 (immersion in 1 meter of water for 30 min.)
Battery (from website):
"nu.m8 is quoted at 48 hours standby in good GSM coverage (cell phone network coverage). Powering up the GPS takes the most power although poor GSM or handshaking  multiple base stations (during a car journey) will consume extra battery. We would expect 5-10 wru's outdoors will give 14-18 hours battery life, 5-10 wrus indoors where we can see some GPS but not enough to lock will reduce battery life to 12 hours."
The nu.m8 is clever.  It looks like a no-frills kid's watch.  My son requested the very brightly colored blue one.  The first thing I noticed is that the strap can only be detached using a special tool (included).  For the sake of other nu.m8 owners, I won't reveal how that's done here.  The strap can be adjusted, but only when detached.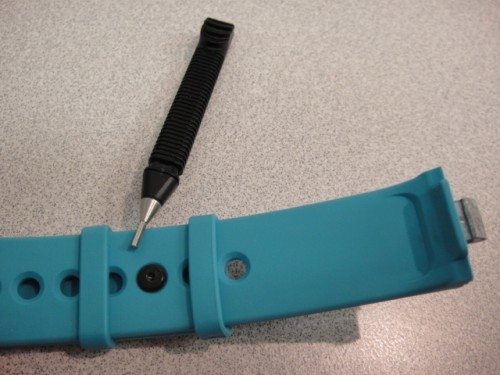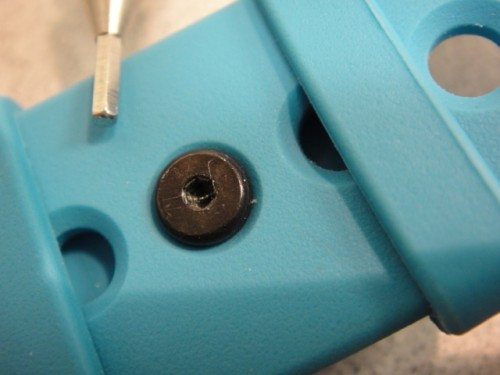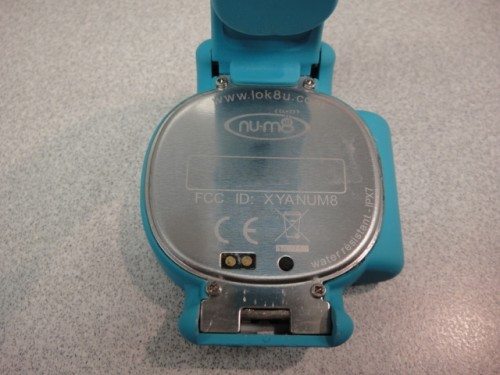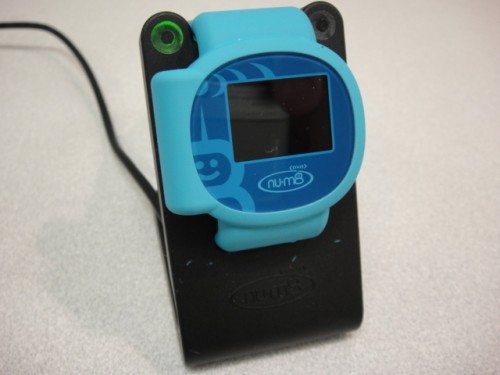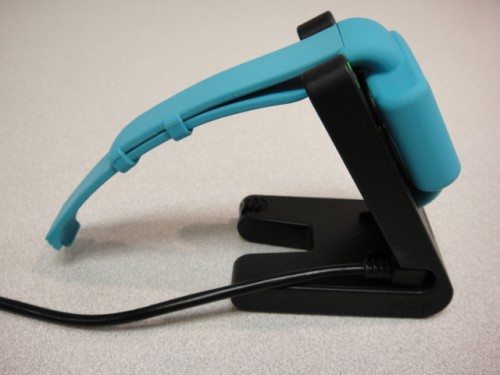 The nu.m8 uses what I call a "pinging" style of tracking.  That is, it will send out a location update when requested or when it crosses user-defined area.  There is a "live mode" which updates more often to give a more real-time effect, but this drains the battery faster.  The live-mode can be set to activate in the event of strap detachment, for example.
I ordered this item when it first became available on Amazon.  To my dismay, I could not get reliable tracking data.  I figured it was way too ahead of it's time so I sent it back.  A week or two later I learn that the nu.m8 had an over-the-air (OTA) firmware update that fixes this problem, so I contacted the company and was assured this fix was a good one.  True to their word, my evaluation unit works flawlessly.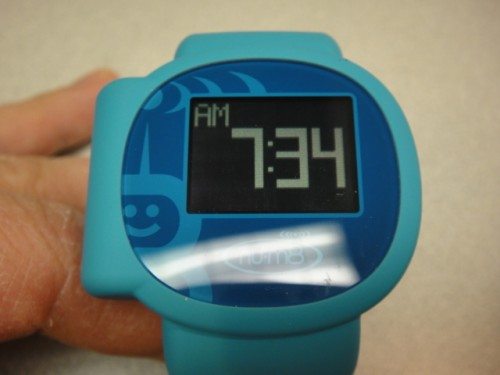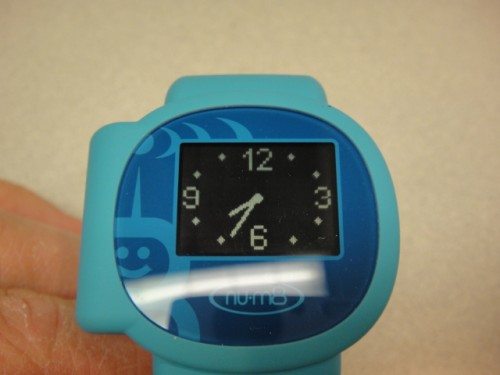 You may be thinking, what good is GPS if you're indoors?  As long as you can get a good GSM signal (I've learned T-Mobile is default) then it will triangulate based on cell tower location and plot an approximate circle of where your child is.  If your kid frequents only a few places (grandma's house, school, friend's home) then it's good enough.
I discovered that the nu.m8 locks onto a usable GPS signal quite easily under conditions I would not expect.  It located the watch inside a car, and inside my home, which is on the top floor of a building (which probably helped).  Did not work inside my high-rise office building as expected.
The monthly rate is $9.99, which gives you web portal access to send commands to the watch, as well as mapping, based the familiar Google Maps.  From the portal you can set the unit on standby, "live", create a geofence, monitor battery levels, email notifications, and so on.  Read more about rate plans here.  Yearly discounts apply.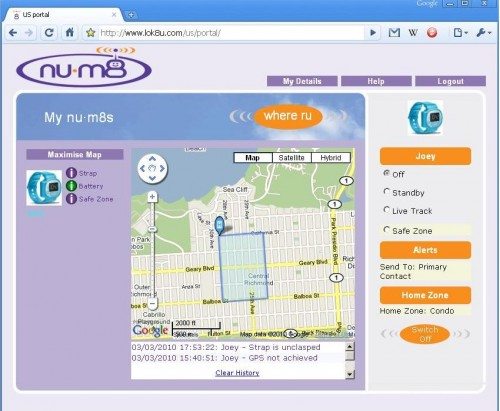 For a $17.99 a month, you also get SMS control and notification.  From any SMS-enabled cell phone, you can send the following commands to the nu.m8:
Where are you request text "wru"
Off (to release strap) text "off"
Safe Zone on text "safe (radius as metres)"
Safe Zone off text "zone"
Clock Analogue text "clock"
Clock 12 hour digital text "12"
Clock 24 hour digital text "24"
Standby text "stand"
In my testing, it takes about 60 seconds for commands to be executed.
SMS functions are very handy if you aren't near a computer with web access.  The "wru" function is especially neat.  You'll get a reply back with the street address your child was located, or the approximate range if there is no GPS signal ("2000-2999 Main St")
So does it work?  Yes it does.  A little creepy?  Some might say so.  I won't go into the privacy issues that some may have.  If my son doesn't want to wear one, I won't make him.
It's not real-time like you'd see in a James Bond movie (no moving dot on a computer screen) because the power requirements would be prohibitive in such a small package.  However, the "ping" method works fine for all but the truly paranoid.
The dealbreaker for me is that the watch is simply too large for my 4 year old son.  He's about 35 lbs and 3 feet tall.  Not a big kid.  The watch fits his wrist at the smallest strap setting.  Anything larger and it runs the risk of slipping off.  It's about the size of a typical sports watch or "G-Shock" watch, but might fit better on a slightly larger child.
When the nu.m8 can be shrunken down to an even smaller size, I will definitely pick one up for keeps.  This would also be great for children or other individuals with special needs.
Product Information
Price:
$179 for the kit, $9.99 per month for web only, $17.99 per month adds SMS. Yearly discounts apply.
Manufacturer:
LOK8U
Pros:

Very small, kid friendly design. Looks like a kids watch.
Watch alerts parent if detached.
When GPS not available, nu.m8 falls back on GSM cell tower locations.
Comes in black, pink and blue.

Cons:

Not a true "real-time" tracking device like you'd see in the movies.
Those with privacy issues may feel iffy.
A little big on the wrist if you're child is small.