We use affiliate links. If you buy something through the links on this page, we may earn a commission at no cost to you. Learn more.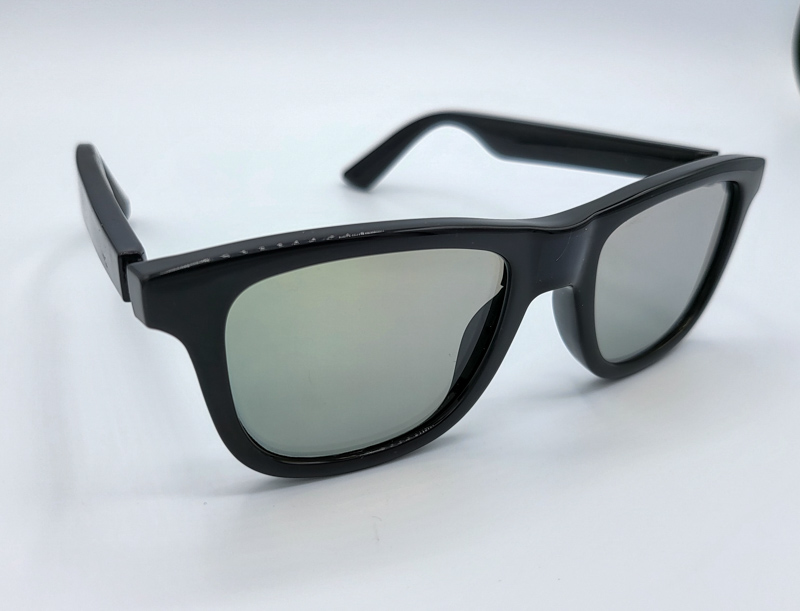 REVIEW – Have you ever been wearing your boring old sunglasses and thought "I wish these would auto dim in this bright light, or be less shaded in this shady area"? And also thought "ooh and they should let me take phone calls and play my music and podcasts too"? If so, you've come to the right place.  Wicue sent over their new Smart Bluetooth Audio Polarized Auto Dimming IP66 Waterproof sunglasses, and they've become an inseparable companion to my biking and scootering around town.
What is it?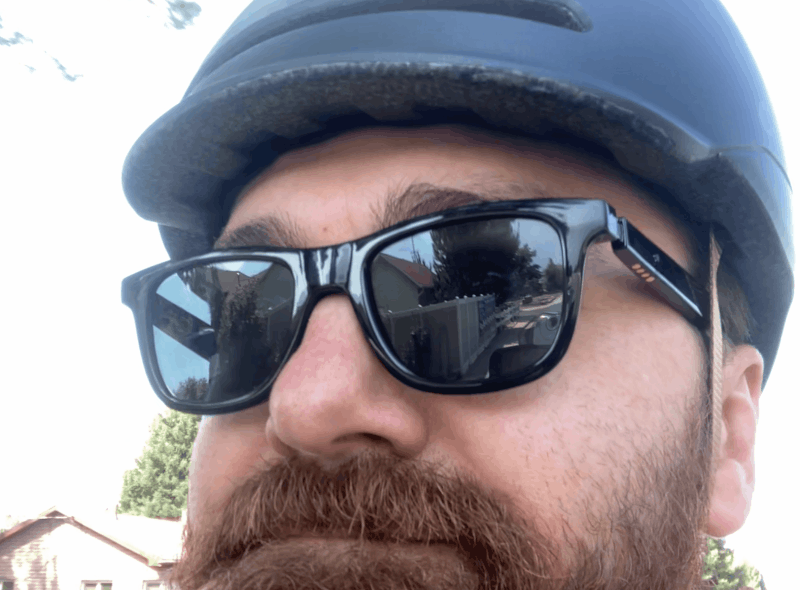 The Wicue Smart Bluetooth Audio Polarized Auto Dimming IP66 Waterproof sunglasses is a pair of classic style sunglasses that hide some neat tricks. Said tricks include polarized lenses, Bluetooth 5.0 low power speakers, and nearly-instant auto-dimming to adjust to different light conditions.
What's in the box?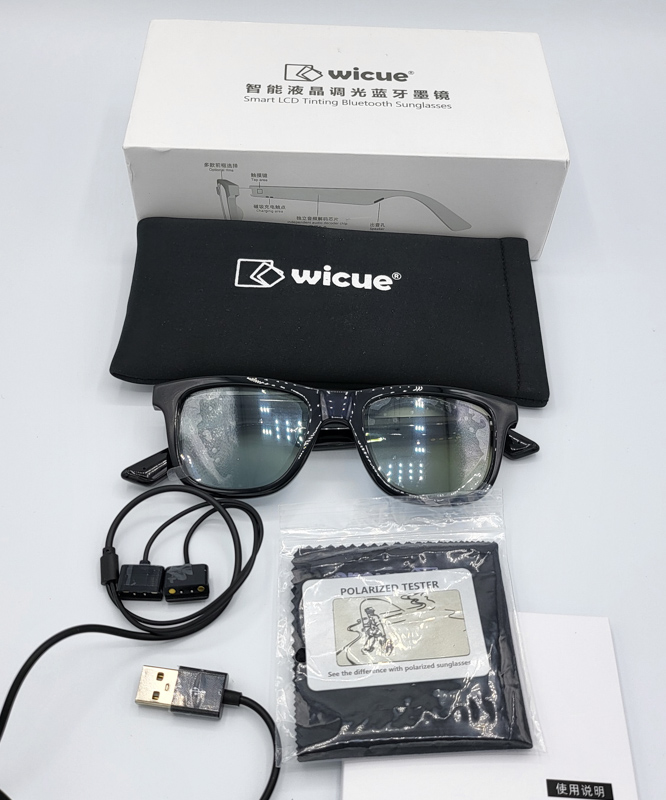 Wicue Smart Bluetooth Audio Polarized Auto Dimming IP66 Waterproof sunglasses
USB to dual-magnetic charger
Carrying case
Cleaning cloth
Polarized Tester
Manual
Hardware specs
0.1 second auto-dimming Liquid Crystal Film (with all types of light, not just UV)
7 – 37% Light Transmittance Reduction (typical sunglasses are around 12% in all conditions)
Bluetooth 5.0 low power connectivity
Open-ear TWS speakers
100% UV protection
Magnetic fast charging (30 mins to fully charge from empty)
7 days standby-time, 3+ hours call time, 2.5 hours music playback
IP66 water and dust proof
"High Definition noise reduction microphone"
Design and features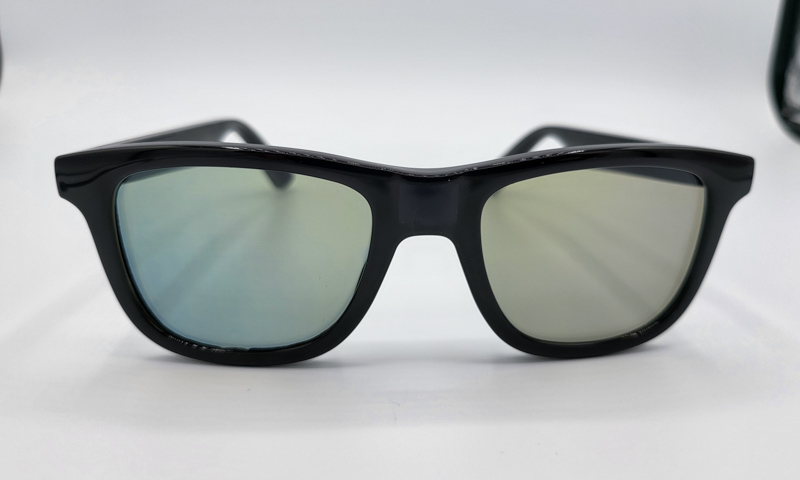 The design of the Wicue Smart Bluetooth Audio Polarized Auto Dimming IP66 Waterproof sunglasses is very similar to my usual cheap Amazon polarized sunglasses that I wear while driving or outside in the sun. At a glance you wouldn't be able to tell that these have a ton of features hidden away, which I love. I've seen other speaker-enabled sunglasses that look pretty goofy with bulky frames and obvious speaker ports.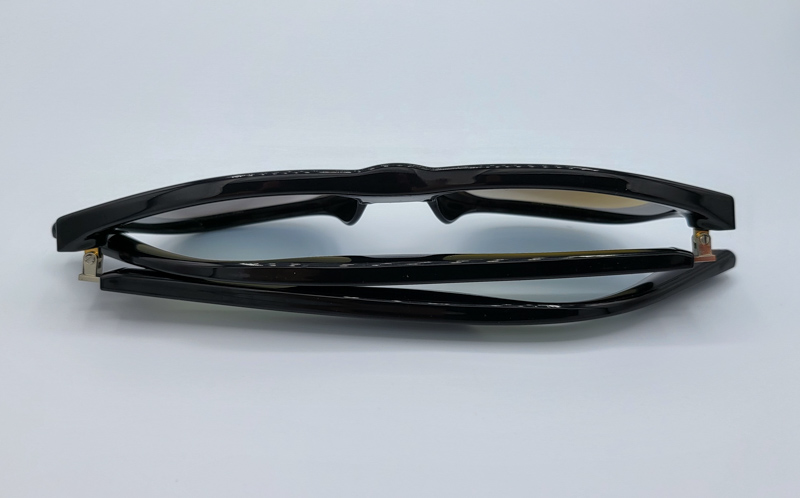 Here's the top view, the sunglasses fold nearly flat, but not quite. Good enough for me, they fit easily into the carrying case for transport. I do wish they had safety hinges at this price point, the hinges are metal but if pushed too far they'd likely snap.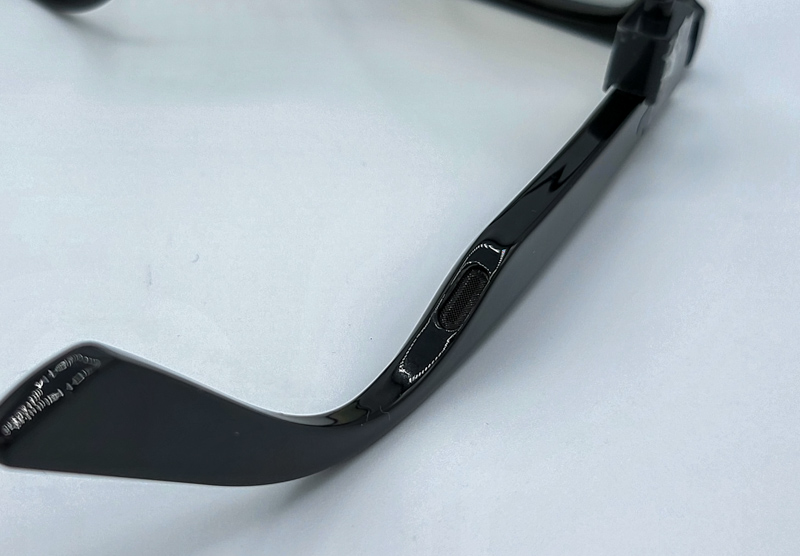 Shown here is one of two speaker grills. These are placed where they direct the sound right into your ear canal, and I like how well they're hidden.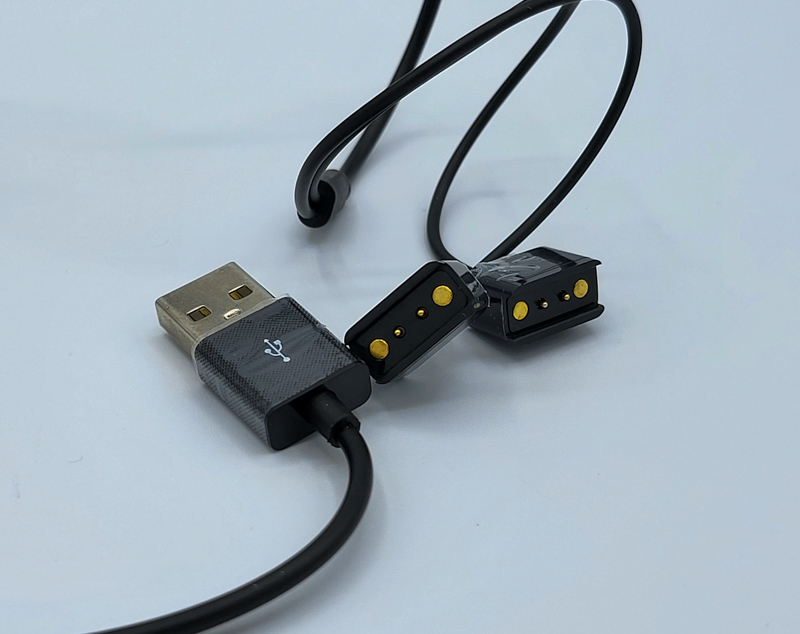 This is the included charger, though there's no wall plug included. This should be fine, since you can simply plug it into any available USB port and then connect one lead to each side of the sunglasses to charge them up.
Installation and setup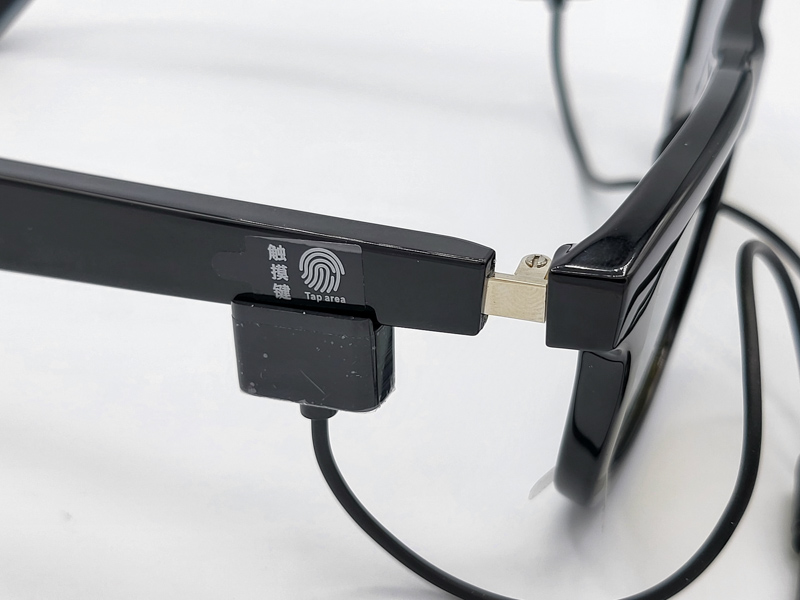 Installation is as simple as charging the glasses (the Amazon listing quotes a 30 minute full charge time, but it was about 20 from dead for me, very fast). A temporary sticker shows the capacitive touch zone on each temple, this is the extent of controls (one on each temple).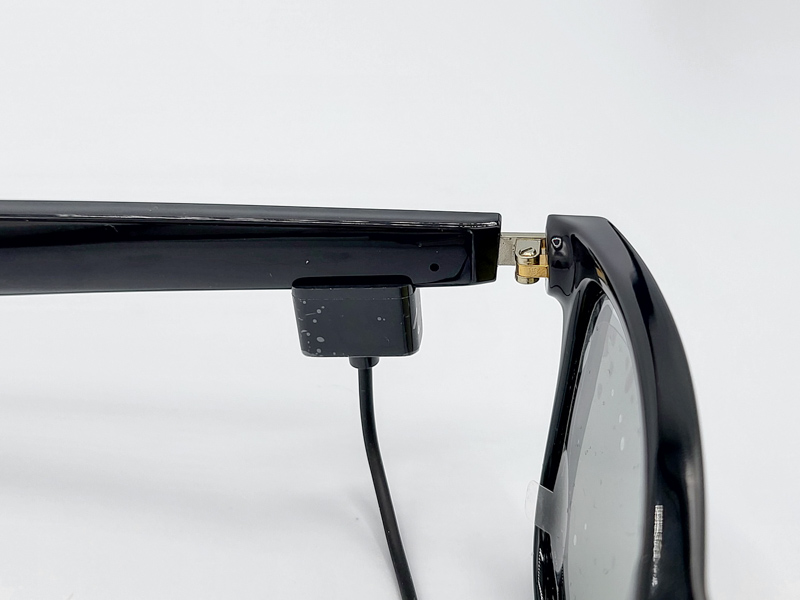 On the inside is an LED light that's invisible when it's not on – I took this picture right after it finished charging, so you'll have to use your imagination. The light is red, if that helps.
When finished charging, you'll hear a voice say "power on!". If you're not planning on using them right away, you'll want to long press both touch spots to shut them down. Wicue claims a 7 day standby time while on, so it's not a huge worry if you forget, but they will slowly drain over time.
Performance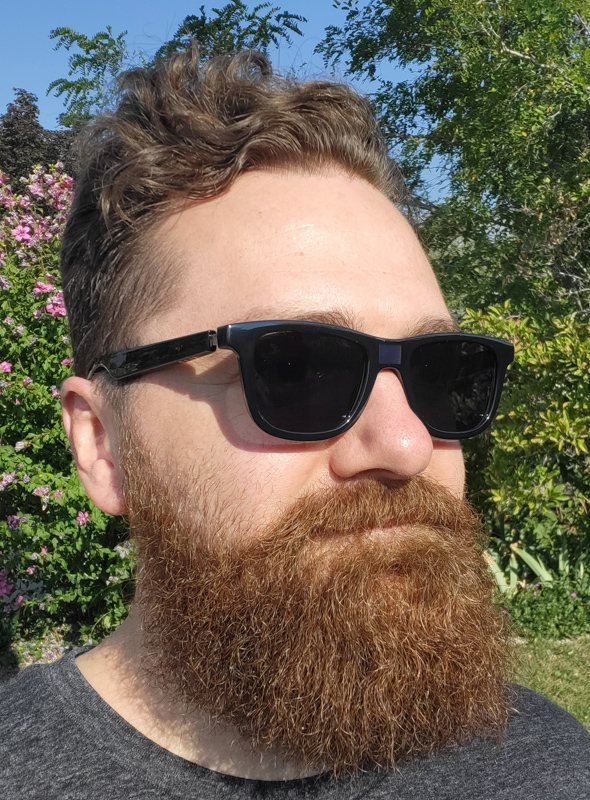 I immediately went outside to test out the Wicue Smart Bluetooth Audio Polarized Auto Dimming IP66 Waterproof sunglasses, and in direct bright sunlight they were darker than my usual pair. The manual claims that they range from 7% light reduction to 37% (normal sunglasses average around 12%). For the most part, they felt better than my usual sunglasses in terms of sun and glare protection. Interestingly, this auto-dimming works even when the sunglasses are fully powered off. I'd guess that they're still drawing a tiny bit of power to do the dimming trick, but I can't find details on Wicue's public facing sites to confirm. Using them for several trips without turning on the Bluetooth Audio seemed to not drain the battery much, if at all.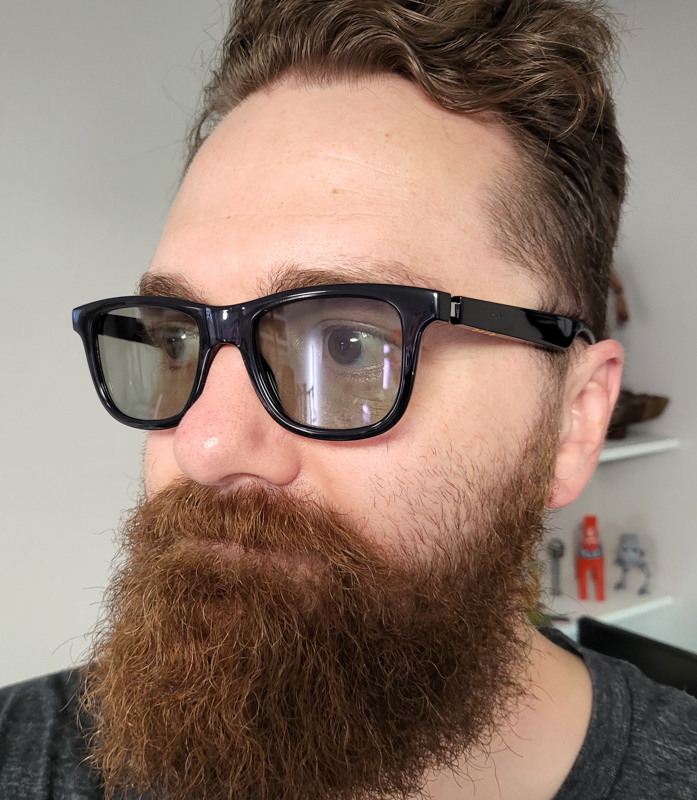 Going indoors or into shade results in a nearly clear lens as shown above. They were especially great in twilight or dawn light where it can alternate between glaring light right into your eyes and very dark shadowy areas as you travel. Overall, the adjustable dimming was something I never thought I needed but which I'll always miss now that I've experienced it. I hope I don't lose these as fast as I lose my usual pairs of sunglasses.

Finally, the audio. I tried out the sunglasses with both Android and iOS devices, and they worked as easily as any other Bluetooth device with both. For whatever reason the battery remaining displayed on Android but not on iPhone. Sound quality was average, there was almost no bass and at highest volume everything sounded a bit blown out. At a reasonable volume things sounded OK. A similarly priced set of earbuds will probably blow these out of the water, but if you don't like earbuds and/or find it more convenient to just have sound through your glasses (especially for phone calls or podcasts/audiobooks) these are good. I also really like that you can still easily hear ambient noise and other people while using these. Call quality was good, the other parties commented that I sounded as clear as on any other device until I started moving on a bike or scooter, then wind noise was very bad. At low speeds, my Samsung Buds Pro do a good job of cutting all wind noise so I can take a call while on the bike, but with the Wicue Smart Bluetooth Audio Polarized Auto Dimming IP66 Waterproof sunglasses I have to fully stop.
As a final note on the audio, I regularly use an Oculus Quest 2 headset for VR workouts (especially Beat Saber), and they use an audio system very similar to these sunglasses. In the case of the Oculus, they are capable of much higher volume, and a better overall sound. I'd bet that the tiny batteries in the sunglasses simply can't put out the power needed for similar sound though, Wicue likely would have had to increase the bulk of the device to accommodate larger speaker drivers and batteries, so I'm fine with their implementation here.
What I like
Very fast auto-dim adjustment
Decent music playback and controls
Classic sunglasses look – not obviously electronic
What I'd change
Better wind and noise cancelling on the microphone
Better battery life (as long as size/shape of the sunglasses isn't affected)
Final thoughts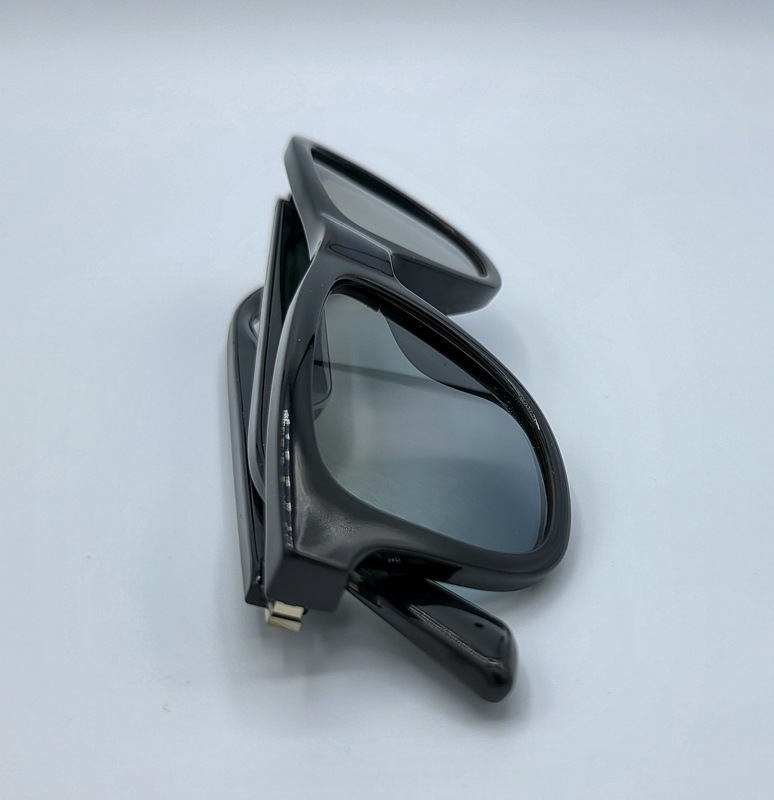 Overall, the Wicue Smart Bluetooth Audio Polarized Auto Dimming IP66 Waterproof sunglasses are a great addition to my adventures.
Price: $179
Where to buy: Amazon
Source: The sample for this review was provided by Wicue