We use affiliate links. If you buy something through the links on this page, we may earn a commission at no cost to you. Learn more.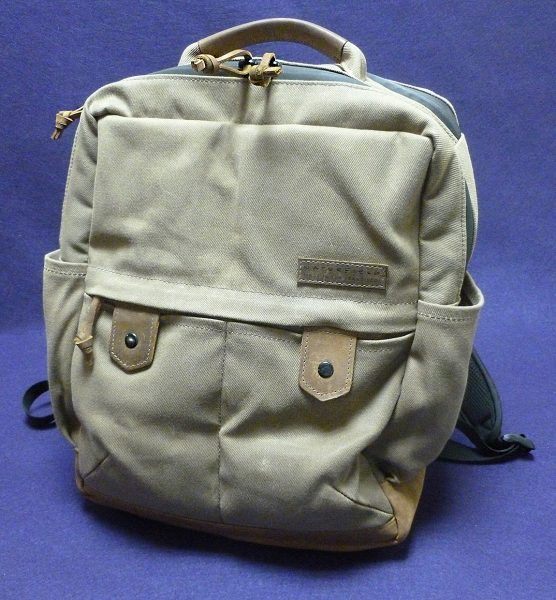 Invisible zippers. That's what initially struck me when I first saw the new Waterfield Designs Bolt Backpack. When I unpacked and inspected it, I couldn't find the zippers. Only when I noticed the leather zipper pulls, did I see how ingenious the disappearing zippers are. It's really cool. But that's not the only cool thing about the Bolt Backpack.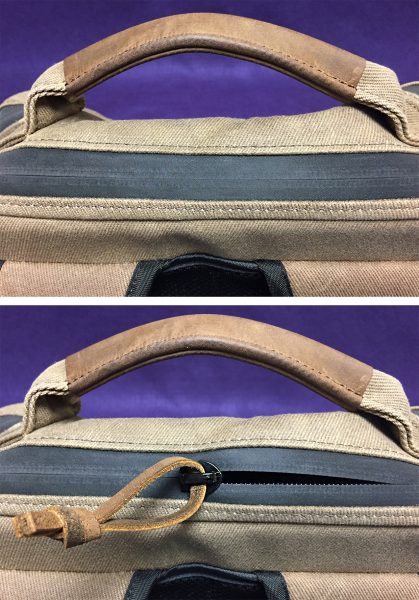 Waterfield makes many types of bags to carry stuff, from padded gear pouches to full-on backpacks. The Bolt backpack kinda looks like a vertical version of the Bolt Briefcase. They are both similar in style. The backpack Bolt has plenty of room. You can fit a laptop, iPad, other tech stuff and still have room for more—easily doubling as an overnight bag if necessary. The two oversized openings at the top allow access to all compartments making it an easy traveller for airport security. Unfortunately, it does not open up and flatten for airport X-ray machines as some other backpacks do.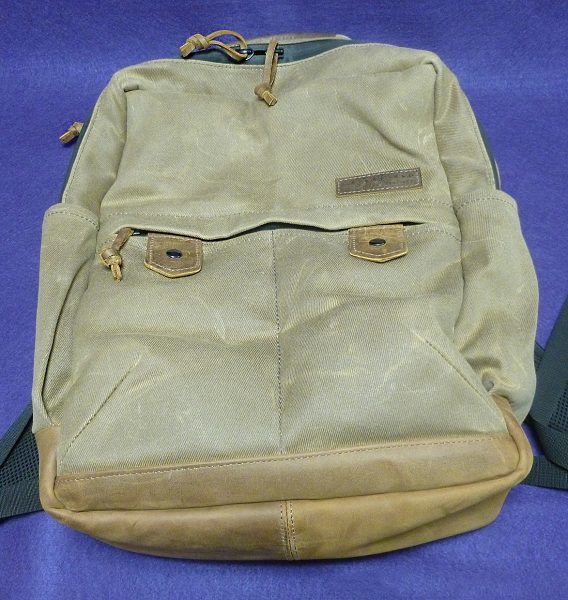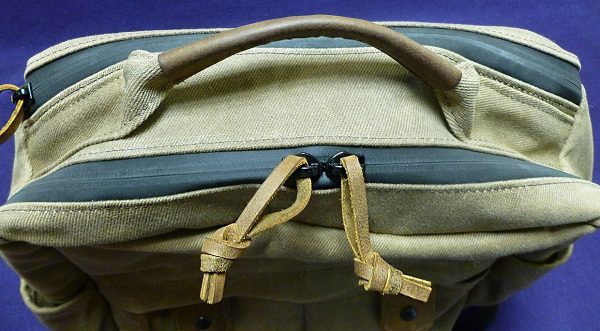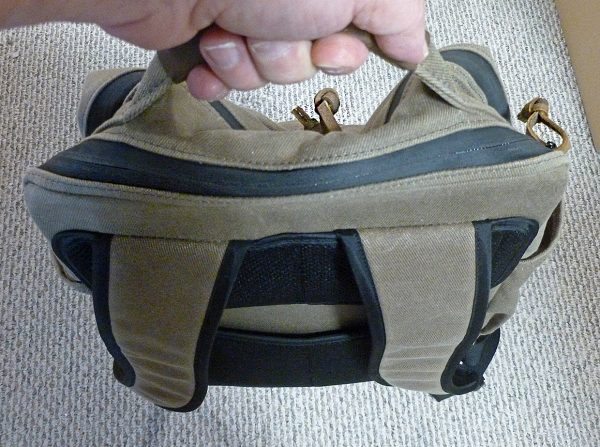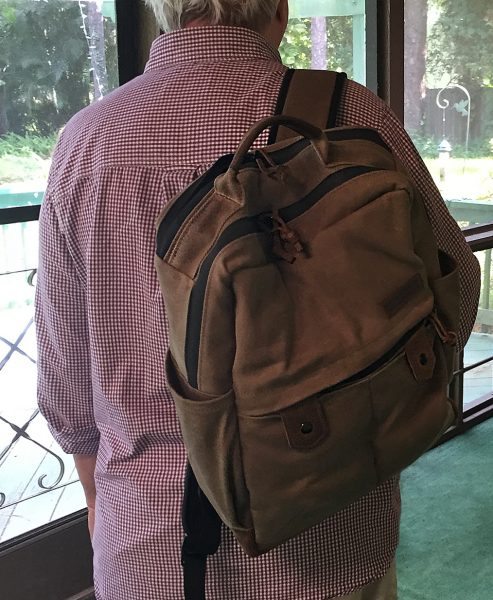 Let's go over the practical features of the Bolt. It's made from either medium tan waxed canvas or black ballistic nylon—both with leather accents. I'm reviewing the waxed canvas version. Both styles are water resistant—always a good thing. Plus those invisible zippers are a solid moisture barrier when zipped up. Zipper pulls are leather as are the magnetic pocket flaps and handle. I would prefer the handle to be rounder and/or padded which would be more comfortable when carrying by the handle, but it's not bad. Fortunately, the Bolt is usually carried by the shoulder straps, which are extremely comfortable. I never use both straps of a backpack—it always sits on my right shoulder. Even so, the Bolt feels balanced and does not dig into my shoulder at all, no matter the weight of the contents.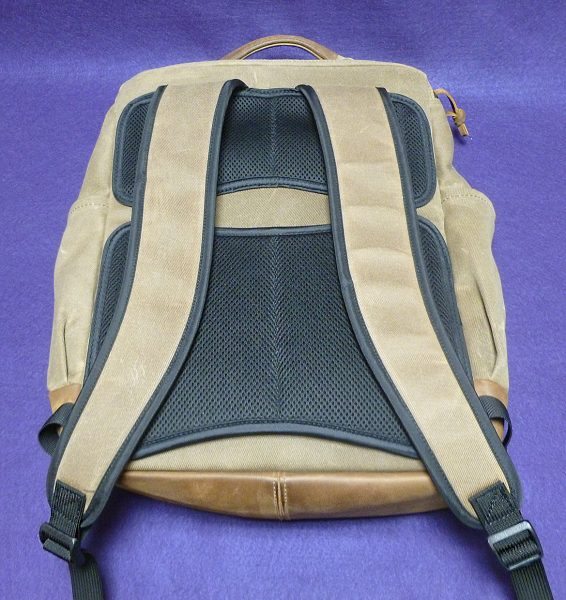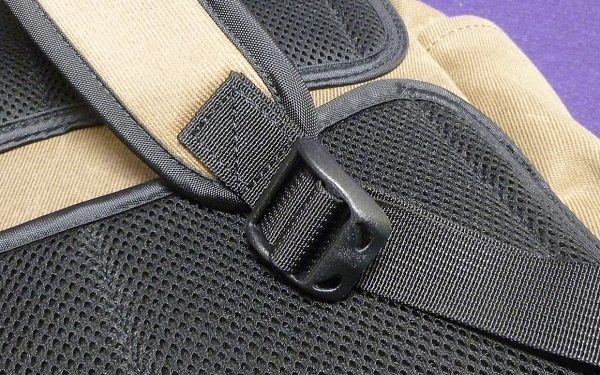 The back of the Bolt has sweat-resistant padding that is both comfortable helps wick moisture away from a sweaty back. In humid Central Florida where I live, this is a big plus. This padding is open at both ends allowing the Bolt to be slipped over a rolling suitcase's extended handle. The bottom is lined completely in leather, but it's not reinforced, so when the Bolt is filled, it's difficult setting it down without having to lean it on something. Without the reinforcement, it kept falling over. To be fair, many backpacks won't stand on their own, but some do.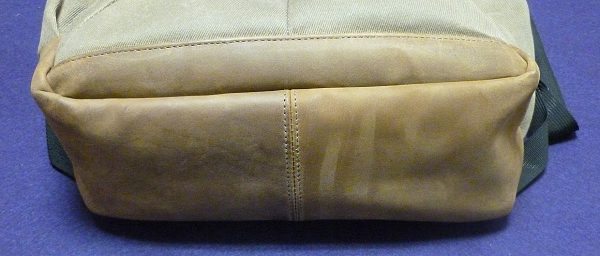 The Bolt backpack comes in three leather trim color choices for both the canvas and nylon version: Chocolate (dark brown), Grizzly (medium brown) and Black. Each material and color combination are priced the same.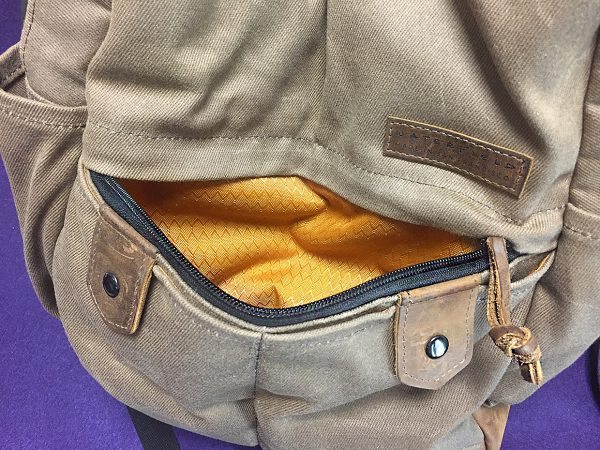 There are two large side pockets on the Bolt that can easily hold a water bottle and an umbrella. A large, zippered pouch sits at the front with two smaller pockets on the outside closed by the magnetic leather flaps mentioned earlier. One problem with the outside pockets is that if they contain anything bulky, the too-short flaps won't close. Also, there are no inside pockets in that larger front pouch, so a lot of my smaller stuff gets thrown in there all mixed together. As cool looking as the outside pockets with flaps look, the addition of a couple of pockets inside the front pouch would help organize my stuff better.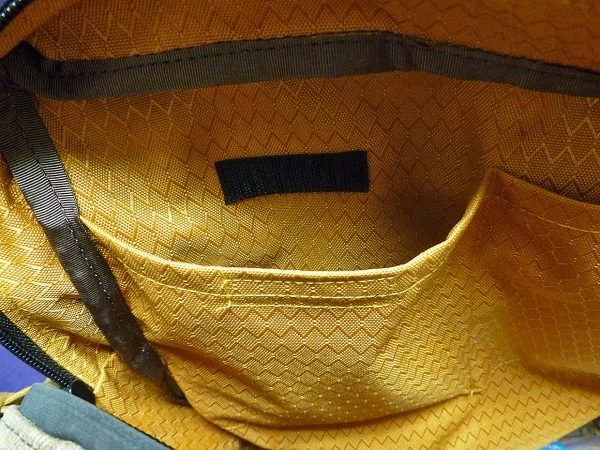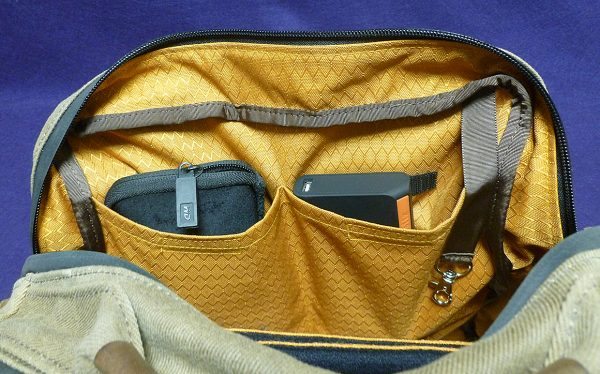 Those nitpicks aside, the larger main compartment will hold quite a lot of stuff, which makes the Bolt an ideal travel companion. Unlike the outside pouch, it does have two inside pockets with velcro closures. These pockets contain my portable hard drive and large backup battery and both are taller than the pockets depth, which prevents the velcro from closing. The inside compartments are lined with an orange fabric that can help reflect light making it easier to find things.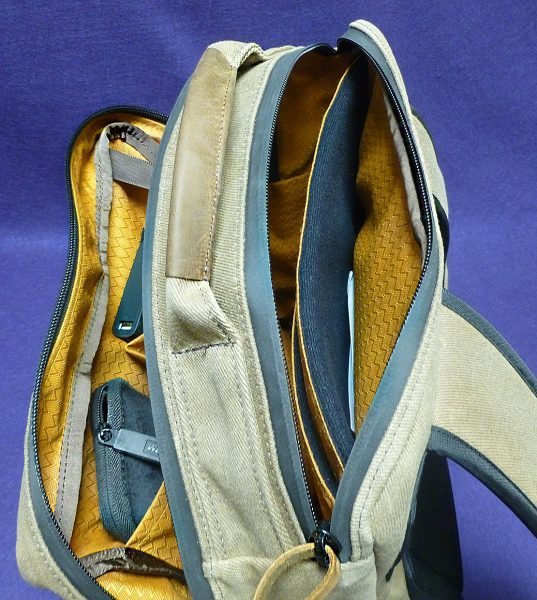 Behind the main area are two flatter and padded compartments that can hold both a laptop and a tablet in its own separate pocket which helps prevent scratching. Even though the main and laptop compartments have their own zippered access, you can get to any compartment from either opening.
The stitching and craftsmanship are first-rate—something to expect from Waterfield. They consistently make good and practical products. I can't imagine the Bolt coming apart at the seams, even with extensive travel abuses. Sure, the Bolt will get scuffed up and maybe even dirty, but both the leather and waxed canvas will only look better with age and use.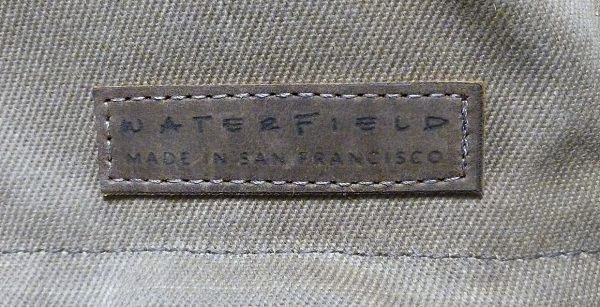 Waterfield has made a backpack that can easily fit into just about any lifestyle, whether it's corporate, weekend or—dare I say it?—hipster. The Bolt is stylish without showing off, rugged yet classic looking and quite comfortable to lug about. Plus it's made in the good ol' USA in San Francisco. It's not cheap, but Waterfield makes things to last, so you can plan on getting years of worth out of it—and maybe even hand it down to a new generation.
The Waterfield Designs Bolt Backpack sells for $329 US.
Source: The sample for this review was provided by Waterfield. Please visit www.sfbags.com for more information.
Product Information
Price:
$329 US
Manufacturer:
Waterfield Designs
Pros:

Well made - rugged construction
Comfortable to use
Wide shoulder straps
Roomy
Water resistant

Cons:

Won't stand on its own
Expensive
Could use more interior pockets