We use affiliate links. If you buy something through the links on this page, we may earn a commission at no cost to you. Learn more.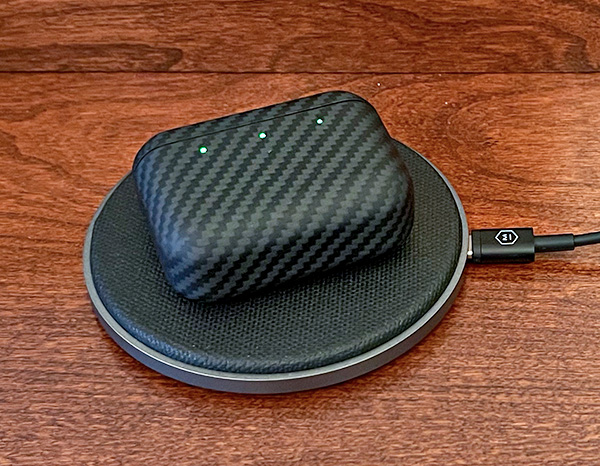 REVIEW – Three months ago, I reviewed the Master & Dynamic MW08 True Wireless Earphones and said that they are better than M&D's previous MW07 Plus earphones in every way. Well, M&D has never been one to sit on their success for long. In a couple of short months, they've already introduced the MW08 Sport True Wireless Earphones. Are they identical? Yes … and no. At the same time, M&D released the MC100 Wireless Charging Pad. Why? Because …
What is it?
The MW08 Sport True Wireless Earphones are an upgrade (side-grade?) to the new MW08 True Wireless Earphones. The earphone shells are made of shatter-resistant sapphire glass and aluminum. The case is made from kevlar—the same material used in bullet-proof vests.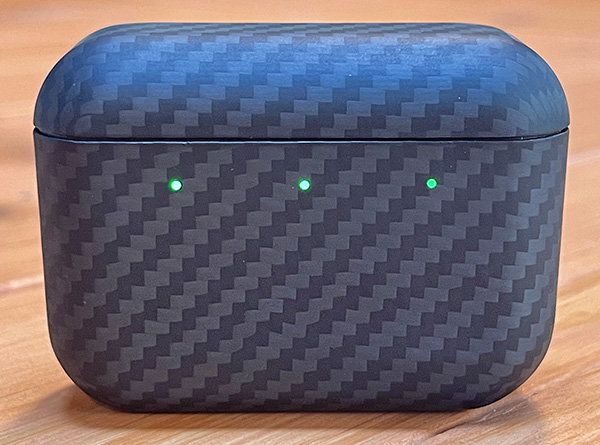 The MC100 Wireless Charging Pad is an inductive charger made from an aluminum base topped with coated canvas. It comes with a 3.3 ft. USB-C to USCB-C cable for plugging into an outlet (plug not included). It is capable of 5V/9V 1.2-1.5A output at 5 Watts/10 Watts.

MW08 Sport Specs
Dimensions: 21.19mm x 20.22mm x 25.08mm
Speakers: 11mm beryllium
Weight: 8.6g each
Materials: Sapphire glass/kevlar case
Water resistance rating: IPX5
Battery life: 10 hours with ANC
Microphone: 3 in each earphone
Active noise canceling: All day and max modes
Ambient/awareness mode
Colors: Black, Green, Silver Blue

MC100 Specs
Dimensions: 100mm x 100mm x 9mm
Weight: 90.7g
Max output: 10 Watts
Input: 5V/1.2~1.5A, 9V/1.2~1.5A
Compatibility: Works with MW08 Sport and compatible products. Apple iPhone 8 and newer mobile digital devices.

Design and features
MW08 Sport True Wireless Earphones
Whether the MW08 Sport is an upgrade to the "regular" MW08 earphones is debatable. I think they serve different audiences. The MW08 earphones are geared for indoor or WFH use. However, since they also have a sweat/splash rating of IPX5, the MW08s can be continually worn when switching from working in to working out.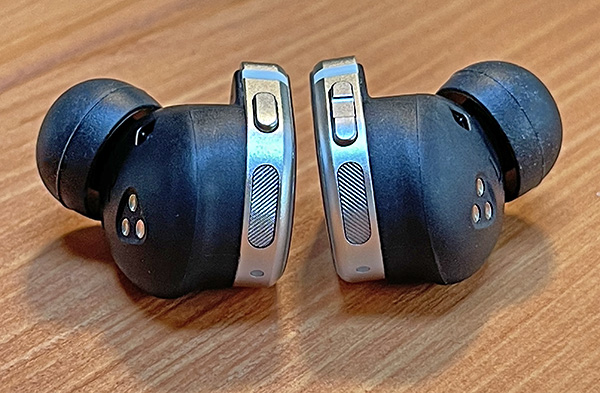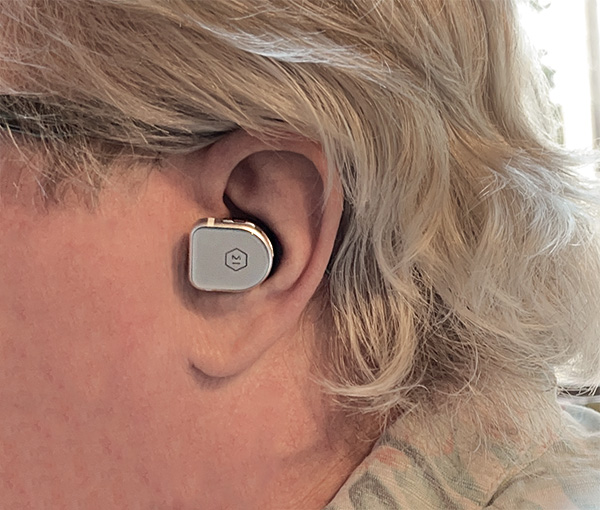 The MW08 Sports earphones are identical to the MW08s if judged on audio and noise-canceling only. There's no need to re-hash my thoughts on how the MW08 Sport earphones sound. Here's the link to the MW08 review. M&D's compatible smartphone app remains the same.
Where the MW08 Sport earphones differ are with the outside materials. The flat exterior panel is made of sapphire glass instead of the MW08s ceramic material. I have no idea if sapphire is stronger or not, but it does look richer with an added visual depth missing from the original MW08. The brushed aluminum band surrounding the sapphire front is also a nice visual touch.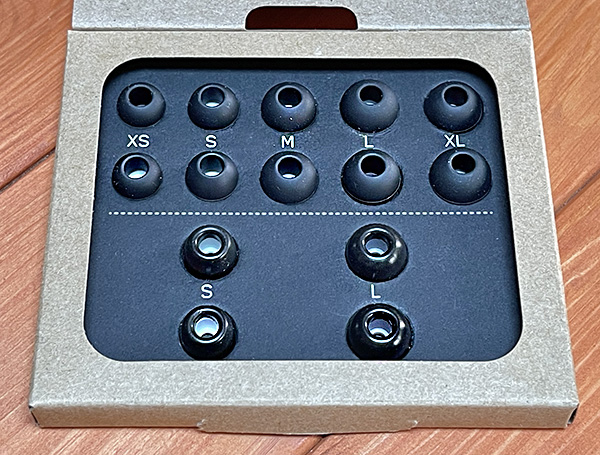 The MW08 Sport's fit is also the same—with one slight difference. The Sport model offers two pairs of foam ear tips (S and L) as well as an extra pair of medium silicone tips to the MW08s standard silicone tip choices. The new expandable foam tips offer a bit of extra "stay in" security when jogging. Other than that, the fit feels the same. After using the foam tips, I still prefer the silicone tips. Note that the foam tips don't make the MW08 Sport earphone sound any better—or worse.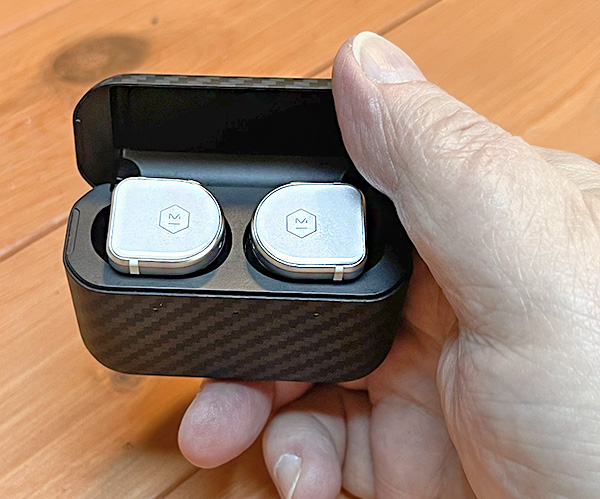 There are four colors offered for the MW08 Sport earphones: Black, green, silver, and blue. While the green (more like an olive green) and blue colors look nice, I'm not a fan when those colors are seated in the dark gray color of the kevlar case. The black and silver colors are a better color match.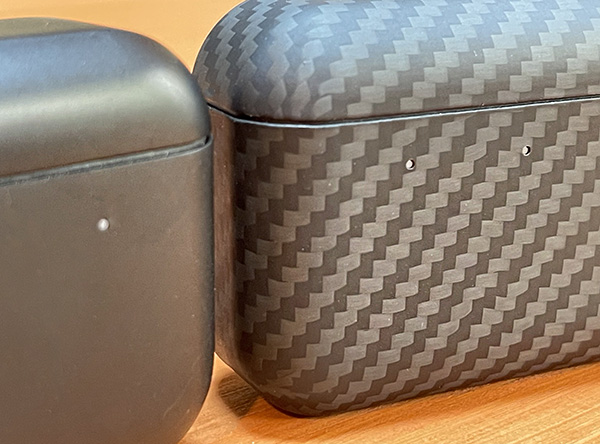 For the MW08 Sport earphones, Master & Dynamic has ditched the cool (but heavy and scratch-prone) aluminum case for kevlar. Other than being a bit lighter, the kevlar case is the same size and opens the same as the MW08's aluminum case, but now has an IPX4 water resistance rating. Sadly, the included pouch included with the MW08s has been omitted on the Sport model.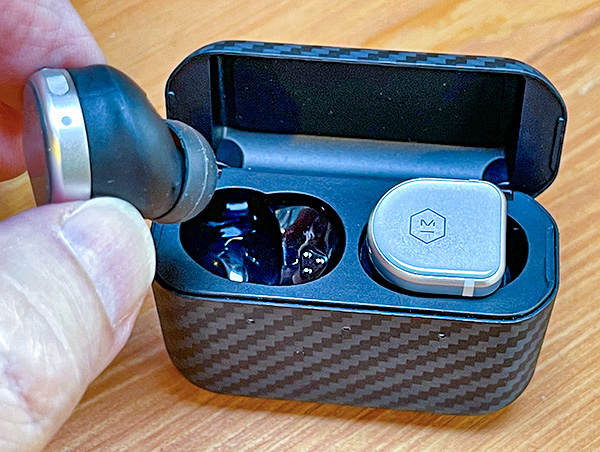 The big advantage with kevlar is that it permits the case to be charged wirelessly—a first for M&D's earphones. These additional MW08 Sport earphone features have bumped up the price by $50.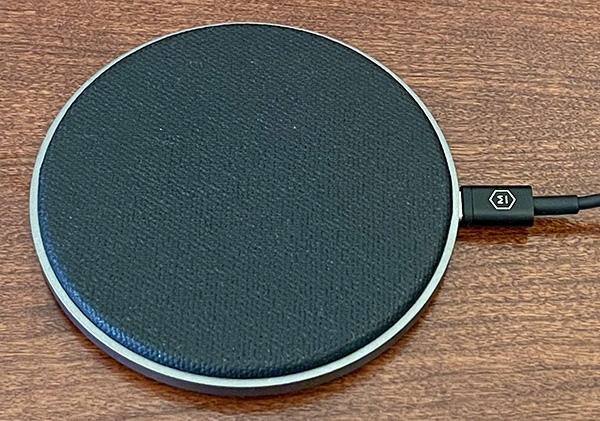 MC100 Wireless Charge Pad 
Master & Dynamic can't just design an earphone case that can be charged wirelessly without designing a charging pad for it to sit on. So they did. The MC100 Wireless Charge Pad is a 4-inch round aluminum pad topped with non-slip canvas. The pad is just that—a charging pad. Once it's connected to an outlet via its USB-C cable, the MW08 Sport kevlar case (or any compatible wireless case) can be set on the pad. The charging lights on the case then light up indicating the charging status.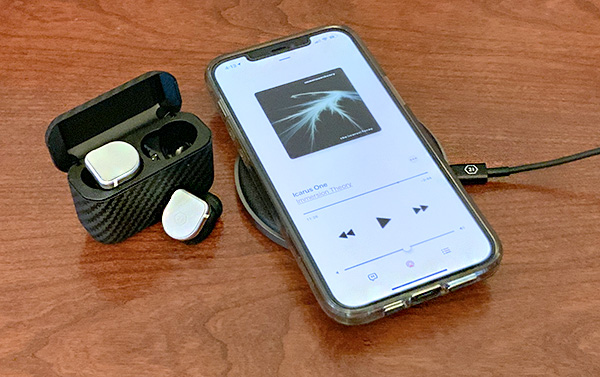 Note that the kevlar case can be charged wirelessly on any Qi-compatible charging surface. Likewise, the MC100 can also charge a smartphone or other wireless Qi-compatible item. You don't have to buy an M&D MC100 if you already own a charging pad.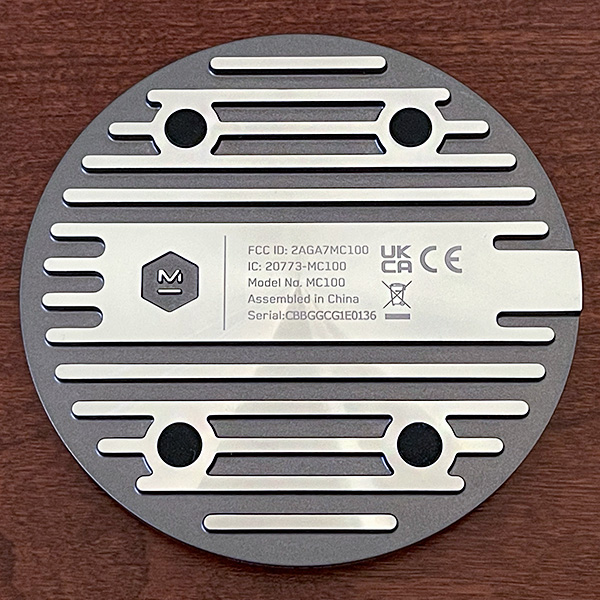 The MC100's aluminum base has a routed pattern that helps dissipate heat. The pad does get warm while charging. Leave it to Master & Dynamic to make the MC100's machined base (which no one sees) prettier than the top. The MC100 is a bit expensive for what it is, but M&D's build quality has always been first-rate. 

What I like
MW08 Sport earphones
Stellar sound quality and active noise canceling—same as MW08 earphones
Kevlar case
Wireless charging

 

Foam ear tips
What I'd change
MW08 Sport earphones
$50 more expensive than the MW08 earphones

 

What I like
MC100 Wireless Charge Pad
What I'd change
MC100 Wireless Charge Pad
Expensive for a charging pad
No power plug supplied

Final Thoughts
The Master & Dynamic MW08 True Wireless Earphones and MC100 Wireless Charge Pad make a great combination for at-home listening as well as mobile use. The MW08 Sport earphones sound great, have good ANC, are built like a tank, are pretty to look at, and are quite comfortable. And they are now wireless—with a matching optional M&D charger! If you are looking for a new pair of future-proof earphones containing the latest tech, don't bypass Master & Dynamic. Your ears will appreciate it. 
Price: $349 US (MW08 Sport); $69 UC (MC100 pad)
Where to buy: Master & Dynamic and Amazon
Source: The sample of this product was provided by Master & Dynamic