We use affiliate links. If you buy something through the links on this page, we may earn a commission at no cost to you. Learn more.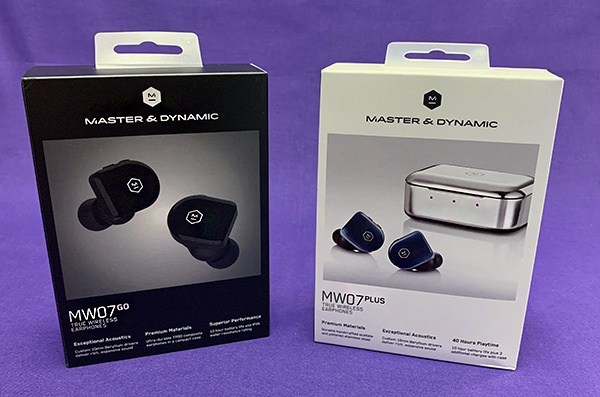 REVIEW – In my mind, the Master & Dynamic MW07 earphones are one of—if not the best sounding earphones available today. When you pair their audiophile sound quality with extreme comfort, it's a winning combination. However, they were not without flaws. Battery life was almost embarrassing and moisture resistance wasn't great which limited use to indoors.
That said, Master & Dynamic has answered critics with not one, but two new MW07 earphone models: the MW07 PLUS and more affordable MW07 GO.  

What is it?
The MW07 PLUS earphones are a follow-up in both design and price to the previous MW07 earphones with some major improvements. The MW07 GO is a less expensive version of the MW07 with surprisingly few compromises—especially when compared with the original MW07.

Hardware specs
MW07 GO:
Speaker driver: 10mm Beryllium
Weight: .25 oz. (each earphone)
Material: TR90 composite
Battery life: 10 hours
Additional charging time: 22 hours total
Mic: One beamforming mic array (right earphone only)
Bluetooth: 5.0
Range: 100 ft.
Waterproof rating: IPX6
Colors: Electric Blue, Flame Red, Stone Grey, Jet Black
MW07 PLUS:
Speaker driver: 10mm Beryllium
Weight: .3 oz. (each earphone)
Material: Handcrafted acetate
Battery life: 10 hours
Additional charging time: 40 hours total
Mic: Two beamforming mic arrays (left and right earphone)
Bluetooth: 5.0
Range: 100 ft.
Waterproof rating: IPX5
Colors: Black Quartz, Steel Blue, White Marble, Tortoiseshell
In the box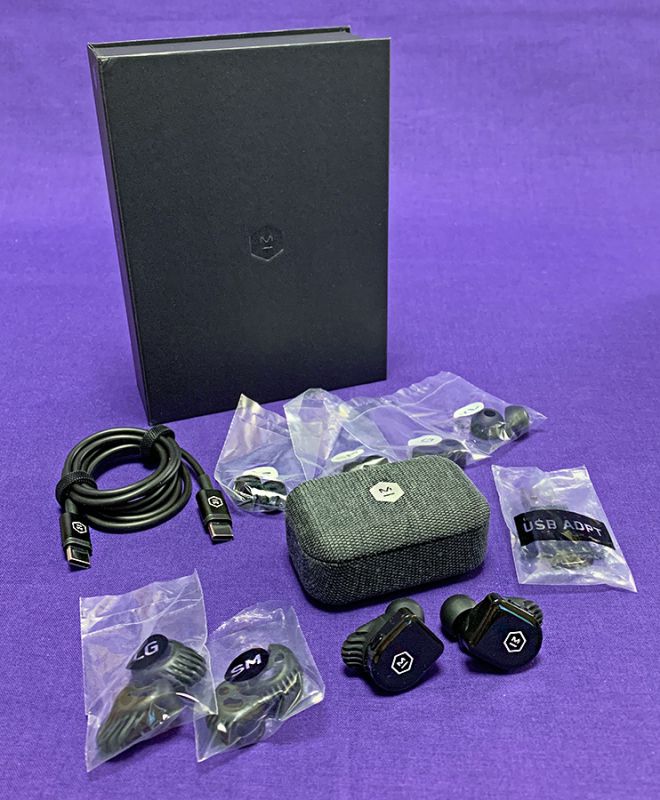 MW07 GO:
Earphones
Cloth-covered charging case
3 Fit-Wing + 5 ear tip sizes
USB-C to USB adaptor
USB-C charging cable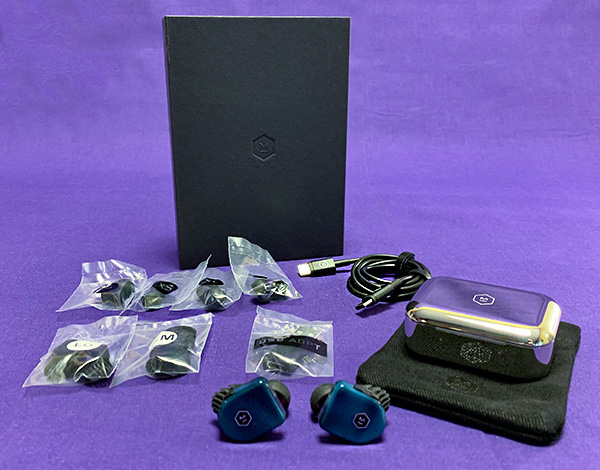 MW07 PLUS:
Earphones
Aluminum charging case
Canvas earphone pouch
3 Fit-Wing + 5 ear tip sizes
USB-C to USB adaptor
USB-C charging cable

Design and features
Rather than directly comparing the MW07 PLUS with the MW07 GO, this review will deal with each of the earphones individually except when a point of comparison is called for.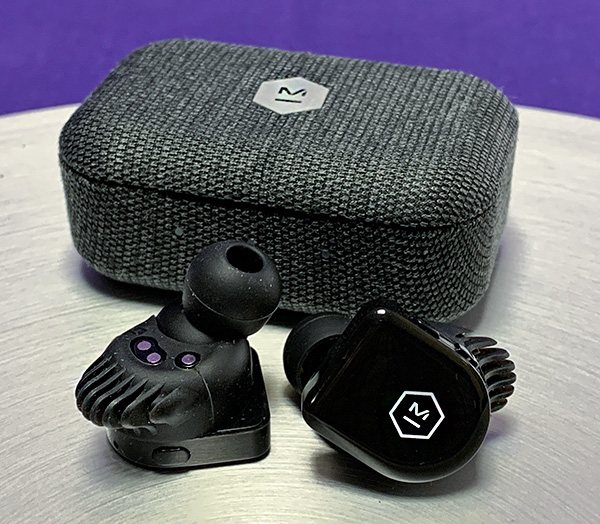 MW07 GO
For clarity's sake, the MW07 GO should have been called the MW05 or 06. Now there are three different MW07 earphones—it can be confusing.
The GO is a less expensive—but not cheap—version of the MW07. However, when you compare specs to the original MW07, it's a bargain. The speaker is the same 10mm beryllium driver found on the original (as well as the more expensive PLUS version!). This excellent speaker sounds great, no matter what genre of music you throw at it. 
Wait, it gets better.
Battery life on the MW07 GO earphones is 10 hours with 12 hours of additional charge in the case. While this is slightly above average for battery life today, it's way better than the original MW07's paltry 3.5 hours of playtime.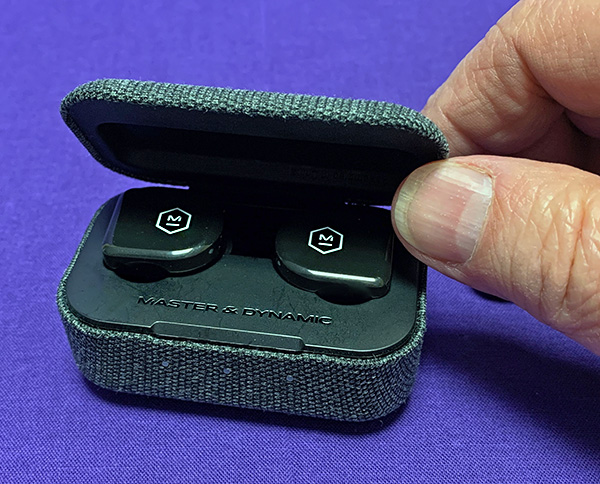 The noticeably smaller MW07 GO case is made of a durable and tastefully designed cloth rather than the now-iconic chrome fingerprint magnet MW07 case. I like this cloth version. Unfortunately, the lid won't remain open by itself. It keeps closing shut making it more difficult to remove and replace the earphones. I also suspect that with age, the cloth may wear down and fray at stress points. I'm happy to see that this case uses fast USB-C for charging instead of the now outdated and slower charging mini USB.
The size of the MW07 GO earphone is slightly smaller than the original MW07. None of the MW07 earphones look very comfortable but don't be fooled. They are all quite comfortable for long listening times which becomes a good thing now that they have 10-hour battery life.
Any of the MW07s can be used for phone calls. The GO version comes with two mics in the right earphone and none in the left. This means that only the right ear can be used independently for calls. This is an issue for me because my left ear is the dominant ear. The single earphone setup also results in your voice sounding a bit more distant than it should. However, this has no effect on what you hear on your end.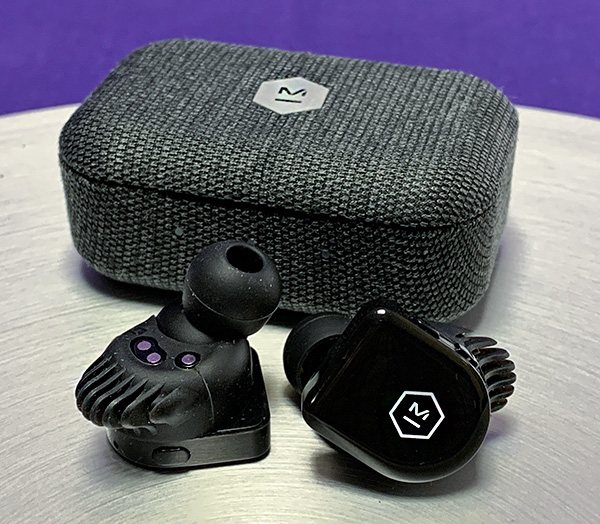 The smaller shells of the MW07 GO earphones are what Master & Dynamic calls a TR90 composite as opposed to the hand-made acetate of the MW07 and MW07 PLUS. For the record, TR90 is a thermoplastic material that is durable, flexible, and lightweight. Now you know. Small, but easy to find buttons on the shells control either play/pause or up/down volume. 
Bluetooth pairing was straightforward—achieved by pressing and holding the Multi-function button on the right shell for five seconds or until you see a pulsing light. It's easier to pair while holding the MW07 GO in your hand than with it inside your ear.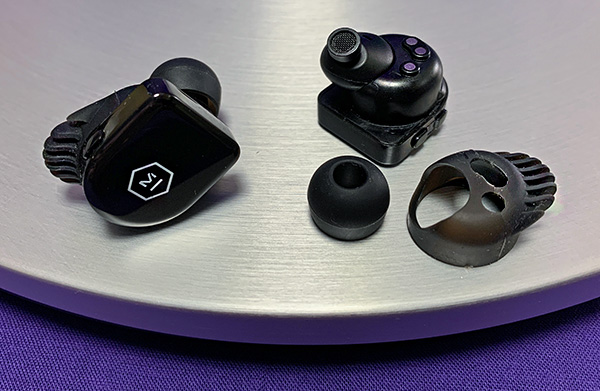 If you remove both earphones for a few minutes, the MW07 GO will shut down. This can be a good battery saver—then I tried to re-connect them. Only the right earphone would pair. This was fixed by forgetting the device in Bluetooth settings and performing a new pairing setup from scratch. Frustrating. Note that this happened with an iPhone. I don't do Android, so YMMV.
The MW07 GO has only passive noise reduction, but with a decent seal, it does a pretty good job of muffling out the world. However, wearing them while mowing my yard (you do that in Florida in January), the loud noise of the gas mower required that the volume be turned up more than I wished for the audiobook I was listening to (Day of the Jackal—highly recommended). I didn't have this volume issue using other powered lawn tools since they are not as loud as the mower.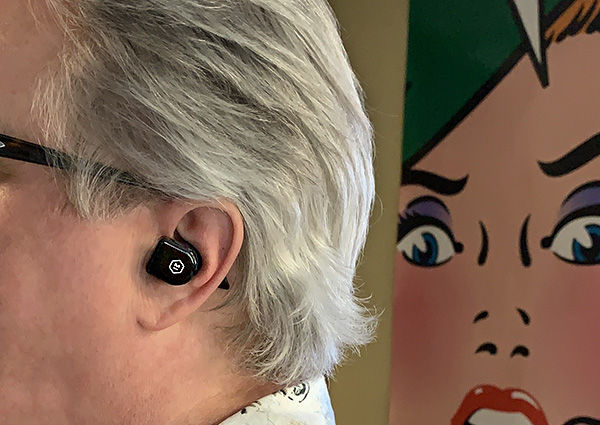 A proper seal also helps the MW07 Go earphones retain that Master & Dynamic sound signature I like so much.  
Since the beryllium speakers are identical across the entire MW07 line, music sounds about the same with each earphone. If there's a difference in the sound with the MW07 GO because of its composite shell vs. the acetate shell of the MW07 PLUS, I couldn't tell. 
All MW07's sound signatures have a slight emphasis in the mid-range and upper frequencies, giving music a more energetic vibe. However, bass has an impact and the sound is often warm and full. That's what makes the MW07 line able to handle any genre of music. Everything sounds more fun and you want to just keep listening. Because of the bass not sounding overpowering, bassheads will most likely be disappointed.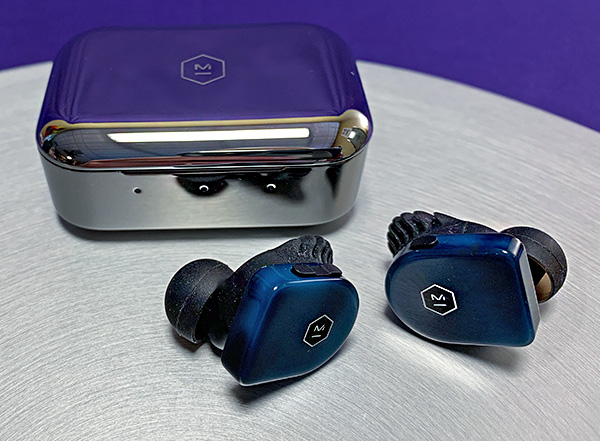 MW07 PLUS
As good as the MW07 GO earphones are, the MW07 PLUS earphones come with more features—at a price. The MW07 PLUS earphones are the direct descendant of the original MW07 earphones. They use the same gorgeous acetate shells, have that same 10mm beryllium speaker, come with the same canvas carrying pouch and finally, there's that same chrome case. The newer PLUS earphones also cost the same as the original did when new. 
However, MW07 PLUS is much improved.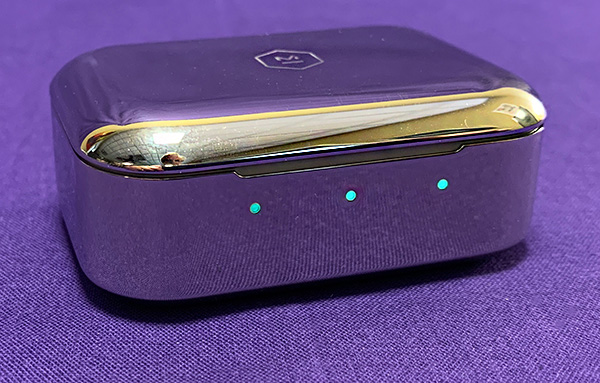 Whereas the original MW07 had 3.5 hours of battery between necessary charges, battery life on the PLUS version has been increased to 10 hours (same as MW07 GO) with 3 extra charges from the case for a total of 40 hours—up from 14 hours. The chrome case looks the same size as the original and yes, it's still a fingerprint magnet, but now with much longer battery life.
The case has the same LED lights indicating battery life for each earphone as well as the case itself. Green is good, orange is medium and red means it's time to charge. Unfortunately, the case has no wireless charging—an impossibility as long as it's made of metal. M&W will need to address this omission eventually because competition in wireless earphones is heating up.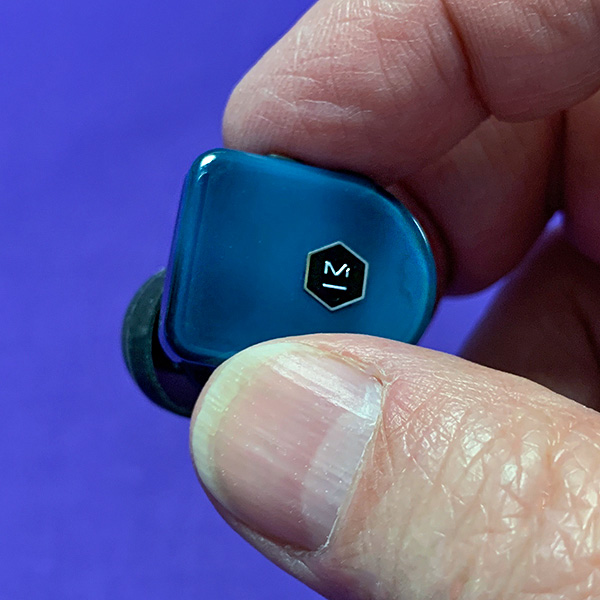 The MW07 PLUS earphones moisture rating has been increased from IPX 4 to IPX5—now good for sweaty exercising and wearing in the rain. Just don't submerge them in water.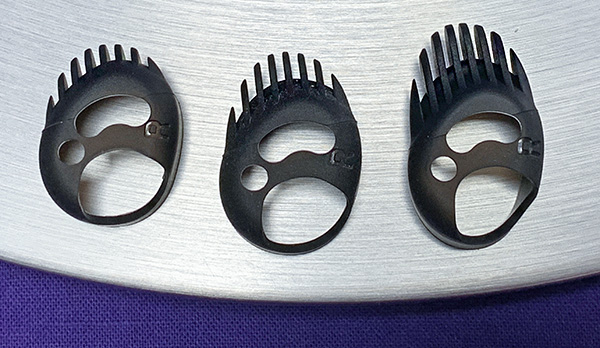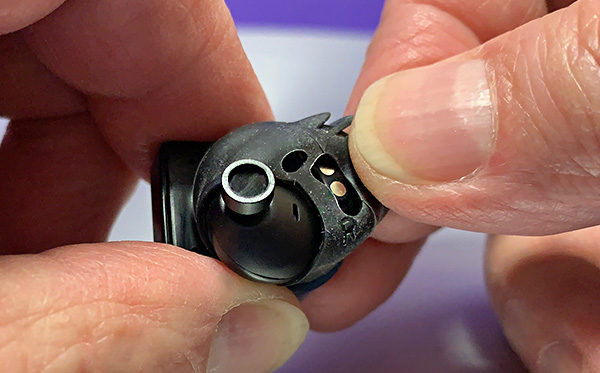 M&W has divided the included fit wings into three different sizes, instead of the original's two. Here is how I described fit wings in my MW07 review' "The more I wear the earphones, the more amazed I am at the genius of the fit wings. They come in two sizes and the silicone "fingers" provide just enough force to hold them in place without applying any unwanted pressure." Now that there are three sizes to choose from, they fit even better.
Bluetooth is now 5.0, up from 4.2 in the original. The advantage of 5.0 is an extended range and less lag time between seeing lips moving while watching a video and what you hear.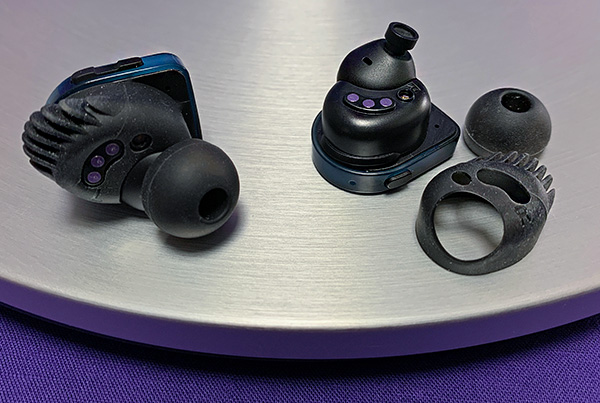 One of the improvements I personally appreciate is that the MW07 earphones come with 4 mics (two per earphone) allowing either the left or right earphone to be used independently of one another. Previously, only the right earphone could be used independently.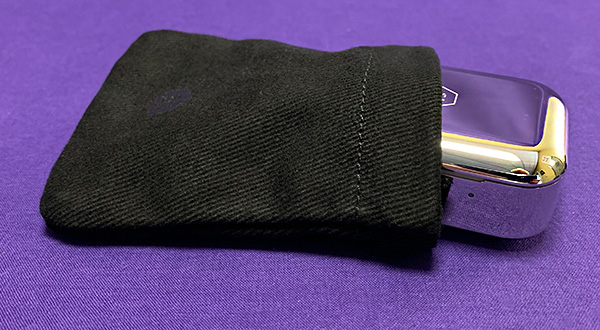 Despite the improvements made to the MW07 PLUS, the most important is active noise canceling (ANC). ANC makes the MW07 PLUS's higher price a better value. There is no discernible audible effect on music with ANC either on or off—always welcome! Keep in mind though that ANC does shorten battery life.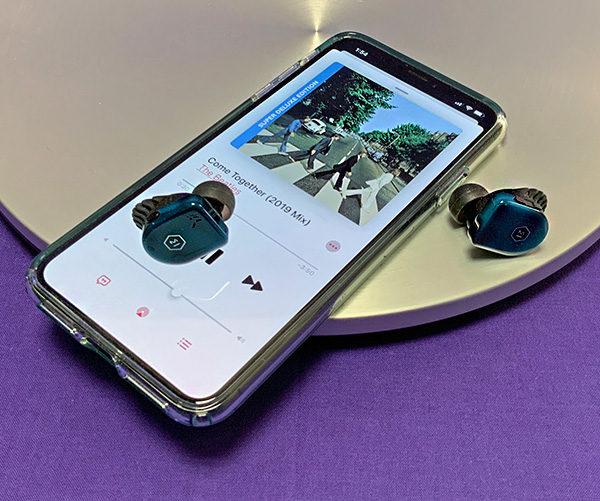 M&D's use of ANC is more subtle than many other brands in this price range. Sony, Bose, and Apple may have more potent noise canceling, but M&D better them on audio quality. As I said earlier, Master & Dynamic has kept their sound signature intact. Why fix it if it ain't broke?
What I like
Excellent audio quality
Vastly increased battery life
Build Quality
Improved water resistance

What I'd change
Add wireless charging
Improve ANC

Final Thoughts
So, which to buy? It's more a matter of price and features vs. audio quality. Obviously, if budget is a concern, the MW07 GO earphones are the ones to get. However, if noise canceling is a priority, and you still want that sound M&W is becoming known for, then the MW07 PLUS is a good choice. Even though M&D continues to sell the original at a reduced price, both the GO and PLUS versions make the original MW07 irrelevant.
Master and Dynamic has definitely been on a roll lately. They are injecting the latest wireless technology into their existing line of headphones and have also substantially improved their totally wireless earphones. 2020 looks to be an interesting year from M&D.
Price: MW07 GO: $199 US; MW07 PLUS: $299 US
Where to buy: Amazon
Source: The sample of this product was provided by Master & Dynamic.