We use affiliate links. If you buy something through the links on this page, we may earn a commission at no cost to you. Learn more.
We geeks do love carrying around our tools and toys. Cases, packs, clothing with special pockets, and belt cases are found where ever gadget lovers congregate. Recently, a new wrinkle on the fanny pack/belt case genre has come on the scene – the Grab-It Pack. I was given one to review.
The Grab-It Pack has a belt of 2″ wide black webbing, secured to the narrow top of an L-shaped panel of nylon. From the lower sides of the "L" there is a 1.5″ wide webbing strap to secure the pack to your thigh. Mounted on this panel are three pockets: a thigh-top pocket perfectly sized for an iPhone, Treo, Pre, G1 or similar; a larger, 8″ x 5″ pocket secured with both Velcro® and a 1″ webbing strap and clip; and finally, above the large pocket, a zippered pocket about 6″ x 3″. There are three models available: one for wear on the left and one for wear on the right, each fitting waists up to 42″. There is also a "long" model of the right-side version that fits waists up to 55″. It comes in any color you want, so long as you want black. The back of the panel is a combed, very smooth finish, while the outer pockets are of a rougher finish.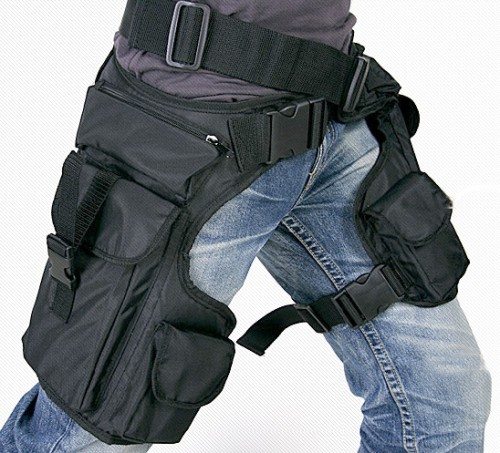 All seams appeared tightly stitched, and all edges of fabric are bound with sewn-on fabric seam-binding tape. The ends of the belts and straps are all hot-knife sealed to prevent raveling. Excellent workmanship is very apparent.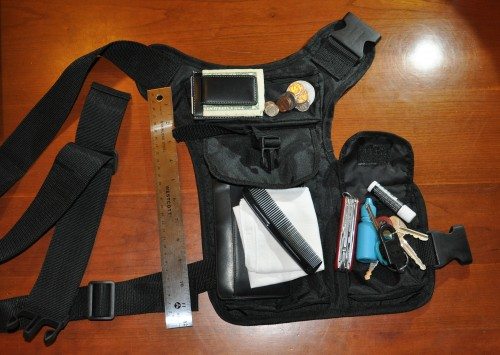 I was able to put everything into the three pockets that I usually carry in my pants pockets. (This is not an easy task.) I carry two small key rings, lip balm, eye drops, and a Victrinox Tinker Swiss Army knife in my left front pocket, along with a Levenger 6″ x 3.5″ Leather Index card envelope. The right front holds a Levenger magnetic money clip and credit card holder and loose change. A comb and a handkerchief are in the back pockets. The card holder, comb, and handkerchief fit the largest pocket with room to spare. Finances go in the zippered pocked, and the keys and stuff go in the thigh-top pocket. (I always wear a shirt with a pocket for my phone and a pen.)
The adjustment of the Grab-It Pack is both easy and complex. Easy, because each strap section has a large, easy to manage buckle, but complex, because bending over to adjust them changes your position, so that it's wrong when you're standing upright. A bit of a Schrödinger's cat problem. But through trial and error, you can get to a place of general comfort for both standing and sitting.
The pockets on the Grab-It Pack, different from many pockets on cases and bags, are generously gusseted, rather than being mere open sections of fabric. When they are empty, they don't hang loose, but fold against the backing piece out of the way. None of the stitching from the front pierces the back piece, except for one line of stitches alongside the thigh-top pocket, so there is no catch-point on the back, and no irritation from seams if you're, say, pedaling a bicycle with this on for a long while.
In use, the Grab-It is, pardon the pun, a mixed bag. The pockets all function well enough, but clipping the largest pocket closed is a difficult, if not a two-handed affair. The pockets are, indeed, always available, which is quite handy. Not having access to your right pants pocket (or left, if you get the left-hand model) is a small price to pay for the added storage. Even though the top pocket is a tad difficult to access when seated (it's right in the bend between leg and body), it's still not uncomfortable. This pocket is one that I wouldn't put small pointed objects like jeweler's screwdrivers or network shears in, since it gets the most wear when sitting, squatting, and bending over.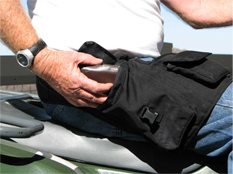 Overall, I had only two real negatives: First, it's kinda awkward when worn with shorts, and second, it's a much higher nerd-level bag than even a fanny pack. Depending on the length of the shorts, the thigh strap hits that place where the leg slips out from under the thigh strap when seated, and then needs to be tucked into the strap when you stand back up. Loosening the strap, hiking the waist belt up, and other adjustments never really made a change in this situation. With jeans or other long pants, it fits great, easily allowing your pant leg to slide back down when standing. I don't have any cargo-type pants to test it with, so that may have been another – um – hitching point.
The last issue, the advanced nerd factor, is one you're going to have to get over before you even order it. Don't get me wrong on this – I wore a fanny pack of some type for several years, stuffed with a phone, a Palm, flashlight, wallet, camera, and other bits of gadgetry. When biking, I usually put all my pocket stuff into a belt bag and stick it in a pannier on the rack. I only stopped wearing it when my iPhone brought most of those items together into a single device. I could probably go back without much trouble actually – it's nice to have everything in one simple gear holder. But this bag is much more noticeable, and would cause much more social distain in most circles. (My entire family, as a testament to this, commented loudly and continually throughout my testing of this bag. I had to retire it just to save my marriage.)
If you're working in a special field (network techs, stagecraft workers, etc.), or working a table for a yard sale, auction, or street fair, having the organization afforded by the Grab-It Pack on your thigh could be a great thing. If you sit or twist into awkward positions, yet need access to many small tools or parts (office furniture riggers, desktop techs, telephone installers, cyclers, etc.), this bag will prevent losing things out of your pockets.
Product Information
Price:
$24.95 for single leg, $44.95 for left and right set
Manufacturer:
Grab-it Pack
Pros:

Outstanding workmanship throughout
Good sizes and placement of pockets and straps
Good range of sizes

Cons:

Difficult to adjust, at least the first time
Hard to work around with shorts
High nerd factor