We use affiliate links. If you buy something through the links on this page, we may earn a commission at no cost to you. Learn more.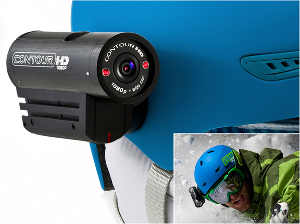 VholdR has just announced the ContourHD 1080p, a wearable HD camcorder that includes a series of mounts for your goggles, helmet, handle bars, vehicle, or anywhere else you want to attach it. It's the world's first wearable camcorder that can capture and share 1080p video (1920×1280). It has a water resistant aluminum and fiberglass body and has configurable settings for contrast, microphone volume, exposure and metering. Full press release after the jump.
FOR RELEASE: SEPTEMBER 29, 2009 9:00AM (PST)
VholdR Launches ContourHD1080p: The World's First HD Wearable Camcorder to Shoot and Share 1080p Video.
Shoot and Share video in Full HD with the Only Camcorder Small Enough to Fit on Your Goggles
Seattle, WA–September 29, 2009– VholdR, the market leader for HD Wearable Camcorders, is introducing the ContourHD1080p.

Built for outdoor enthusiasts looking for the ultimate video quality, ContourHD1080p
is the World's First Wearable Camcorder to shoot 1080p video and enable you to share it online.

It features four HD settings (1080p, 960p, and two at 720p) with two frame rates (30fps and 60fps) and four configurable settings (metering, contrast, exposure, and microphone gain).

But, most important the ContourHD software will share your adventures in "Lifelike" 1080p video to VholdR.com.

With its single button operation and dual lasers for alignment, ContourHD1080p
brings the biggest HD video online with the popular, and easy to use ContourHD camcorder line.

Priced at $329.99 and shipping mid October, ContourHD1080p
will be a fast moving product this holiday season.
"ContourHD1080p was inspired by the professional user," says Marc Barros, VholdR's CEO. "It's still an easy to use Wearable Camcorder, but with Full HD video and adjustable settings, you can capture world-class video with a camcorder you can wear. It's like taking a professional film crew with you where ever you go!"
The ContourHD family drives a shoot to share experience of wearable video, software, and an online community. With the introduction of ContourHD1080p, VholdR.com will be the only adventure sports community where you can share and watch Full HD video from with in the action, captured around the world! Today 70% of VholdR and ContourHD customers share their adventures on VholdR.com – a vibrant community of adventure sports enthusiasts who are mapping the world through video.
Features New to ContourHD1080p
· 5 Video Settings (User Selectable)
Remember your adventures in lifelike 1080p or replay the action in butter-smooth slow motion.

With a high and low switch, customers can use the Easy Edit software to pick which two video resolutions best meet their needs.
Full HD – 1080p (1920×1080) at 30fps
Tall HD – 960p (1280×960) at 30fps
Action HD – 720p (1280×720) at 60fps
Contour HD – 720p (1280×720) at 30fps
Fast SD – WVGA (848×480) at 60fps
· Configurable Settings
We've taken configurable to a whole new level.

Use the Easy Edit software to set the contrast (high, medium, or low), metering (center, average, or spot), and exposure (-4 to +4).

Did we mention you could adjust the microphone gain?

Now you really can control how much of the action you hear.
· Record 3.5 Hours of 1080p Video
ContourHD1080p
records over 3.5 hours of 1080p video or up to 8 hours of Contour HD to its own removable MicroSD memory card.

Compatible with up to a 16GB memory card, ContourHD1080p
will capture hours of your video adventure.
· Share 1080p Video
Easy Edit software (Mac and Windows compatible) makes it simple to import your videos from the camera, clip out the best parts, and share them to VholdR.com.

VholdR.com now accepts 1080p video so you can be the first to shoot Full HD and share it to the world.
Features Standard to ContourHD Cameras
· Wearable Anywhere
Patent-pending TRailTM Mounts "slide and lock" ContourHD onto a series of different mounts for your goggles, helmet, handlebars, vehicle, or anywhere else you want to mount it.

Wear HD video on more than just your head.
· One Button Simplicity
ContourHD's operation couldn't be simpler with a single record switch (to be operated even with a pair of gloves on) and click to share software.
· Laser Alignment
Two lasers and the 180o rotating lens ensure you line up the shot every time.
· Armored Body
A light (4.3 ounces), water-resistant, all-season camcorder with an anodized aluminum body withstands dust, dirt, mud, and snow.
· Wide Angle Lens:
At 135 o, the ContourHD lens strikes the perfect balance in capturing the entire scene with minimal distortion.
· Rechargeable Battery
ContourHD uses a removable, rechargeable battery to records 2-3 hours of video before recharging with the included USB cable or charger (sold separately).
A rugged camcorder for the estimated 75 million outdoor enthusiasts around the world, ContourHD makes it easy to capture video from within the action and share it online in seconds. And it's available in two models this holiday season: ContourHD ($279.99) and ContourHD1080p ($329.99). Visit www.vholdr.com to learn more about the ContourHD cameras and find a complete list of retailers.
To learn more about ContourHD visit www.vholdr.com
About VholdR
VholdR is the market leader in HD Wearable Camcorders, enabling modern day explorers to
tell their stories of action, adventure, and travel through video.

Leading the way in making action video easy to shoot and share, VholdR is dedicated to creating simple tools that enable hands-free capture and effortless sharing of video online with the world.

For more information about VholdR please visit www.vholdr.com.