We use affiliate links. If you buy something through the links on this page, we may earn a commission at no cost to you. Learn more.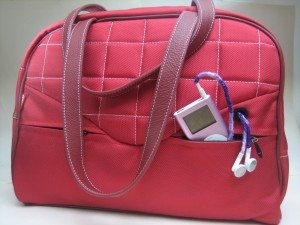 The Sumo Laptop Purse is not just a laptop bag, it is a laptop PURSE. And yes, there is a difference.   If you are anything like me, you end up carrying several different bags daily, including a laptop bag, purse, gym bag, lunch, etc.  Hooray for laptop purses like this one made by Sumo, because they combine at least two of these bags (if not more) into one stylish carrying tote.
The Sumo Laptop Purse is a good solution for attacking the bag challenge many of us face. It holds plenty in its several compartments and pockets.  The purse comes in two laptop sizes including 13 inch and 15 inch. Sumo says the laptop compartments can fit a 13 inch MacBook, 12 inch netbooks and 15.4 inch laptops. The 13 inch model I checked out fit my 13 inch MacBook nice and snug.  I had to remove my laptop sleeve in order for it to fit the compartment.  It also fit a 12 inch Dell Inspiron well.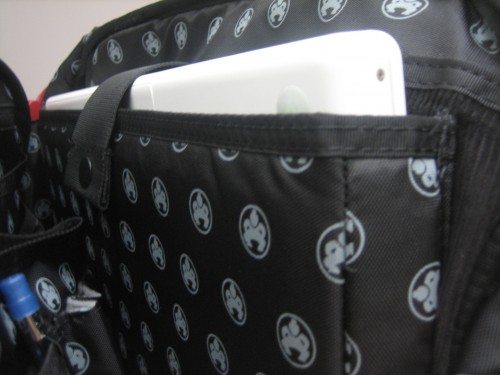 The laptop compartment has a padded corduroy lining to keep your laptop cozy.  As shown in the picture, the compartment is open at the top which leaves the laptop exposed inside the purse.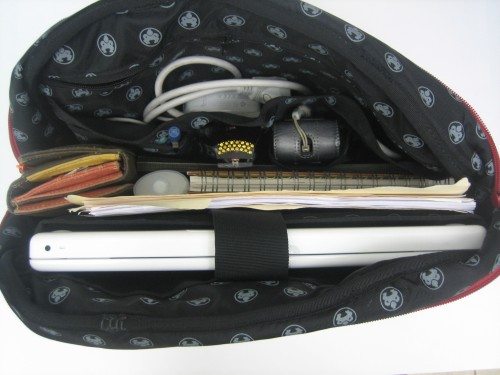 Besides the laptop compartment there are 5 additional compartments. A power cord fits in any of the two larger compartments. Unlike some laptop bags, the Sumo Laptop Purse has plenty of room left over for purse contents. I had no trouble dumping all my purse items into the laptop purse.  In my case this included a pocketbook, sunglasses,  bottle of sunscreen,  spiral notebook, a coupon filer, file folders, pens, keys, digital camera, phone, ipod and headphone. The felt lined compartment is a good place to keep your sunglasses from getting scratched.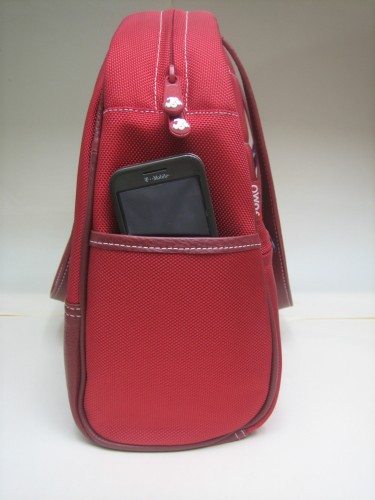 On the exterior of the purse there are two front zip pockets and a side pocket. One of the front pockets includes a nifty headphone hole for your mp3 player. The pocket itself is kind of tight which makes accessing your player a little tough but it does manage to keep your earphones in a convenient place rather than tangled in a ball at the bottom of your bag. If it were up to me I would suggest a clear window for the front pocket to make pushing the buttons on your ipod easier so you don't need to take it out of its pocket every time. The side pocket is large and convenient place for your phone or PDA.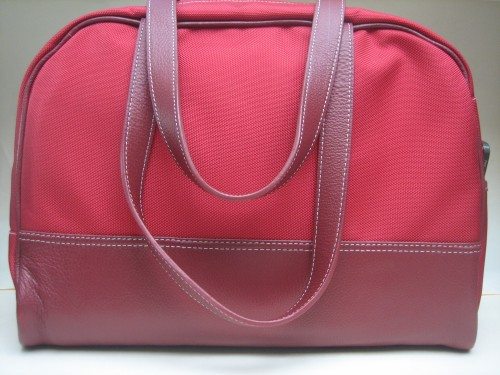 The leather shoulder straps keep the bag comfortably under your arm. Even with all that stuff in it, the weight does not dig into the shoulders. The bag manages to distribute the weight nicely. The exterior is made of sturdy nylon ballistic material with leather detailing. The bottom of the bag is reinforced in leather.
I can see this bag coming in handy for travel as well as daily use. It fits a lot and holds it comfortably.  This is especially a good solution for urban city dwellers as it lends well to being carried on public transit and walking with purpose!  Although a bit pricey, this could be a good investment for a laptop purse.
The Sumo Laptop Purse comes in a three color/stitch combinations including black with white stitch, Black with pink stitch and red with white stitch. Other nice touches on this purse include the cute zipper pulls with the Sumo logo and Sumo logos lining the inside.
Product Information
Price:
$119.99
Manufacturer:
Sumo
Pros:

Headphone outlet
Spacious
Stylish

Cons:

Pricey
Tight front pockets