We use affiliate links. If you buy something through the links on this page, we may earn a commission at no cost to you. Learn more.
There are so many bubble popping and ball matching style games out there, that it's difficult to get excited about a new one. That's why I wasn't all that enthused when the people from Howling Moon Software emailed to ask me if I would like to take a look at Crayon Ball for the iPhone / iPod Touch. But I said ok and here's the scoop.
I was a little confused when I visited their website to see that the game is called ScriBall there. Not sure what prompted the name change in the app store…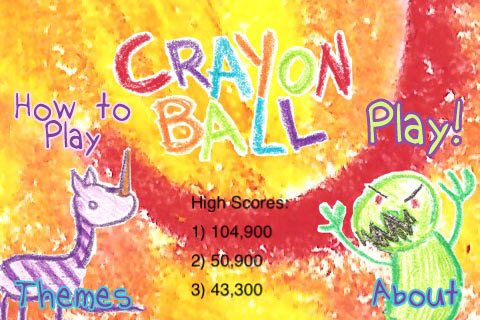 The game launches pretty quickly and is ready to play in about 5 seconds. The opening screen is colorful, but simple. You can read a quick (very quick) how to play instruction page, read the about notes (which are lame), start the game or change the theme.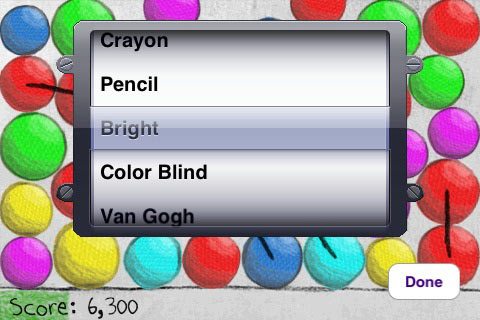 There are five theme choices. The cool art style is really the main draw of the game for me. It's very cartoonish and colorful.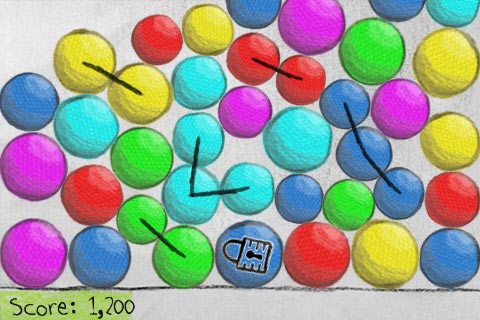 The game itself is super easy to play. The idea is to get at least four balls of the same color to touch. When they do, they will pop and clear from the screen. You can get them to touch by tapping on other balls that are in the way, or by using the accelerometer in the device, to roll the balls around.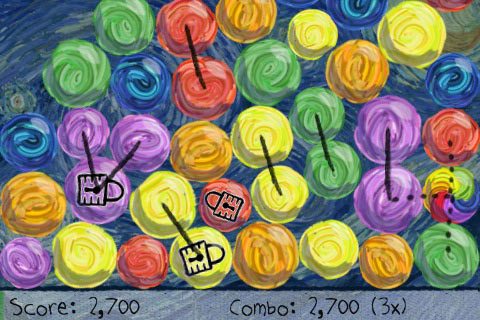 When you pop a ball, it will cause the danger bar at the bottom of the screen to fill in. The more balls you tap, the more the bar fills. Once it fills all the way across the screen, the game is over. But, as matches are cleared, the bar shrinks.
There are also several special balls that appear from time to time. The how to play instructions don't tell you what each one does though…
I have enjoyed playing this game, but I think that it needs some more pizazz to make it worth $2.99. The only sound effect that it has is the pop sound when balls are cleared. There's no soundtrack in the background to keep the game flowing and interesting. It would also be nice if there were themes with different shapes instead of just balls. It almost feels like this is a lite version of a bigger / better game.
All in all, Crayon Ball is a fun and fresh approach to a game type that all of us have seen and played before. I look forward to trying updated versions with more features.
Product Information
Price:
$2.99
Manufacturer:
Howling Moon Software
Pros:

Easy
Colorful
Can use accelerometer

Cons:

No background music
Needs more pizazz