We use affiliate links. If you buy something through the links on this page, we may earn a commission at no cost to you. Learn more.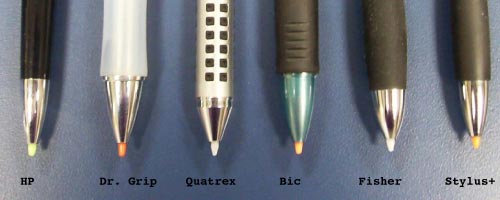 A couple days ago I received an email from someone asking for advice on multi-point pens. I posted that question here on The Gadgeteer so that other people could weigh in with their suggestions. Harold M. Goldner saw that post and did one better. He wrote a comparison review and asked me to post it here. So without further ado…
SIDE-BY-SIDE REVIEW OF MULTI-POINT PEN STYLI COMBINATIONS
By:    Harold M. Goldner
Since my first organizer (a Sharp series organizer) and through the present (using a Palm Treo 755p), I have been obsessive about my writing implements.  I am rarely happy with the 'bundled' stylus each device has, although they'll do in a pinch.  I am also very particular about what pens I use because I am a lawyer and am writing incessantly when not using a keyboard.
I also prefer pens with a soft grip which are a little broader than a standard pen.  For instance, I have put a rubber grip on an old Cross pen I have, finding the bare metal uncomfortable before long.
What follows is a side-by-side comparison of the multi-pens I have and do use from day to day.  I own each of these and have spent anywhere from weeks to years using them (and have even replaced some multiple times).  They are reviewed in the order of my preference.  Of course, this is a highly subjective matter, so your own choices may and could very well vary from mine.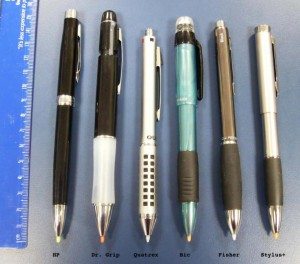 Click thumbnail to see full sized image
My favorite over-all is without question the Stylus+ 2-way.  It contains a pen and a stylus in a sleek stainless steel barrel with rubber grip cushion.  The nib is engaged with a sharp twist one way for the pen and the other for the stylus.  The styling is clean and understated, with a matte finish and chrome clip, and the workmanship so sturdy, that it is easily my multi-pen of choice.  If I am going anywhere and only take one pen (…and I typically have a second pen with me), this is the one I'll take.  The pen is refillable, and the web site has 4 different colors available, plus highlighter tips.  The Stylus+ 2-way is only $4.99 plus shipping and handling at  Stylusplus.com.    For the money it is the best multi-purpose pen out there.
Almost as good, and maybe even a better choice if more than 2 nibs are required, is Fisher's Multi-Action Space Pen which has a black pen point, red pen point, 0.7 mm pencil and stylus all rolled into a pen only slightly larger than the Stylus+ unit.  The action is triggered by push button, depending upon which side of the pen is upright (there are small indicators near the top), and the point is withdrawn with a button near the clip.  The pen is a sleek grey metal with a cushioned grip.  I do occasionally use this one when taking only one pen with me.  It is considerably more expensive, at $35.00 list although it can be found less expensive at sites like   http://www.styluscentral.com.  In addition, it can be personalized with up to 3 lines at $1.50/line.  One thing I do not like about it is that the button releasing the nib is a little easy to hit just using the pen, and for this reason I cannot rate it as highly as the Stylus+. (Note that this is not the same multi-point Fisher pen reviewed on Gadgeteer in April of 2001).
Another solid two-point pen is the Pilot Dr Grip 1+1.  This pen is noticeably thicker than the previous two, and uses a slide action to produce either the pen point or the stylus point.  The pen is refillable with Dr Grip refills in whatever colors are available for Dr Grip, and has a plastic body.  This is a rugged pen and can be used where one might not want to get a stainless steel pen wet or messy.  I have found, however, that the mechanisms can and do fail, and I am now on my third such pen.  It is inexpensive at $9.99, and available in office supply stores and online at  Stylisource.com.
Staying with plastic body multi-pens, we next move to the Bic e.3, which is a unibody plastic pen, pencil and stylus.  Solid plastic, available in multiple colors, with a rubber cushion grip, it takes Dr Grip refills as well, and has an eraser with a clear removable cap.  The action is via twist.  The pen is available at many office retailers, on Bic's website and even on ebay coming in at around $6.00.  Note that this pen was reviewed on the Gadgeteer back in December of 2000.  One negative, since the clip is part of the pen's plastic body, if that snaps (and I have seen that happen), you have a clipless pen, or worse, a pen with a sharp point on one side.
Also evaluated was the Staples Quatrex which, while inexpensive at $4.39 is also the lightweight of the crowd.  Providing two pen-points which can be populated with 2 ink colors and/or a highlighter, a stylus and a 0.7 mm pencil, the pen also uses the gravity push-button mechanism of the Fisher space pen, however the hardware is far less robust, and I found the pencil falling out of its slot and gumming up the works.  The barrel is partially cushioned with rubber bumps near the nibs.
Finally, in a slightly different vein is the Hewlett Packard Infiniter 4in1 Laser Pointer / Stylus / Pen / LED flashlight.  This pen offers a pen and stylus, but also an LED flashlight as well as a laser pointer.  It is available for  $24.95 at  Markertek.com.  I have also seen it at MicroCenter retail stores.  It is solid black plastic with no grip cushion.   It has a decent weight in the hand, and the laser pointer does work.
Many years ago, when third party vendors started making styluses to replace the supplied styli, it was possible to feel a slight difference between styli.  Certainly, if one is 'writing' on a dedicated input area, like the Graffiti areas on Zire's and earlier Tungsten's (as opposed to dynamic input areas), one stylus may feel differently than another, especially when compared to writing on paper.  I believe this is a result of the cover on the screen as opposed to the stylus itself.  I have always used a screen cover or used 3M removable tape on Graffiti areas, and have rarely noticed a significant difference between one stylus point or another.  The most important thing to me is how the writing implement feels in my hand while I am using it.
In this regard, I prefer a slightly heavier implement, and repeat my recommendation of the Stylus+ 2-way, then the Fisher Space Pen or the Dr Grip 1+1 as among the best choices out there.
Harold Goldner is a lawyer in Pennsylvania who focuses on human resources and employment issues.  He has been using a PDA since the mid 80's.  His twitter ID is HumanRacehorses.