We use affiliate links. If you buy something through the links on this page, we may earn a commission at no cost to you. Learn more.
Product Requirements:
Device:
Any touch-screen PDA
For all you Secret Santa's that
have been perplexed about what to buy for someone that falls under the $10
range, here is proof that there is a quality replacement stylus available for
every budget. The Bic e.3 is available from StylusCentral,
just in time for Christmas gift giving at the office.
The Bic e.3 is a multi pen that
features a ballpoint, mechanical pencil, and a bright orange stylus tip.


The black ballpoint writes just as
smoothly as any high priced pen I have ever reviewed. One thing I would like to
note is that instead of the thin metal barrel that most multi pens feature for
their ballpoint refill, this is a regular Bic sleeve of ink. You should get way
more ballpoint ink out of this multi pen, than any I have reviewed to date.

The size lead that the mechanical
pencil accepts is a 0.5. The only problem I found was that as with all multi
pens, you just can't put more than a couple leads in the barrel at any given
time. If you do a lot of pencil work, you will definitely need to carry some
refills.
The orange stylus' tip writes very
smoothly, whether you have screen protection on your PDA or not.
I truly can't find any real fault
with anything about this Multipen! For the money – it is probably one of the
better values out there.
Made of colored plastic; the pen
feels sturdy, yet is light for it's size. Colors available include orange,
blue, green, and gray. I was provided with my favorite color, green.J
It is very easy to access each
writing tip; all you have to do is twist the multipen's barrel. In between
each click, all of the points will retract. This is a very efficient and easy
multi pen to operate.
There is a nice fat pocket-clip for
attaching the e.3.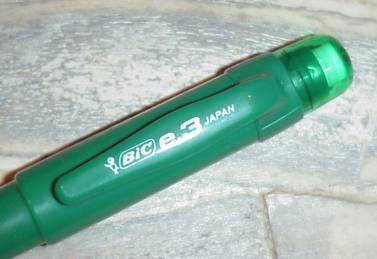 The overall size is great. It fits
comfortably in your hand, and features a rubberized grip at the bottom for your
writing comfort.
A clear colored cap on the top hides
the wide white eraser. Big enough to take care of any mistakes.
Overall, the Bic e.3 is a winner. At
the price, with all of it's offered features – you can't go wrong!
Price: $8.95 (Available in orange, gray, green, and
blue)
Pros:
Inexpensive
Works well
Ballpoint ink should last longer than most multi pens
Cons:

None
Product Information
Price:
$8.95
Manufacturer:
Stylus Central
Pros:

Inexpensive
Works well
Ballpoint ink should last longer than most multi pens

Cons: