We use affiliate links. If you buy something through the links on this page, we may earn a commission at no cost to you. Learn more.

It's Christmas afternoon and Santa didn't bring me any gadgets 🙁 But, I'm going to show him and make my own new toy by installing the Boxee Media Center on my AppleTV. Even though I have mainly been using the WD TV HD Media Player to watch video that I have um… uh… obtained, I've been wanting a way to watch Hulu content on my 65″ TV. I'm hoping Boxee on my AppleTV will easily do that for me. Follow along as I journal the experience.
4:30pm The first step is to download two pieces of software to my Mac: atvusb-creator and Boxee. Boxee requires that you sign up for an account.
atvusb-creator software is 33.4mb
boxee software is 49.2mb
4:45pm While I was downloading the software, I decided to make an article about the adventure. I'm now in the process of creating a USB stick that I can plug into the AppleTV to install Boxee…
The interface for ATV USB Creator is pretty simple and easy. The only part that might confuse some people is finding the BSD name of the USB stick that you want to install the software on. Luckily the System Profiler in OS X can give you this info.
4:59pm ATV USB Creator is downloading software and installing it on a 4GB USB stick. Hmmmm, this might take awhile from the speed that it's progressing… I think I'll play a game on my iPhone while I wait 🙂
5:07pm Ugh… only halfway through downloading the image for the USB stick… Yeah, I know… a watched image never boils. I mean downloads 🙂
5:13pm Now playing Christmas songs on my ukulele to kill time.
5:16pm Download is finished! It's now reformatting the USB stick and installing the image.
5:18pm The stick is ready, heading for the living room.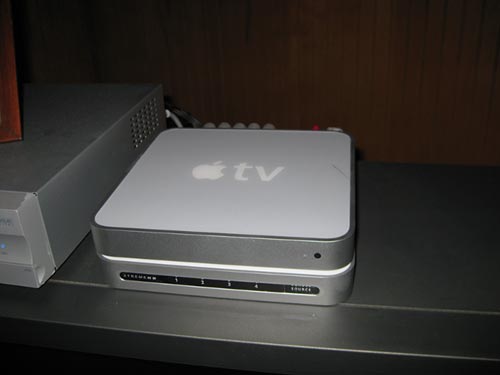 5:32pm After unplugging the AppleTV, I inserted the USB stick in the USB port on the back of the AppleTV and then plugged it back into power. After a few seconds, a splash screen with Tux (the Linux penguin) sitting on an AppleTV appears and then a bunch of info starts scrolling down the screen. If you've ever seen a unix box boot up, it looks similar.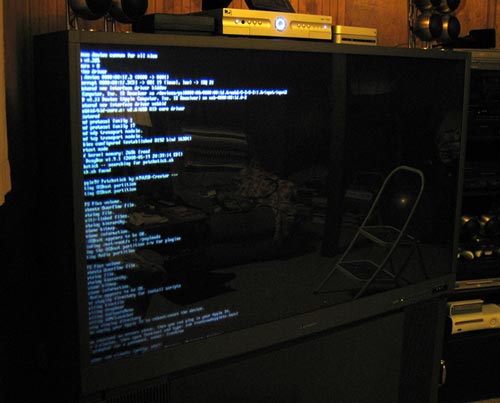 5:37pm Hmmmm, the scrolling stopped about 5 minutes ago and the light on the front of the AppleTV is blinking Yellow. Hope the install hasn't crashed – that would really put a crimp in this article 😉
5:41pm The screen on the TV went Black, but the AppleTV power light is still blinking Yellow.
5:47pm Doh! My bad… I wasn't able to see the last line of text on the screen which told me to remove the USB stick from the AppleTV and reboot. Yay Google! You're still my friend 🙂 Rebooting now.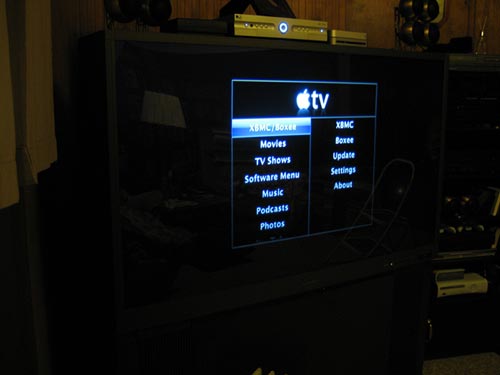 5:53pm We have a Boxee pick on the AppleTV main menu now!
5:55pm Oops, I didn't need to download that original Boxee software on my Mac. You have to do this through the AppleTV Boxee Update menu. That menu gives you some download choices for the Boxee application and launcher. I'm downloading the app right now through the AppleTV. More waiting…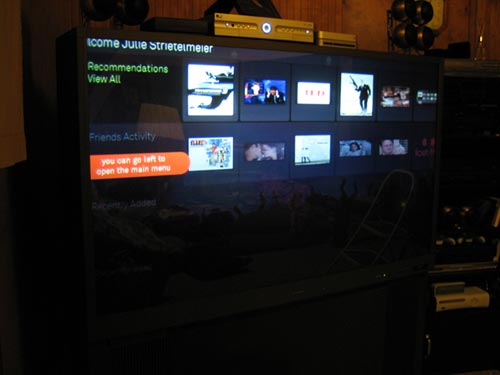 6:03pm We now have Boxee running on the AppleTV. After adding your Boxee user id and password, you are shown this menu. Looks like I need to do some configuring as the text is cut off at the top and sides (which explains why I didn't see the message about removing the USB stick and rebooting after the initial install).
The whole install took about 90 minutes. It would probably be a lot faster had I not being snapping pix and writing commentary. I'm now going to play around with the app and report back later with a thumbs up or thumbs down for Hulu access.
8:30pm I've been playing around with Boxee and Hulu off and on for a couple hours now and I have to say that it's pretty cool. I love that I might be able to find some new shows to watch that I've never heard of, or just never tried before.
Boxee has a whole lot of features, but keep in mind that for this article, I have been focusing only on Hulu. In case you've not heard of Hulu before, it streams old and current TV shows and Movies. The interface is pretty simple…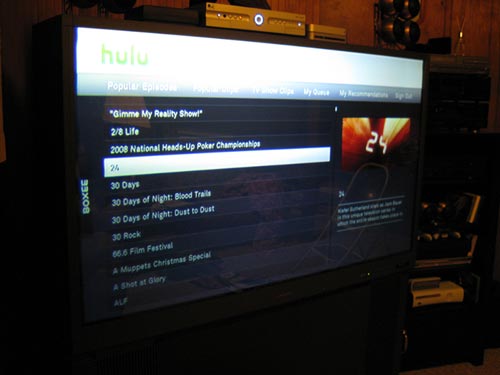 You get a running list of shows. In the example above, I'm scrolling through a list of available TV shows. The first one that caught my eye was 24. Can you believe that I've never watched even one episode of this really popular show? Sad but true! So I thought it would be really cool to watch the first episode and was very happy to see season one listed along with episode one. So I selected it and waited for it to queue up…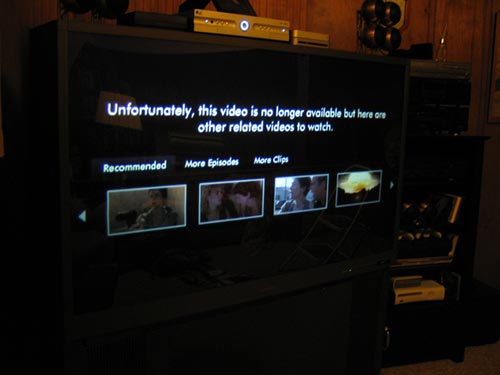 I was immediately disappointed to see the screen shown above. It kind of sucks that they show an episode as available, only to then be not be. That's the thing with Hulu, you can't really count on it to have entire seasons of  your fave shows. It might have season one and four and skip the others. And then not all episodes in a season are available either. But, for a free service, we can't really complain that much can we?
I ended up watching the first episode of the Dresden Files and the first episode of The Dick Van Dyke show 🙂 Fun stuff. Video quality is ok. It's definitely not super crisp HD. But it's fine for watching free shows.
Installing Boxee on my AppleTV was a good move and I'm glad I did it. I did want to mention that installing Boxee does not remove the original functionality of the AppleTV. I know that I have a lot more to explore with Boxee, but so far I'm impressed.