We use affiliate links. If you buy something through the links on this page, we may earn a commission at no cost to you. Learn more.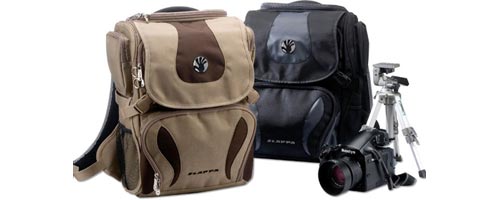 Just in time for the holiday season, the fine folks at SLAPPA have released a new series of gear bags with the Aura PRO-TOUR laptop backpack.  In the past, I have reviewed CD cases, laptop bags and sleeves from SLAPPA and I have always been impressed with the quality of their products.
SLAPPA markets this backpack as specifically targeting the "gear-head" and "2-day travelers".  Let's see how their Aura PRO-TOUR laptop backpack stacks up.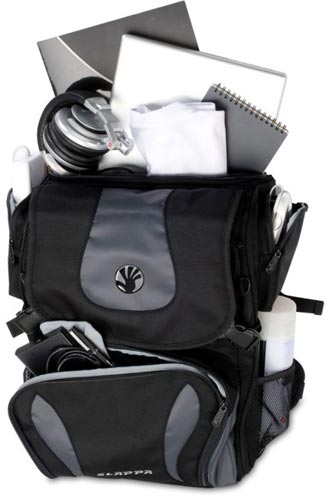 Photo provided by SLAPPA
Specifications / Features:
Dedicated padded laptop compartment for up to 15.4″ notebooks
1700 cubic inches of storage space
Water and tear resistant 1680-D ballistic nylon
Inner bag with adjustable compartment sections, with 3 zipper pockets and carry handle
Retractable heavy-pad carry handle
2 molded under-belly runners for additional laptop protection
Molded alloy zipper pullers
Multiple storage compartments, including e.z. access chord storage
Epoxy domed logo
Removable inner bag with customizable sections
"Top Load" flap for quick and easy access
Dedicated compartments for storing laptop accessories
Super comfort adjustable shoulder straps
Manufacturer-direct 360 Day Extended Warranty
Available in Black/Grey version and Brown/Beige version.
When I removed the bag from the shipping box, I was impressed with the look and feel of the bag's exterior.  The 1680-D ballistic nylon and molded alloy 1 ¼-inch zipper pullers give an instant feel of strength and durability to the container, while the number of storage options immediately accessible in view represents flexibility.  Both are critical to sway potential buyers.
I received the black and grey version of the bag for this review but it does come in a brown and beige version too.  The grey nicely accents the black, which predominately covers the bag.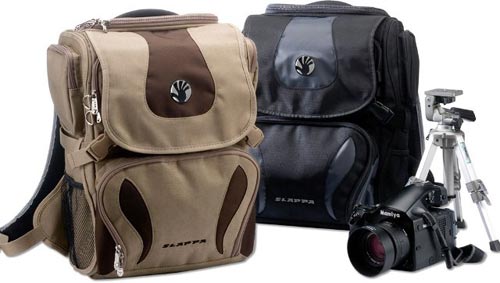 Photo provided by SLAPPA
The edges of the backpack shoulder straps are covered with a 1/4 -inch of silver reflective material to add an element of safety.  The straps and retractable top carry handle are both nicely padded to provide extra comfort.
The trend of comfortable padding continues with the huge, roughly 8-inches, SLAPPA logo on the back of the case, which is raised by approximately 1-inch of padding.  Now if you are familiar with some of my previous reviews, I have expressed my displeasure over manufacturers over-branding their products.  The reason why I am not knocking the Aura PRO-TOUR laptop backpack for this large brand is the fact that it is integrated with the padding which provides comfortable relief.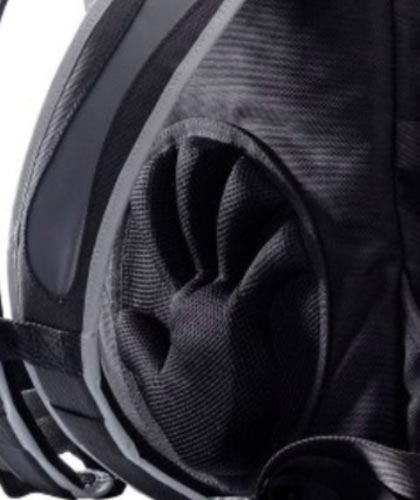 Photo provided by SLAPPA
Two molded runners, roughly measuring 11-inches by 1 3/4-inch, provide stability and added protection for the contents of the container.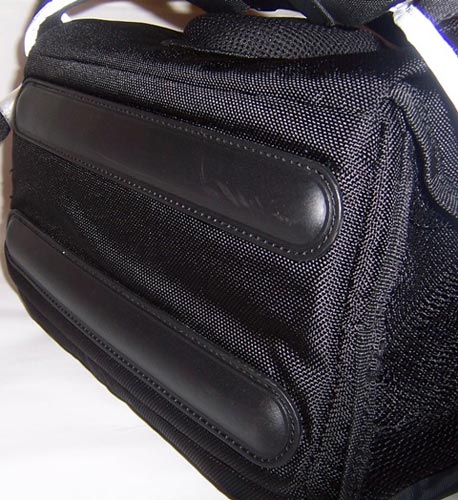 A top zipper pocket and a lower mesh, Velcro secured pouch reside on each side of the backpack.  These are nicely sized exterior storage options for jump drives, keys, cables and miscellaneous items that you need to be quickly accessible.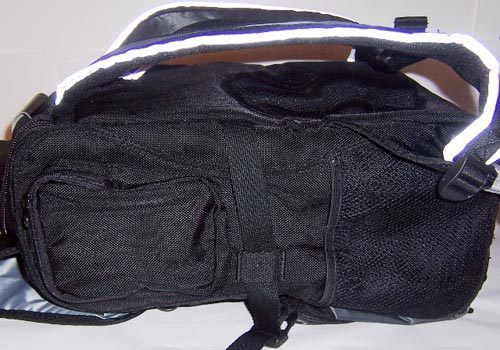 The straps that secure the main front-flap pass through a loop on each side.  This design allows those straps to secure tall objects that extend out of the mesh pouches on the bottom.  Objects like an umbrella or a small tripod.
Accessing the top zipper compartment, located by the handle, exposes the most unique feature in a bag that I have seen in a long time.  Inside the large, top-load compartment is another bag.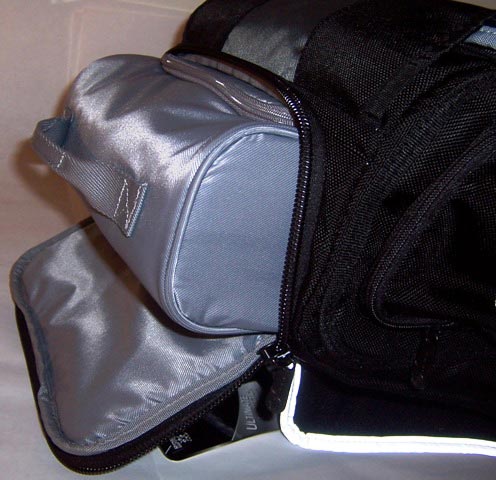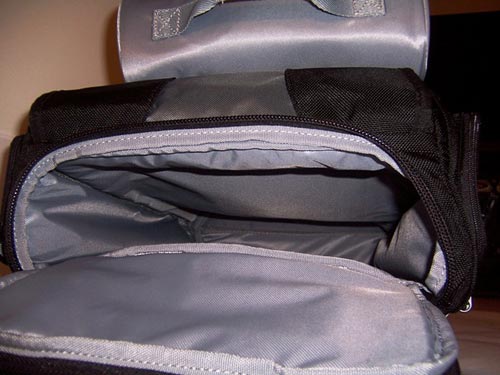 This "bag within a bag" concept is SLAPPA's response to feedback from their loyal customers who requested "application flexibility" in their products; flexibility to carry a laptop, gear, gadgets and/or extra clothes in one bag.  I must admit, this is a creative way to give users extendable options without compromising the other storage selections in the bag
The inner bag is a semi-rigid structure with a nylon exterior and opens through a clam-shape dual zipper top.  An attached handle makes the inner bag easy to carry and remove from the main bag compartment.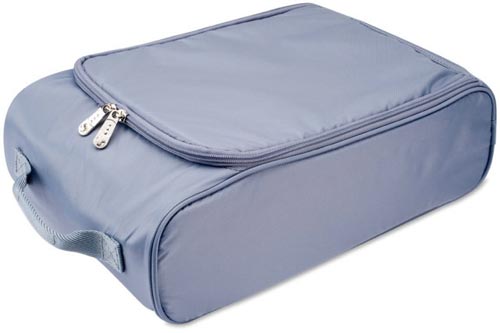 Photo provided by SLAPPA
Two small pouches secured via Velcro flaps and a large zipper pocket exists on the underside of the clam-shape zipper flap.  These are great for miscellaneous items like cords, jumpdrives, and other small items.
The main cavity of the inner bag is lined with material that allows the Velcro separators to divide the section into as many as eleven sections.  There are ten soft, padded sub-divider Velcro walls; two large ones, six medium size walls and two small walls.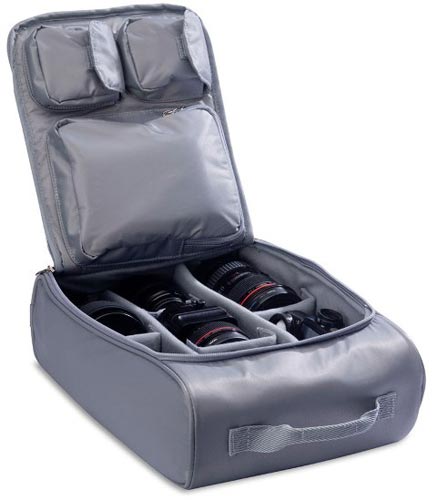 Photo provided by SLAPPA
The ability to divide and sub-divide the cavity of the inner bag gives the users a great amount of flexibility.  You can store a SLR digital camera with numerous accessories, a small game console with numerous games or miscellaneous digital gear.  You can even use the inner bag or the compartment from the mother ship (main bag) to store a day or two or extra clothes.  The possibilities for use of this "bag within a bag" concept are fairly significant when considering the backpack.
Moving back to the main bag and pulling back the front flap which is secured via two hard plastic slide clips, I see a large curved corner zipper section with a smaller straight-line zipper just below.  The lower, straight-line zipper exposes a shallow pocket that is ideally sized for the small gadgets like jumpdrives and memory cards or pens.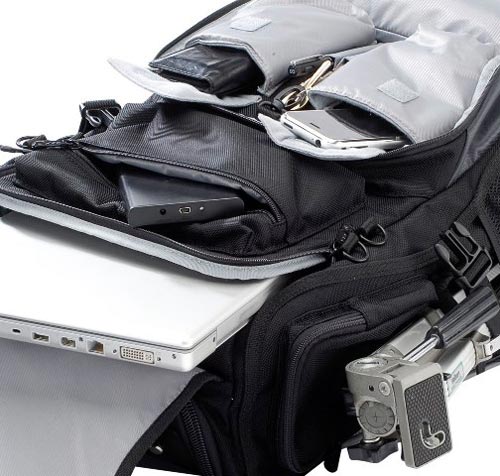 Photo provided by SLAPPA
The large curved corner zipper unlocks the large padded laptop section.  There seems to be more than adequate padding for protection.  I was easily able to fit my laptop, a pad of paper and a file folder in this compartment.  If you are without a laptop, this section could be used from books, paper and files.
Two small metal rings flank each side of the large curved corner pocket's exterior.  These are ideal to connect objects using carabineers.
Below the two pockets that lie beneath the front flap is a large zipper section which opens towards the bottom.  Inside this compartment you will find nicely sized Velcro flap covered pockets for cellphones, mp3 players and other miscellaneous devices.  Each pocket is lined with a soft material for added protection.  Between these two pockets are two pen/pencils holders and a key holder.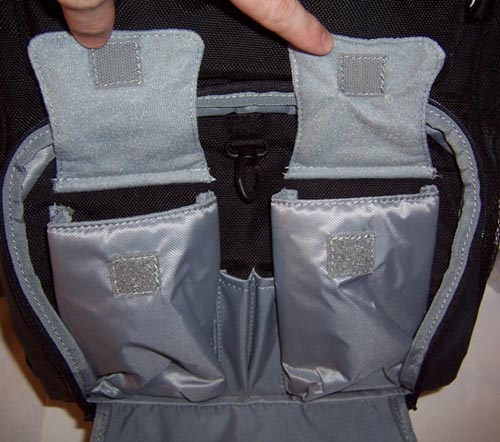 In conclusion, the engineers of SLAPPA have done a superb job of creating a backpack that delivers what their customers wanted, flexibility.  The "bag within a bag" concept offers truly innovative applications, especially for the day traveler and the digital device enthusiast.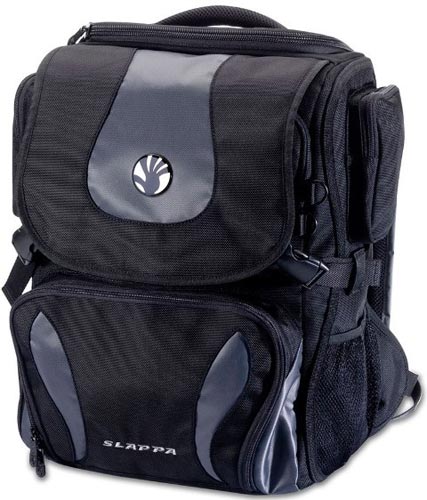 Photo provided by SLAPPA
The Aura PRO-TOUR laptop backpack continues the tradition of excellence in craftsmanship that I first noticed with the Ballistix line of laptop bag and sleeves.  Durable material combined with heavy-duty hardware and inventive designs are the traits that make SLAPPA's products appealing and this backpack is no different.
The negative of Aura PRO-TOUR laptop backpack is that it is not what I would describe as an everyday bag.  It definitely fills a niche of a light traveler or a gear-head, but I am not sure how big this niche is.
My other negative relates to this niche too.  At a price of $135, will consumers on the periphery of the niche desire the backpack enough to pay this price.
That said, I would definitely recommend Aura PRO-TOUR laptop backpack to anyone who needs the innovative flexibility it offers.  I am confident that you will not be disappointed in the purchase.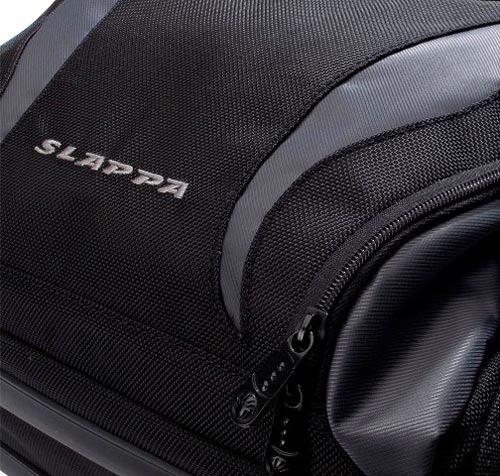 Photo provided by SLAPPA
Manufacturer: SLAPPA
Price: $134.99 (use the discount code: gadgeteer to receive 10% off your order)
Pros:
Flexibility from the "bag in a bag" concept
Rugged, durable exterior material
Nicely padded sections for great protection
Manufacturer-direct 360 Day Extended Warranty
Cons:
Not an everyday bag
Price