We use affiliate links. If you buy something through the links on this page, we may earn a commission at no cost to you. Learn more.
Product Requirements:
Device:
Any touch screen device
When I say the name Burberry, what do you think of?
I get a vision of England, trench coats, and plaid. The colors red, black,
& tan, specifically.
Okay, go ahead and throw in a little nasty weather, too…
For over 100 years, Burberry has been providing the finest in outerwear; more
recently they have begun to venture into other fine accessory lines.
One such undertaking includes a line of fine writing implements.
The Burberry
Sandringham Multi Pen, offered by Stylus
Central, is an excellent example of their approach to classic yet stylish
design.

The Sandringham comes in an understated, yet elegant, navy presentation case
with "Burberry London" embossed in silver, on its top.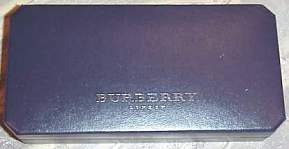 When you open the case, you will find the pen held in place with a navy
ribbon. This would make a fantastic award or gift; the whole experience reeks of
"old money" and polo matches. J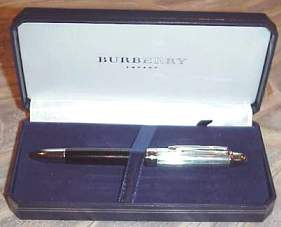 When you remove the Sandringham from its case, you will find that the pen has
a nice weight to it, which is due to the silver plated brass accents.
Inside its understated exterior, lies a practical black ballpoint tip, .05 mm
lead mechanical pencil, and a red ballpoint tip. Stylus Central has replaced the
red ballpoint with a white stylus tip, making this multi pen even more
functional.
The upper portion of the barrel is silver plated brass, as I mentioned
before, which adds a bit of substance to the multi pen. I would say that it is
just slightly heavier than my Mont Blanc Ballpoint. It is perfectly balanced,
and feels good in my hand. I would not mind signing autographs all day, with the
Sandringham. J
There is a medium width clip for your pocket – nothing too large or too
small.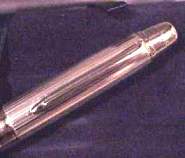 Running the length of this silver shaft, are fine "pin-stripes" that add
to this multi pens corporate look.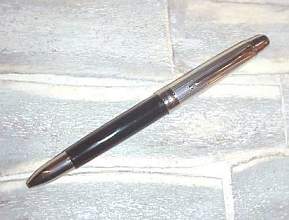 A silver plated stainless steel cap unscrews to reveal a thin white pencil
eraser.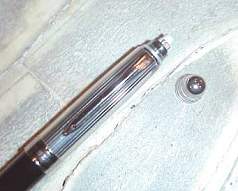 The mid-section of the Sandringham features a very discreet "Burberry"
across its barrel.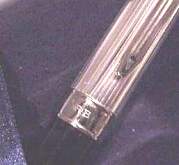 The black bottom half of the pen is made of a heavy plastic.
The bottom tip of the Sandringham balances out the multi pen's look, with
more silver plating over brass.
So those are the aesthetics, lets talk about its performance:
It is very easy to change tips with this pen. The Sandringham uses one of my
favorite multi pen methods to choose your nib – you simply twist the barrel
until you extract the desired point.
In between each click, all points are retracted, and the pen is safe for
storage in your shirt or briefcase.
How does it write? Well, after all my glowing praise, I have to tell you that
there is one thing that I dislike about this pen, as it comes from the factory;
it is a personal preference, and it is easily remedied.
The Sandringham comes with a very fine, black Pentel multi pen sized refill.
Now obviously, the bad news is that I personally don't like how it writes –
I feel like the ink is too thin, and that it just doesn't "feel" right, as
I am writing.
The good news is, that because this pen uses standard multi pen refills, you
can insert a Rotring refill if you'd like, and it will write with a much
smoother, thicker flow.
This is absolutely a matter of personal preference; I just felt that I should
point it out.
The .05 mm mechanical pencil writes smoothly, and without jamming.
The stylus tip is great! It seemed in the past that some of the stylus
replacements that Stylus Central would add to multi pens were sort of yellowish
and really pointy. This one is bright white, and unless it is a figment of my
imagination, it seems to be just a little bit "softer" on the end. In any
case, with or without a screen protector, it writes very acceptably.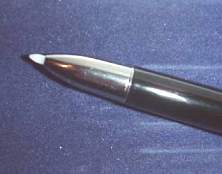 This multi pen looks really masculine and impressive to me. It's not so
much a "pretty" pen, as it is an elegant accent for the right person to
carry.
Price: $95 (Burberry offers a one-year warranty
against defective materials and workmanship)
Pros:
Elegant, classic design
Simple to operate
Comfortable to hold
Cons:
Dislike the fine black ink cartridge included – easily replaced,
though!
Expensive, but perhaps there is someone you have been meaning to
treat…yourself? J
Product Information
Price:
$95.00
Manufacturer:
Belkin
Pros:

Elegant, classic design
Simple to operate
Comfortable to hold

Cons:

Dislike the fine black ink cartridge included – easily replaced,
though!
Expensive, but perhaps there is someone you have been meaning to
treat…yourself? J