Product Requirements:
Device:
Handspring Visor, Deluxe, Platinum, and Prism
I have been an enthusiastic Handspring Visor user since they first came out.
And although I have lots of praises for the thinking that went into the design
of the Visor, and also the idea of the Springboard Modules, I thought they could
have done better with the plastic screen cover. I never liked it. In fact, I
took it off as soon as I got a case for the Visor and it has been living in the
bottom of my junk drawer ever since. One reason I don't like it is that it is
loose when removed. Sure, you can flip it to the other side of the Visor,
snapping it into the same grooves on top and bottom. But lots of us remember the
commotion when the Visor first came out about the top groove breaking off with
repeated use of the Visor's plastic cover. Why would they design something great
like the Springboard Module, and then make a cover that restricts it's use? And
with the change in the Prism's backside, you can't even connect it's cover to
the device's back! Not to mention the fact that you need to remove the cover to
perform a HotSync. (OK, so I mentioned it 🙂
Well now there is a clever alternative to those who like the
"flip-lid" style covers on the Palm III style PDA that is designed for
the Visor, Visor DX, Platinum, and Prism. The Flip-Clip from Tactilis
is a small plastic bracket that clips to the top of the Visor or Prism, (without
adhesives or Velcro, etc…), to fit with the Palm III style flip lid. Tactilis
offers the covers in an assortment of colors that somewhat
match the colors available for the Handspring PDAs.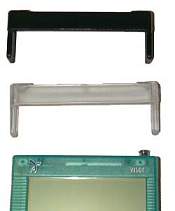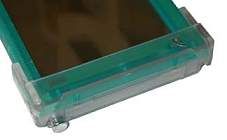 My first impression of the Flip-Clip & Cover
was, "Ah, finally someone made a flip cover for this thing!" But I
will have to admit, I think that the covers, while fully functional and fitting,
are a bit lacking in the "form" category. This is mostly due to the
fact that the covers are "exactly" the same as the
ones on the Palm III style PDAs. Tactilis is now designing a
Flip-Lid that is specifically shaped for the Handspring PDAs. That's good because
the Palm III covers, with their curved shape, are just a bit too awkward for the
Visor and Prism. And like the flip cover on a Palm III, it can't be swung
completely around to the back of the PDA. But they do cover the screen well, and
that may be more important for you.

Tactilis states that the newly designed lids will be in the
colors that match the Handspring PDAs, and will be more transparent. This will
make the Flip-Clip & Flip-Lid even more
attractive as an alternative to the stock cover. Currently the only colors that
seemed to match the Visor are the Ice and Black colors. They make a Graphite
lid, it's sort of translucent dark gray, and the lid also comes in Blue, Green,
Orange, Indigo, Purple, and Yellow. In all colors, you really can't see through
them, (yet), so keep that in mind if you are looking for a see-through lid.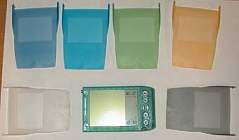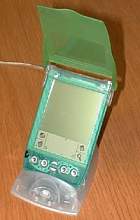 My advice would be that if you are looking to have a flip lid for your
Handspring PDA, the Flip-Clip & Cover would fit your needs quite nicely. It enables you to HotSync, and access the
Springboard modules without removing it, and it covers the screen and buttons
without adding much to the overall size of the Visor or Prism. But if the form
of the cover is a concern for you, and you want one that
exactly matches your Handspring PDA's color, I would suggest waiting for their new
lids to come out.
Price:
$6.00 Flip-Clip (Available in Ice or Black)
$4.00 Coverss (Available in Ice,
Black, Graphite, Blue, Green, Orange, Indigo, Purple , and Yellow)
$10.00 Combo Packs (one Flip-Clip and one Cover)
Pros:
Protects the screen and buttons
Doesn't restrict the HotSync port or Springboard module
Comes in a variety of colors
Cons:

Palm III covers are not a perfect fit on the Visor
Can't be swung completely around to the back of the PDA
More of our stories that you'll enjoy: