We use affiliate links. If you buy something through the links on this page, we may earn a commission at no cost to you. Learn more.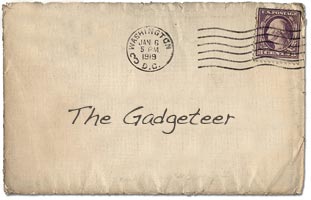 Hey folks, I thought I would start up a new feature called Gadgeteer Mail. As you probably would guess, people are always emailing me asking for gadget advice. A lot of times, I can respond with info to help them, but sometimes, people ask me questions for which I don't have a good answer. That's where you guys come in. I know you are a smart bunch and can help me out when one of your own needs some advice, that I am clueless about. Our first question is about multi-pens.
Hi,
My name is Richard.  I found your review on the Gadgeteer when looking for multi-pen reviews.  I've been looking at the Quin-Tek 5 Function Pen and some of the Lamy 4 pens.  I've been using the Staples multi-pen and it keeps "falling apart" in the center.  I then bought a Bic 4 color pen and couldn't stand the lack of weight of the light plastic.
Could you recommend a solid-heavy, multi-color pen that will last longer than the Staples version?
PS  I prefer medium size ball point writing.
Thank you so much.
Richard
For those of you that use multi-pens, can you help Richard with some suggestions? I haven't used a multi-pen in eons, so I knew my advice would be pretty lame.