We use affiliate links. If you buy something through the links on this page, we may earn a commission at no cost to you. Learn more.
These days, PDAs / Phones don't ship with handy dandy desktop charging and syncing cradles. If you miss having one, JAVOedge sells cradles for various devices. They sent me their Treo 750 desktop cradle to try out.
Even though it says it's for the 750, it works just fine with my Treo 680 which you can see in the following images…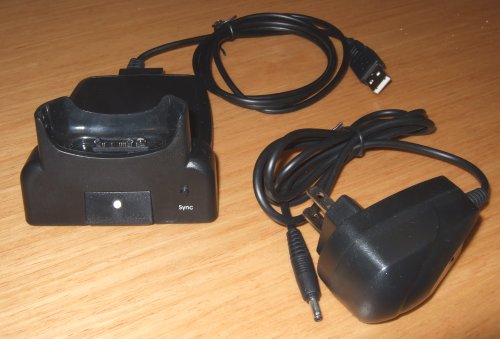 For $32.95, you will receive a USB cradle and an AC adapter. You don't have to use the adapter as the cradle will charge the Treo just fine through the USB connection. But, using the adapter will just allow the Treo to charge more quickly.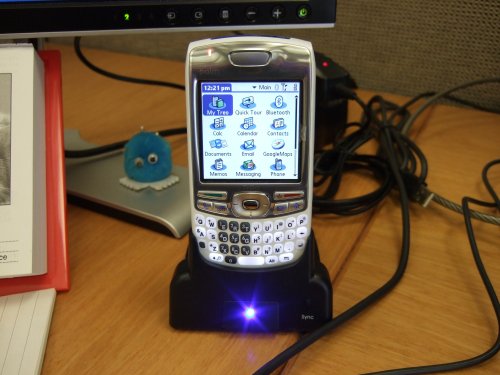 The Treo snaps very securely into the cradle. It's actually too secure in my opinion as it will take two hands to remove the Treo when you wish to extract it. You'll need to hold the base while pulling on the Treo. It could make for some hectic wrestling if the Treo is docked while you happen to receive a phone call.
One 'feature' that might make you reconsider using the AC adapter with this cradle is the fact that whenever it is connected to power (even if the Treo is not docked), an extremely bright Blue LED shines on the front of the cradle. The picture above doesn't really convey just how bright it is. I had to put a mini Stickie note over it to keep it from burning my retinas. ;o) Ok, I'm exaggerating just a bit. But it is way too bright.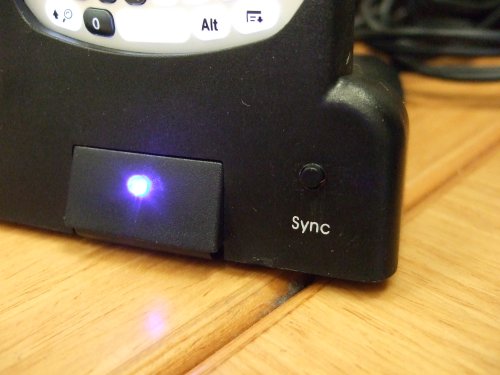 Next to the LED is a small sync button. Pressing this spring loaded button will initiate a hotsync when your Treo is docked.
JAVOedge has a lot of accessories for Treos and other devices. Be sure to visit their site if you are looking for a desktop cradle or other add-ons for your favorite PDA / Phone.