We use affiliate links. If you buy something through the links on this page, we may earn a commission at no cost to you. Learn more.
Power adapters. These bulky bricks are a necessary evil for electronics, even more so for gadget lovers. My gear bag is daily weighed down by several power adapters and when I travel my bag contains at least 5-6 adapters.
Many devices are now able to be charged via USB or Firewire, but on a laptop ports can be a premium. Additionally, many laptops do not charge external devices while in sleep mode.
My Un-met Adapter Need:
I have been looking to get another adapter to keep in my gear bag so that I do not have to constantly disconnect my existing one from my desk setup. Since space in my bag is at a premium, I wanted an adapter that was compact and could charge some of my other gadgets at the same time. After several years of looking I discovered Madsonline's "Lucille" power adapter.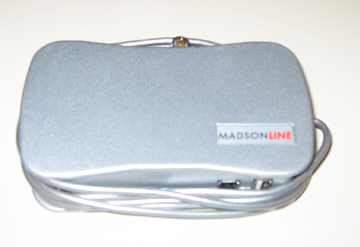 Features:
Charges G4 Powerbooks and white iBooks
Charges most USB and Firewire Device
Works with a variety of voltages (90-240V) for international use
12V DC firewire, 5V DC USB
First Impressions:
The Lucille is a relatively compact 65 Watt AC adapter which beaks down into two parts for easy storage. It has a good sturdy feel to it, without being too heavy. Additionally, this adapter operates within voltage input ranges of 90-240 Vac, which makes it useful for international travel with a plug adapter.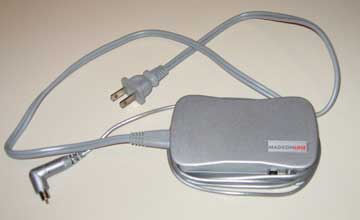 The power plug attaches to the laptop at a right angle, which ostensibly makes it less prone to cord injury. The 20 gauge wire is rugged appears to be able to withstand daily use.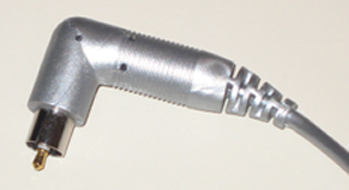 The USB and Firewire ports are adequately spaced apart to be able to accommodate most devices. The voltage output for the Firewire and USB ports are 12Vdc and 5 Vdc respectively.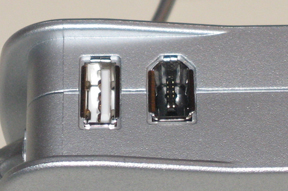 Usage:
For a few weeks, I've been using this adapter for day-to-day charging, and it worked beautifully. However, I wanted to put the Lucille to a more rigorous test: multi-day travel. So I packed the Lucille up and brought it with me on a weekend trip to Philadelphia and used it as my sole device for charging my 12″ Powerbook, iPod and Treo.
While on my trip, I drained the batteries on all of my gadgets by the end of my first day. This seemed the ideal time to test the charging capabilities of the Lucille, so I plugged the Powerbook in and connected a USB cable from my Treo and a Firewire plug from my iPod to the adaptor.
The time to charge the 12″ Powerbook appeared to be identical to my original 65 watt power adapter. Also, the times to fully charge my Treo and iPod were similar to if they were charged from my laptop's actual ports. However, when charging multiple devices, the Lucille does get a bit warm to the touch, but not more so than other device power adapters I have owned.
Overall, this is a great product that not only charges my laptop, but other devices as well. There is one major and one minor drawback with this product for me. The lack of mag-safe adapters for the Macbook/Macbook Pro is a major issue since I usually carry my 15″ MBP with me. According to the product page, the Lucille does not charge the Motorola Razr directly. However, I personally do not own a Razr so this not a major drawback for me.
Product Information
Price:
88.0
Manufacturer:
Madsonline
Retailer:
Madsonline
Requirements:

Apple G4 Powerbook or iBook

Pros:

Cable wraps around adapter for easy storage
Matches Powerbook G4 silver color scheme
Charges the laptop and 2 other devices (one USB one Firewire) at the same time.
Reasonably priced

Cons:

Brick becomes a bit warm with use
No Macbook/Macbook Pro cable currently available
Does not charge the Motorola Razr
No car/airplane adapter available