We use affiliate links. If you buy something through the links on this page, we may earn a commission at no cost to you. Learn more.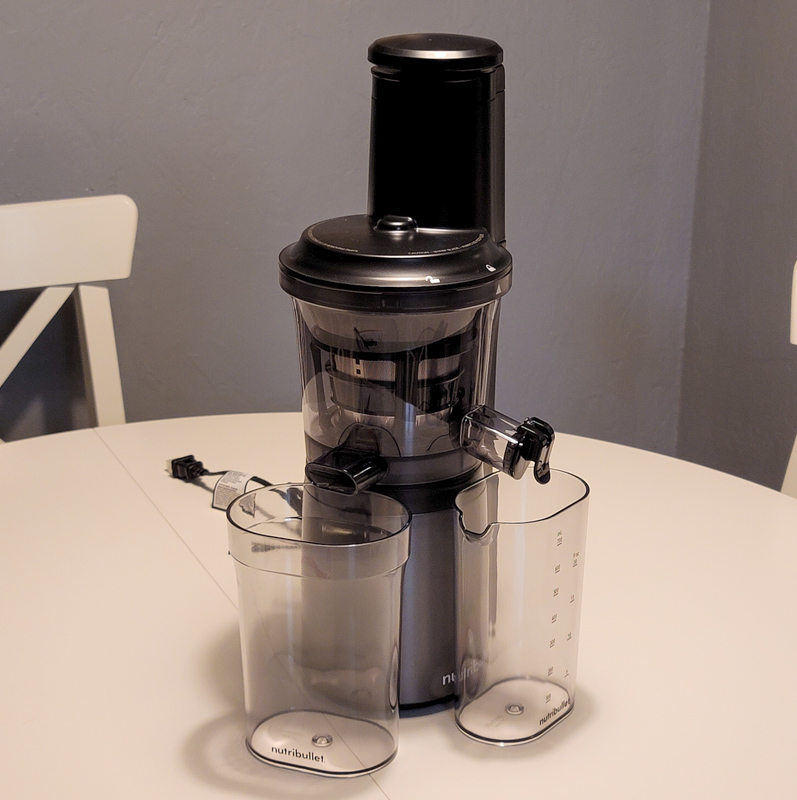 REVIEW – Years ago we had a centrifugal juicer designed only for citrus fruit. While I liked the juice, it took up a large amount of space for something we only used occasionally for only a few types of juice. Enter the NutriBullet Slow Juicer, which can juice pretty much any fruit or vegetable. I'm pretty bad at getting enough fruit and vegetables in my diet, but I love a good smoothie so I was hoping this product would help me up that healthy food quotient.
What is it?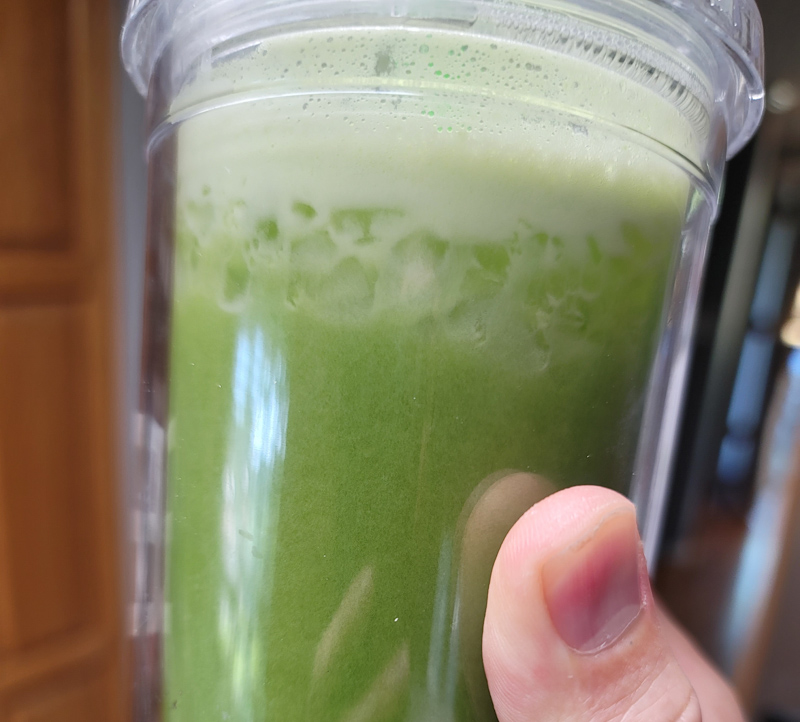 The NutriBullet Slow Juicer is a masticating fruit and vegetable juicer.  "Masticating" means that it crushes and pulverizes the fruit/vegetables and separates the pulp from the liquid. Masticating juicers are a step up from the cheapest centrifugal juicers on the market, and they're able to extract more juice from a wider variety of sources. The resulting juice is generally higher quality, has a longer shelf life, doesn't separate as quickly, and has less foam. I worked at a health-food-store's cafe in college, and we had a masticating juicer that cost thousands of dollars, and I loved me a good carrot-apple-ginger juice.
What's in the box?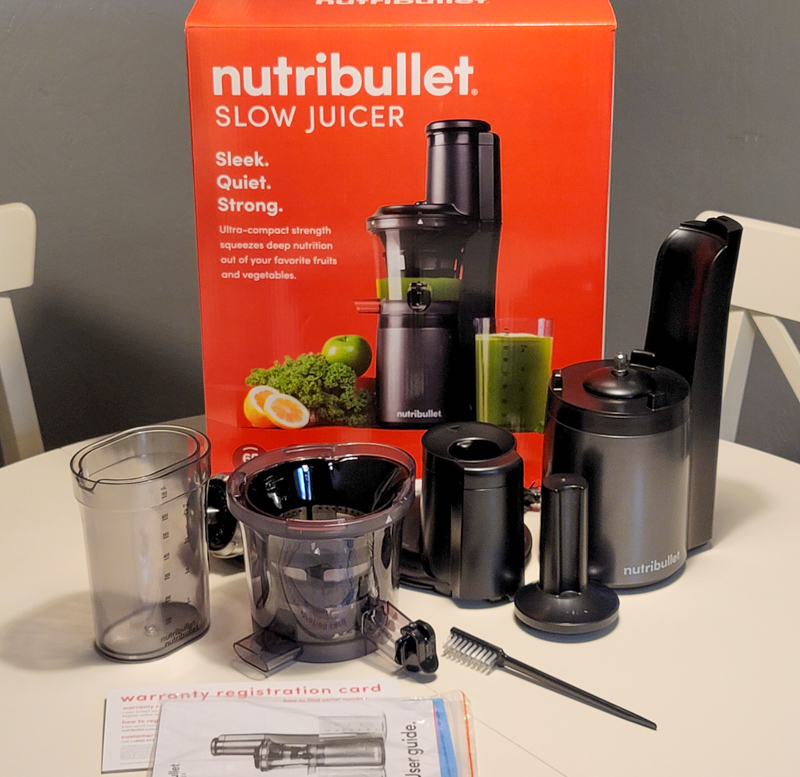 150 W motor base
Juice bowl with No-Drip spout
Grinding assembly
24 oz. Juice Container
Pulp Container
Screen-cleaning Brush
User guides and recipe book
Hardware specs
Juicing process: masticating slow juicing
Motor rating: 150 watts
All parts except the grinding assembly are dishwasher safe
Design and features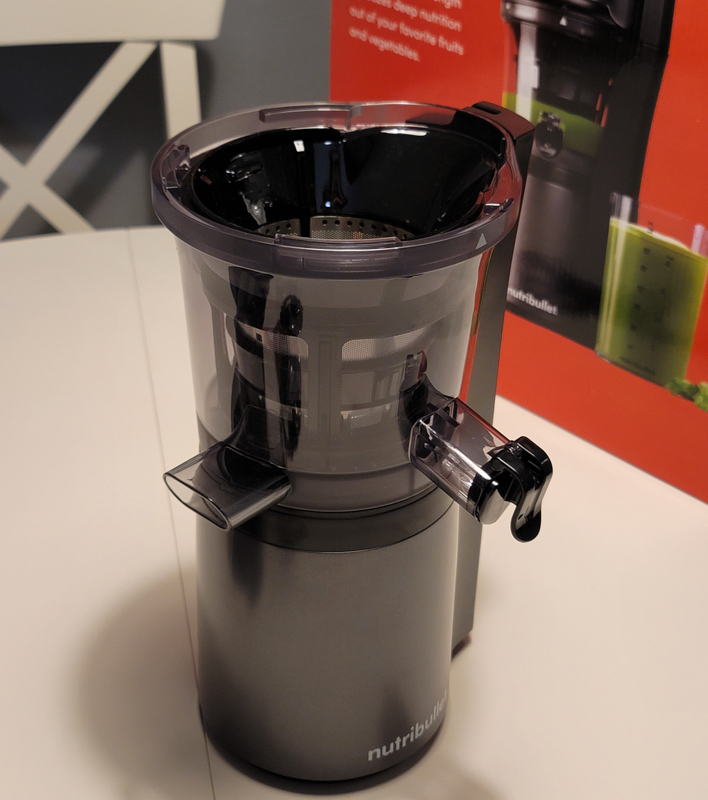 Here's the NutriBullet Slow Juicer with the feed chute / food pusher / and top cover removed.  There's 2 spouts, one for pulp and the other for juice.  The juice spout has a seal that can fully stop the flow of juice (for example if you need to swap out glasses or containers mid-juicing).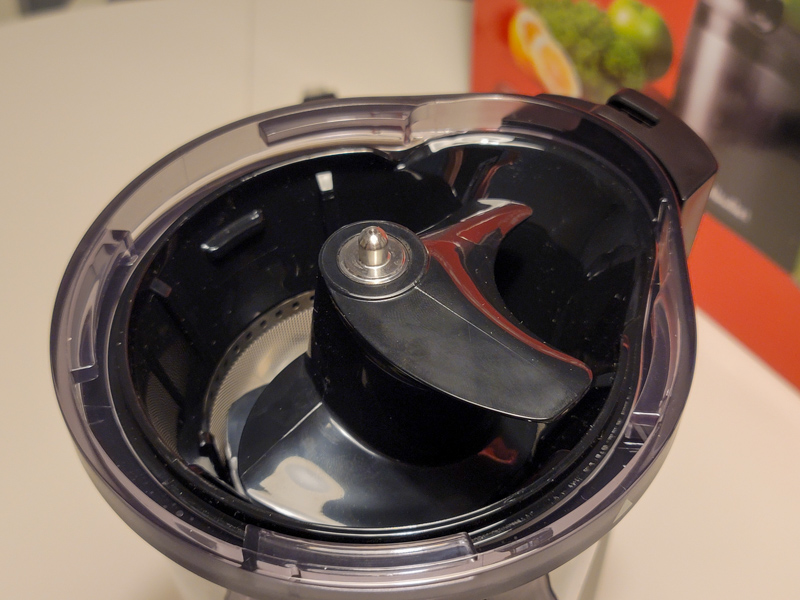 A view into the guts of the machine shows the grinding assembly inside the juice bowl.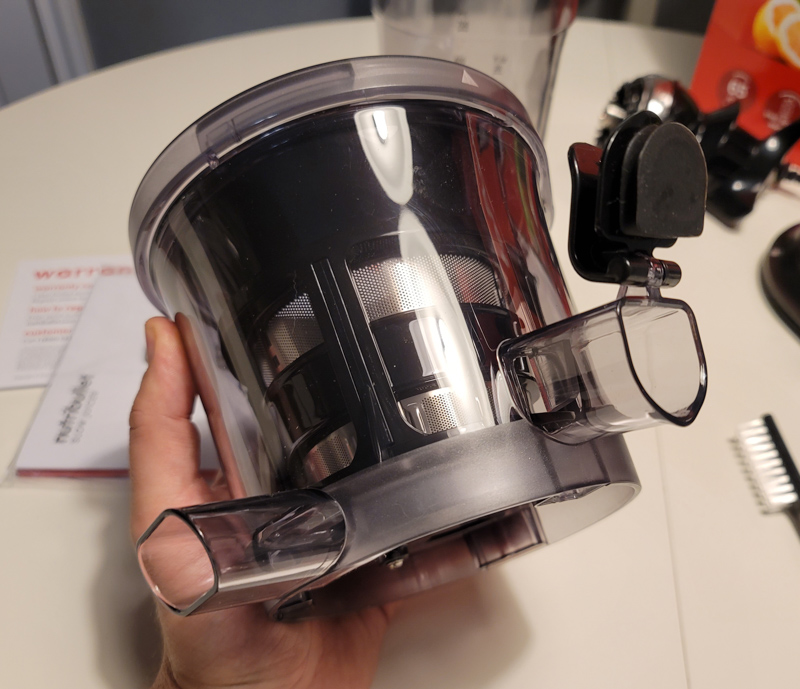 Here's the main juice bowl assembly removed from the motor base.  Everything comes apart easily for cleaning and storage.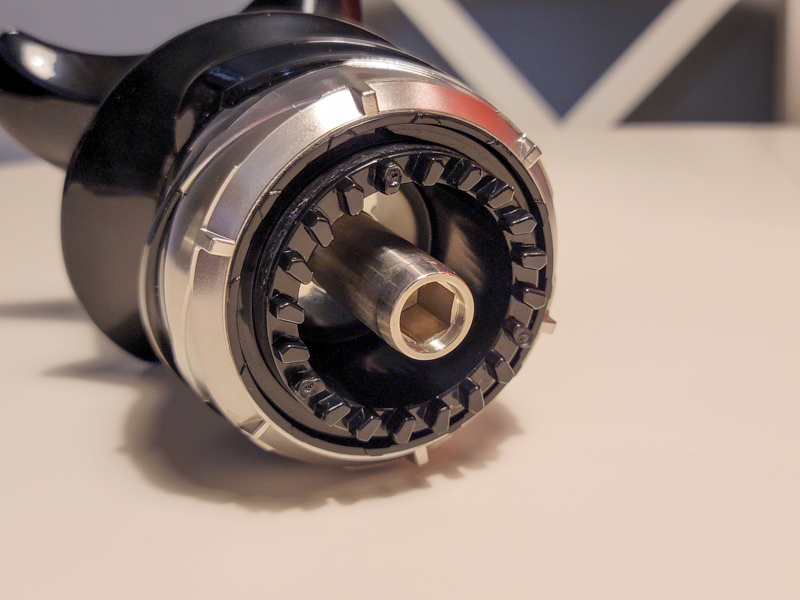 The underside of the grinding assembly reveals heavy duty stainless steel and high-strength plastic construction.  This slots into a steel motor mount and looks to be built to last a long time.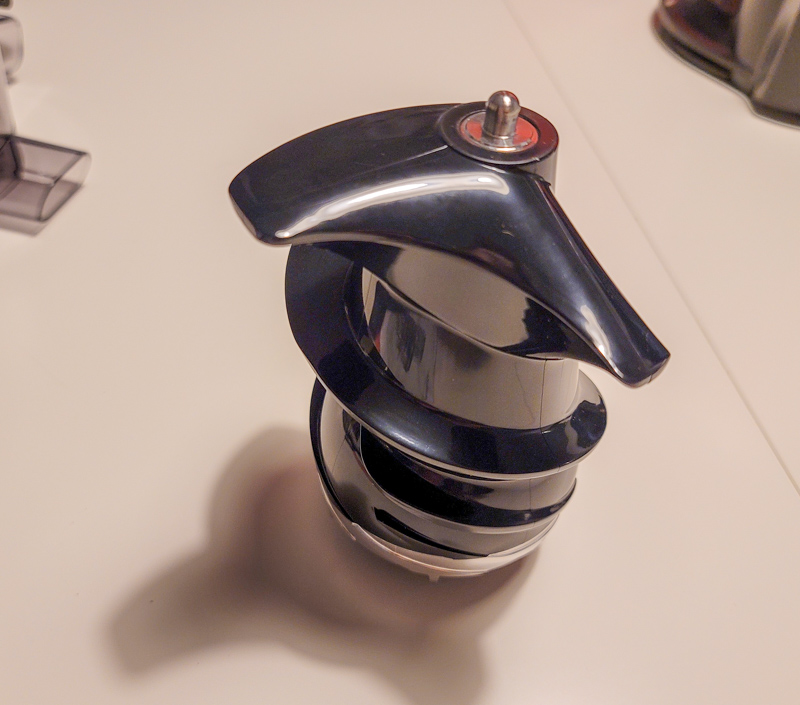 Another view of the NutriBullet Slow Juicer's grinding assembly. The design basically pulls/pushes food materials down towards the base where it's smashed against the juicing bowl, thus extracting those juices.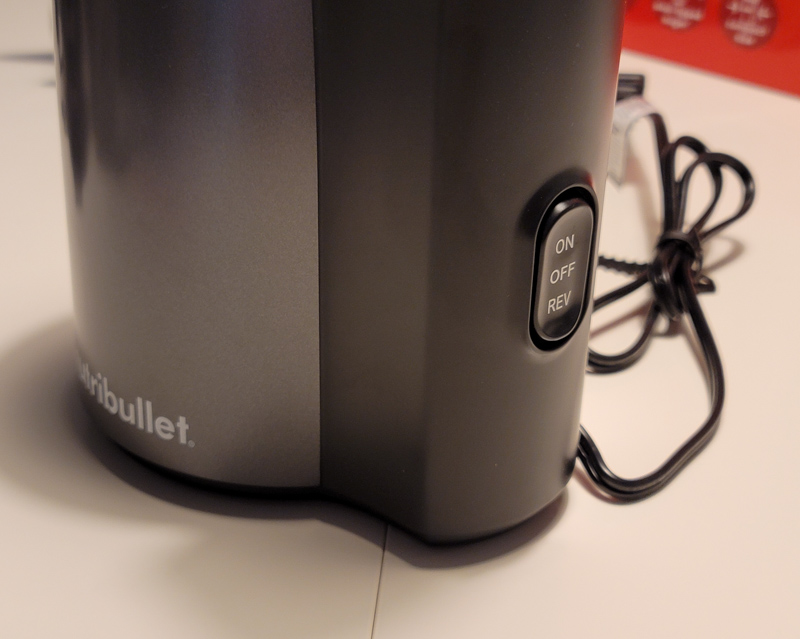 The on/off/reverse switch on the back is easy to use by feel. I never needed it, but reverse is there just in case something gets stuck.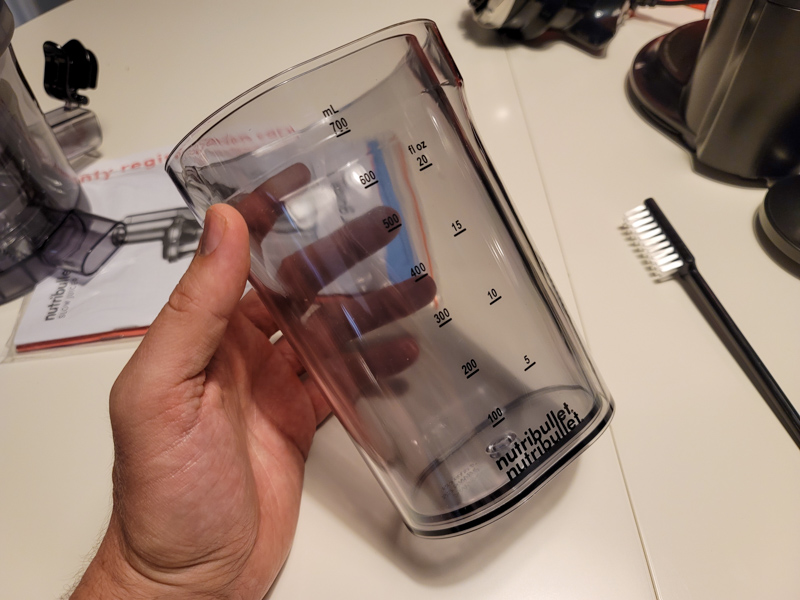 The pulp and juice catchers nest inside each other for storage – a nice touch. Both are easy to clean and big enough for several cups worth of juicing.
Setup and use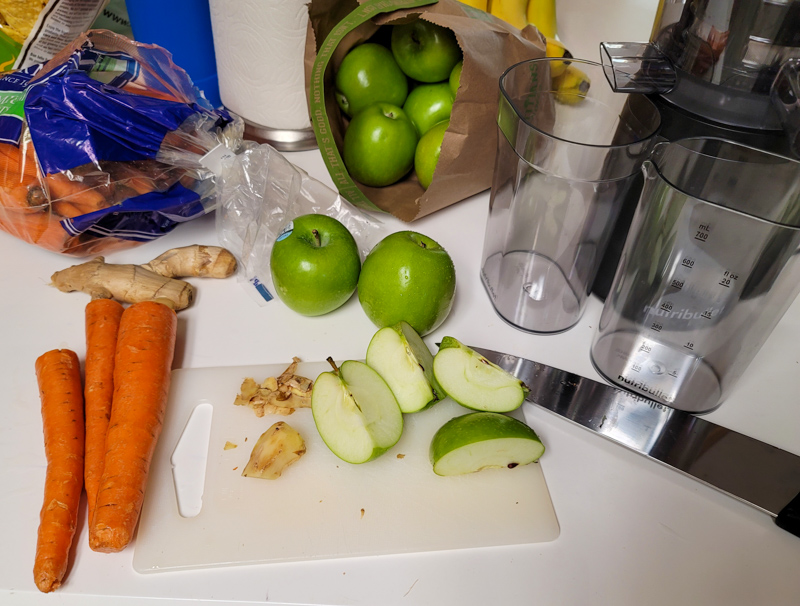 After assembling the NutriBullet Slow Juicer (which only takes a few moments), you need to prepare your fruits/vegetables.  NutriBullet includes a nice recipe book as well as more recipes on their website. You can also experiment with nearly any fruit or vegetable (they warn against juicing avocados and bananas, but most everything else is fine as long as hard pits and skins are removed). I started with my old favorite – carrot/apple/ginger. I rinsed everything and peeled the ginger, cut the apples into pieces small enough to fit in the feed chute, and chopped the tops off the carrots.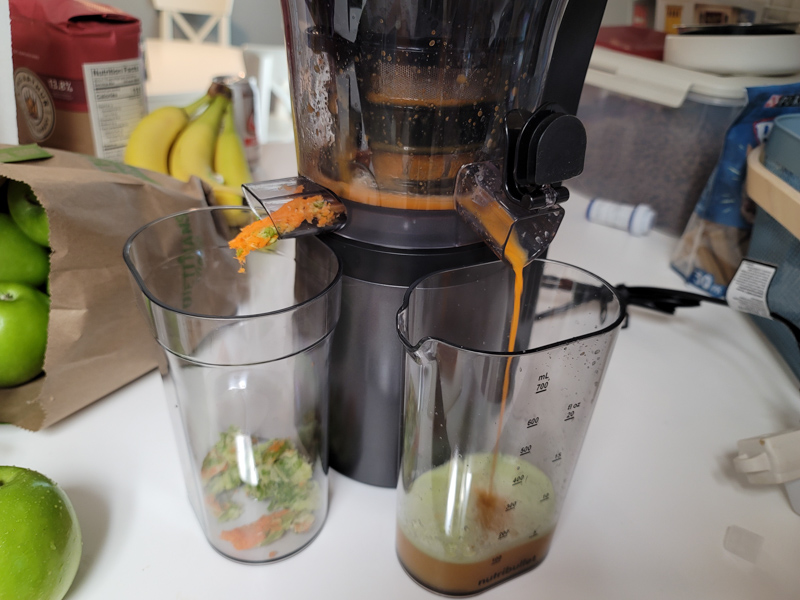 The next step was as easy as feeding the ingredients into the feed chute and turning on the NutriBullet Slow Juicer. After a few moments the juice starts flowing out of the right chute and the mostly dry pulp out of the center. NutriBullet recommends alternating food types between soft and hard if you're using different kinds, but I found that it happily juiced about anything I fed into it regardless of consistency. I did have small limes occasionally stay at the top and not get pulled down and juiced, but halving limes seemed to solve that issue.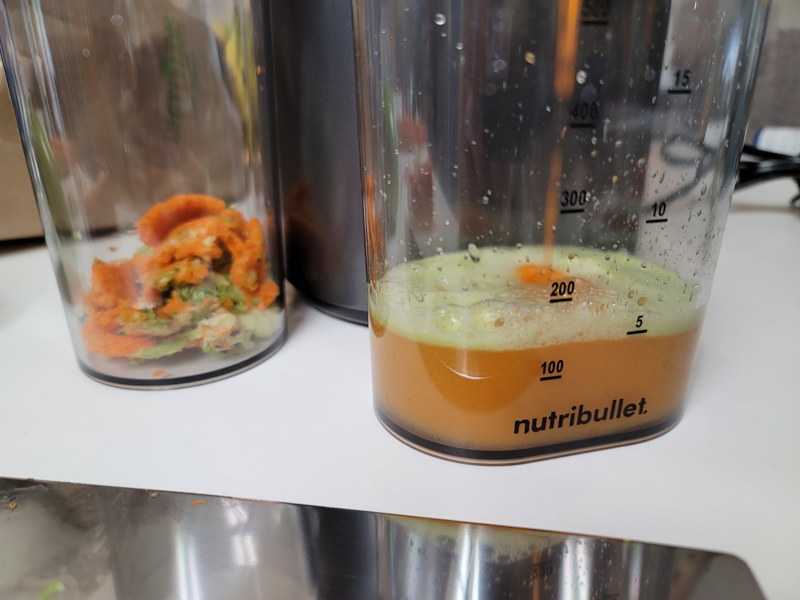 The juice container has ounces and milliliter measurement markers, and the juice output spout has a stopper which is handy if you fill the juice container mid-juicing.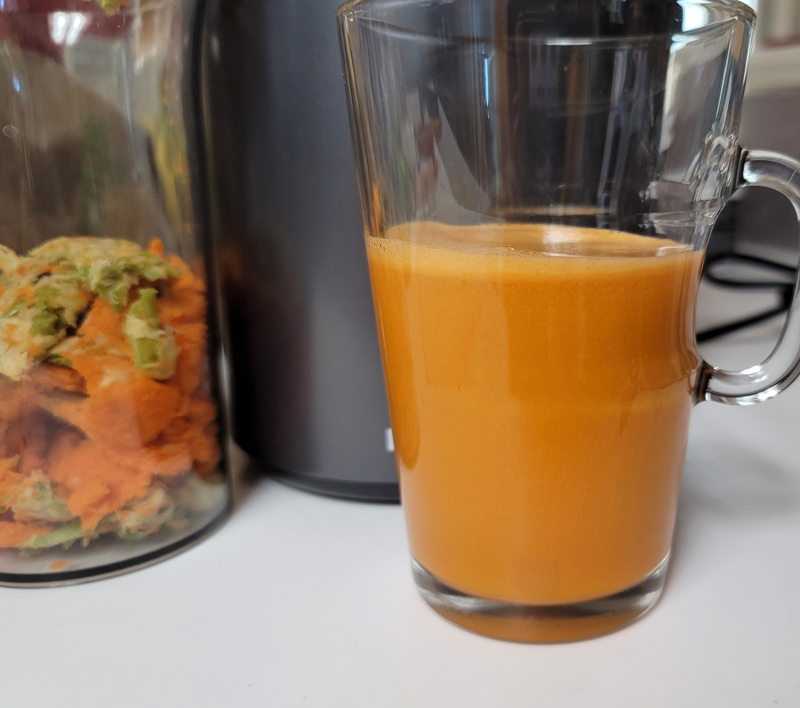 And here's the finished product! It was phenomenal, just as good as what I had in college on that multi-thousand dollar juicer. The resulting juice is a medium-pulp affair, depending on what you use (orange juice for example was about a standard regular-pulp consistency). If you wanted you could easily strain it through a strainer or cheesecloth to remove even more pulp.
I tried all sorts of vegetables and fruits in the NutriBbullet Slow Juicer and didn't find any that were problematic (I avoided bananas and avocado as advised). Among other things, I juiced papaya, pineapple, apples, carrots, cucumbers, ginger, kale, spinach, parsley, and limes. Even for citrus fruits it's far better than the old centrifugal citrus juicer we used to have.  It extracts more juice and takes up about the same amount of space in storage.
What I like
Easy to use
Fairly easy cleanup and mostly dishwasher safe
Good price for masticating juicer
What I'd change
I can't think of anything!
Final thoughts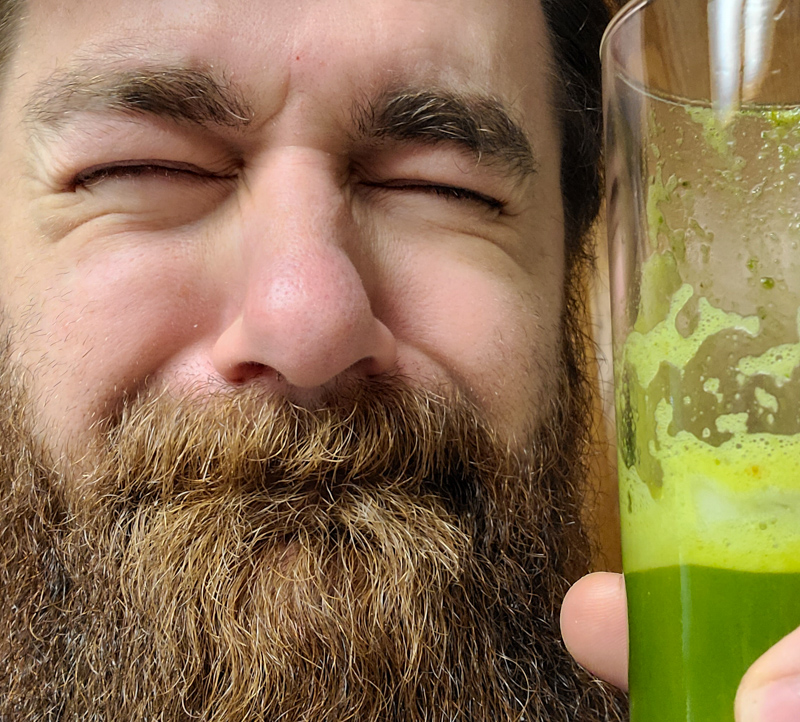 Despite my face here after trying a cucumber/spinach/kale/orange concoction, the NutriBullet Slow Juicer has earned a permanent spot on our countertop. I've been consuming exponentially more fruits and veggies than I was in the days before the NutriBullet Slow Juicer, and that's probably for the best. It feels built to last, and is at a good price for a masticating juicer. Anecdotally I've only heard good things about NutriBullet and they've been around for a few years, so I would expect good customer support and warranty coverage as well in case of any issues.
Price: $199.99
Where to buy: NutriBullet and Amazon
Source: The sample for this review was provided by NutriBullet