We use affiliate links. If you buy something through the links on this page, we may earn a commission at no cost to you. Learn more.
I recently got a letter from one of our readers, Rob Tripp, telling me I
should take a look at a staple-less stapler that he had found. "Well, what is
a staple-less stapler", I thought as I returned his email, "if it's not a
paperclip?"
My question was soon answered when I clicked on his included link, which
directed me to the Wrapables
site where I did indeed find a

Staple Free Stapler. Interesting…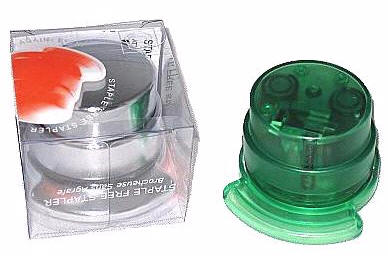 Available in black, red, blue, green, red & chrome, I was sent both the green
and chrome versions. The Staple Free Stapler (SFS) stands approximately 1.75"
tall and is about 2.25" wide. It does not take up much room on a desktop, and it
does not have any user-serviceable parts. In other words, there are no tricky
releases to figure out in order to load it, because there is nothing to load.
Because the SFS does not have a wide jaw that can trap little fingers, and
because it does not use sharp staples that can pierce the skin, the SFS is safe
for all ages. It is even safe for office klutzes that shouldn't be trusted
around sharp pointy objects.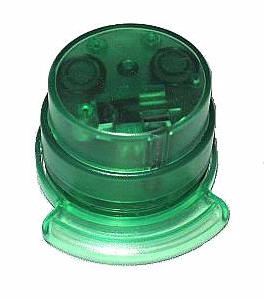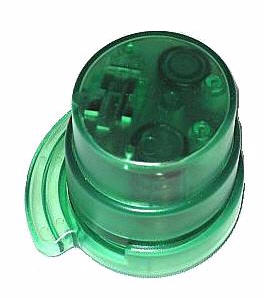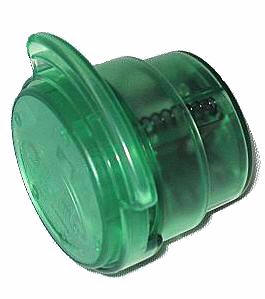 The colored SFSs are semi-translucent, so it is possible to see that there
are several heavy duty springs inside as well as a paper-punch. The SFS is
operated by the user inserting up to five sheets of paper in the front loader of
the device, and then firmly pressing its wide top as it sits flat upon a
tabletop.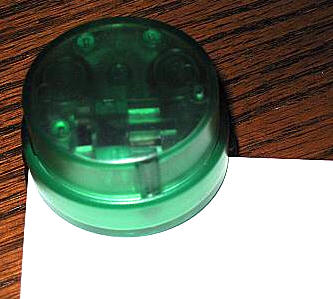 The only important thing to remember (other than to press down firmly), 
is that the paper should be slid out of the SFS to the right, which
reveals a most clever occurrence…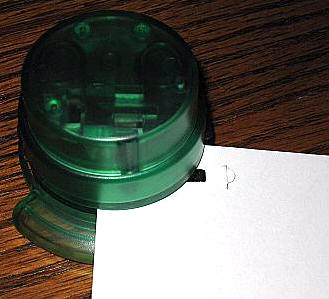 …the paper has been perfectly punched, folded back and then tucked into
itself, creating a staple-less bond between the pages. Of course, the number of
pages that can be affixed together is going to depend on the thickness of the
paper, but I had no trouble getting five pages of copy-paper to hold. Any more
than that, and you'll still have to bust out the old Swingline.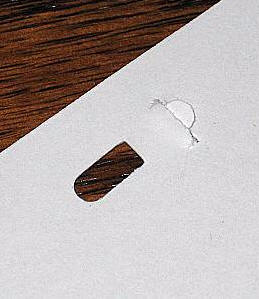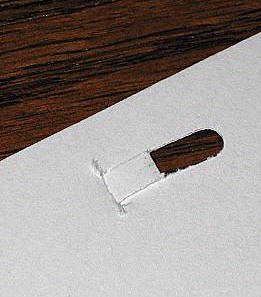 From left to right: the top side of the joined pages and then
the underside, revealing the tucked and folded tab
Pages can be stapled in the traditional upper left hand corner, or if an even
stronger connection is wanted, the SFS can be used several times across the top
of the pages or down the left side. Whichever way they are attached – including
with only one perforation – I found that the pages kept together quite well when
I held the paper stack by one sheet and shook.
Removing the pages from the SFS's perforated bond is a matter of releasing
the folded paper from the created tab. Depending on the person's skill, the
pages can either be reattached with the original perforation, or a new one can
be created with the Staple Free Stapler.
Now before anyone says, "but removing the paper will leave a hole!"
Might I point out that removing a staple also leaves several ugly holes. in this
case, the paper that was folded back can simply be folded back as flat as
possible.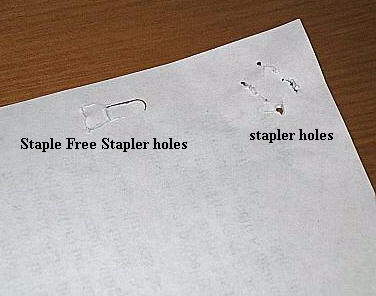 The Wrapables Staple Free Stapler is a clever solution that might even be
enough to make Milton Waddums
give up his beloved

Swingline…well, okay – maybe not. But unless you are as obsessed with your
stapler as he was with his, then you should give the SFS a try.
Price: $6.95
Available in black, red, blue, green, red & chrome
Pros:
Holds up to five sheets of paper together, staple-free
Pages can be easily separated
No staples to prick fingers
Safe for all ages
Cons:
Can only hold up to five pages. For more, one will need…a stapler
Product Information
Price:
6.95
Manufacturer:
Wrapables
Pros:

Holds up to five sheets of paper together, staple-free
Pages can be easily separated
No staples to prick fingers
Safe for all ages

Cons:

Can only hold up to five pages. For more, one will need...a stapler