We use affiliate links. If you buy something through the links on this page, we may earn a commission at no cost to you. Learn more.
USBGeek.com sent me a tiny 2.5 x 2.5. x 0.5 inch USB 2.0 card reader that is not much larger than a standard Compact Flash card. This reader is compatible with 21 different media card types. No, I'm not kidding, I said 21! They include: CF-Type I, CF-Type II, CF-Ultra II, Micro Drive, SD, SD-Ultra, SDC, Mini SD, MMC, HS-MMC, RS-MMC, MS, MS(MG), MS-Pro, HS-MS-Pro, MS-Duo, MS-Pro Duo, HS-MS-Pro Duo, SM, X Card, and T-Flash. Some of the types I've do not even recognize. For example, what the heck is T-Flash?
I came to understand that most of the formats listed above are really just different names for the same thing. CF-Ultra II is not an actual card type, it's just a designation that some card manufacturers give their faster CF cards. The same goes for SD-Ultra. SDC is the same as a regular SD (Secure Digital) card. HS-MS Pro and HS-MS-Pro Duo also are just speed ratings for MemoryStick Pro cards. HS-MMC (aka MMC Plus) is a speed rating too. It should also be pointed out that this reader doesn't really support some of those formats without an adapter. There are 4 slots that can accommodate CF-Type I, CF-Type II, SD, MS, and SM cards.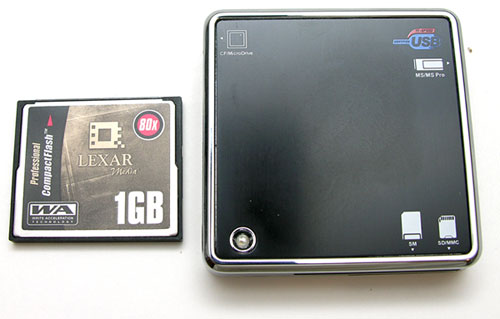 The reader is constructed of what I think is aluminum. It's very compact and will fit easily into any gear bag. Included with the reader is a USB cable and users manual.
This reader is totally plug and play if you have a modern OS (read: not Windows 98 or something equally ancient). When you plug it in, an extremely bright blue LED in the bottom left corner will turn on to let you know you have a connection to your computer. This LED glows constantly when the reader is idle, and will blink when file transfers are in progress.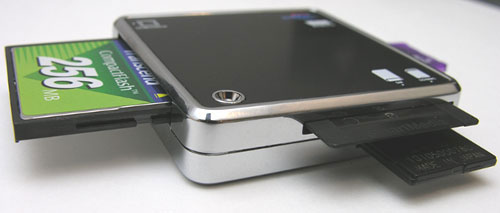 Like most multi-card readers, you can insert more than one card at a time and copy files between them. Speed-wise, this reader feels about the same as other USB 2.0 readers that I have reviewed in the past. I conducted a quick and dirty file transfer speed test with this reader, a 1GB LEXAR 80X Compact Flash card and a 17.8 MB file. Copying the file from my G5 iMac to the LEXAR card too less 3.5 seconds. Copying the file from the Compact Flash card back to the iMac took about 2 seconds. FAST! The same test using a very old 48MB Kingston Compact Flash card took 20 seconds copying from the iMac to the card and about 15.5 seconds going from card to iMac. Still not bad!
I like this reader because it's so small that I don't notice it in my gear bag. If you've been looking for a really small reader to stuff in your tool pouch, take a closer look at this one.
Price: $22.00
Pros:
Small
Cons:
None
Product Information
| | |
| --- | --- |
| Price: | 22.0 |
| Manufacturer: | USB Geek |
| Pros: | |
| Cons: | Reader doesn't really support all 21 formats without adapters |