We use affiliate links. If you buy something through the links on this page, we may earn a commission at no cost to you. Learn more.
Product Requirements:
Device:
HP iPAQ hx4700 / hx4705 PDA
It's no secret that I have a fondness for the cases manufactured by the
Vaja craftsman, in particular their line
of custom cases. Combining their special blend of artistry and fabulous
Argentinean leather, Vaja's custom cases allow PDA owners to decide what special
features they do or don't want included in their particular case. In all
honesty, when Julie or I purchase a new PDA one of the first things we say to
each other is "I wonder when Vaja will make a case for it." That should tell you
something about the high regard in which we hold their work. Of course, there
have been some designs that didn't appeal to us as much as others over the
years, but usually Vaja seems to get it right.
When I bought my
HP iPAQ hx4700,
I asked Julie our usual question (as if she would know the answer) and then
settled in for the wait. However, it would be some time before a Vaja case was
ready, and I needed to keep PAQo in something. For several months I used a
custom book-style case that was created for me by
Swampy Acres, which utilized a
hard plastic clip system that had been removed from a

PDair case. I loved the open design of the clip system, but over time I was
growing aggravated with the book style layout. There really is something to be
said about being able to flip the cover over your wrist when using a case,
versus having to keep it pushed back and out of the way.
Because I have tried quite a few iPAQ 4700 cases, I knew that one of the
drawbacks to the PDA was that a case with leather surrounding the touchpad area
could crowd the user's fingers and make the entire experience uncomfortable.
Given that Vaja uses a cut-out leather holster system, I was actually a little
bit nervous once the

HP01 Case was announced. I suppose that I was a wondering if the leather
surrounding the touchpad might be cut too thick or too close – both
characteristics that might cause touchpad interference.
As with their other custom cases, I was allowed to choose the type of leather
from which I wanted my case created. This is a good point to mention that all of
the custom cases start at a base price of $74.90. How much or how little the end
result eventually costs has to do with the leather selected and the options that
are added to customize the case to the purchaser's specifications.
I began by clicking the "Start Customizing" button on their site. There are
four leather choices to start: Embossing #1, Embossing #2, No Embossing #1 and
No Embossing #2, and the "embossing" has nothing to do with whether or not you
want your name embossed on the case's flip-lid.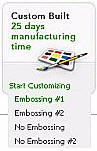 Photo courtesy of the Vaja site
Confused yet? Don't be…
Embossing #1 is basically shiny

Vitelino leather, whereas Embossing #2 is a smaller color selection on

Vaquero leather, which looks like a matte Vitelino. No Embossing #1 is a
selection of cases made from a combination of

Aniline and

Floater leathers, whereas No Embossing #2 is just a separate set of Aniline
and Floater colors. Got it?
So I decided to go with Embossing #1, and I chose the color Green Moss…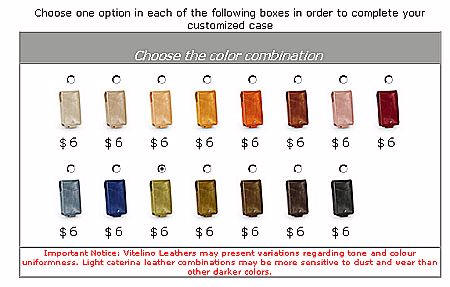 Photo courtesy of the Vaja site
I wanted the thinnest case possible and I do not personally like to keep
memory cards in the cover of my case, so I selected: no slots, a slim cover with
no cushioning, no belt clip, no cutout for an extended CF card, and no
personalization. I did opt for the matching leather lining, but I did not want a
matching mobile phone pouch.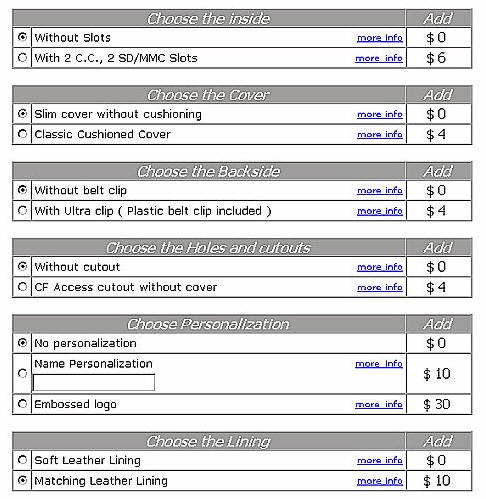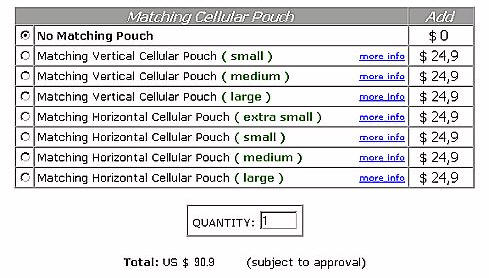 Photos courtesy of the Vaja site
With my choices made and my order placed, I settled in to wait. According to
the Vaja site, custom cases generally take 30 days to complete, and that is
about how long I had to wait. Once I finally received the case…hello,
it was gorgeous!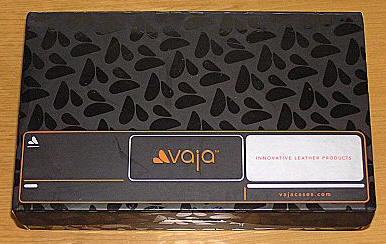 It doesn't seem like it has been that long since I reviewed a new Vaja case,
but in that time they have really upgraded their packaging. Opening the
presentation box, everything is revealed in stages. First is the divider
mentioning that the included case is "custom" and to the right is the hard
plastic warranty card. Although Vitelino doesn't have quite the strong leather
smell that the Floater has, there is still a moment when the scent first hits
you that is very satisfying.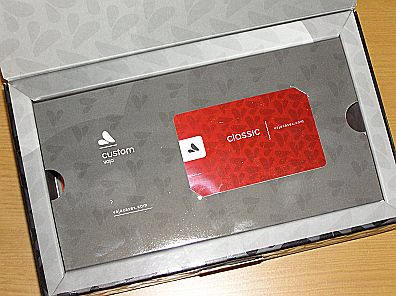 Lifting the divider reveals the custom case, which is nestled on top of a
slick book talking about the Vaja function and design.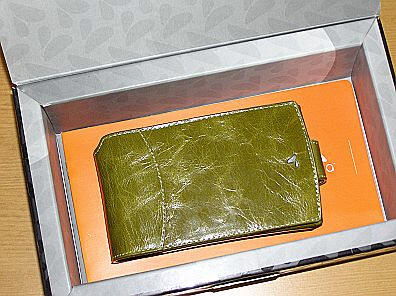 Inside the case is a care booklet and a small folding full color catalog.
Hey, I can remember when Vaja's just came in a plain black paper box – and if
you were lucky the box might have a see through window! Silly as it sounds, the
packaging is now in line with the quality of the product –  it is now on
par with any high end name-brand designer's.
So enough about the packaging, let's take a look at my case!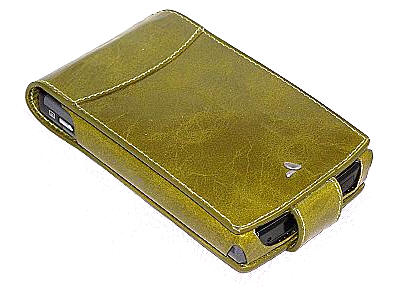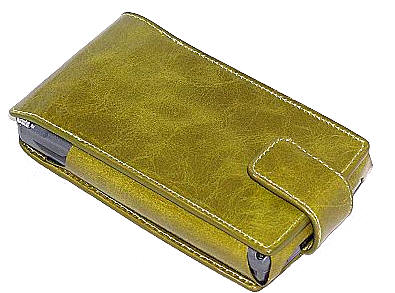 As mentioned, I ordered my case in Green Moss, and it came with a nicely
contrasting light green stitching. Other than the tasteful Vaja logo on the
bottom of the flip cover, there is nothing anywhere on the case to mar the
beauty of the Vitelino crackle design.
All cut edges of leather are finished- there are no rough edges. The
stitching is perfect, straight and even, and everything is held together with a
very discreet magnetic snap tab on the bottom of the flip lid. The flip lid is
extremely thin, basically made of two sheets of Vitelino leather sewn together –
but a thin sheet of plastic has been sandwiched in between them to add rigidity
and strength to the lid. The interior of my case is finished in the same leather
as the exterior, which gives the look a nice continuity.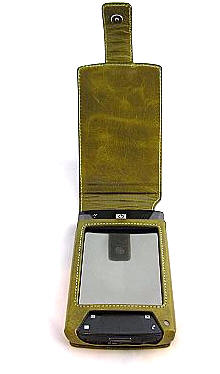 The Vitelino holster is lined in nylon to ensure that it never stretches or
loses it's shape.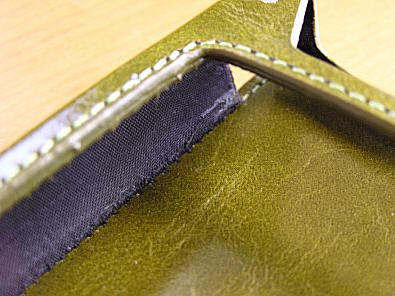 The 4700's screen is perfectly framed, and I was very pleased to find that
the leather forming the holster – while substantial – is not so thick or cut so
tight as to hamper comfortably using the touchpad. There went one needless
worry.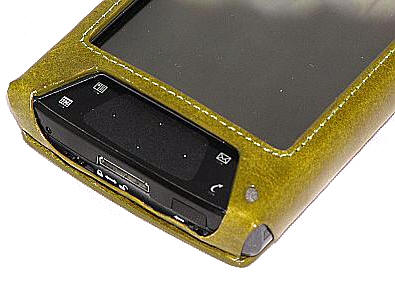 Note the nice touch of  metal mesh covering the
microphone cutout.
All of the buttons and ports around the diameter of the PDA are easily
accessible, and although it will not fit in the cradle, the 4700 can easily sync
or charge with a cable. I don't use the cradle, so this is not a con for me,
however I know that some users may find it to be an inconvenience.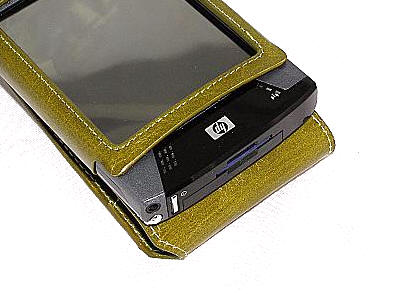 Because I ordered such a slim version, it feels as if little to no extra bulk
has been added to my iPAQ. In the Vaja, PAQo measures approximately 5.3" tall x
3.09" wide x 0.9"
thick; naked, the 4700 is 5.17" tall x 3.03" wide x 0.59" thick.
Overall, I am immensely pleased with the

Vaja HP01; once again, theirs is the case by which I'll be judging all
others. If you are looking for the ultimate PDA case and you don't mind
the expense, then you owe it to yourself to create your own on their website. As
detailed as their site is and as good as I tried to make my pictures, nothing
compares to the feeling of one of their cases when it is in your hand. My only
gripe is that to date, there is no version available for the iPAQ 4700 with
extended battery. :0(
Price: $74.90 + ($90.90 as tested)
Pros:
Customized to your specifications
Perfect craftsmanship with quality materials
 
Cons:
Expensive
They don't make a version for the extended battery! ;0)
Product Information
Price:
74.9
Manufacturer:
Vaja
Pros:

Customized to your specifications
Perfect craftsmanship with quality materials

Cons:

Expensive
They don't make a version for the extended battery! ;0)