We use affiliate links. If you buy something through the links on this page, we may earn a commission at no cost to you. Learn more.
Product Requirements:
Device:
Microsoft Windows 98SE, ME, 2000, or XP
/ MAC OS 9.x ~ 10.x
You would think that after reviewing almost 20 different digital audio
players in the past 5 years, that I'd be totally sick of them. Well guess what,
I'm not! Why? Because I'm always looking for a player with some cool new feature
that makes it stand out from the rest of the players on the market. Trust me, that's hard to do these
days. Having said that, I think I've found one though… The DHH-100-5 from
mobiBLU.
Hardware Specs
Storage Capacity: 5GB hard drive which can hold up to 2000 songs
Audio Formats: MP3 (MPEG 1/2-Layer, 16-320Kbps), WMA (Microsoft Windows Audio,
32-192Kbps), WMA DRM, and new formats by Firmware upgrade
Audio Output Frequency: 20Hz-20KHz
Audio Signal To Noise Ratio: 90dB
Headphone Output Power: 16Ω/15mW
Speaker Output Power: 8Ω/300mW
PC Interface: USB 2.0 (download speed 480Mbps max)
Power Supply: 4.2V Li-Polymer (Approximately 10 hours continuous playback)
Size: 3.1 x 2.2 x 0.88in (80.00 x 56.00 x 22.4mm)
Weight: 3.52oz (100g)
Package Contents
DHH-100-5 Player
User Manual
Driver CD
Carrying Case (vinyl with belt loop)
Stereo Earphones
USB Cable
Direct Encoding Cable
A/C Charger
The DHH is a compact little player that has a lot going for it. To start with, it has
what appears to be a partially metal body. The back and top frame seem to be
aluminum. This gives the player a very rugged feel. It has a funky chunky shape
that appeals to me.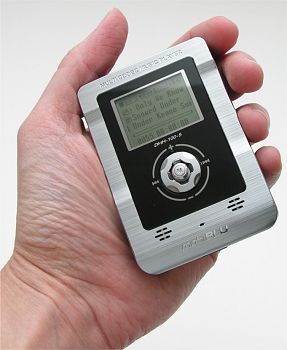 In hand, this player is comfortable to hold as there are no sharp edges to
dig into the palm of your hand. The DHH passes the Gadgeteer creak/squeeze test
with stellar marks. This baby doesn't flex anywhere. It's as solid as stone.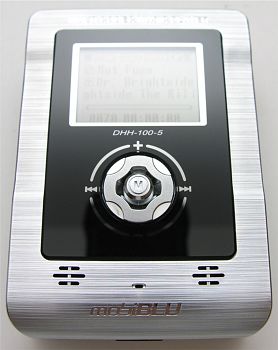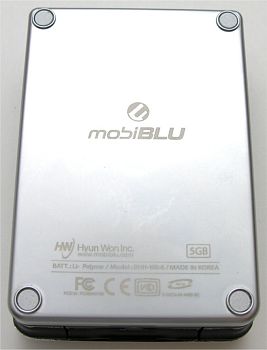 The front of the player has the mono back lit LCD display, navigation button,
microphone and speaker grill. The LCD displays normal song info and player
status.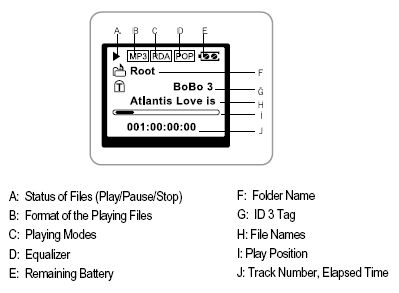 Also on the front is a microphone for making voice and other recordings. On
either side of the microphone are the built-in speakers. Yes, you read that
right, this little player has speakers! Ok, they aren't like blow your mind
speakers, but they are cool none the less. I didn't even realize the speakers
were there till I was messing around with the player without plugging in the
included earphones. I was just trying to see the menu structure and about
dropped the player when I pressed play on a song and it started playing out
loud! :o) Some of you might not think this feature is all that exciting, but
consider this… Have you ever been listen to music with earbuds and a friend
will walk up and ask you what you're listening too, you'll tell them and then
they ask that question I dread to hear… "Can I listen to it?" At that point
they hold out their hand for the earbuds and I'm like eeeeeeew! I don't wanna
get their nasty ear grease on my buds! Now I can just pull out the earphone jack
and boom, they can hear what's playing! Yay! Yes, its the little things that
make me happy ;o)
In the middle of face of the DHH is the navigation button. It's a little spring
loaded joystick thingy that can be pressed up, down, left or right.  In
play mode, pressing the stick up and down will adjust the volume level, while
pressing it left or right will cycle forwards or backwards through tracks.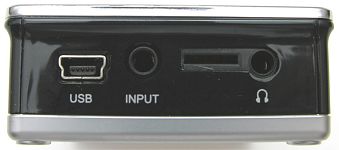 The top of the player has the USB port, input jack and headphone/remote jack.
With the input jack, you can record music from another source such as a CD
player. Although a remote is not included with the DHH, there is one available
for purchase through the mobiBLU site.
The Hold switch, AC adapter jack and EQ/Song Navigation button is on the left
side of the unit. Pressing the EQ button will allow you to switch between 5
basic equalizer modes ( Normal, Rock, Jazz, Classic, and POP) and 10 user
defined equalizer settings where the individual settings can be adjusted per the
user's preference.

Pressing and holding the EQ button will cause the player to go into song
navigation mode. This is where you will see the folders and song titles. Using
the front navigation joystick, you can travel directly to the song you are
interested in playing. The only thing I don't like about this system is that you
can't just press Play on the folder name to play all the songs in that folder.
You have to actually navigate down into the folder to the song level. Once you
start playing music in a folder, it will continue playing all those songs in
that folder.
The right side of the player has a reset switch, Record button and
Play/Pause/Power button. Pressing and holding the Play/Pause button toggles
power.

Another interesting feature that this digital audio player has over other
players is the fact that it has an SD card slot built into the bottom of the
device. A small door opens to allow access to the slot.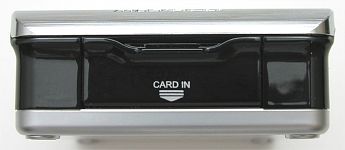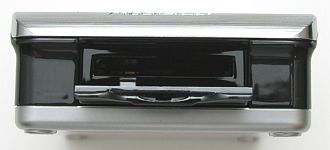 Now you might think that this is an expansion feature… That you can play
songs from the card. Well, no. They really should have allowed for that feature,
but what it is really for is to enable the DHH to be a flash card copier. What
good is a feature like this? Well, if you happen to have a digital camera that
uses SD cards, you could use this player as an image tank when you're away from
a computer. This would allow you to continue taking new pictures after filling
the card.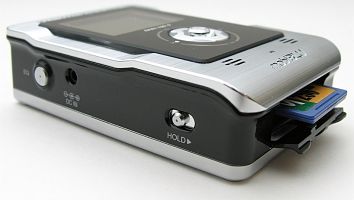 As you can see, the card doesn't slide completely into the body of the player.
Once you plug it in, you can use the onscreen menu options to copy all the
contents from the SD card into a folder on the DHH called CARD. This operation
does not erase the contents of the card, it just copies them. So, you'll need an
alternate method of deleting the files on the card if you want to fill it with
new information.
You're probably wondering at this point, how you get your music into the player.
Like the XClef players, this player is drag
and drop. Just plug it into your PC using the supplied USB cable, and it
automatically shows up as a hard drive. There isn't any special software that
converts your standard .MP3 or .WMA files for use on this player. Just drag and
drop individual songs or entire folders of music onto the drive. The player
utilizes USB 2.0, so copying files is pretty snappy. You are not limited to just
copying music. You are free to use the DHH as a mass storage device. Of course
you won't be able to play files other than .MP3 and .WMAs. That said, since the
DHH's firmware has the ability to be upgraded, it is possible that new formats
(Ogg Vorbis, etc.) may be supported in the future.
Bottom line is that I like this little player quite a bit. It's not like it
is head and shoulders above other players in its category, it's just that I like
built-in speaker and the SD card copy feature. Of course, the main feature is
the ability to play music. The DHH does just fine here. Sound quality through
earbuds is very good. The only things missing from this digital audio player 
that I should mention are the absence of playlist features, and the ability to
narrow a song search. As is, you'll have to manually drill down into a folder to
play a specific song. There's no way to just scroll through your entire library
of songs unless you copy them all into one big folder (eck!) If you can look
past these weaknesses and can fit all your music into 5gb, then this might be
the player for you.
Price: $229.99
Pros:
Built in speaker
SD card copy feature
Drag and drop files
Cons:
No playlist features
No searching features
Product Information
Price:
229.99
Manufacturer:
mobiBLU
Pros:

Built in speaker
SD card copy feature
Drag and drop files

Cons:

No playlist features
No searching features