We use affiliate links. If you buy something through the links on this page, we may earn a commission at no cost to you. Learn more.
In my never ending search for the ultimate cool clock, I have stumbled upon
the C.I.D Colored LCD Clock from Brando's
Watch site. From the description on his site, this time keeper appeared to
be right up my alley. Funky, small and chunky. My 3 favorite adjectives when it
comes to describing almost any gadget.
The clock arrived, package unwrapping ensued, oh's and ah's followed soon
thereafter. This little desk clock is definitely a looker. Almost Apple like in
styling, it is made of white plastic with a thick 3/4th inch thick Lucite face.
Overall dimensions are 3.25 x 3.25 x 2in (8 x 8 x
5cm).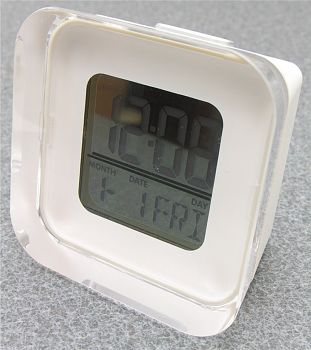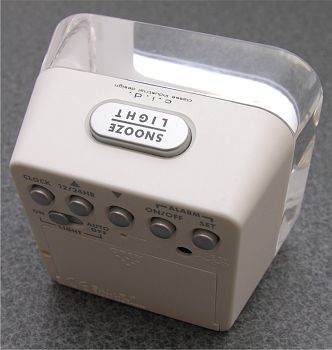 The clock runs on 3 AAA alkaline batteries (included) or by a 4.5v AC adapter
(not included). Once you pop in the batteries, the real oh's and ah's will begin
as the large mirrored LCD begins cycling bright colors.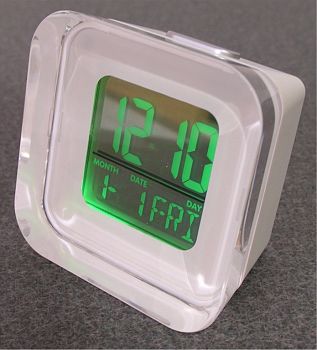 Pretty. Shiny. :o)
The LCD cycles from Red to Green to Blue to Green and back to Red. As it
continues this transition order, the colors morph into each other so that you
will see different shades of colors. Even purples and pinks. Pretty cool!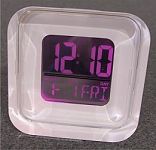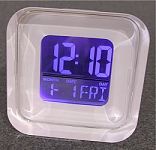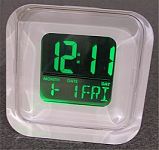 Setting the clock is straight forward using the buttons on the back. Time can
be displayed in 12 or 24hr format. Other settings include the month and day of
the week. An alarm can also be set.
A switch on the back of the clock allows you turn the color cycling to Auto
Off. Tapping the snooze button on the top of the clock will cause the LCD to
cycle colors for 30 seconds and then turn off. Since this is the main feature of
this clock, I'm not sure why you'd want to turn it off completely, but you can
if you so desire. Doing so does cause the display to be quite hard to read as
the LCD is mirrored (see first picture at the top of the review).
Even though the C.I.D. Clock is pretty spendy at $51, I really have enjoyed using it
so far. The only features I wish it had would be a way to freeze the display at
a color I liked best, and to slow down the cycling just a touch. Also the only
way I would pay $50 for it would be if it had a radio and multiple alarms… If you're
looking for a clock that's a bit funky and you don't mind the price, this is one
you might want to take a closer look at.
 
Price: $51.00
Pros:
Cycles through 3 colors
Funky design
Cons:
Pricey
Hard to see time when color cycling is turned off
No way to freeze color cycling
Product Information
Price:
51.0
Manufacturer:
Brando
Pros:

Cycles through 3 colors
Funky design

Cons:

Pricey
Hard to see time when color cycling is turned off
No way to freeze color cycling