We use affiliate links. If you buy something through the links on this page, we may earn a commission at no cost to you. Learn more.
Product Requirements:
Device:
Sony CLIE TH-55
Following closely on the heals of the Metal & Leather Suit from Extreme Limit of Japan, comes their Body-Suit case. Available in finely grained quality black Italian leather with matching black stitching, this book style case has plenty of storage and play-through access.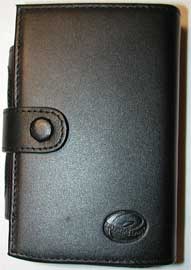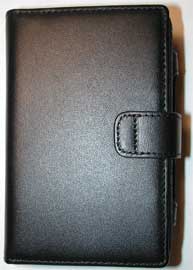 Like most cases that are currently available, you will first need to remove the CLIE's plastic flip cover in order to slide the PDA into the play-through leather holster. While it's not a big deal to remove this cover, doing so might contribute to misplacing it later.

The TH-55 slides into the holster relatively easily. There is one large cutout for the display and status LEDs at the top of the screen. Cutouts for the application buttons, sync port, side buttons and earphone jack are also included, but the ability to access the Memory Stick slot cover and reset switch is obstructed.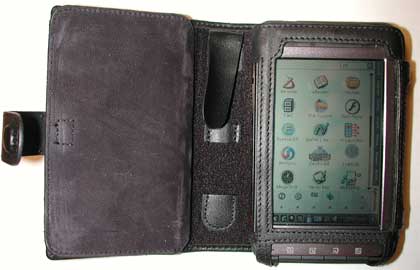 This holster is interesting as it can actually fold away from the back of the case. It is held in place by 2 small squares of Velcro. When you fold the holster away, it allows you to access the jog dial and camera much easier. E-book readers will definitely appreciate this feature. It is slightly awkward having the rest of the case hanging down from the side of the holster though.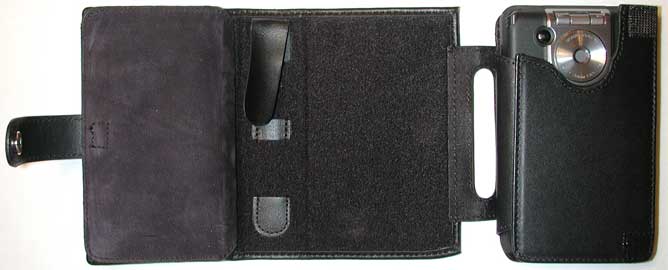 Never miss one of our posts again. Sent MON, WED, and FRI with the latest gadget reviews and news!
The screen cover portion of the case has a soft suede flap that protects the PDA screen from the contents of the storage pockets. This flap is held in place by a very small rectangle of Velcro. If you don't like the flap, you can remove it. Under the flap you will find 3 business / credit card slots, 1 large slot behind them and 2 Memory Stick slots. The cover is held closed with a snap tab.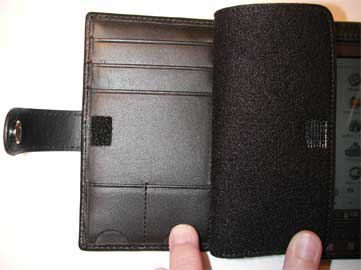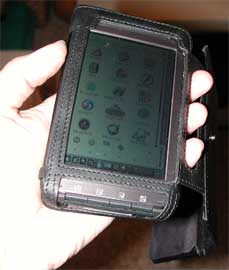 The inside spine of the case has a stylus holder. Even though you can access the stylus in the PDA, this gives you an alternate place to store it.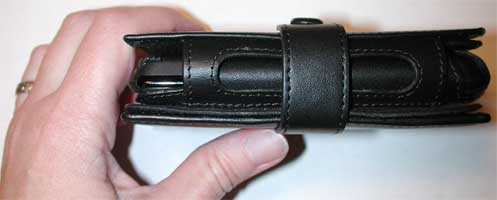 I didn't really notice any major problems while using my TH-55 with the Body-Suit case. In purely book style format, this case is comfortable to hold in your hand, while reading e-books did take some adjustment. Although it does add some bulk and weight to the CLIE, this case has several storage slots, looks great in both a business or casual setting, and is constructed perfectly. If you prefer book style cases, this one might be the one for you.
Price: 7900 Yen ~$69.57 US
Pros:
Play through
Suede display protector flap
Cons:
Can't access Memory Stick slot cover and reset switch
Bulky