We use affiliate links. If you buy something through the links on this page, we may earn a commission at no cost to you. Learn more.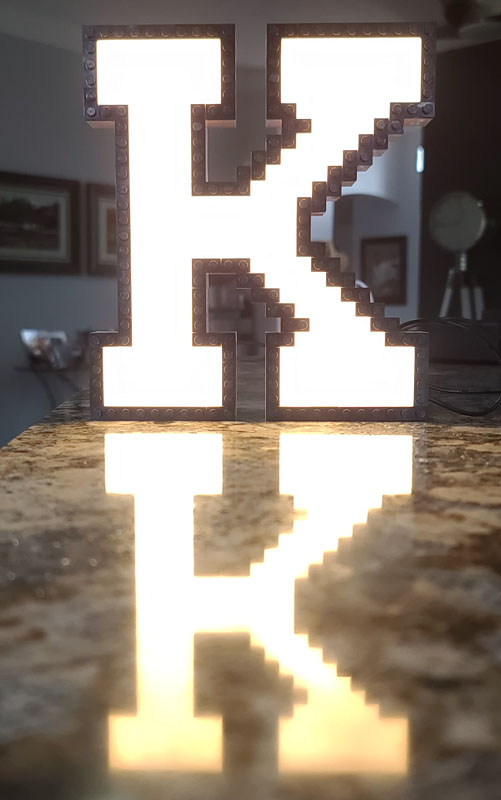 REVIEW – Are you info creative lighting?  Are you also into building things with Legos?  If the answer to both of those questions is "yes", then read on!  The Lego enthusiasts at WLWYB (we love what you build) have come up with an interesting USB-powered feature light built from Lego bricks.  Let's check it out!
What is it?
WLWYB's ambient light Lego letter lamp is a USB-powered LED light in the shape of the letter you choose.  It is assembled using genuine Lego bricks and available in assembled or unassembled, you built it kits.
What's in the box?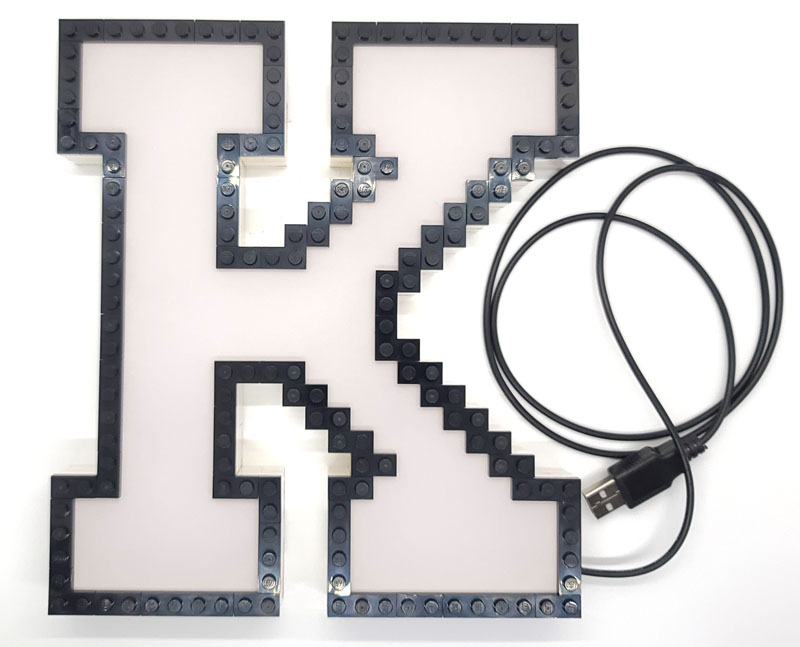 Letter light with an attached USB-A cord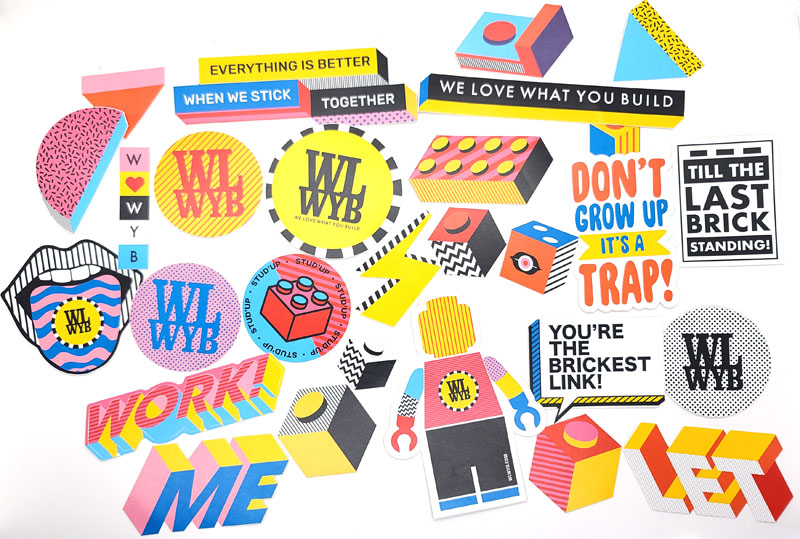 Assortment of fun Lego-themed stickers
Hardware specs
Dimensions: 8.25″h x 7.25″w x 1.125″d
Weight: 10.5oz (slight variations based on letter)
Material: Brand new genuine Lego bricks, translucent front screen, white cardboard backing
Colors: White with black trim
Light source: Warm white LED panel, USB=powered
Power cord: 39″ USB-A
Design and features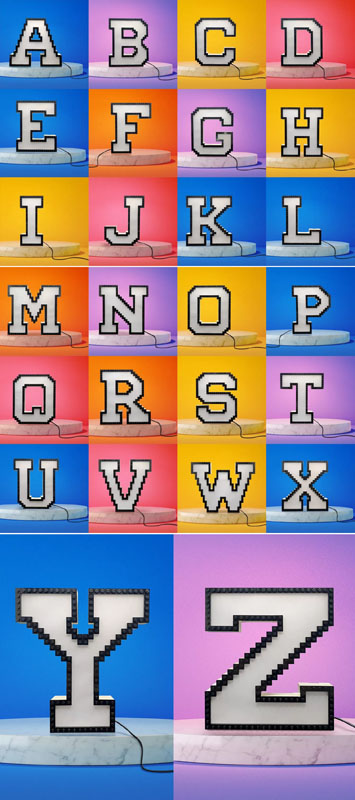 WLWYB offers 26 different lights, one for each letter of the alphabet.  I was sent the letter "K".  You can choose to receive your lamp assembled, like the one I was sent, or unassembled at a $10 discount if you want the joy of assembling it yourself.
Here's a look at the back of the light.  You can clearly see the back of the Lego bricks used to assemble the light.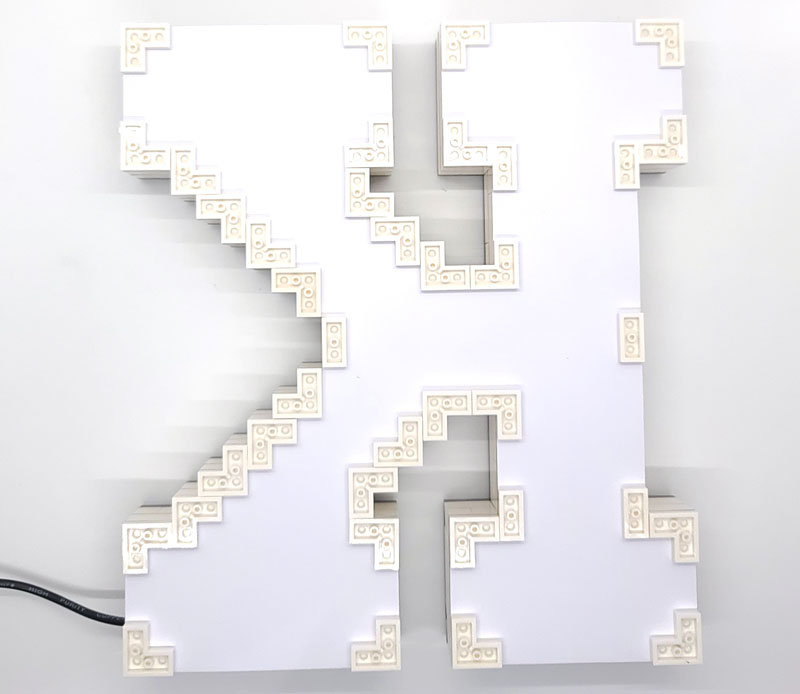 The back is covered in white cardboard material. It nearly completely blocks light from coming out of the back of the lamp.  You can see that the included LED panel has LEDs around the perimeter of the shape.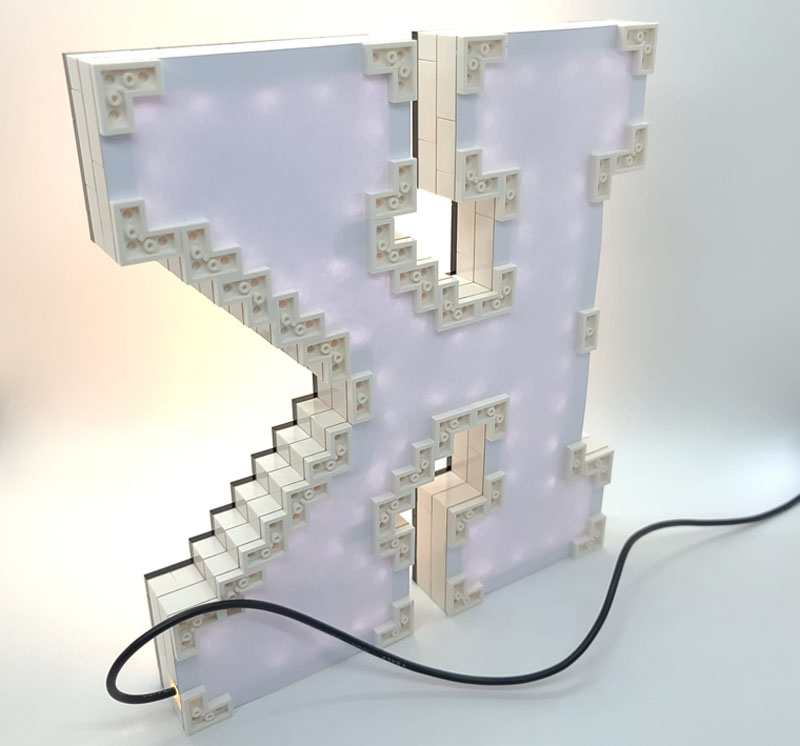 The power cord comes out of the bottom corner of the light.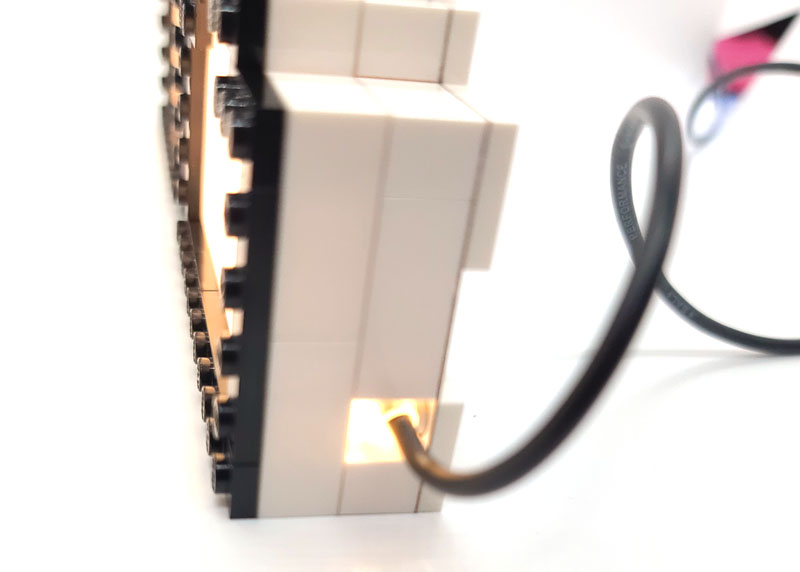 The front is covered in translucent material.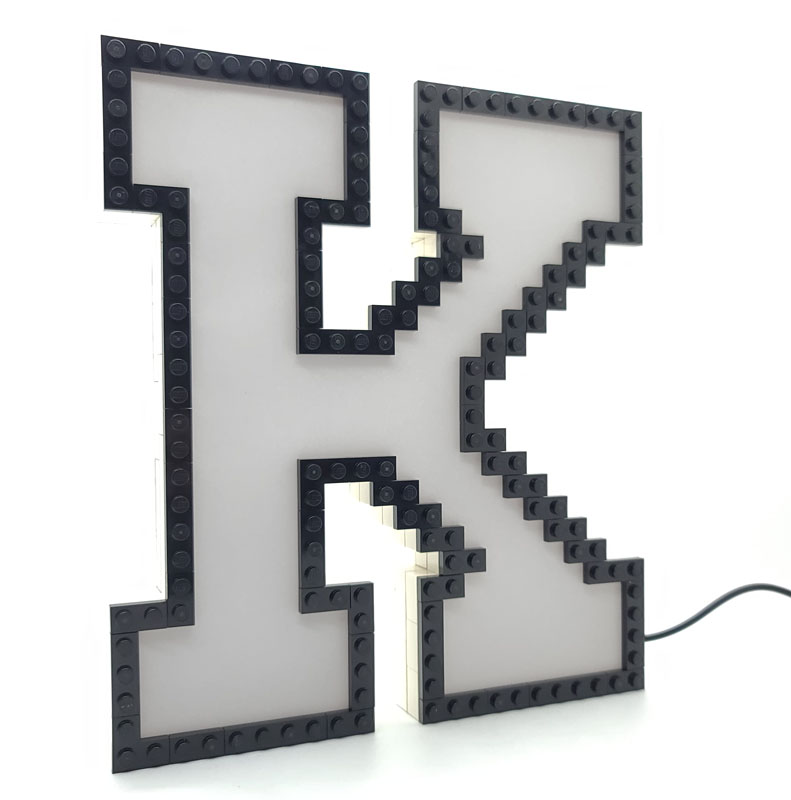 The material does a great job diffusing the warm white LED light so that you don't see hot spots where each LED is mounted.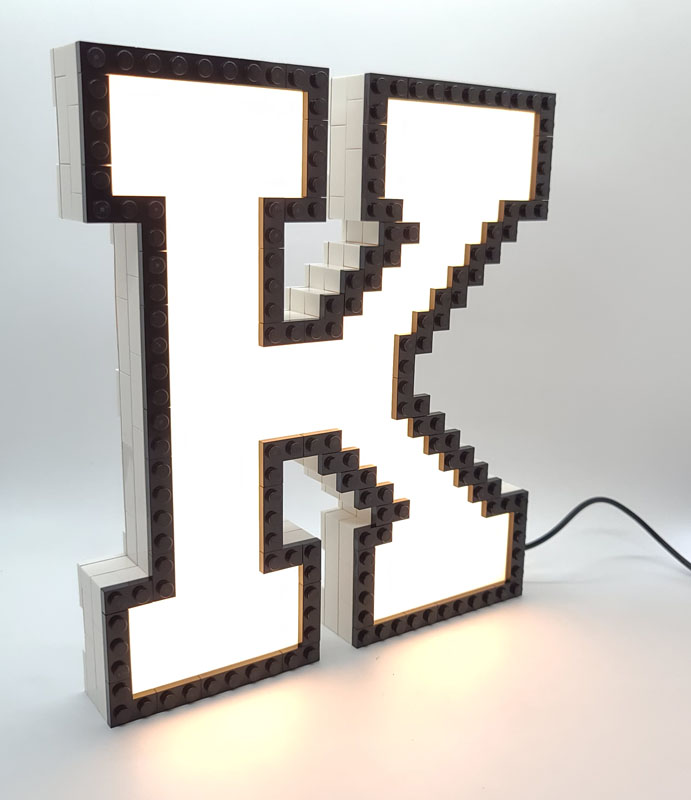 While taking the following photo, I noticed a slight gap in the back at the top of the letter.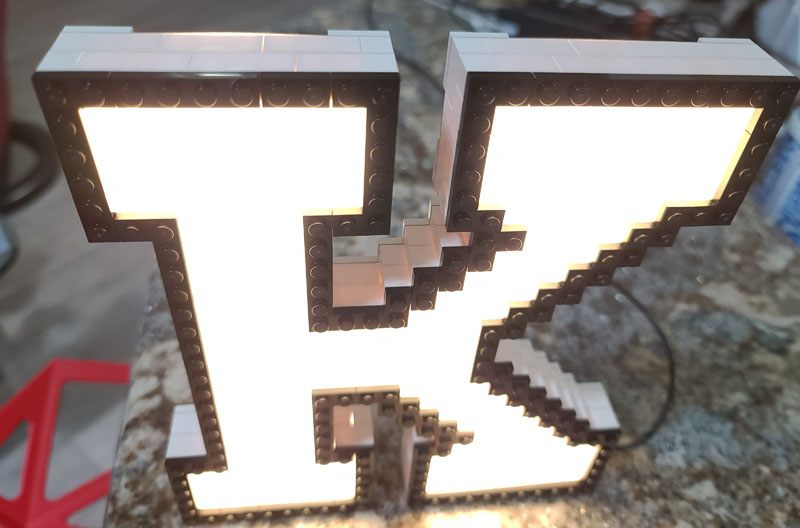 Looking more closely, you can see that the back doesn't quite fit.  That will be an easy fix with a dab of glue, or perhaps taking a couple of bricks off and trimming the back.

Here, you can see a close-up of the black trim pieces that are used to outline the letter.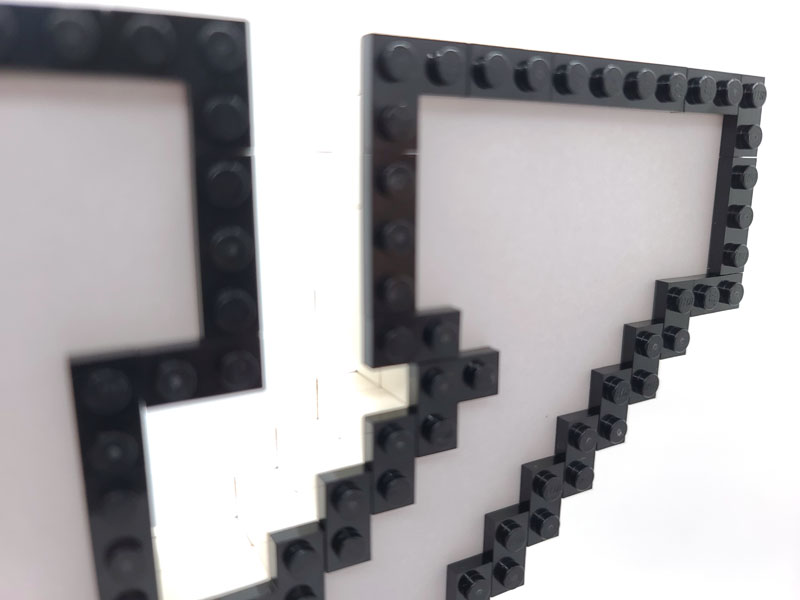 And in case you doubt that this is assembled from actual Legos, I popped off a trim piece.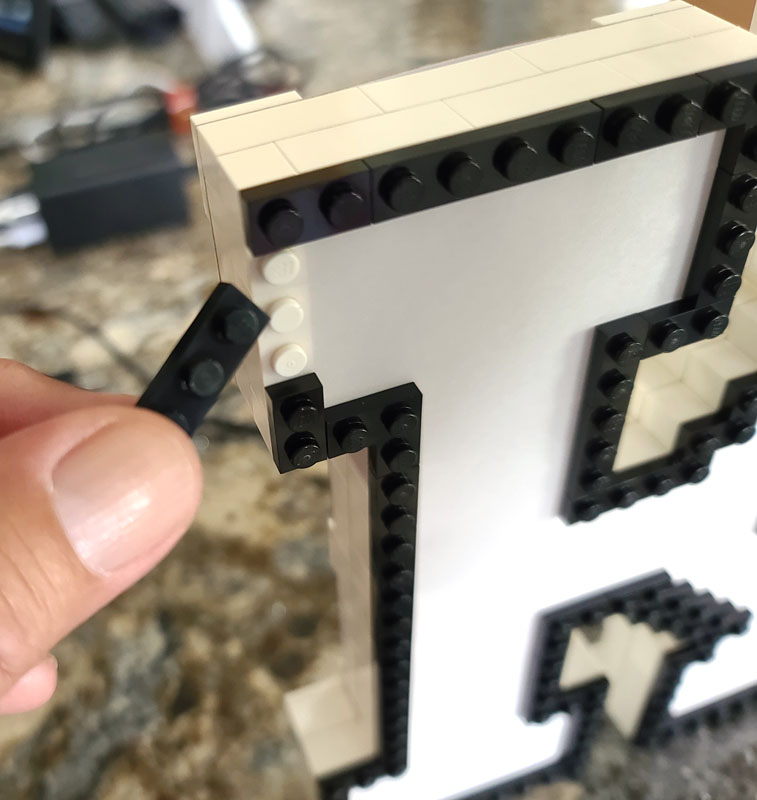 Yup – Legos, alright!
Performance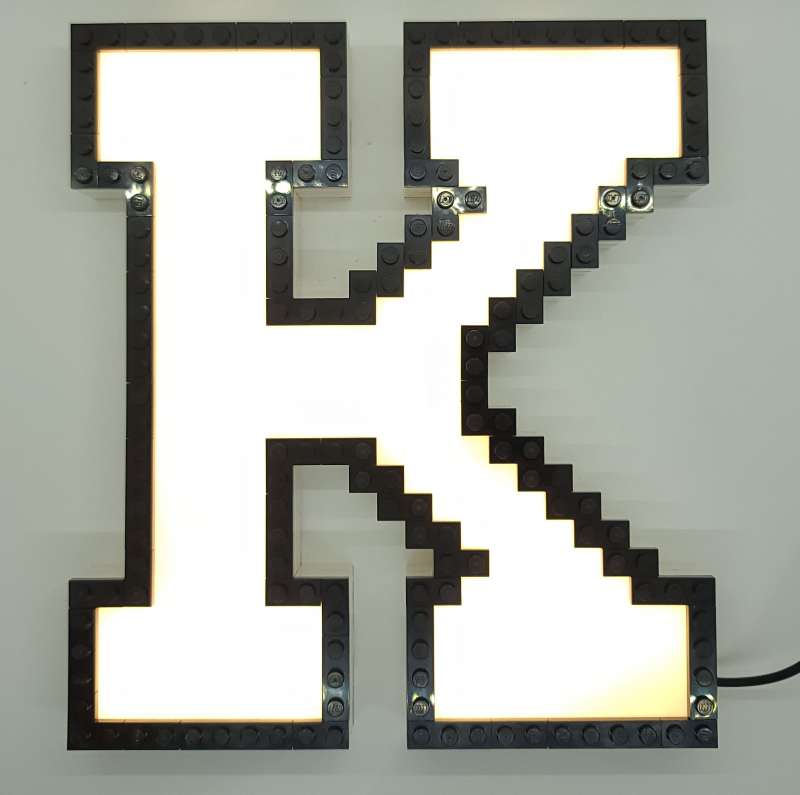 Simply put, this is a cool little accent light. The light it produces is a nice warm white that is eye-pleasing and should look good in most decors.  Having a letter for your last name somewhere in your house is on-trend these days, assuming you believe what you see on HGTV.
Two things I can see could possibly use improvement.
Like many other companies these days, they count on you to use your own USB power supply
There is no power switch so you have to plug/unplug the lamp to turn it on/off
What I like
Cool design, especially if you're into Legos
The black & white design is clean-looking
The light output is perfect for accent lighting – not too bright, but enough to get noticed
What I'd change
Fit & finish could be improved, although DYIers might enjoy fixing it
At $59.95 for the assembled version, I'd like to see a power supply included
A power switch would be nice
Final thoughts
The WLWYB Ambient light is a neat little accent light that would look great on a bookshelf.  I'm into automation, so for me, I will have to invest to make this work.  I need a USB power supply – I might have one in a drawer, and I'll need a smart plug so I can use automation to turn it on and off.  For the Lego folks out there, I'm sure that springing for the unassembled version will make for fun times, assembling and lighting your very own Lego letter light while also saving you $10.
Price: $49.99 unassembled, $59.99 assembled
Where to buy: WLWYB
Source: The sample of this product was provided by WLWYB.