We use affiliate links. If you buy something through the links on this page, we may earn a commission at no cost to you. Learn more.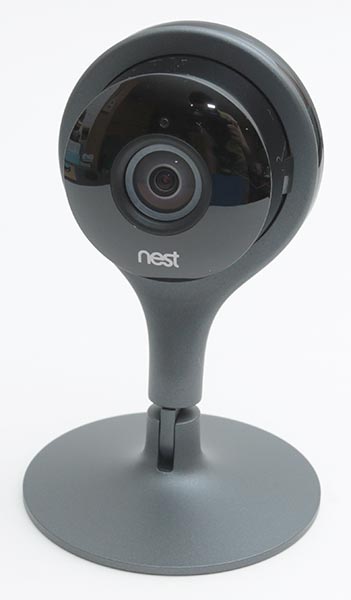 Choosing the right home security camera can be difficult when there are so many different brands and price points to choose from. The Nest Cam which was originally Dropcam before being purchased by Google / Nest is a popular brand because they have a reputation for quality hardware, features and cloud services. I reviewed each of the Dropcam cameras that were released but I am only just now getting the opportunity to review the Nest Cam. Let's take a look.
What is it?
The Nest Cam is an indoor cloud-based home security camera. By "cloud-based", I mean that all the footage is automatically uploaded to your Nest account. That means you don't have to manage a home server, hub, hard drives or micro SD cards to store the footage. This is actually a great security feature since even if an evildoer disables or destroys the camera, the footage of them doing that will be saved to your account. It also means that in order to use all the features of the Nest Cam, you will need to pay for a monthly or yearly subscription. But more about that later on in the review.
Hardware Specs
Camera:  Color with digital zoom and 130° Field of View (diagonal)
Video: 1080p HD, 1920 x 1080 at 30 frames/sec
Night Vision:  High-power IR LEDs
2-way audio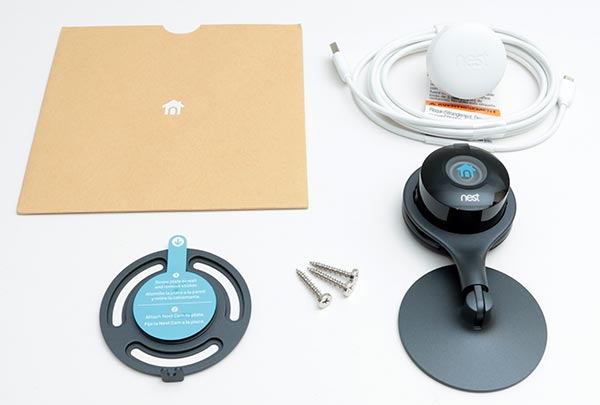 What's in the package?
Nest Cam indoor camera
Stand with magnetic base
Wall mounting hardware
AC adapter and 10 foot USB cable
Quick start guide
Window sticker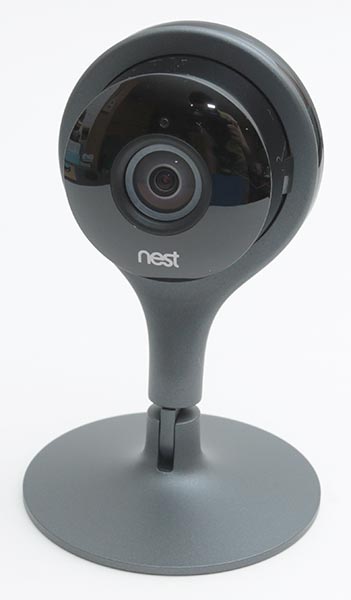 Except for the logo printed on the front, the Nest camera (the black plastic module that snaps into the metal stand) looks virtually identical to the Dropcam Pro that I reviewed back in 2013.
The camera is made of shiny black plastic with the lens in the center with a status LED above it that glows green when the camera is active and amber with there is a connectivity issue. Note: you have the option of disabling the LED.
The dark grey metal stand's design has modern look and has a hinge at the base that allows you to adjust the angle of the camera. The base is also magnetic so the camera can stick to a steel surface. Using the included hardware, you can attach the Nest cam to a wall. There's even a threaded socket on the bottom so you can put the Nest Cam on a tripod.
The camera uses a micro USB cable and AC adapter for power. But it's odd that the adapter and cable that are included in the package are white when the Nest Cam is only available in black. I know that's a small thing to complain about, but the white cable does give the impression that it doesn't really go with the camera.
Setup, using the mobile app and web client
The initial setup of the Nest Cam is very easy. Basically, it's just a matter attaching the USB cable to the camera, plugging the AC adapter into a wall outlet, downloading the Nest mobile app and following the onscreen instructions. I was up and running in a just a few minutes.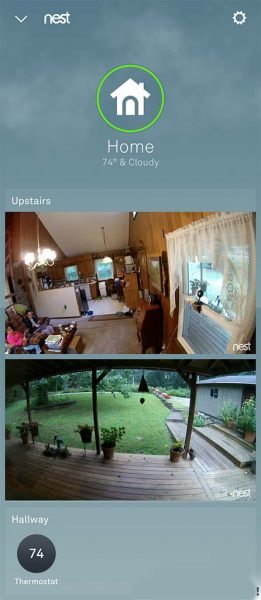 The home screen of the Nest mobile app has a live thumbnail view of your cameras and other Nest devices like the Nest thermostat.
Tapping one of the cameras on the home screen will bring you to a larger live view of that camera. In this view you can have a 2-way audio conversation, rewind the view 30 seconds with each press of the back arrow buttons and also check the camera's notification history. In the history view, you'll see a list of thumbnails which are short clips that were captured when motion or sounds were detected in the zones that you previously set up. Tapping a thumbnail will let you view the video clip in a larger window.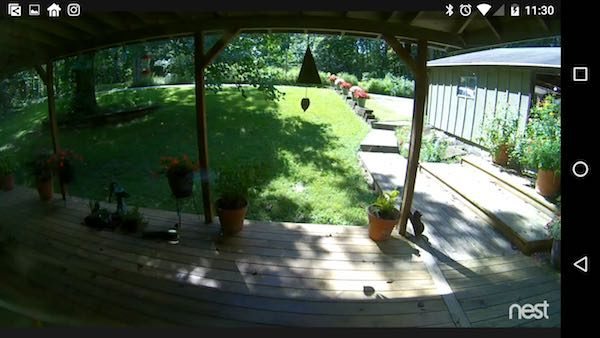 Turning the camera to landscape orientation will let you view a full-screen live view window.
To setup zones and a few other settings, you have to use the web client.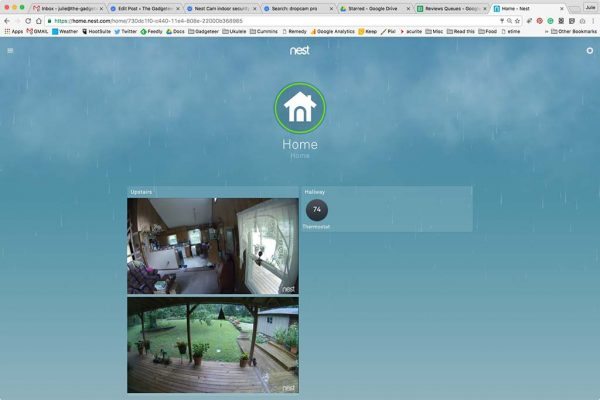 The home screen of the web client looks almost identical to the mobile app including a live view of your cameras and other Nest devices.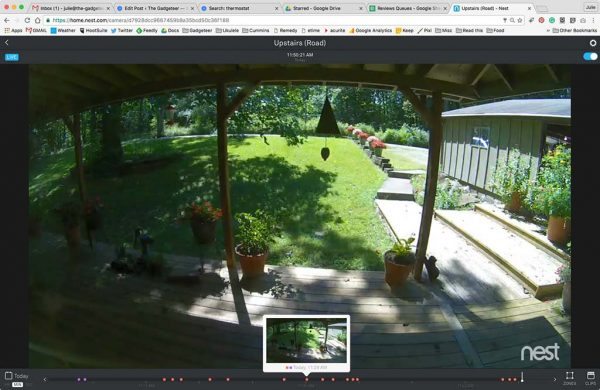 The web client does offer a better view of the video timeline than the mobile app. It's easier to scroll through time to find a specific moment in the past and to see when various motion alerts were detected. Hovering over the dots in the timeline will let you see a short clip of what caused the motion alert.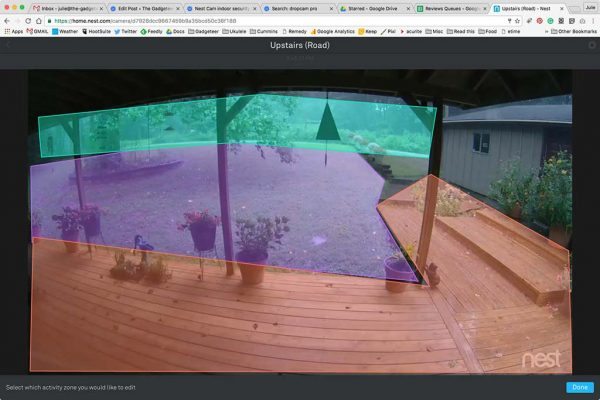 The web client is used to setup zones for motion alerts. You can add several zones and name them.
The web client also has to be used to create video clips and time-lapse video clips that can be shared to Facebook, YouTube, Twitter, Next Door, or downloaded to your computer. Saving and sharing video clips isn't a feature that is available in the mobile app.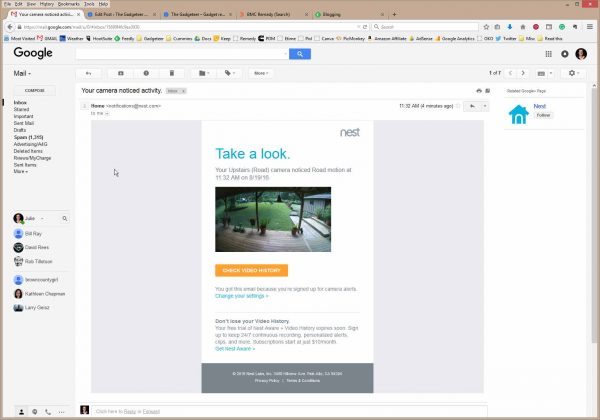 When motion or sound is detected, you'll receive a push notification on your mobile device and you can also set it up to receive an email with a thumbnail of the motion and a link to click to go view the clip. You can also choose whether you want to receive alerts all the time, or just when no one's home.
One thing to be aware of is that is that the Nest Cam alerts have been designed so they won't send you motion or sound notifications more than once every 30 minutes. There's no way to modify this setting. But, the video history keeps track of all motion and sound detection events, so you won't miss anything that happened.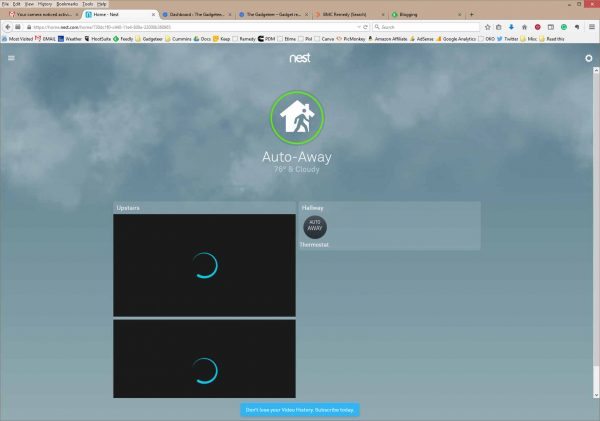 I found that the mobile app works great when I'm away from my home network, but the web client does not. The image above is what I see if I try to use the web client to view my cameras when I'm at work. The home screen shows a never ending spinning wheel of frustration.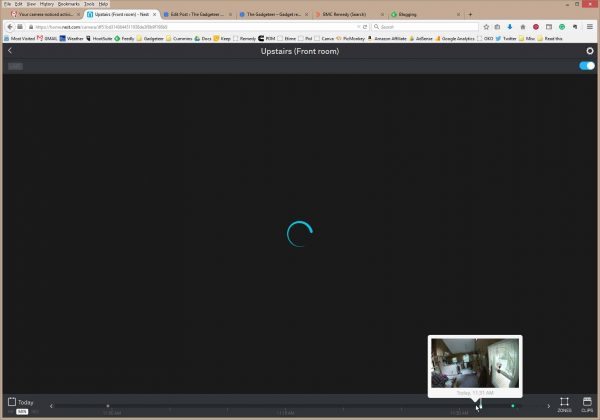 Clicking a camera gives me the same behavior although I am able to hover over a moment in the timeline and see a thumbnail of what was happening then.
It's really frustrating not to be able to use the web client when I'm away from home because I like being able to check in and see a larger view than what I can see on my phone. Why does this happen? Nest is using secure ports 443 and 1935 and in order to view the camera footage outside your home network, you have to open those ports on your wireless router. This isn't something an ordinary user would know how to do. It would be nice if there was an option in the web client to fix this issue.
Subscriptions
Each Nest camera comes with 30 days of free Nest Aware service. Nest Aware is Nest cloud service. It's your video history and ability to make / share video clips and time-lapse videos. When your 30 days are up, the camera still works and you will still be able to see a live view as well as receive basic notifications of motion and sound detection. But, you'll not be able to see the notification video clips, past video history, make video clips, time lapse videos or customize the alert zones. Subscriptions start at just $10/month or $100 a year.
10-day Video History ($100/year)
30-day Video History ($300/year)
That sounds like a lot of money, but you're getting 25/7 continuous 1080P captured footage. It's not just the motion detection clips, it's EVERYTHING. If you want to see what was happening at 4:32pm 2 days ago, you can.
Final thoughts
I had replaced my Dropcams with Foscams several months ago after reviewing them and like the 360-degree rotation features they have. But having set up the Nest cam for this review, I've remembered how well they work. I don't miss notifications like I did with the Foscam's app and I love being able to go back in time to find an event that happened. Having to pay $100 a year or $10/month for the subscription isn't trivial, but I've enjoyed reviewing the Nest Cam so much, that's exactly what I just ended up doing yesterday. Now I just need one of their new Outdoor cameras and I'll have my whole home under 24/7 surveillance.
Source: The sample for this review was provided by Nest. Please visit their site for more info.
Product Information
Price:
$199
Manufacturer:
Nest
Pros:

Easy to install
Wide angle view

Cons:

Web client doesn't work outside home network unless you open secure ports
Motion detection alerts will only be sent once every 30 mins
Have to pay monthly/yearly subscription to use all the features (video history)