We use affiliate links. If you buy something through the links on this page, we may earn a commission at no cost to you. Learn more.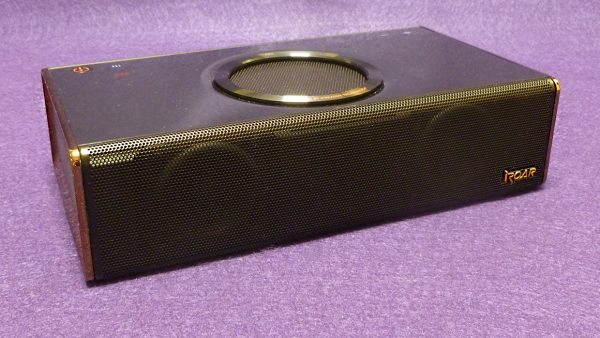 Say what you will about Creative Labs; they sure know how to milk a product line. In 2014, I reviewed the Creative Roar Bluetooth speaker and fell in love with its ability to sound as good as the current (at the time) portable Bose speakers at a fraction of the price. Yeah, it had some weird and useless tricks it would do, but I chose to ignore those and concentrate on its great audio. Then in early 2016, I reviewed the Roar 2 speaker, a worthy successor that dispensed with some of those silly add-ons from the original Roar speaker while sounding a bit better at a 20% size reduction. Now, Creative Labs has released the iRoar, a much improved successor in the Roar line of speakers that sounds even better, but offers many more (and some useful) amenities than the original Roar ever did.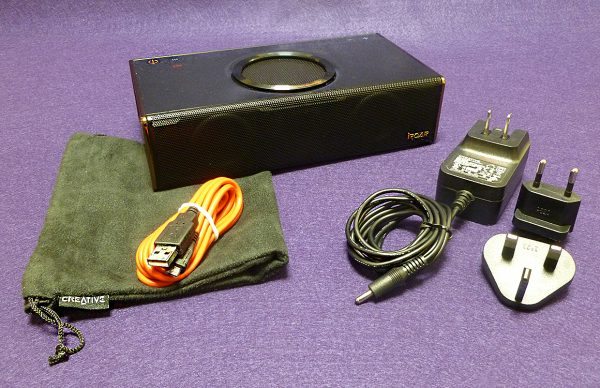 Creative calls the iRoar "the most intelligent speaker on the planet." Maybe it is but I would have to play with every other speaker on the planet to find out and well … no.
Let's begin with good and bad news. The bad news is that the iRoar costs much more than the original Roar—the price has increased with each new model. The good news is that Creative still offers the previous Roar models with the original Roar now selling for only a hundred bucks. There's also the Roar 2 at $170 and a Roar Pro (which I have nor reviewed) for $200. As you can see, there is a Roar speaker for every budget.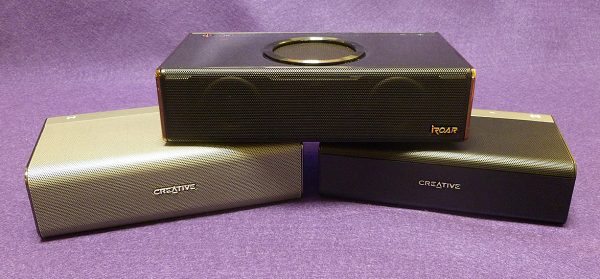 The iROAR is a bit larger than the first Roar speaker and has the same metal screen protection for the side passive radiators that were missing from the Roar 2 speaker. It comes in what I call "executive black" with a bronze-like metallic chrome trim. It's all quite rich looking and will compliment most work desks or night stands. I think it's a bit much for the kitchen and not appropriate for outdoor use since it's not splash proof. It's strictly an indoor speaker.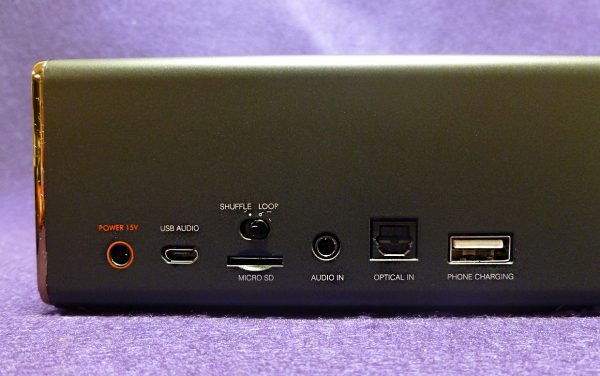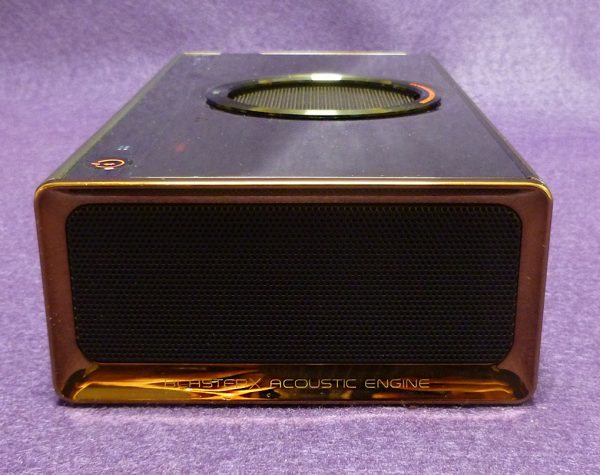 There are six ports on the iRoar: Power input (for charging); a USB audio port that provides improved audio from a computer; microSD card slot; AUX audio input; optical input that allows a direct digital signal for improved audio and a USB charging port that will charge any smartphone. Bluetooth pairing is as easy as most Bluetooth speakers. aptX and NFC pairing is included for Android smartphones.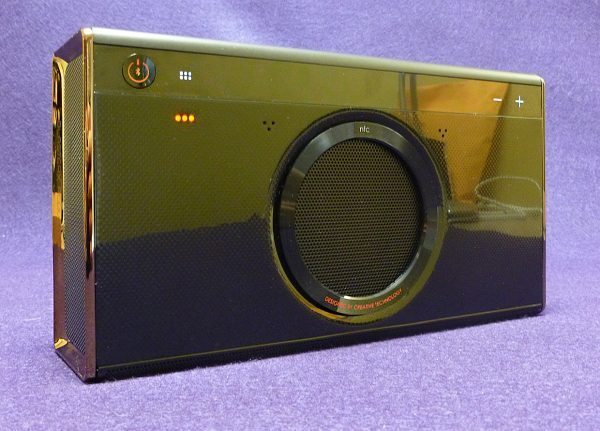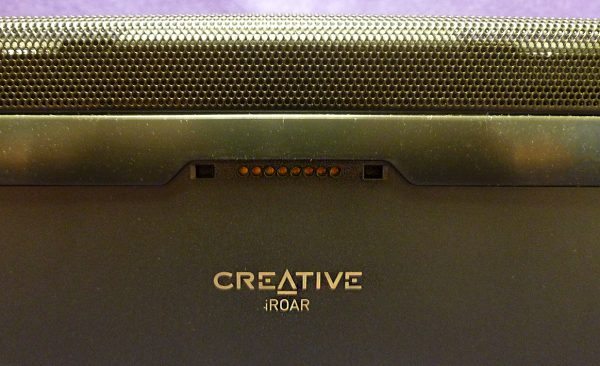 The iRoar can get loud just as easily as the other Roar speakers and sound even better doing it. The interior components have been upgraded over all previous Roar speakers. The woofer's size was increased from 2.5 in. to 2.75 in. and the dual speaker drivers were increased from 1.5 in. to 2 in. And yes, you can hear the improvement. There's also two amps and a digital audio processor with a combined power of 40 watts. One amp drives the smaller speakers while the other pushes the top-mounted subwoofer along with the side-firing passive radiators. It's unusual for a subwoofer to face up instead of the more common down or front position. Ordinarily, this up position could result in weaker bass, but because of the additional two side radiators, that's not a problem. Another good reason for the subwoofer facing up is that the bottom of the iRoar had to have room for a connector that fits an optional Creative iRoar Rock subwoofer. I haven't seen or heard the iRoar Rock, so I can't comment on whether it's a worthy addition or not. The iRoar has grippy rubber strips on the bottom to hold in on place when the volume is turned up preventing "bass walking" across a tabletop.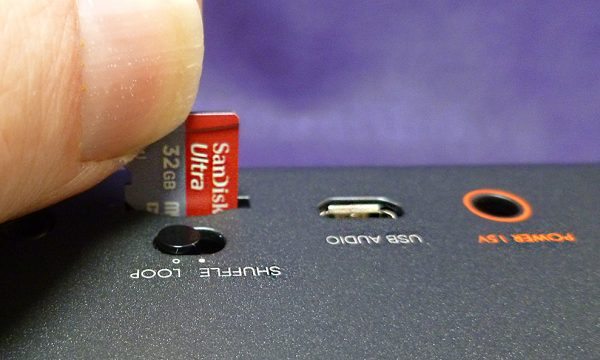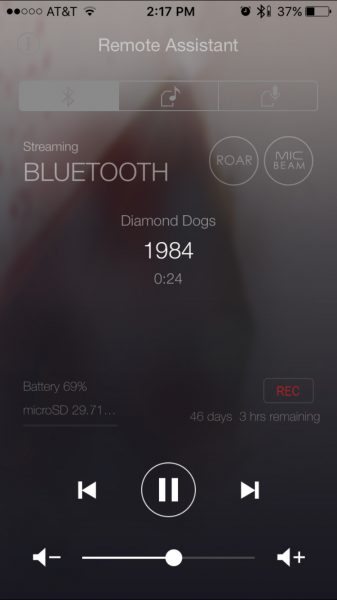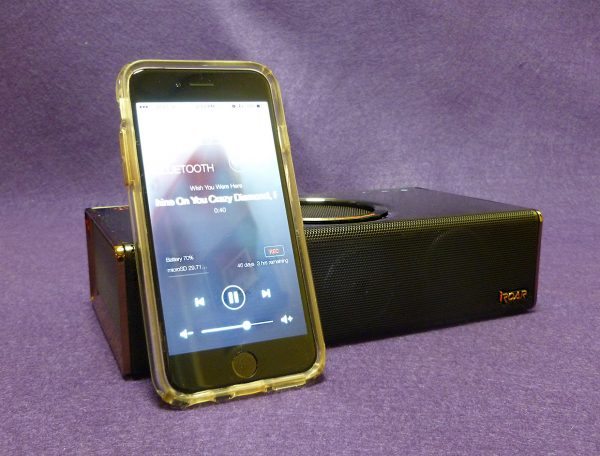 The hardcover novel-sized iRoar comes with more amenities than I have space to write about in this review, but I'll highlight some of the interesting ones. There are three free smartphone apps available to enhance its usefulness. The Remote Assistance app is just that—a remote that allows play/pause, skip and volume. It will also control music played from an inserted microSD card (not included). If you would rather rip songs to the microSD card, the iRoar becomes a stand-alone music player. You can also record to that same microSD card using the iRoar's built-in mics or the optional Creative iRoar mic ($79.99—not included). The iRoar will also record phone conversations. Note that state laws vary regarding the legality of recording phone calls. However, whatever is recorded sounds quite good—especially speaking voices. I recorded myself and on playback, it sounded clear and natural. There was no boominess or weak spots.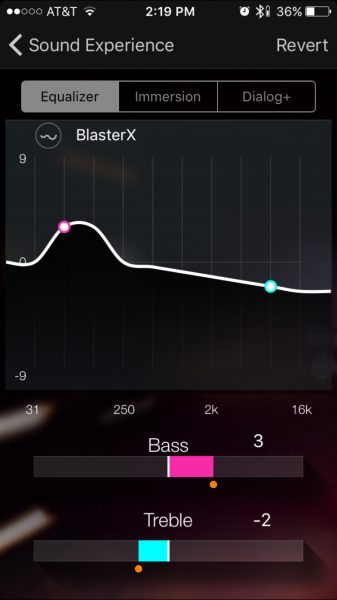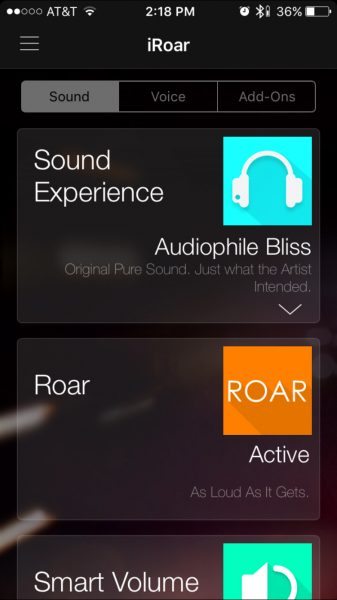 Dashboard is a music playback app that lets you tune your music for different settings, such as (the default) Blaster X, Audiophile Bliss, Live Concert and many more audio setting choices. Whichever style you like is a matter of taste and preferences. You can also adjust the setting manually which is my preference. There is a Smart Volume choice that equalizes the volume across your playlist, but to my ear, it messes with the overall audio quality too much so I leave it set to off. Then there's the Roar button, which is the original reason for the Roar speakers' name. This button adds presence to music, making the iRoar sound even bigger than it already does. It's good for a crowded room because the Roar setting lets the music cut through the din of background noise. However, the Roar button on can be too much for a smaller room.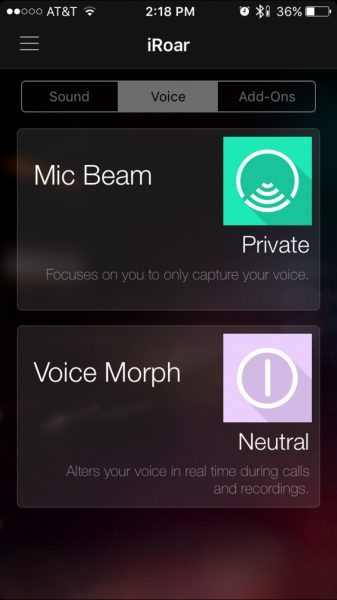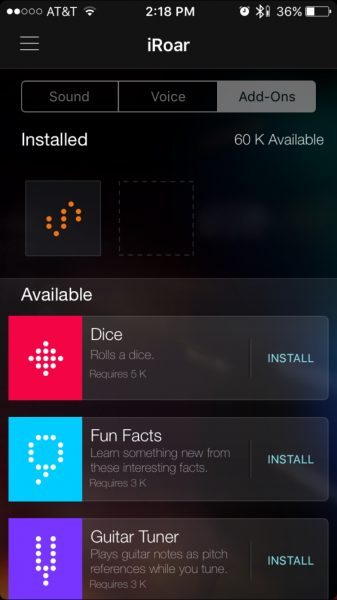 The Dashboard app settings works with whatever music app you use, such as Apple Music as well as Pandora, Spotify, Tidal or others. Did I mention that Dashboard also offers free app add-ons that can turn the iRoar into a metronome, alarm clock, nature sounds, bedtime settings and many more? Dashboard does so much that it's almost overwhelming. A microSD card is required for storing any add-ons you might wish to use. Check out Creative's web site to get the full listing of what these add-ons can do.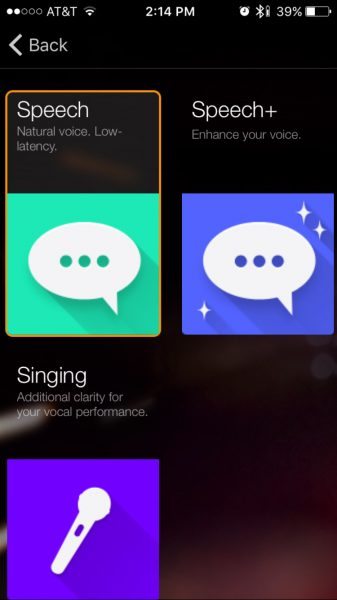 Finally, there's the Megaphone app which is interesting, if a bit silly at times. With the optional iRoar microphone, the iRoar becomes a portable and effective PA system delivering clarity and decent volume from the 5 speakers. The mic has a shirt clip and is Bluetooth powered with 10 hours of talk time between charging its built-in battery. The iRoar mic is quite sensitive, so bumping and breathing too close can become audibly distracting. The megaphone app allows you to choose over 15 voices that can alter your voice in real time. For instance, as you talk, you can sound like a chipmunk, demon, robot or an extremely deep voice—just to name a few. The Deep voice option makese me think of those disguised vocal ransom demands you hear on crime TV shows.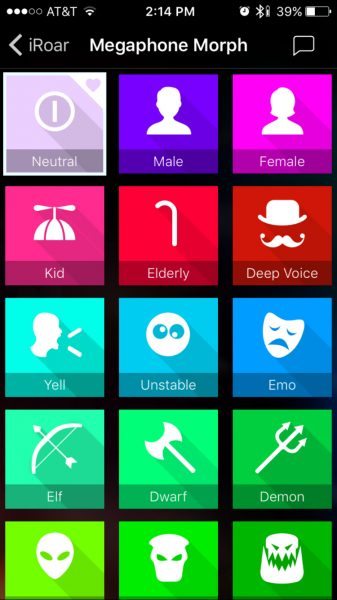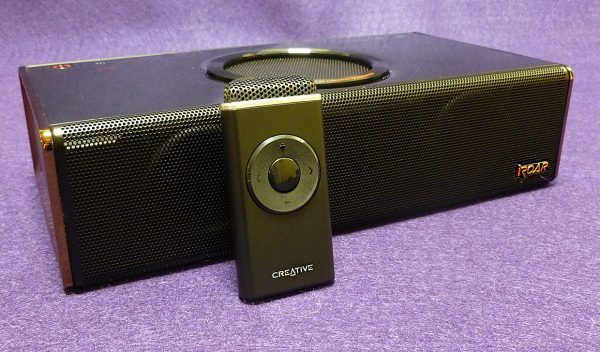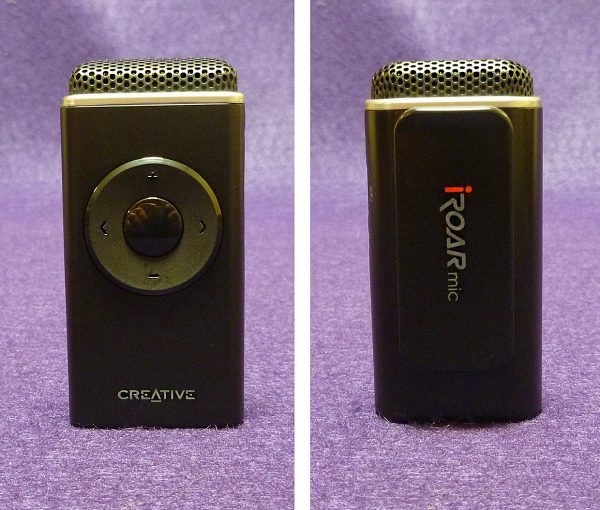 All this fun comes with a warning. The iRoar remembers the last setting used. I was working from home one day and had a teleconferencing meeting later that day. I thought it would be a great test for the iRoar's speakerphone and mic capabilities. However, I didn't realize I had left the chipmunk setting on. Since I could only hear myself talk, I had NO idea that I sounded like Alvin the chipmunk to the people on the other end of the conversation. The first 5-10 minutes of the meeting was spent with everyone—and I mean everyone—telling me the chipmunk voice wasn't funny anymore and to stop. In a panic, I turned off the iRoar and used my iPhone instead. You've been warned.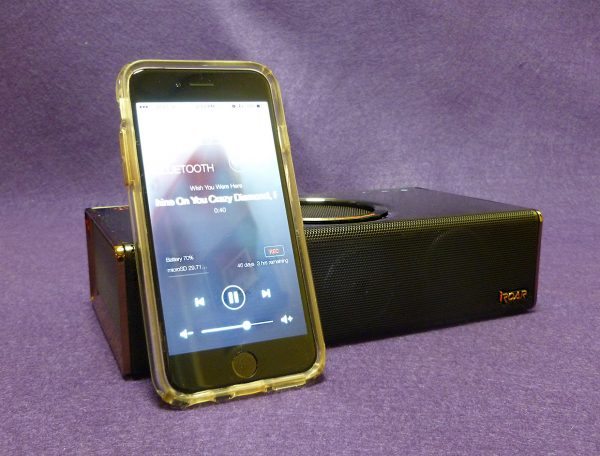 Other than that first fiasco of a test, the iRoar is a first-rate speakerphone. With it's 360° mic pickup, a whole room of people can talk, but I prefer the "Private" mode that narrows the mic's input direction resulting in a stronger vocal connection from a single talker. The audio from whoever I'm talking with is clear and easily understood, plus they can hear me as if I am on the phone and not some distant-sounding speaker. Up until now, I haven't been a big fan of Bluetooth speakers that handle phone calls, but the iRoar has changed my mind.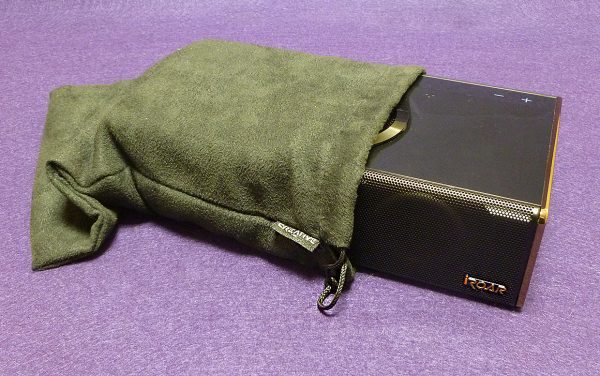 The Roar speaker series has always sounded as good as portable Bose speakers—only now, the iRoar is just as expensive except for one important difference. The iRoar does so much more than any other portable speaker—by a lot. As I said before, there's just not enough time or space to review all the features of the Creative iRoar speaker. Let me end by saying just this: The more I use the iRoar, the more I like it. It's that good.
Source: The sample for this review was provided by Creative. It sells for $369.99 US and is available from Creative. Please visit their site for more information and Amazon or order.