We use affiliate links. If you buy something through the links on this page, we may earn a commission at no cost to you. Learn more.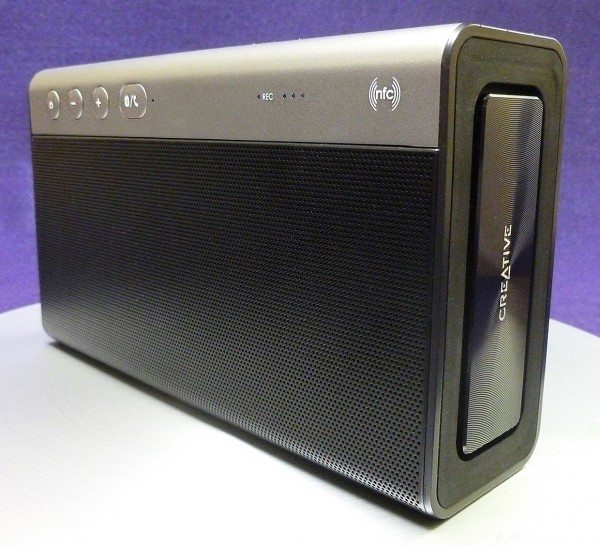 One of my all-time favorite and best sounding portable speakers is the Creative Sound Blaster Roar. Its combination of powerful audio, Bluetooth and unbelievably low price make the Roar a rarity in portable audio. Yet, as good as the Roar is, Creative saw ways to improve upon its already impressive features and created the Sound Blaster Roar 2. Is the Roar 2 that much better the original? Let's find out.
DON'T MISS: UE Boom 2 Bluetooth speaker review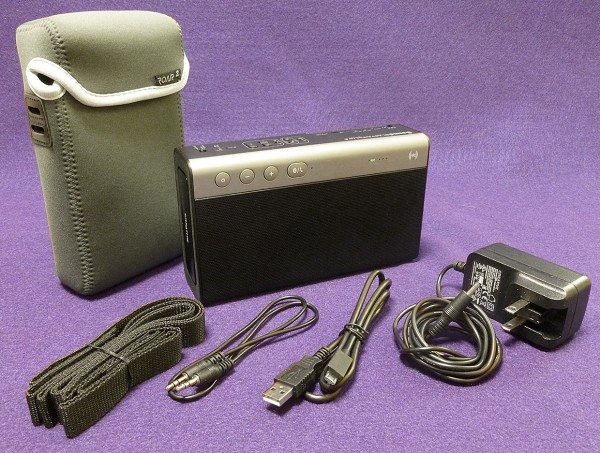 When unboxing, the first noticeable thing about the Roar 2 is its size—or lack of it. It's slightly smaller than the original, yet matches the original spec for spec. It has the same 1.5″ tweeters (2), passive radiators (2), oversized 2.5 in. woofer, aptX/AAC Bluetooth, NFC, microSD Card slot, USB, AUX-in, built-in 6,000 mAh battery and many other features too numerous to mention.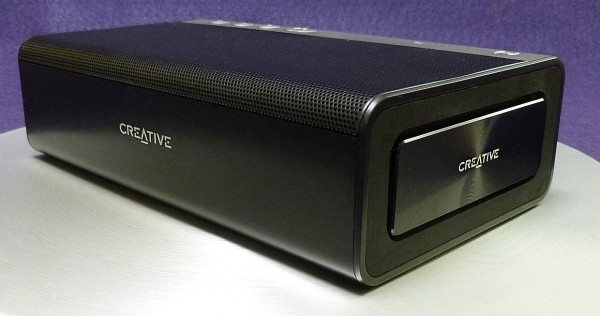 Creative rearranged the speakers allowing the Roar 2 to either lie flat or stand upright. The flat position spreads the audio throughout the room; upright supplies more directional audio. Think of it this way: Lay the Roar 2 flat for many people to hear; set it upright for up close and personal listening. Each side of the Roar 2 contains passive radiators for enhanced bass. Creative states that they are now unobstructed; a polite way of saying they removed the grill that protected the  radiators the original Roar had. These radiators move quite a bit depending on volume and the lack of a grill leaves them exposed. Is this an improvement or a cost-cutting move?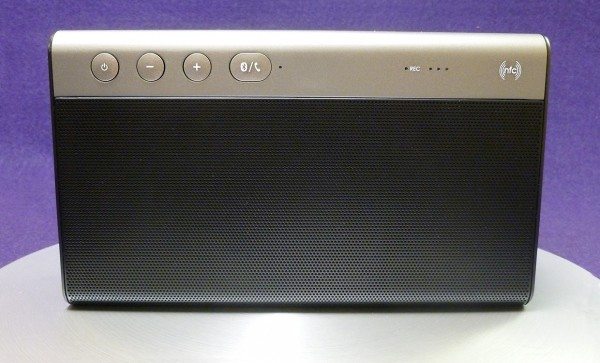 The outer shell is a cleaner, more elegant design than the original Roar. That's saying something because the first Roar rivaled Bose in design and quality. The Roar 2 is still a heavyweight, which I prefer. Its heft makes the speaker stay firmly in place and denotes a sign of quality.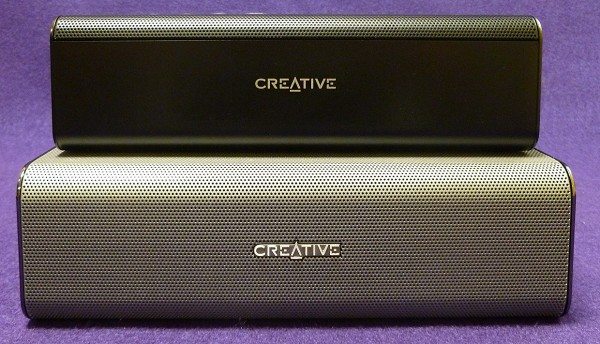 Original Roar (Bottom) and Roar 2 (Top)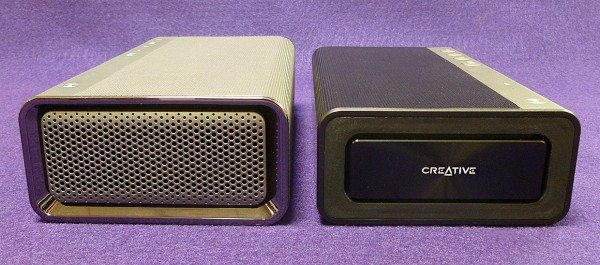 Original Roar (Left) and Roar 2 (Right)
Both aptX and AAC Bluetooth are supported, so both Android and Apple users should be happy. Creative claims that music sounds as good using Bluetooth as wired. That's a bit of hyperbole, but who cares? The Roar 2 is made to be enjoyed in wireless mode and you won't be disappointed. NFC is supports easy pairing for Android users. Another cool function is what Creative calls Bluetooth Multipoint. This simply means that two devices can be paired at the same time letting users switch between devices without having to disconnecting the other speaker. This is great for get-togethers—and musical arguments.
The Roar 2 can also be enjoyed hardwired, but no mini plug to mini plug AUX wire is included. Maybe Creative figures that customers will already have one lying around the house. I do, but I think one should have been included in the box. Volume is beefier and noticeably better in wired mode, but not so much that you'll regret using Bluetooth when necessary.

Like the original, the rear of the Roar 2 sports plenty of ports and buttons, but now, they make a bit more sense. Let's go through the list: TeraBass is a button that performs two functions. Press once and bass is automatically boosted. I wasn't a fan of the original TeraBass, but Creative improved it. I now prefer it on rather than off. Press TeraBass a second time and the volume is increased giving the audio a more spacious quality. I don't recommend this setting indoors as it makes music sound more processed. But it does carry the sound farther, so it is a good choice for outdoors. If you want more spacious sound indoors and close-up without the TeraBass's shortcomings, just lay the Roar 2 flat. Done.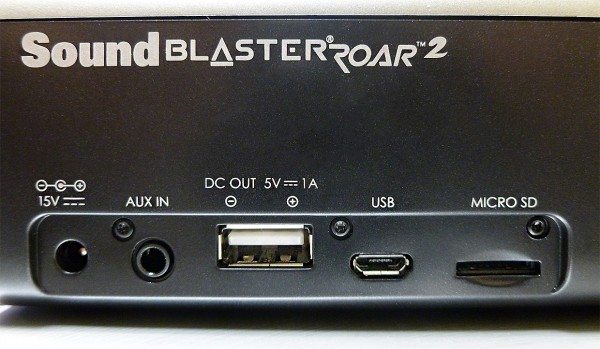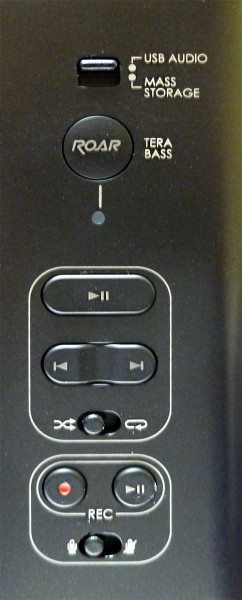 Also, as with the original, the Roar 2 has a built-in speaker phone (which I still don't use) and an integrated voice recorder, which is ingenious because it can record, music, conference calls, even phone calls and store them on a MicroSD card. Keep in mind that in some states, it is illegal to record phone calls without disclosing it to the other party. As with many Bluetooth speakers, the Roar 2 will charge a smartphone from its USB slot, depending on how charged the Roar 2's battery is. A fully charged Roar 2 will last 8 hrs. depending on volume, usage and other demands on the battery.
The Roar 2 doubles as an MP3 player via the same built-in MicroSD card reader that that does the recording. It's seems a bit strange to go to the trouble to dump some digital music files to a MicroSD card for a speaker that already has Bluetooth, but hey, it's included! This same MicroSD card reader can be used for what's called bedtime mode. When playing music from the MicroSD card, the Roar 2 can be set to slowly fade the audio in 15 or 30 minutes. Unfortunately, this will only work with the MicroSD card reader and with nothing else connected either via Bluetooth or AUX.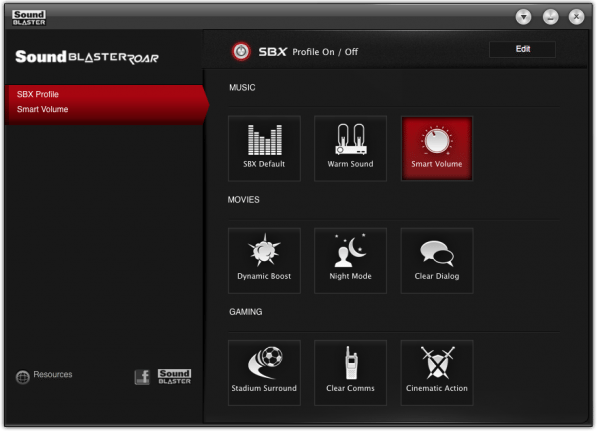 I was not impressed with the Sound Blaster Control Panel app (Mac or PC—not iOS or Android) that came with the original Roar. It seemed a bit unnecessary and had strange quirks. The Roar 2 uses the same app, so I didn't bother with it. You might like it, so I encourage checking it out.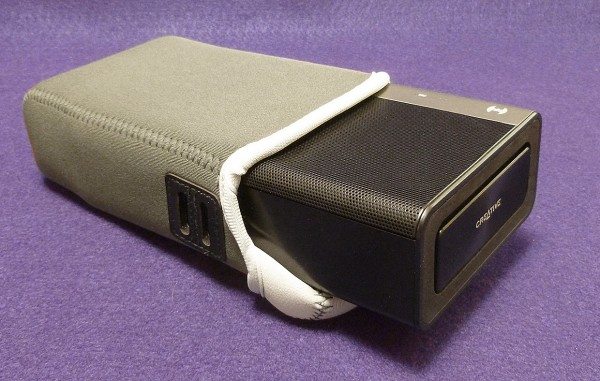 Creative offers an optional $40 Reversible Carry-Bag for the Roar 2. While it will keep the Roar 2 free of dust and dirt, it will not protect from heavy moisture or dropping. The not a necessary option if the Roar 2 is kept indoors.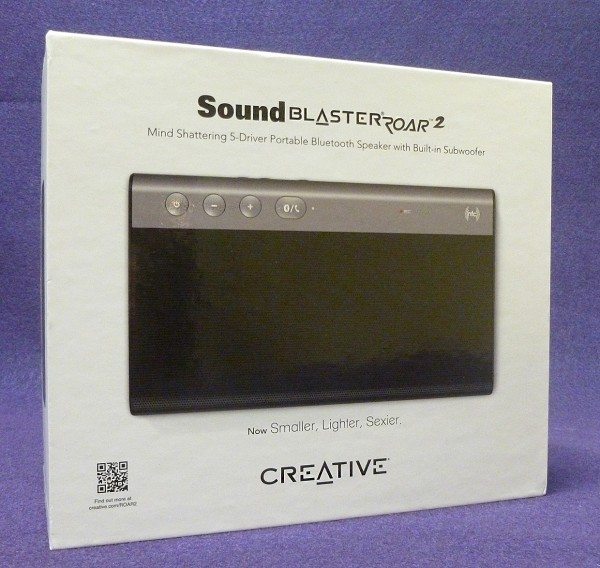 The Roar 2 sounds like a comparable Bose portable speaker at a fraction of the cost. It's that good. Music sounds great. The speaker sounds way larger than it is with plenty of bass that can be set for indoors or outdoors. It's solidly built and looks more expensive than it is. There is nothing about the Creative Roar 2 that I have serious complaints about. It's a true audio bargain.
Note: At the time of writing this review, Creative has released two additional speakers based on the Roar at the 2016 Consumer Electronics Show: The Roar Pro has improved speakers, better battery life and optional mic for better PA use. It looks just like the original Roar. Also new is the iRoar, featuring enhanced bass, an all-new smartphone app, optical input and an optional companion subwoofer. Creative has morphed the Roar line of products into its own development platform.
Source: The sample for this review was provided by Creative. Please visit us.creative.com for more information and Amazon to order one.