We use affiliate links. If you buy something through the links on this page, we may earn a commission at no cost to you. Learn more.
About a year ago, I reviewed the first of the stand-alone
WiFi detection devices to hit the market, the
Kensington WiFi Finder, a neat
little (3" long) product whose main drawback was that it didn't work. 
Subsequently, I found (on The-Gadgeteer.com, of course!) the
Smart ID WiFi Detector, a
somewhat larger (4"x2.25"x.625") and clunkier (1.82 oz) device which worked
reasonably well.  Its size and weight, however, kept it from being an automatic
take-along tool, unless I was planning to wear my ScottEVest infinite pocket
array.  Now, however, a better tool has arrived, the
PCTEL
WiFi Seeker, which, at
2.25"x1.2"x.43" and .735 oz, is about 1/5 the volume and 40% of the weight of
the Smart ID device.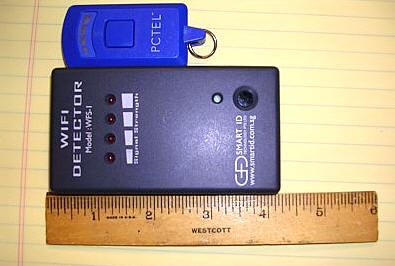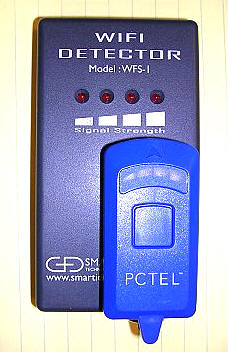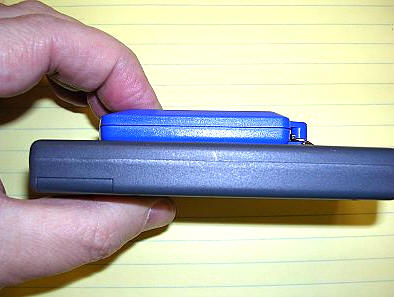 My first test was to verify a null signal in my 55th
floor office (the Kensington device occasionally picked up a proprietary network
from the law firm downstairs, a signal not visible to my Linksys CF WiFi card
running on the Linux-based Sharp Zaurus SL-760 which I use for mobile
connection).  I then took the devices to our office kitchen/pantry, where the
microwave oven set the Smart ID detector bonkers, perhaps urging me to take my
Zaurus online and download some popcorn or have a chat with my lunch.  As
advertised, the PCTEL WiFi Seeker did not detect any 802.11 signal present from
a microwave oven. 
Running down to Starbucks, I found that both devices found
the T-Mobile network easily (the Kensington couldn't see that, or most other
commercial subscriber signals).  The LEDs on the PCTEL, however, were much
easier to see in direct sunlight than the lights on the Smart ID.  Both devices
have four levels of red lights to indicate signal strength (the Smart ID also
has a green light to indicate that it is scanning, the PCTEL does this by
bouncing one red light back and forth across the display to indicate it is
seeking a signal).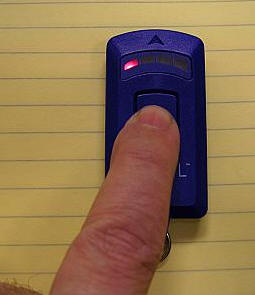 The real test came in Bryant Park, behind the New York
Public Library, where a public WiFi network is available free.  Both devices
picked up this signal, but fairly weakly (two lights on the PCTEL, only one on
the Smart ID), though I had no trouble surfing the net and picking up email. 
However, at one location in the park when I booted my Zaurus I locked to a stray
Verizon signal rather than the Bryant Park network.  I suspect the signal is in
fact pretty weak.  The problem is that in New York City I often get weak signal
readings from stray signals, not all of which will allow me to log on!  A
marginal "okay" from the PCTEL or Smart ID is not a guarantee you will be able
to log on, but it should not discourage a try, either.  Neither device is
infallible or will eliminate entirely the trial and error in WiFi finding. 
Although no WiFi detector I have found is absolutely
perfect, the PCTEL device comes closest to being the ideal stand-alone
detector.  Priced at $29.95 list, or just under $2 more than the Smart ID device
($27.99), it is far smaller and easier to carry and use.  It runs on two CR 2032
batteries, which can be replaced by removing three mini-Philips screws (the
Smart ID takes cheaper but larger AAAs in a slide-open compartment).   
The PCTEL WiFi Seeker is available
here.
Price: $29.95
Pros:
Tiny, light-weight, WiFi detector
Clear display, even in bright sunlight
Cons:
Not always clear when a usable signal is present
Product Information
Price:
29.95
Manufacturer:
PCTEL
Pros:

Tiny, light-weight, WiFi detector
Clear display, even in bright sunlight

Cons:

Not always clear when a usable signal is present