We use affiliate links. If you buy something through the links on this page, we may earn a commission at no cost to you. Learn more.

When I first received my iPod as a gift, I did not think I would get much
use from it. After all, there is a pile of dust gathering upon the myriad of
portable tape and CD players ( I even have a Diamond Rio 600 still in its box)
that I already own. Then, I discovered the joy of having a entire audio
collection encased in a glistening silver and white rectangle. I have been
converted.  My 10 gig iPod follows me just about everywhere I go.
My Un-met iPod Need:
At the end of a hard day, I
want a zero-thought plug-&-play way to listen to my iPod at home. When I read
about the
inMotion speakers, I was intrigued by the concept and decided to give
them a try.
First Impressions:
When the box first arrived I
was shocked at how small it was. Upon opening, I noticed that they did not waste
any packaging space. As a person who obsessively saves all the boxes from my
gear, the lack of box-bulk is a great bonus.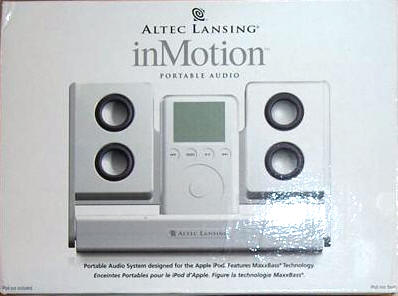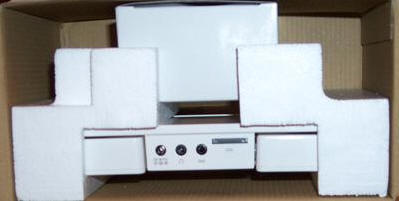 Once the box was opened, I
found that the product inside evoked an "iPod-esque" form: flat, glossy, white.
This albino beauty passes the famous Gadgeteer Creek Test with flying colors.
The official dimensions are  8x 5.4 x1.2" but I thought it would be easier to
spatially imagine shown in contrast with a 15" PowerBook and a USB thumb drive: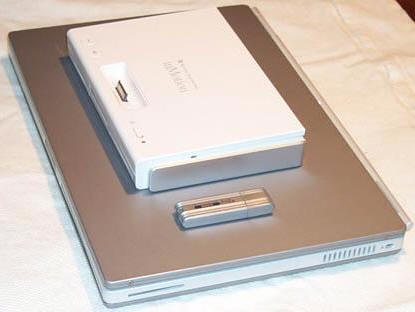 This petite footprint is
excellent for an office, travel (comes with a black
velvet-lined protective
travel case), or dorm.   
Set Up: The inMotion is very
easy to unfold and set up. If you are unsure, there is a  card with clear,
illustrated instructions.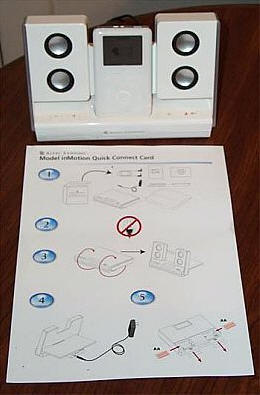 The inMotion speakers can be
used with a variety of iPod models (and other devices) including the original
non-dock iPod (connects to the speakers via the included cord to the back
auxiliary port), iPods 10-30 GB, and even the mini (free mini iPod adapter can
be ordered directly from Altec Lansing's website). Instructions on how to set up
each device is included on the instruction card.  
Usage:
Altec Lansing subscribes to
the "less is more" philosophy for the user interface of this product. When you
insert the iPod it makes a cute little electronic chime to let you let you know
it is seated properly.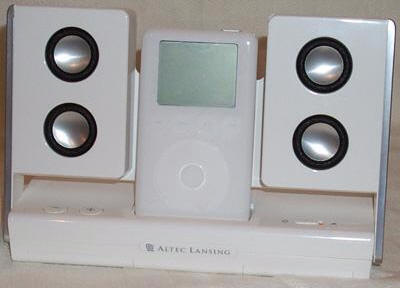 There are few buttons to
confuse the user: Volume up & down and a toggle power switch (with an LED to
tell you the speakers are on and changes color when the AAs are getting low).
Just drop your iPod into the dock-shaped slot, turn the power on for the
speakers, and press 'play' on your iPod and soon you will start hearing the
audio of  your choice.  
The rear of the device has
ports for an AC adapter, headphone jack, auxiliary input, and sync cable.  

While examining this product,
I was confused by the external headphone jack. After all, isn't the reason why
you use this product is to hear
the music out loud? However, my husband quickly pointed out that the
headphone jack would be good to attach a pair of bulky, high-quality headphones
that you would not necessarily carry around with you, like the Bose Quiet
Comfort noise canceling headphones. Fair enough.  
When you are done, the
speakers fold flat for storage. 
As a side note, one of the
things I noticed is that if you insert the iPod while wearing a iSkin (or
similar silicone 'skin' product , I'd imagine) it will not properly connect to
the dock. 
Features: 
* Speakers can be operated via
an (included) AC adapter or using 4 AA batteries (not included)
* Charges the iPod (through
the dock connector) when attached to the AC adapter in both the on & off 
settings. 
* Auxiliary port in the back
so that it can be used with a variety of audio devices
* External volume buttons that
are  easy to use
* Headphone Jack in the back
to attach bulky
* Foldable so that it can be
stored after use.
* External slot to connect
(cable not included) to a computer for synchronization and data transfer
Sound: 
I already own a pair of Sony
SRS-T55  foldable speakers that I use for travel which have mediocre sound
quality. Since I these are portable speakers, I decided to use the Sony's for
comparison.  I tested the sound using an audio book, classical and techno music
and the tone range is quite good in all tested types of audio for a portable
device.  Overall the sound quality is very good, much better than the Sony
foldables. The class D amplifier is loud enough to be heard anywhere in a fairly
large room.  Some audiophiles will find the quality to be lacking, but remember
these are made for use with an (awesome, albeit limited) MP3 player.  If you
want high-end sound, why are you
using MP3s anyway?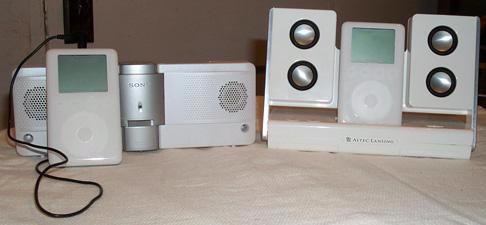 Overall, the inMotion speakers
have met (and exceeded) my expectations and I would recommend them to anyone
looking for a small, but powerful set of speakers for the iPod.
Price: $149.95
Pros:
Runs on both AC and AA batteries
Connects to all iPod models and compatible with many other audio devices
Matches iPod-white color scheme
Charges iPod while plugged in (and, according to Altec Lansing, conditions the
battery while charging)
Perfect size for travel
Cons:
Pricey
Cannot use while the iPod is wearing a case, such as the
iSkin
You won't be giving away your Bang & Olufsen loudspeakers for these