Product Requirements:
Device:
Palm V/Vx
Personally, I feel that more than any other accessory that you might
purchase for your PDA, the case that you choose is one of the
biggest reflections of your personality…save maybe the styli. Some people prefer leather, some
metal. What if you like both? If so, there's now a case that melds both
materials into one.
The Franklin Covey
Palm V series Leather Hard Case is  uniquely crafted of smooth,
full-grain black leather over molded metal.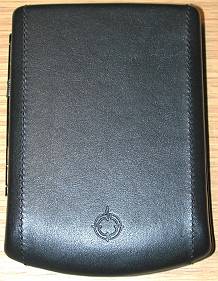 The leather covering looks great. It's perfectly stretched and
attached to the metal shell. Stylish stitching runs along the edges
of the top shell of this case. There is no stitching on the bottom shell. A small,
tasteful Franklin Covey logo decorates the top shell.
The Leather Hard Case is play through and holds the Palm PDA securely, via a metal
rail that uses the left stylus silo. Attaching and detaching the Palm V/Vx from
the rail is easy to do.
The rail is actually part of the hinge. It is painted
black which makes the case look better in my opinion.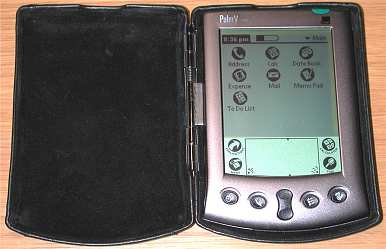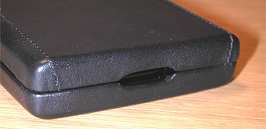 When the Palm V/Vx is attached to this rail, it lays in the bottom shell of the case. A cutout
at the top allows you to use the Infrared port for beaming, whether the case is open or closed (not sure why you'd use it while it was closed, but hey,
you can!).
You can also hotsync while your PDA is in this case. The easiest way is to
use a hotsync cable. But you can sync in the cradle by opening the case
backwards… lifting the back shell open and away from the PDA. It's
slightly awkward, but it works.
The inside of the Leather Hard Case has a plush black velvet lining. This lining has very
little to offer in the way of padding or cushioning. I think it's mainly there for looks.
There is no extra storage inside the case for business cards etc.
There is also no mechanism to hold the cover closed; the case is more like
a book in this regard as the two halves of the case can open freely. There is a
spring in the hinge that adds a bit of tension to help keep the cover closed, but it
does not keep the case in a closed position. Because of this fact, I would not rely on
the Franklin Leather Hard Case to protect the Palm PDA in the event of a fall to a hard surface.
This is a very well made case at a nice price. It feels great in my hand,
is small enough to fit in my pocket, and just plain looks great.
A business
card slot, and a method to keep it closed would make it almost perfect.
Price: $39.95
Pros:
Hard metal case with a stylish leather covering
Cons:

No closure method
No business card slot
Product Information
Price:
$39.95
Manufacturer:
Franklin Covey
Pros:

Hard metal case with a stylish leather covering

Cons:

No closure method
No business card slot