We use affiliate links. If you buy something through the links on this page, we may earn a commission at no cost to you. Learn more.
Product Requirements:
Device:
Compaq iPAQ and HP 540 Series Pocket PCs
Are you an iPAQ or HP Pocket PC owner and also the type of person that likes to spoil themselves? Or maybe you know
an iPAQ or HP owner and are looking for that special gift for them and money
really is no object. Regardless as to which category you fall into, I have the perfect
accessory for you to consider. It is a Daughter
Judie Handmade Sterling Silver Stylus available thru StylusCentral. Yes, you read
that correctly, it is made of sterling silver. And I'm not talking a brass core
with plating, this stylus is solid silver.
First a little history behind the Daughter Judie Styli… Several months ago,
Judie (that's right, the same Judie Clark that writes terrific reviews here)
sent me an email saying that she wished she could have a better stylus for her
HP Pocket PC. She didn't really like the light weight stock "tongue
depressor" stylus that was included with her PDA. She wanted to look into
having something custom made. I told her it sounded like a cool idea and that I
wanted one too!  So she had her husband check out some of the local machine
shops in their town. After speaking with different people, he found out that the
cost would be pretty steep to have them made of a material such as aluminum. So
next Judie approached a local jewelry craftsman to see what he thought of the idea
of making a silver stylus. The price that he quoted her was pretty similar to
the price to have them made of aluminum, so of course she decided to go with silver!
Both Judie and the craftsman became excited about the possibility of creating
them for sale to the public. She asked me what I thought about it, and I said go
for it! They partnered together and several weeks later, the first Daughter Judie Sterling Sliver HP
Stylus was born. Later Judie acquired an iPAQ and had to have a custom silver
stylus for it too. So the iPAQ version was designed.
These styli have been molded into the shape of the original factory stylus.
Each one is individually cast, hand finished and polished.  Then, a proper
fit is assured individually to either the iPAQ silo or HP flip lid slot. Each
stylus takes several hours to create.
The HP 540 series stylus which comes in either a polished version or textured
matte version fits into the flip cover perfectly. Because it is heavier than the
stock stylus, it may have a tendency to rattle. I only notice this when I would
shake the PDA pretty vigorously though.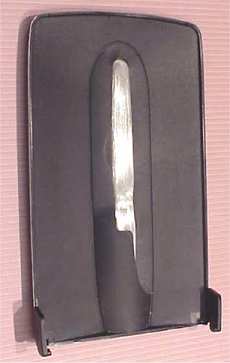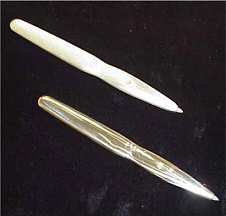 The holder for the HP stylus is built into the flip cover and uses friction
to keep the stylus in place. Because it rubs against the plastic flip cover when you insert and
remove it, it is likely that you may scuff it up. The matte version can be
'repaired' by gently rubbing steel wool on the affected areas.
It is nice and heavy and feels great in your hand. It feels more balanced
than the stock stylus.
The HP stylus can be customized by having a gemstone set in it, or by having
it cast in 14k white or yellow gold, and platinum. Of course, there will be an
extra charge for these features. Engraving of up to 4 letters is free.
The iPAQ stylus is also an exact replica of the original. It is made to fit
the silo and to pop out when you press the release button. The first time I
tried to use my silver iPAQ stylus, it got stuck in the silo. It took me a
little wiggling and pulling to get it out. Come to find out that not all iPAQ
silos are created equal. The way the catch mechanism is situated on the inside
of the PDA can be a bit different from unit to unit. I found that just a little
bit of pressure on the body of the stylus (I couldn't even tell that I did anything
really….) fixed it so that it now pops out perfectly every time.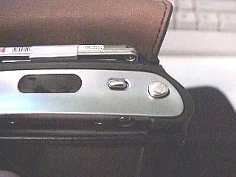 This stylus also feels nice in your hand. It weighs .8oz (23g) and is nicely
balanced.
There's one feature of these styli that I really like that is going to sound
a little wacky, but oh well…. These styli use white tips that are
semi-transparent. I found that when I use them, they kind of glow from the light
that the screen gives off. It makes seeing the tip really easy to see and I've
come to really like it.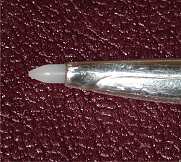 The tips are also pointier than other stylus tips I've used. Both the iPAQ
and HP versions write really well on the PDA screen.
Some of you might be asking about the possibility of the silver tarnishing.
I've been using the iPAQ version every day for a couple weeks and it shows no
signs at all of tarnishing. I've had the HP stylus for several months and have
not used it at all lately… it's also tarnish free.
Like the Daughter Judie HP stylus, the iPAQ stylus can also be customized. It
too can be cast in 14k white or yellow gold, and platinum. You can also have
gemstones set into the top of the stylus. Doing this causes there to be a small
'cap' to the stylus that sticks up slightly (the styli without gemstones stick
up the same amount as the original stylus which is very little). Every case I've used has not had a
problem with this extra length though.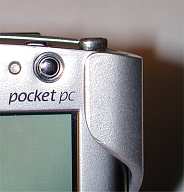 Some of the gemstones that will be available are: topaz, citrine, amethyst,
garnet: faceted or cabochon – for the same TBA price. Other stones, such as
emeralds, diamonds, rubies, sapphire, tourmaline, turquoise, amber: faceted as
well as cabochon will be available as custom jobs.
I love my amethyst stylus which you can see below. To the right is Judie's stylus
with an emerald cabochon (domed shaped stone) set in the top.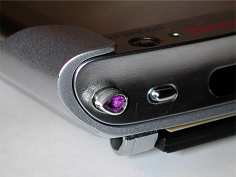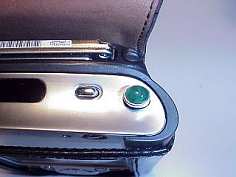 The Daughter Judie Handmade Sterling Silver Styli are very finely crafted. Of
course they aren't for everyone due to the cost, but if you've got the bucks,
you'll appreciate the quality.
iPAQ version available in 1 month. HP version available now.
Price: $79.95 (Gemstones added for an additional
charge… price is still to be determined.)
Engraving of up to 4 letters is free.
Pros:
Well balanced
Nice stylus tip
Elegant
Customization options
Cons:

Expensive
Soft silver can scuff
Product Information
Price:
$79.95
Manufacturer:
Stylus Central
Pros:

Well balanced
Nice stylus tip
Elegant
Customization options 

Cons:

Expensive
Soft silver can scuff