We use affiliate links. If you buy something through the links on this page, we may earn a commission at no cost to you. Learn more.
Product Requirements:

Desktop:
IBM-compatible Pentium 90 PC or higher. Microsoft
Windows 95/98/NT 4.0 (SP5). 32MB RAM. Mouse. Microsoft Explorer 4.0 or
Netscape Navigator 4.0 or later. One available RS232 port. 20 MB of available
hard disk space. Dial-Up or LAN Internet connection availability and simplify
sentences.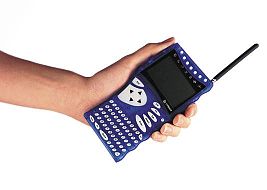 The Cybiko from Cybiko, Inc. is a crossbreed
between a PDA, a Gameboy, a walkie-talkie and a mini keyboard. It looks like a
little strange at the first encounter, but you'll get used to the design pretty
soon.
Hardware Specification
Main Processor:
32 bit, 11 MHz Hitachi H8S/2246
Coprocessor:
Atmel AT90S2313, 4 MHz
Memory:
1 Mb, extendable up to 8 MB
LCD display:
160×100 dots, 59×40 mm, 4 level grayscale
RF transceiver:
RF2915
Expansion cartridge slot:
68-pin
PC connection socket:
RS232 serial port
Size:
5.7″ x 2.8″ x 0.86″
Weight:
4.3 oz
Software Specifications:
Operating System:
CyOS v.1.3
Software:
CyOS v.1.2+ compatible applications
Communication Protocol:
CyDP x.30 (Cybiko RF Digital Protocol)
Dynamic Wireless Local Network:
Automatically provided by CyOS and CyDP
RF Communication Features:
Frequency:
902-928 MHz
Number of channels:
30 digital channels
Communication Rate:
19200 bps each channel.
Transmission and Receiving Range:
150 ft indoor, 300 ft outdoor (environment dependent)
Max. on-line Cybiko units:
3000 (100 units on each of 30 channels)
Even if it is marketed as a kid's toy, there is a huge opportunity here for software
developers, but let's begin with the standard features first.
What is in the box?
The Cybiko comes with High capacity F6 size NiMH prismatic type 700 mAh
rechargeable batteries, a 120V recharging unit, a RS232 serial PC connection
cable and a plastic stylus. Until 12/31/00,  there is a promotion from
Cybiko Inc., where they throw in a free MP3 player module add-on (without a
smart media card, but still a nice goodie). The included manual is easy to read,
but to get started you have to download the CyLoader application from their
website.
A free game/app every day
Cybiko Inc offers a free game or application every day, there are currently over
250 downloads available; and even if some of the games are not unique, others are
at a pretty high quality. The application that is the most developed is CyLandia,
which transforms the Cybiko into a super Tamagotchi thing.
The main applications included in the standard installation are:
You&Me CyCommunity
A wireless matchmaking service, where personal preferences are entered and if
the Cybiko unit finds an other unit in range, profiles are exchanged and
matched. If enough Cybikos are around, this is fun, even or especially for a more
mature audience.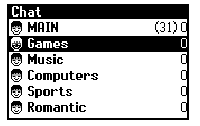 Chat
The wireless Chat is the main application (except for gaming) for the Cybiko.
Other units within a range up to 300ft can be contacted and enter the wireless
chat. This feature was obviously developed for boring situations in school in
mind 🙂
eMail
A small email application can exchange emails either with other Cybikos in the
area or via the serial connection to a PC with internet mail systems. With CyWIG
internet gateway it is possible to relay messages from several Cybikos to the
internet wirelessly.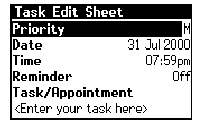 Organizer
Don't expect to replace your Palm soon with a Cybiko, the organizer is pretty
limited in comparison with a real PDA organizer. But it is possible to sync with
Outlook, so at least to some degree it could manage some contacts and
appointments.
Other applications
There are a lot of useful apps for kids and teens like a dairy, scientific
calculators, notepad, and image editor…
The applications for productive working in the adult world haven't been
developed yet
Games

A comprehensive list of games from Cybiko Inc. and other independent
developers can be accessed at cybla.com.
The Cybiko is not like a Gameboy; most games are much simpler like Hangman,
Quizzes or basic arcade or action games. Don't expect Zelda on the Cybiko. But
for a boring long distance flight, the Cybiko is what you are looking for.
Development
A SDK for the Cybiko is available – and due to the cheap base price of the unit
– it won't take long until someone replaces the CyOS with a different OS. The
wireless short range transmitter is a really nice feature, especially since
every Cybiko acts as a relay station, so the maximum distance is not limited to
300ft, but to the numbers and distribution of other Cybiko units. The Cybiko has
an expansion port for modules like the Handspring. Currently a memory expansion
is available and 2 different MP3 players will be in stores end of January.
Several rumors about other hardware extensions like a small digital camera or
even a GPS unit are around.
My personal recommendation is get it and have fun with this device, even if
you are outside the initial teen target group. This thing brings a lot of fun, and
the price is unbeatable. Having a Palm from the first Palm 1000 version, I know,
that it takes a while for independent developers to explore all the options with
a device, but the Cybiko has a huge potential due to the wireless networking and
a unique appeal, so it won't be long before there is a wide selection of more real
applications.
Price: $99 – in stores and most websites,
special 10% off promotion at theCybiko site with the "secret" promotion code CT0180. Free MP3 player for
purchases before 12/31/00
Pros:

Wireless networking
Free games
SDK available
Hardware extension slot
Rechargeable Batteries included


Cons:

No Touch-screen, but a small keyboard to enter data
No backlight
Some of the free games lack personality