We use affiliate links. If you buy something through the links on this page, we may earn a commission at no cost to you. Learn more.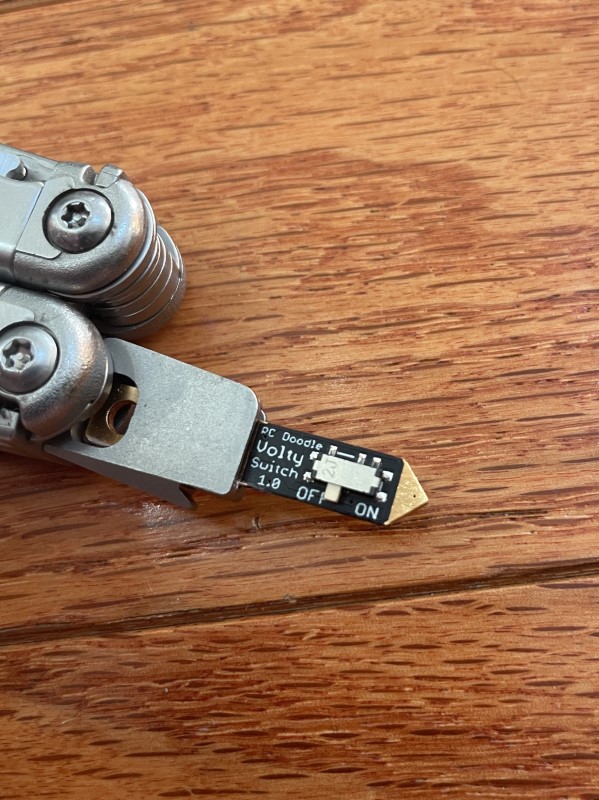 REVIEW – One never knows when they will be called to duty… If you are the person that your family, friends, coworkers, and neighbors call when something breaks and they know you are "electrically inclined," PC Doodle's updated Volty Switch multimeter belongs in your pocket!
What is it?
The Volty Switch is a tiny multimeter capable of low voltage AC and DC voltage, continuity, temperature, non-contact EMF "spark", voltage source, and parasitic DC voltage drain detection.
What's in the box?
Volty Switch
Protective insulating cap
Reference card
Hardware specs
Model: Volty Switch
Dimensions: 35.25 x 26.85 x 5mm (1.4 x 0.27 x 0.2 inches)
Product weight: Too light for my digital kitchen scale to measure, even with the insulated cap.
AA, AAA, C, D, 9V, Coin Cells, 4.2V Lithium, 12V or 24V DC Lead Acid Systems
1V measurement resolution
Reverse polarity protection up to 30VDC
Voltages above 3V will charge the onboard battery
Flash indications:

Green Blinks = 10V or 10° each. Long blink 100°
Yellow Blinks = 1V each
Red Blinks = 0.1V or ± 1° each. Long blink 0° and lower

Electronics are encapsulated in epoxy for long tool life
Gold Plated Probe and Shank
A Leatherman tool is not required. Use anything conductive to test batteries!
Compatible Leatherman tools:

Leatherman Signal
Leatherman Wave
Leatherman Charge
Leatherman Skeletool (Won't articulate, but still suitable for testing larger batteries).
Leatherman Surge
Leatherman Bit Extender

Use at your own risk, and wear proper safety gear, especially with big batteries or high amperage outputs!
Onboard Rechargeable Battery
Water resistant, do not use when wet!
Auto switching between modes: AC/DC/TEMP/CONTINUITY/EMF
Auto Switching between AC and DC.
Testing AC sources above 24VAC is dangerous and can lead to electric shock and will permanently damage the Volty Switch!
Accuracy +/- 1VAC
Used primarily in HVAC, CCTV Security, Access Control, and More!
Detect if a spark plug wire is firing.
Detect 50/60 Hz and other high-intensity EMFs.
Paranormal Research Applications 😉
Never rely on Sparky EMF to provide accurate or repeatable readings.
100% DOD Tolerant battery
To keep your onboard battery in good condition, please charge it at least once per year.
The switch on the back physically disconnects the battery to prevent self-discharge.
The Volty should be powered off and stored properly after taking readings to extend the working life of the onboard battery.
To recharge the battery, turn the switch on and connect to any 3-18V DC source for two hours before disconnecting.
Design and features
I've been EDCing (Every Day Carrying) a Leatherman of one model or another since 1984 and have often thought about carrying troubleshooting tools in my pocket. I try to be helpful whenever I can, but carrying even a pen multimeter everywhere is incredibly cumbersome and can be dangerous – I can't tell you how many times I stabbed myself with a pocketed pen DMM probe tip. Ouch.
In April 2022, I reviewed PC Doodle's Volty (here), which made it possible for me to "up my extemporaneous troubleshooting game" far beyond what I thought was possible. Since then, it's been a constant companion, literally a dream come true for me. Now they've made the Volty better with a bundle of new features!
The previous version is still a marvel, and the new version has an almost identical footprint.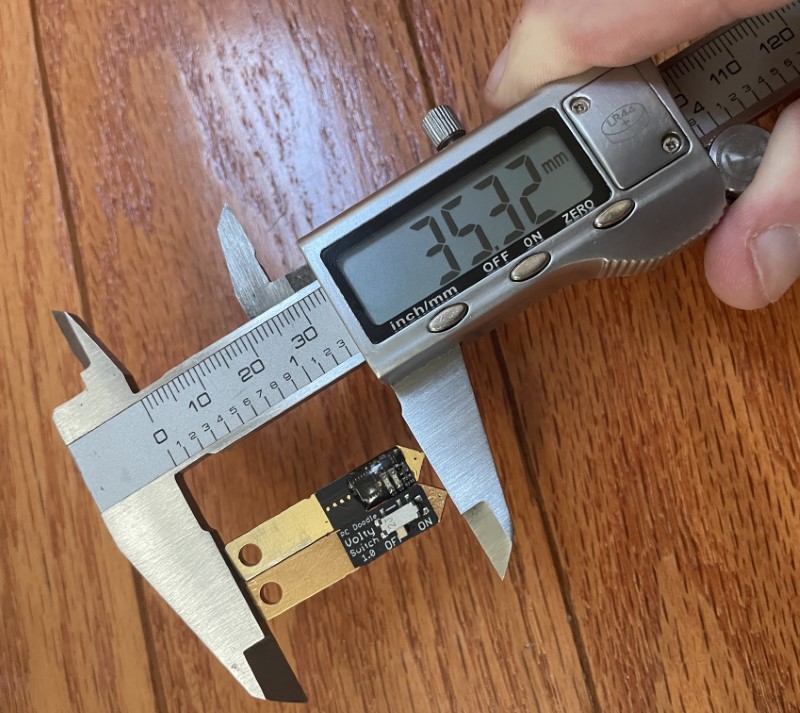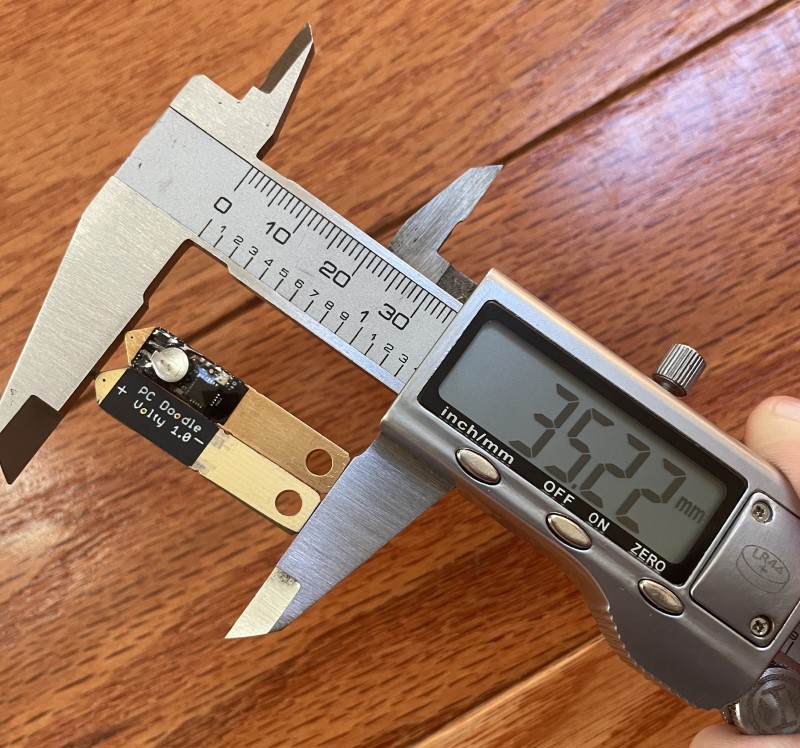 Because of the inclusion of the battery and electrical switch, the new edition is slightly thicker.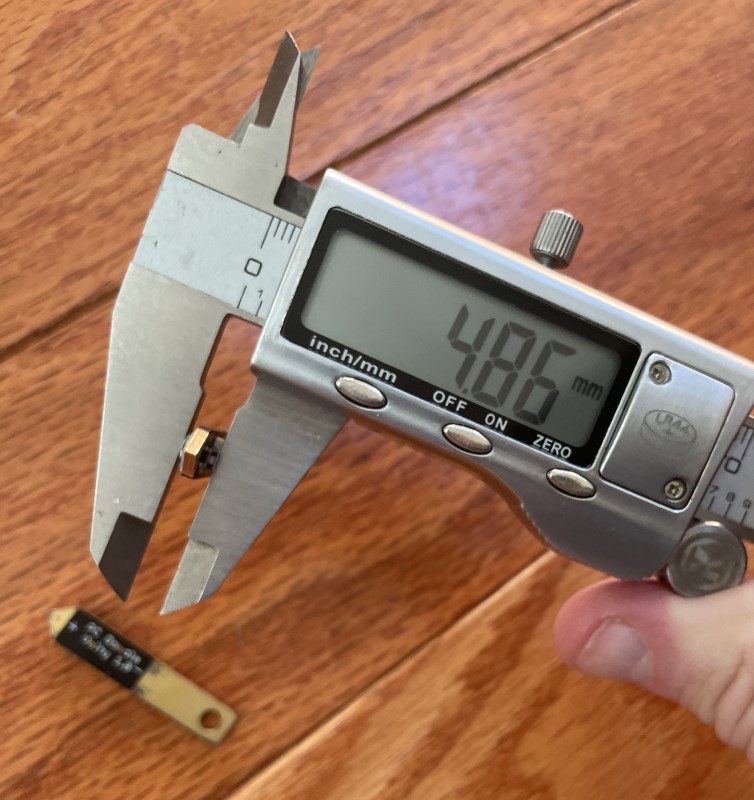 The Volty Switch arrives in a lightweight envelope inside a silver bag. Included are an insulated cap and a quick reference card.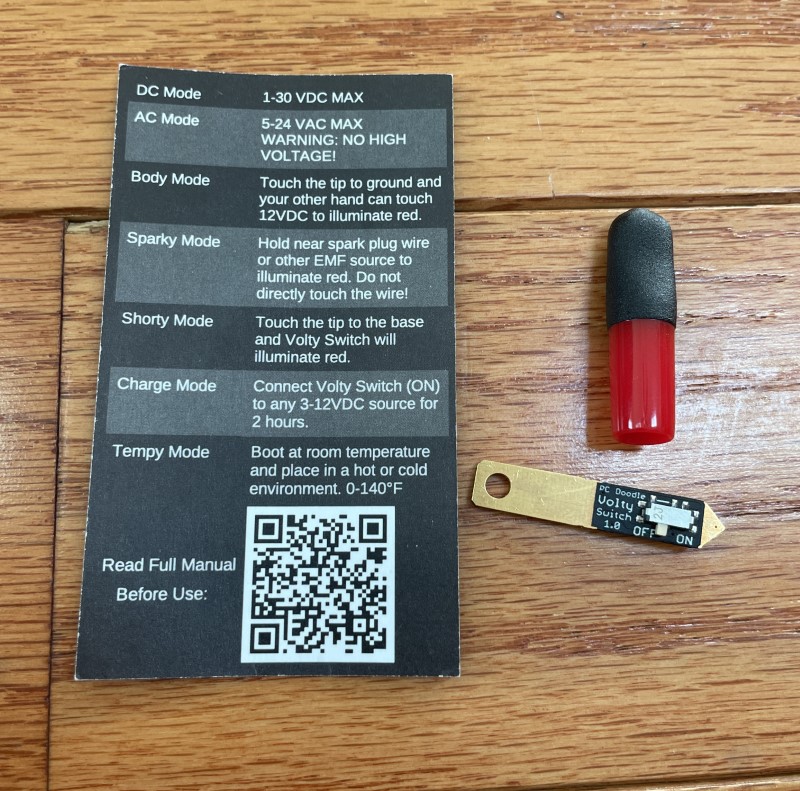 Hold onto that card! Mine is now riding in my wallet until I've practiced enough to memorize all of the new features.
Red and green LEDs adjacent to the battery and processor flash a pattern indicating the voltage being measured, "Morse Code" style – green for 10 volts, yellow (green and red together) for each 1 volt, and red for tenths of a volt. Just count and add the total. Easy.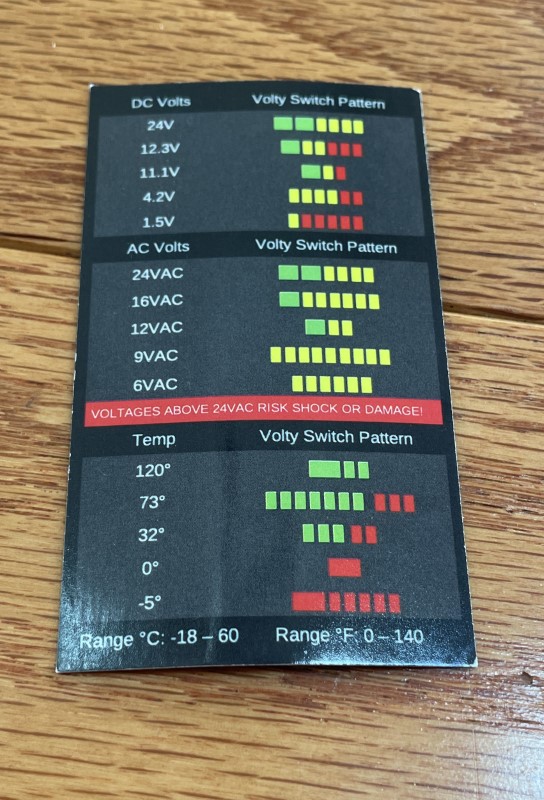 Functions listed on the card are DC, AC, Body, Sparky, Shorty, Charge, Tempy, and one more mode that isn't listed, parasitic drain detection. By default, the Switch changes modes automatically, but after starting a voltage measurement, the temperature and EMF modes are disabled to prevent confusion and flashy lights when you don't expect them. To re-enable these modes, just cycle the power switch.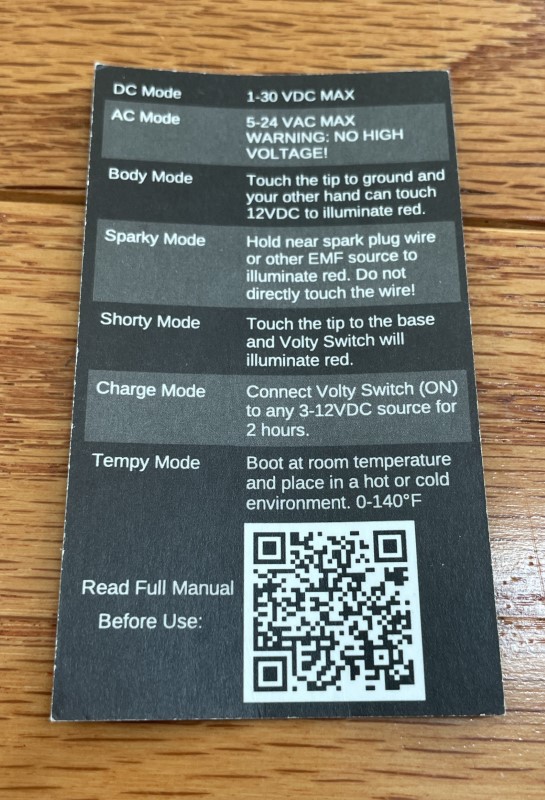 For a deeper understanding of the capabilities and functions, the full manual is available here.
As with any electrical measurement device, please know what you're doing and wear protective gear before use. If you aren't sure of what you're doing, then don't do it. Let's be careful out there, folks.
Like its predecessor, The Volty Switch can use any metal to bridge the gap between your battery's negative terminal and the non-pointy end. Anything conductive will work – keys, a scrap piece of wire, even an aluminum-lined gum wrapper.  For ease of photography, I used alligator clips, but in practice, I prefer to complete the circuits using the body of my Leatherman multi-tool (whenever it's safe) for convenience and simplicity.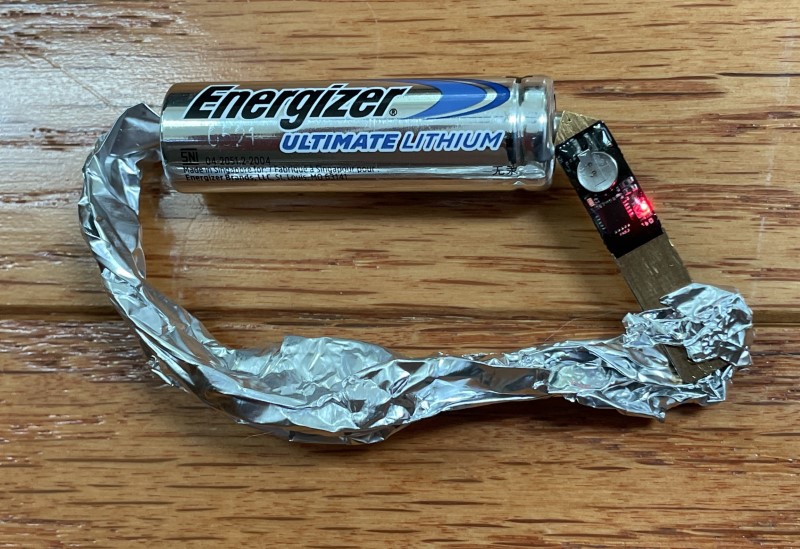 The Switch is designed to fit into the flat bit holder on most Leatherman tools but doesn't require one to function. Depending on the tool you have, a little filing of the tail might need to be done for the optimal fit. Mine took only a few swipes with my Leatherman's file to fit perfectly and now locks securely.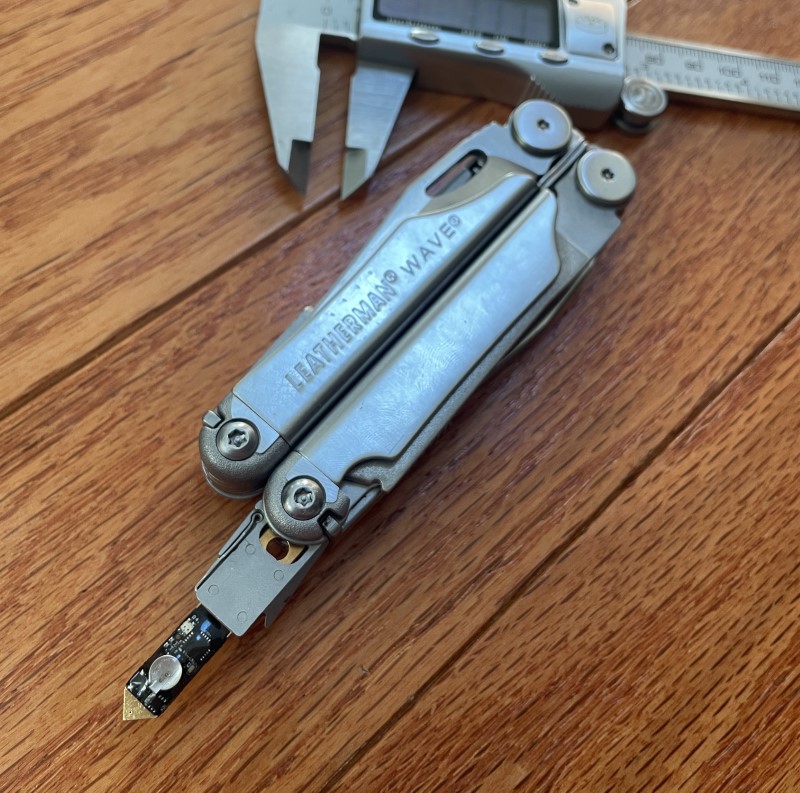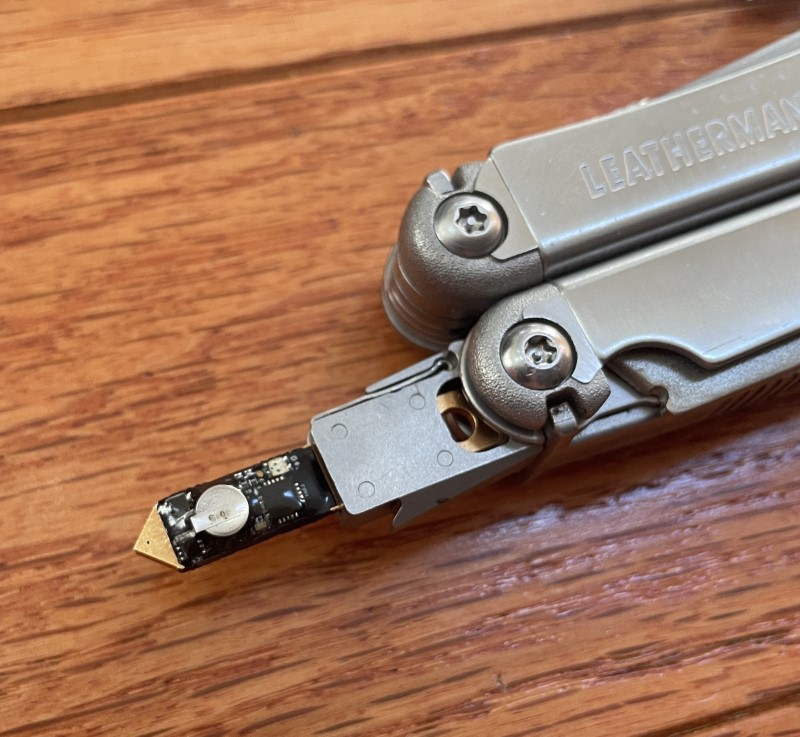 The Volty Switch can securely be stored in the bit while the Leatherman is folded. For illustration purposes, I left it on so you can see it's in there. It should be turned off when not in use to preserve the battery.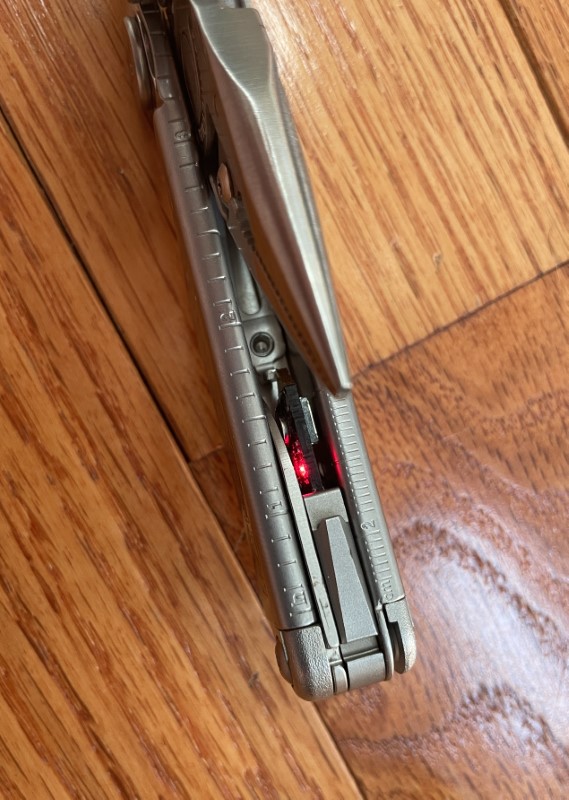 Alternatively, Voltys store nicely in a Leatherman bit kit.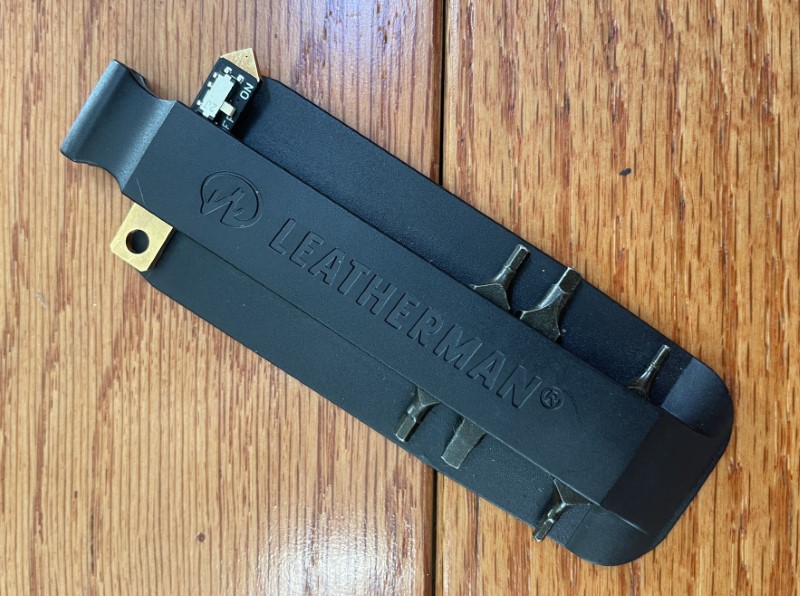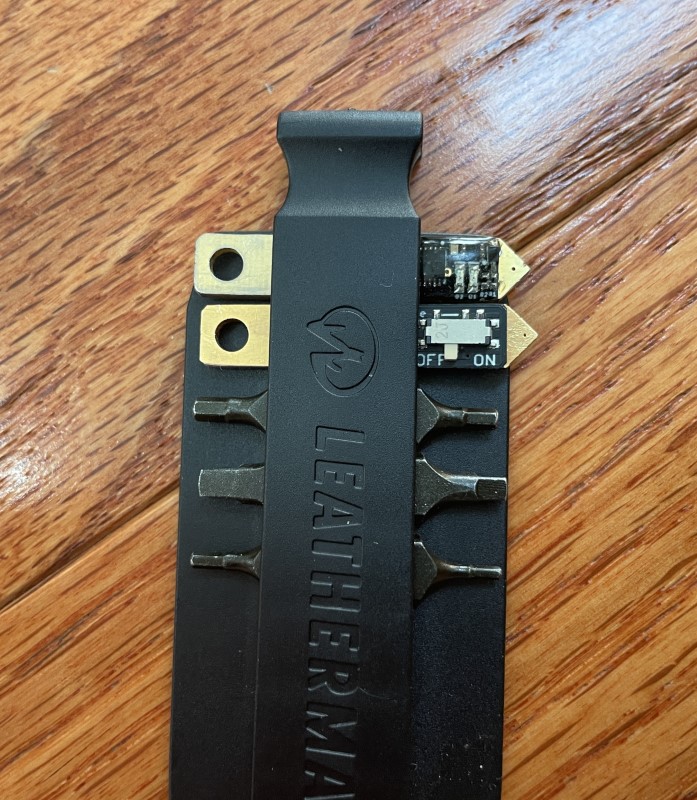 On one side, are the rechargeable battery, control circuitry, and LEDs. The new Volty Switch is the one on the bottom.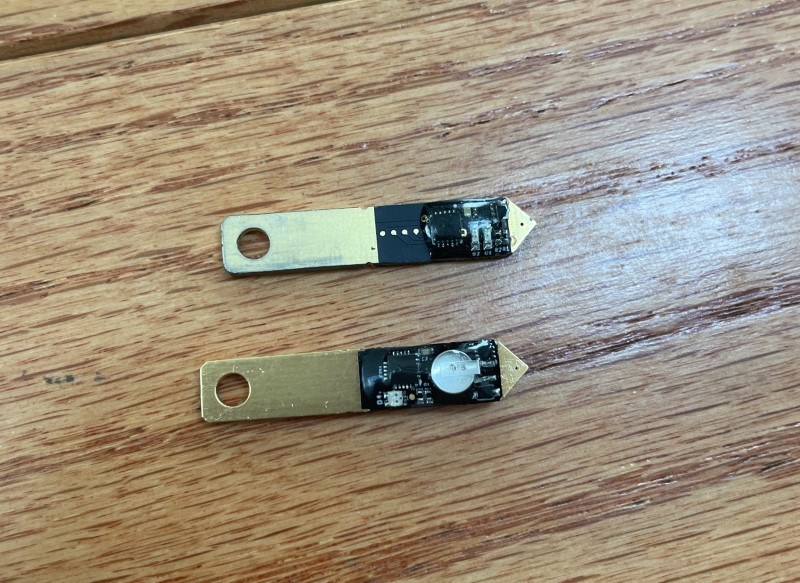 On the other side is the switch to conserve battery life. The original Volty doesn't have one.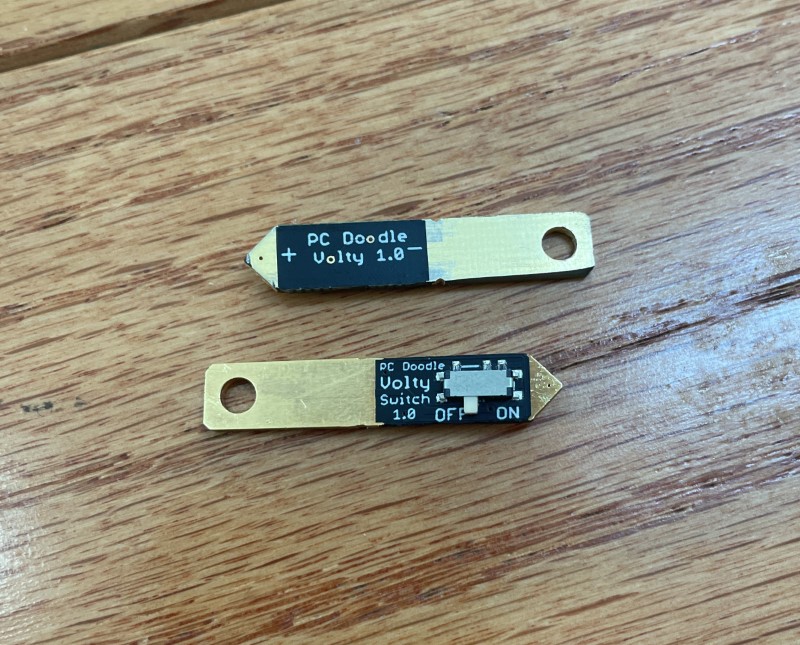 Speaking of the battery, it's rechargeable and will sip juice anytime it's on and connected to any DC supply more than 3 volts (be sure to stay under 30VDC to prevent damage). As such, DC mode and Charge Mode are essentially the same except for leaving it connected for a while. The supply voltage code will repeat for two hours until the battery is topped off and ready to rock & roll. PC Doodle recommends full charging at least once per year.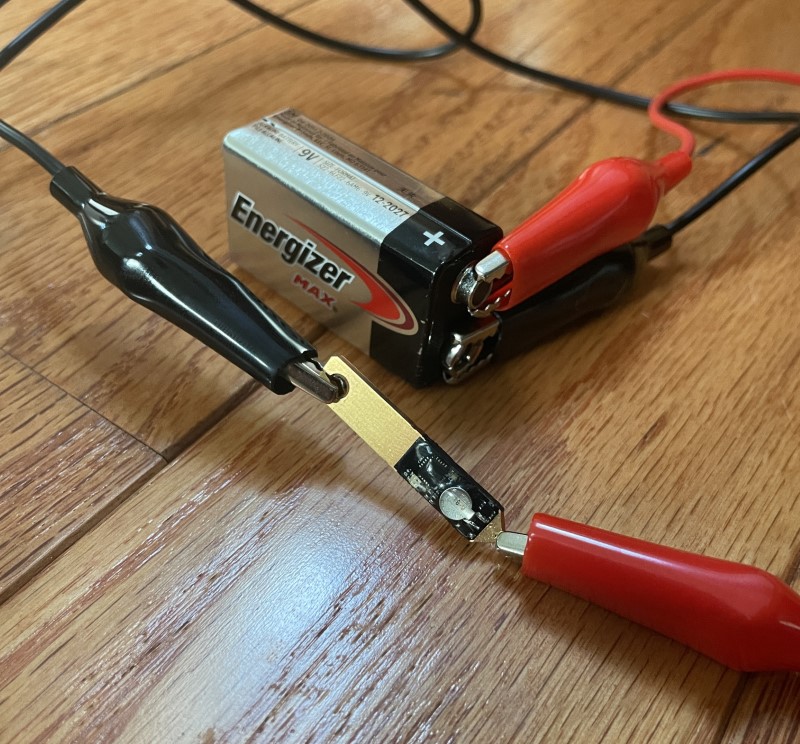 The DC range has been increased from 1 to 30VDC so it's now possible to measure standard 1.5-volt batteries (AAA, AA, C, and D) down to a tenth or a volt. Fabulous!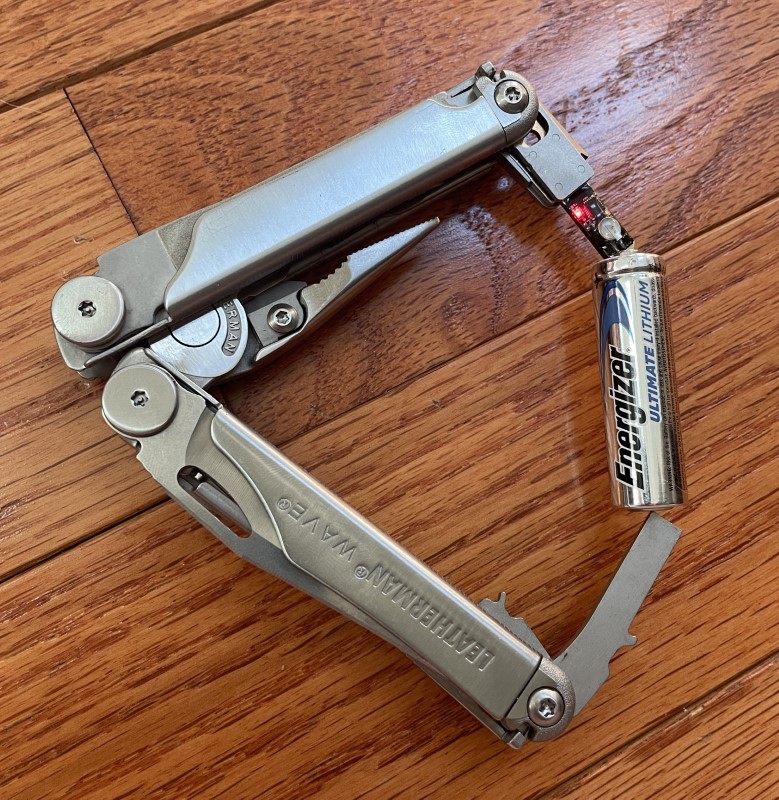 AC voltages are measured the same way with a range of 5 to 24VAC but in 1-volt resolution.
This is what 13.3volts DC  looks like…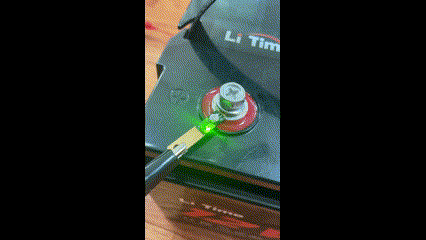 A very cool new feature is "Body Mode."  Hold the Switch by the tail, touch the tip to any ground point, and use another finger to touch a low-voltage DC supply. If voltage is present, the red LED illuminates. Naturally, be safe when you use this mode, and don't get crazy testing high-current devices since you're using your body to complete the circuit. This feature is outstanding when adding vehicle accessories and fuse testing. It doesn't read the battery voltage, it just lets you know what voltage is present. Brilliant and terrifically useful!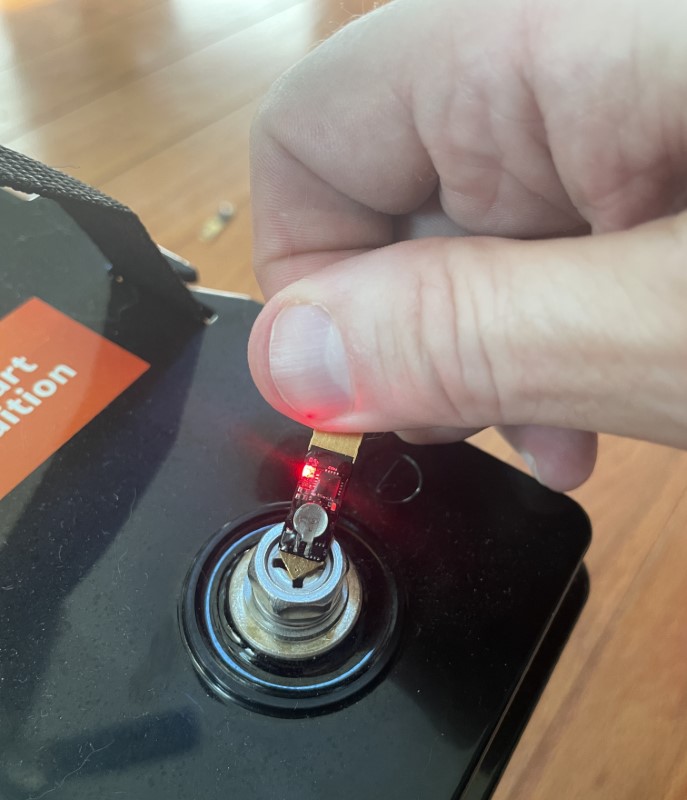 Moving on to continuity (Shorty Mode), any wire or piece of metal completing the circuit between the head and tail will illuminate the red led. Lovely for finding that broken wire, or blown fuse.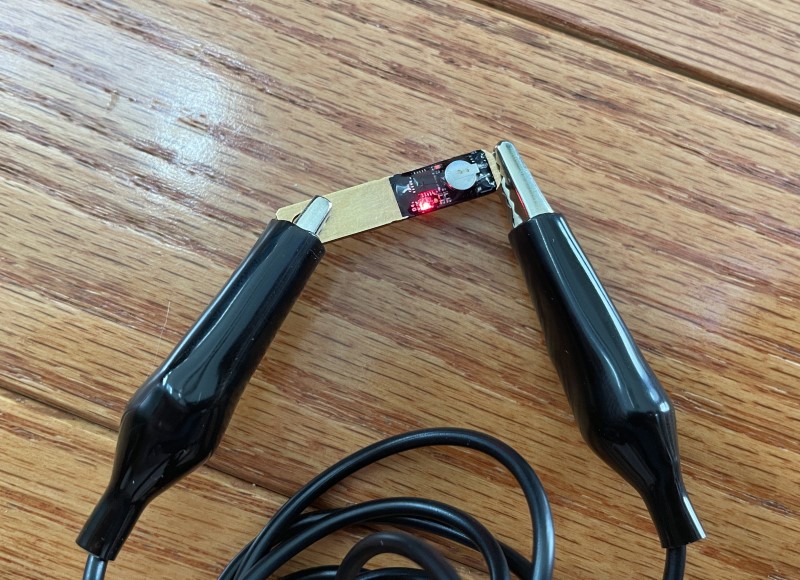 Tempy (Temperature) mode is interesting and has a little different flash pattern – long green for above 100°, short green pulses for each 10, and short red pulses for each additional degree. A long red pulse indicates the temp is below zero. Turn the Switch on and place it in a hot or cold place. By default, there needs to be a 10° change in temperature before Tempy mode kicks in. Once it does, the Switch will measure the temperature and remember the lowest or highest value, even when removed from the heat source or sink.
Several years ago I was dispatched to investigate a very intermittent problem with a machine in Juarez, Mexico. When I go to the job site, it was very hot and my thoughts were the controller was being operated beyond the specified heat range. My suspicions were confirmed, but not before a search to locate a thermometer. If I had the Volty Switch, it would have saved a great deal of aggravation and a daunting "wild goose chase."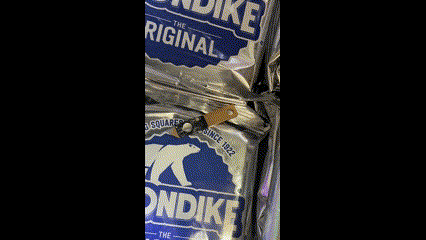 "Sparky Mode" is a non-contact voltage measurement tool. If the Volty Switch detects an EMF (electromotive force) induction pulse, the red LED flashes. I was able to use it to detect the ignition pulses for my gas stove, live AC wires inside a wall, a live transformer, and the presence of voltage in my toaster's nichrome wire heating elements, all without getting my fingers anywhere near danger. Amazingly sensitive, some indications were several inches from the source.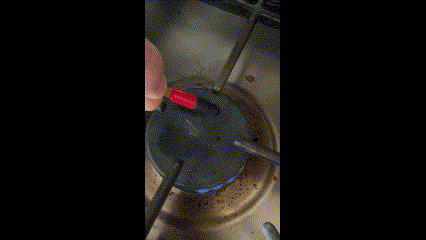 For potentially dangerous situations, please protect yourself and put the Volty in the safety/storage cap, and use an insulated handle or appropriate gloves. The cap doubles as a protective cover should you decide to carry Volty on your keychain.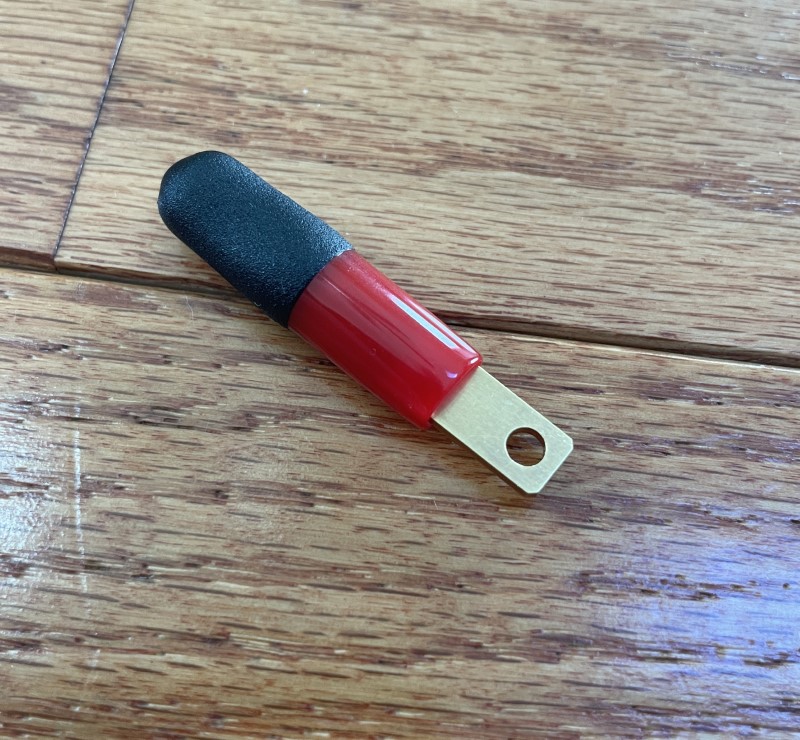 Not listed on the card is an additional mode, "DC parasite finder." This mode is used with the Switch off. After being connected to a DC source, Volty will display three successive measurements and store the baseline voltage, followed by turning on the green LED. If there is a voltage drop or increase of 0.05 volts, the red LED will illuminate.
I used this mode to monitor the discharge of a larger battery while charging another. I can see this will be a superb tool for locating devices that are drawing voltage when they shouldn't. I've run into this several times troubleshooting why my car's battery unexpectedly discharged over several days and required a jump start. The problem turned out to be a forgotten USB charger plugged into a power socket in the back seat. I've since rewired the accessory socket to be active only when the car's ignition is on. Problem solved. With the Volty Switch, troubleshooting would have taken a fraction of the time. I could have unplugged the fuses and waited a minute or two to find the offending circuit. I have more than a dozen multimeters and none of them have this feature. Great Job, PC Doodle!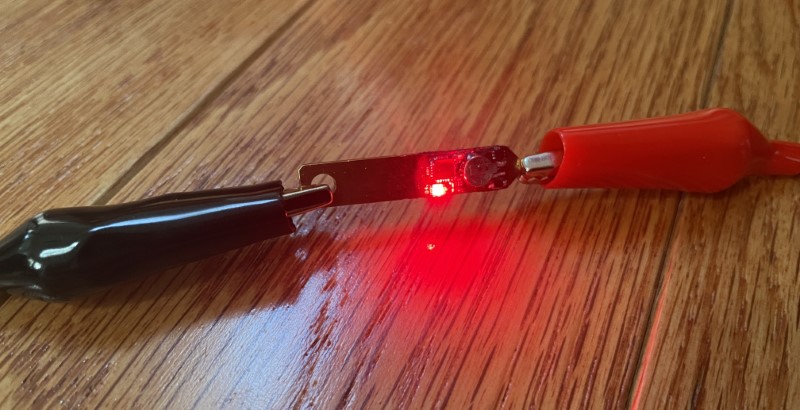 If you're the type of person that likes to tweak your gadgets, Volty Switch has some configurations and calibrations that can be adjusted. To access the menu, bridge the tip and base while turning it on.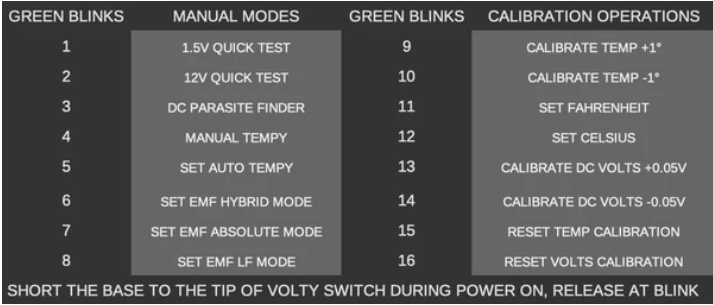 What I like
EDC, go everywhere, size
Amazingly innovative
Outstanding features and capability
$50 is a steal for the Volty Switch and even better at the sale price of $42
Possibly THE best accessory for Leatherman with a removable flat bit.
What I'd change
I know, I'm dreaming, but Ohms measurements though I can't imagine how it would be implemented in such a tiny package
Final thoughts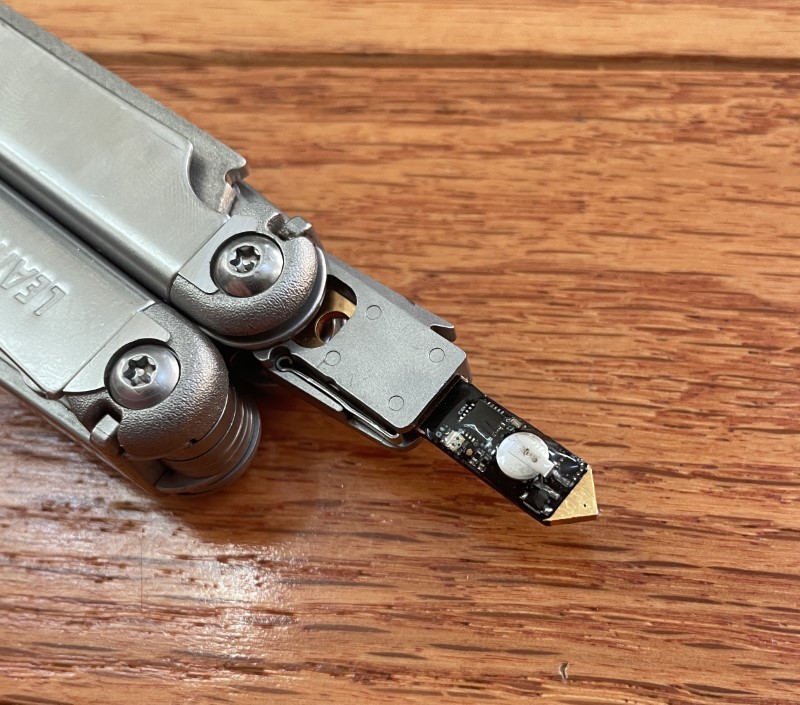 Not resting on the Volty's success, PC Doodle's new and improved Volty Switch has a wider range and can measure both AC and DC voltage, continuity, temperature, and even EMF in a package that's almost the same size as the original. This dear Gadgeteers, is some next-level stuff. If you're a person that never wants to be without a multimeter and works mostly with low voltages, don't walk – run to get one of these. I can't think of a better companion to my Leatherman! It's an EDC tool for my EDC tool!  Bravo, PC Doodle! Bravo and thank you!
Price:  $42.00
Where to buy: PC Doodle
Source: The sample for this review was provided by PC Doodle.