We use affiliate links. If you buy something through the links on this page, we may earn a commission at no cost to you. Learn more.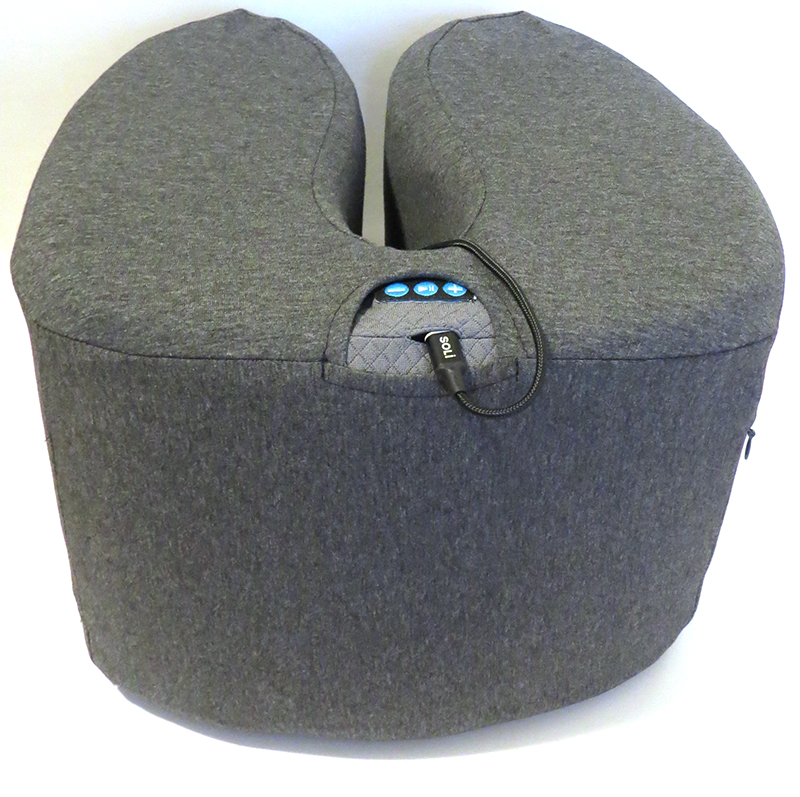 REVIEW – Lately, I've been using my phone to watch a nice video before I sleep, which has helped me unwind for the evening. I would listen with my phone speakers as I was petrified to lose one of my EarPods when I fell asleep. It was as if Soli knew of my nightly routine change and came out with their Soli Pillow with built-in Bluetooth speakers and memory foam fabric.
What is it?
The Soli Pillow is a memory foam pillow with built-in Bluetooth speakers that help with noise canceling while trying to get a good night's rest.
What's in the box?
Soli pillow
Magnetic charging cable
Charging cable case
Hardware specs
Memory foam
10 hour battery life
2 hour charge time
100 hour standby time
Bluetooth 5.1
20 – 20,000 Hz sound frequency

Design and features
The Soli Pillow came in a very nice looking box, packaged well, and mine included a pillowcase along with it. Since the pillow itself is not machine washable and spot wash only, having a pillowcase is a necessity in my opinion.
Before putting on the pillowcase though, I attached the magnetic charging cable piece to the port on the pillowcase and charged it up. Charging took roughly two hours as advertised, and the 10 hour battery life lived roughly up to expectations. Once charged, I turned on the pillow and it immediately went into pairing mode. I found the Soli Pillow on my Bluetooth pairing devices and it was connected. Each time after the initial pairing, all I needed to do was turn on the pillow and it would connect automatically. There are also verbal commands verifying it is connecting when turning it on as well.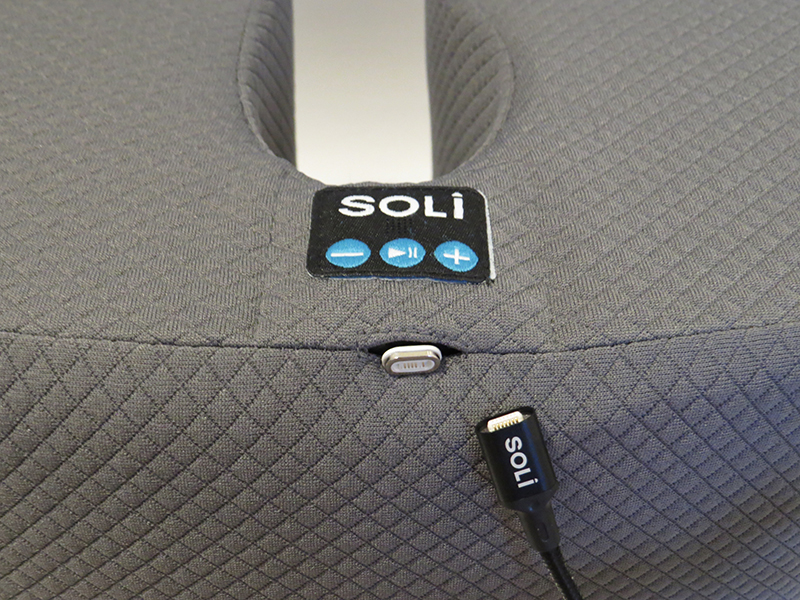 Once I knew everything was up and working, I started playing with the controls. I was able to easily turn the pillow on and pair it without looking, though I had to look at the buttons to make sure I wasn't pressing the wrong one once I turned it on. There are only three; Play/Pause in the middle, volume up (long hold) and next track (short press) with the plus button, and volume down (long hold) and previous track (short press) with the minus button. You can also double tap the play/pause button to activate the voice assistant.
So once I figured everything out, I tossed on the pillowcase and immediately decided to use the Soli Pillow that night to sleep on without any music or anything. After a few hours of sleeping on my side, my ear was sore and I had to bail and go back to my normal pillow. The next night, I tried it on my side just in case I slept wrong and once again my ear was sore after a few hours. When I managed to sleep another night on my back this time, I had no issue at all with the pillow being uncomfortable. After a few nights of this, I concluded that for side sleeping, overnights just did not work well for me, but naps were great. Back sleeping though, overnights and naps were just fine while using the Soli Pillow.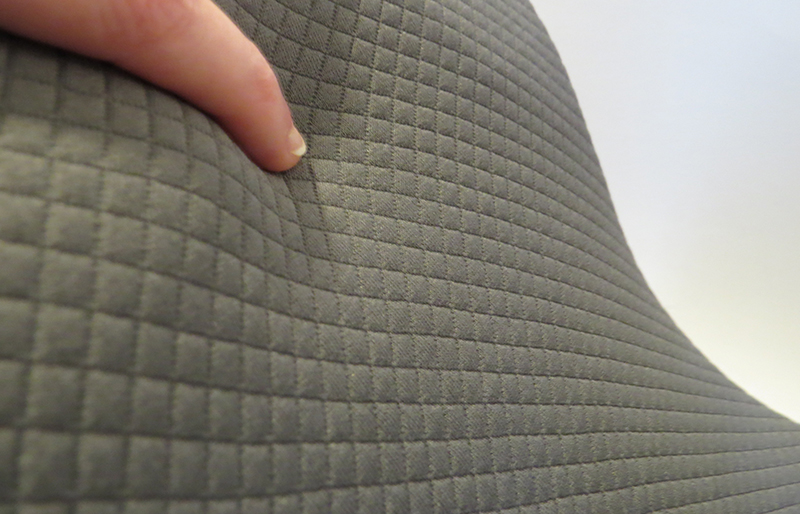 When listening to random TV shows on my phone, the voices came in clear and I had no issues understanding what was being said. When it came to music, the quality was about average. There was a little bit of bass, but it was mostly mids and highs. When playing music at a softer volume, it was pleasant to listen to while chilling for a nap.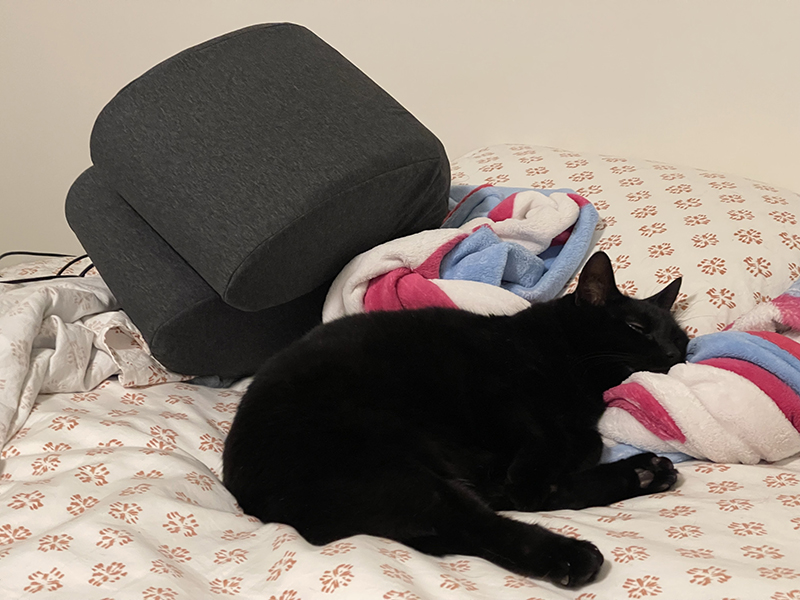 Where this really helped was mornings when my upstairs neighbor started using the treadmill after the new year. At roughly 6:30 am, I was woken by the sound of thudding feet and was going crazy trying to drown the sound out. I already sleep with a box fan on high, but what else could I do? I picked up the Soli Pillow, turned on a white noise app on my phone, and cranked it up and surprisingly, it drowned out the noise and I fell back asleep for the two hours before my alarm. After that, I've kept this next to my bed for mornings when I need to drown out the noise from upstairs. This gives me the confidence to say that it does drown out the unwanted noise (such as light snoring next to you) as advertised.
What I like
Sound quality isn't too bad
Easy to charge
Connects fast
What I'd change
Side sleeping uncomfortable for overnight due to pressure on speakers
Hair can be uncomfortable when side sleeping
Final thoughts
Overall, for a mostly side sleeper like myself, the Soli Pillow was excellent for naps but not as comfortable for overnight sleep. I had no issues while laying on my back and sleeping and the sound quality was good. The sound never got extremely loud but was loud enough to drown out the sound of a treadmill. Would I buy this? As a side sleeper, probably not, but as a back sleeper, it might be a nifty pillow to try if you need some sound to drown out a snoring partner or loud noises in the apartment above you.
Price: $99.99
Where to buy: Soli Website and Amazon
Source: The sample of this product was provided by Soli.