We use affiliate links. If you buy something through the links on this page, we may earn a commission at no cost to you. Learn more.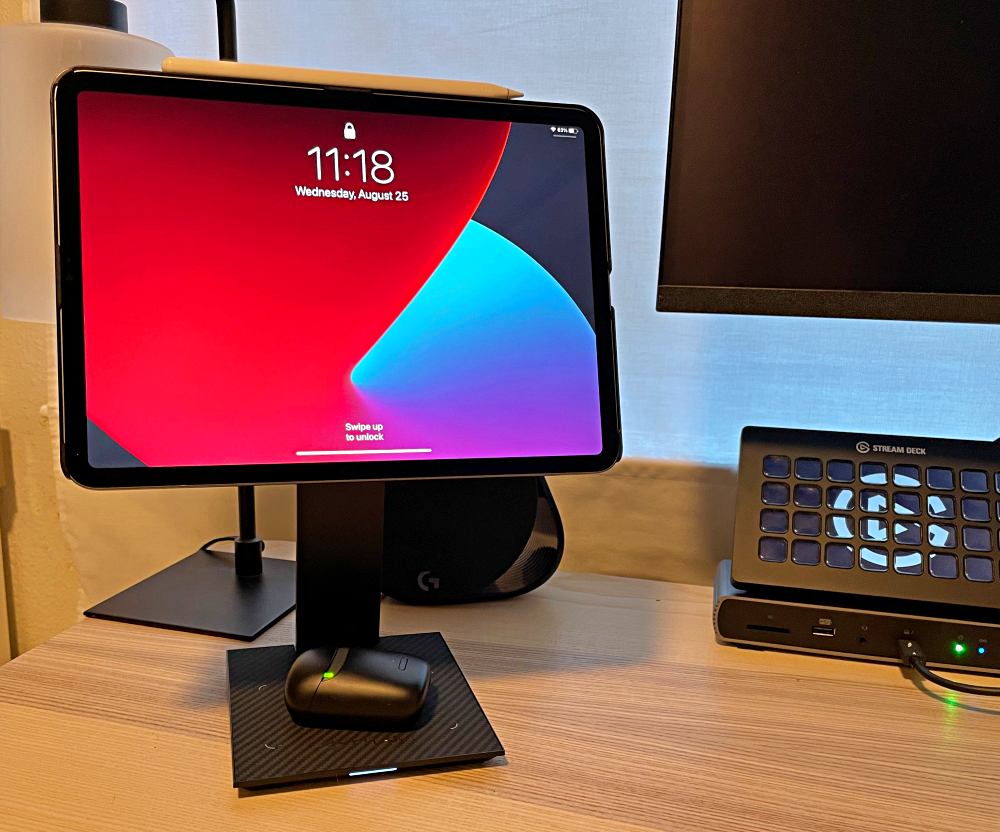 REVIEW – I thought I used my iPad Pro a lot. Then this new system from Pitaka arrived and I quickly realized how important the positioning and accessibility of the iPad comes into play at your desk. It's called Pita!Flow and is made up of a few of Pitaka's different MagEZ accessories for iPad. And while it has a bit of an obscure name, the Flow part of it totally makes sense as your iPad might just take centerstage in your daily workflow.
What is it?
Pita!Flow is a modular system of magnetic products for iPad Pro comprised of Pitaka's MagEZ Stand, MagEZ Case 2, and MagEZ Folio that all work together to let your iPad effortlessly adapt to your needs.
What's in the box?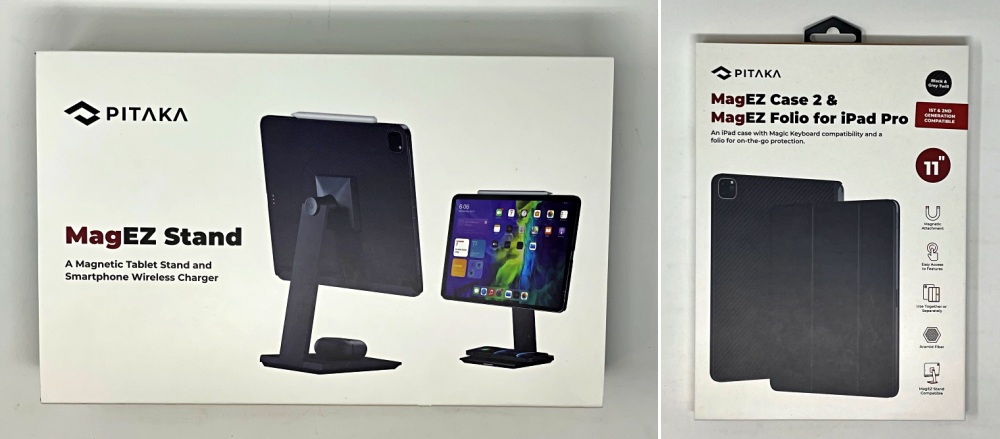 MagEZ Case 2 for iPad Pro 2021 (11″ shown here)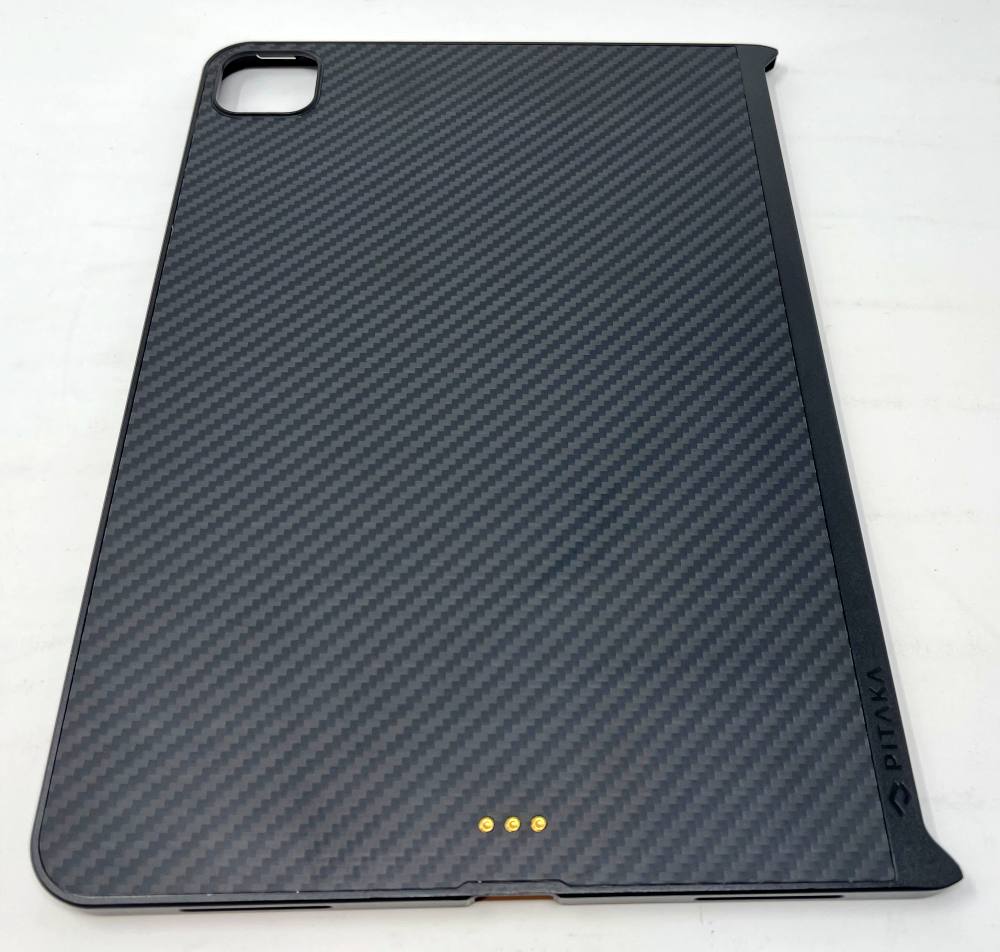 MagEZ Folio for iPad Pro 2021 (11″ shown here)

MagEZ Stand for Tablets: Stand Base, Stand Arm, (2) Assembly Screws, Charging Cable, MagEZ adhesive plate, Mounting Template, Thank you packet/catalog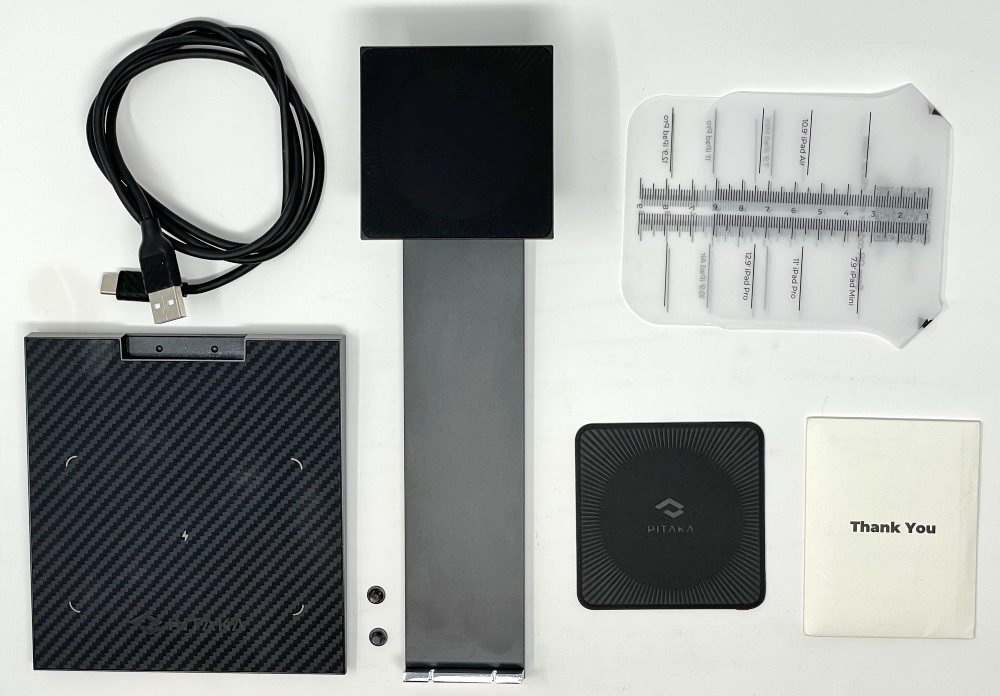 Hardware specs
MagEZ Case 2:
Available for 2021 iPad Pro in 12.9″ and 11″, (2018/2020 iPad Pro 12.9″ and 11″, and iPad Air 2020 available in bundle only)
Magnetically attaches to the corresponding size of Apple Magic Keyboard and Smart Keyboard Folio
Compatible with Apple Pencil 2 charging
Dimensions: Adds 1.5mm thickness, 1.25mm width, 2.5mm length to iPad | Weight – 82g (11″), 115g (12.9″)
MagEZ Folio:
Available for 2021 iPad Pro in 12.9″ and 11″, 2018/2020 iPad Pro 12.9″ and 11″, and iPad Air 2020
Magnetically attaches to corresponding size of MagEZ Case
Also magnetically attaches to corresponding iPad directly
Dimensions: Adds 5mm thickness to iPads (2.5mm per side) | Weight – 225g
MagEZ Stand:
Compatible with all MagEZ 2 Cases or any tablet when using the included MagEZ sticker
Power: Type-C Input: DC 5V/2A/9V/2A/12V/1.5A
Qi Charging: Output: 5W/7.5W/10W/15W
Angle adjustability: +32.5° up & -5° down adjustable view
Dimensions: 5 x 5.4 x 9.6″ | 466g
Design and features
The Pita!Flow system is made up of three parts. The MagEZ Case 2,  MagEZ Stand and MagEZ Folio. I'll show each of these to you below.
The MagEZ Case 2 is made from Aramid fibers which Pitaka uses in almost all their products. It's super light and sturdy and in this case, thin enough that they can do a couple of key things.
Run a pass-through Smart Connector enabling use of Apple's keyboards.
Run a thin metal plate on the inside of the case that adds the magnetic retention needed to work with the MagEZ Stand.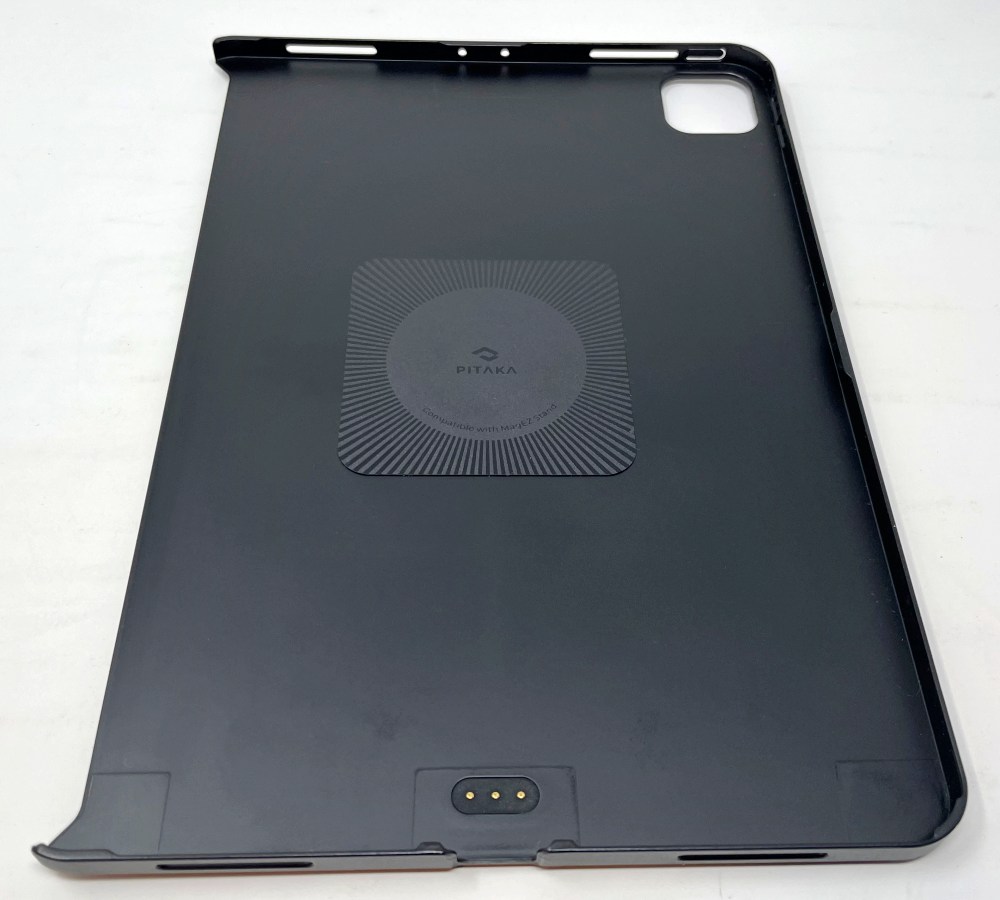 The MagEZ Stand takes up a small footprint on your desk and has a raised magnetic head for holding your iPad closer to eye level. You can rotate from landscape to portrait easily and adjust the angle with a single hand and just as easily remove it as you head out the door.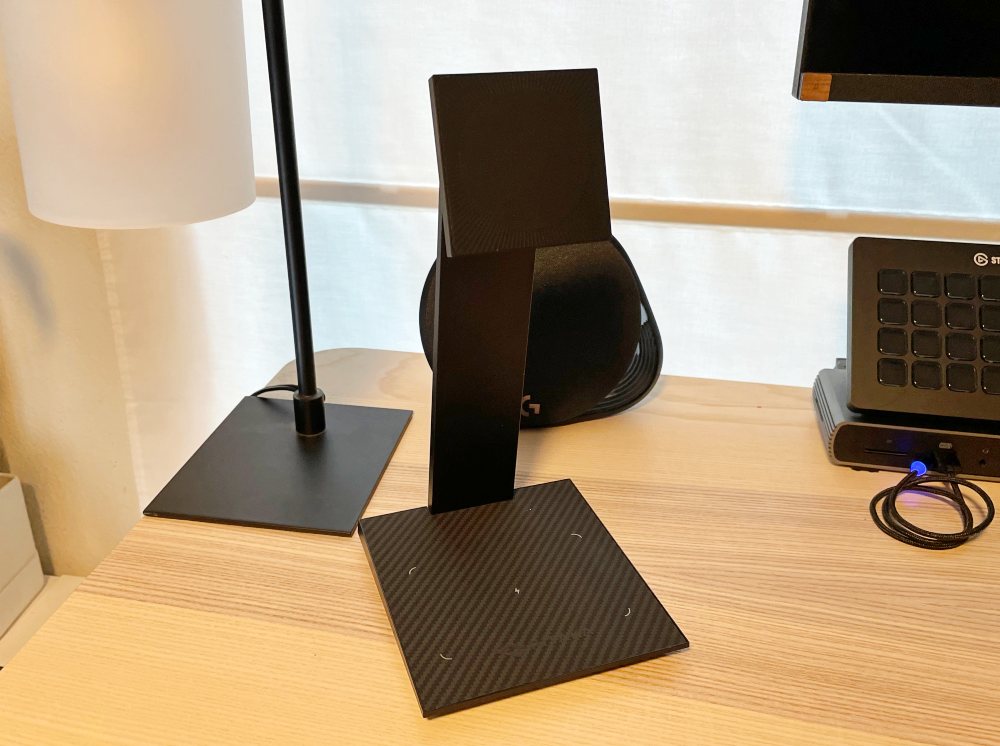 It also has a wireless Qi charging base providing extra function for what otherwise would be a squandered footprint.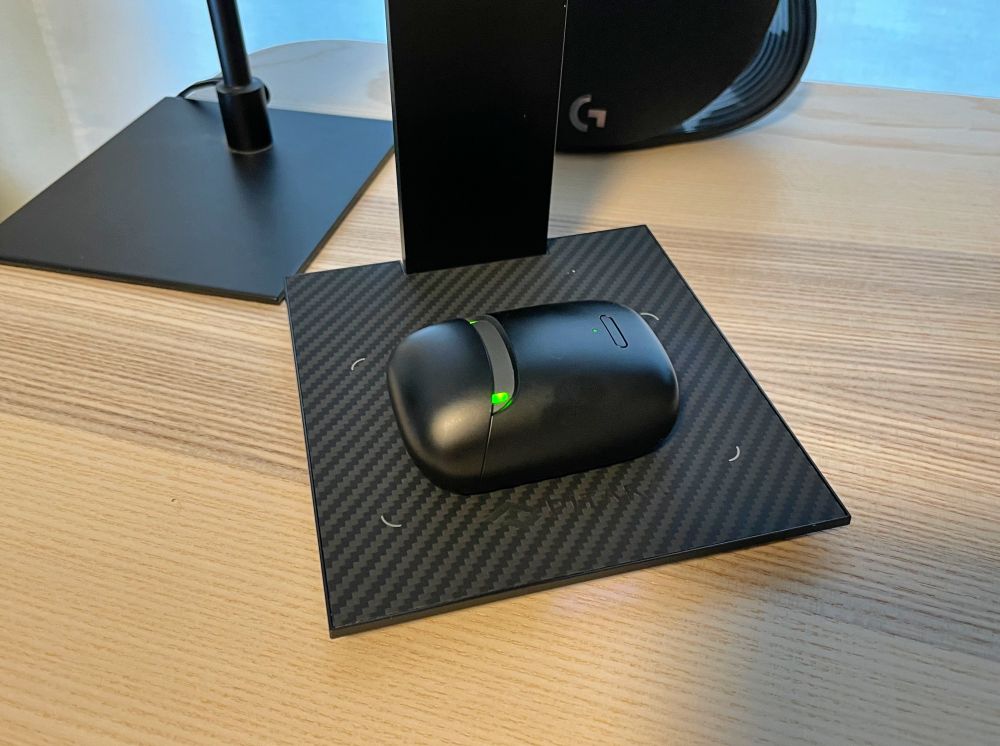 Here's a close up showing the unassembled base where you can see the Qi charging area as well as the vented area underneath that house the charging electronics.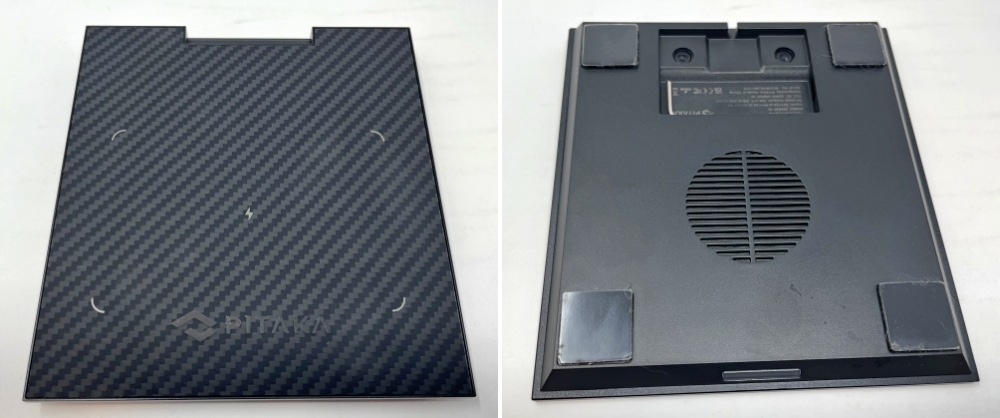 The MagEZ Folio works with or without the MagEZ Case 2, and functions much like you would expect as seen below. The added benefit of running the MagEZ Case 2 is that your iPad will have a good degree of protection should you decide to remove the Folio, which you'll want to do if you're running the MagEZ Stand.

As mentioned, the MagEZ Case 2 is also fully compatible with Apple's Magic Keyboard and Smart Keyboard Folio giving your iPad the ability to gain new superpowers in an instant.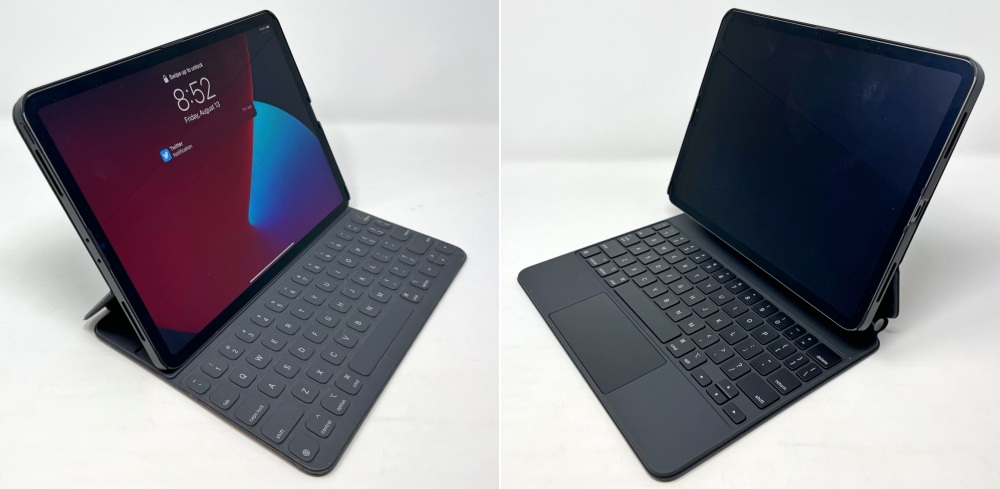 For compatibility with these keyboards and keeping things as thin as possible, Pitaka made the decision to keep their case open on the hinge side. You lose a little bit of protection when not using the keyboards or folios, but that compatibility is a big deal and worth the tradeoff. The rest of the case has raised edges, covered buttons and minimal screen-side clips to keep everything as minimal as possible.

The volume button side has been thinned out specifically where the Apple Pencil 2 needs to charge.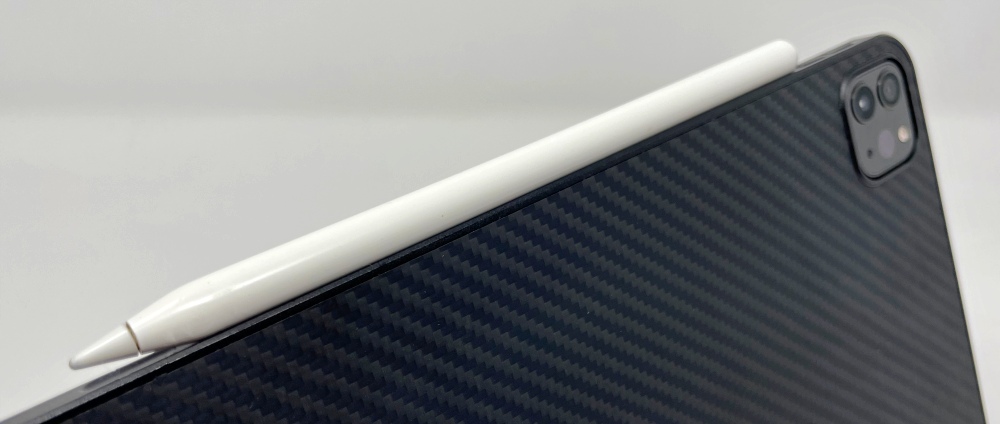 Setup
If you're using the whole system, the setup is as follows…
Install the MagEZ 2 Case onto your iPad. Lead with the volume button side and then snap the top and bottom edges over and into place.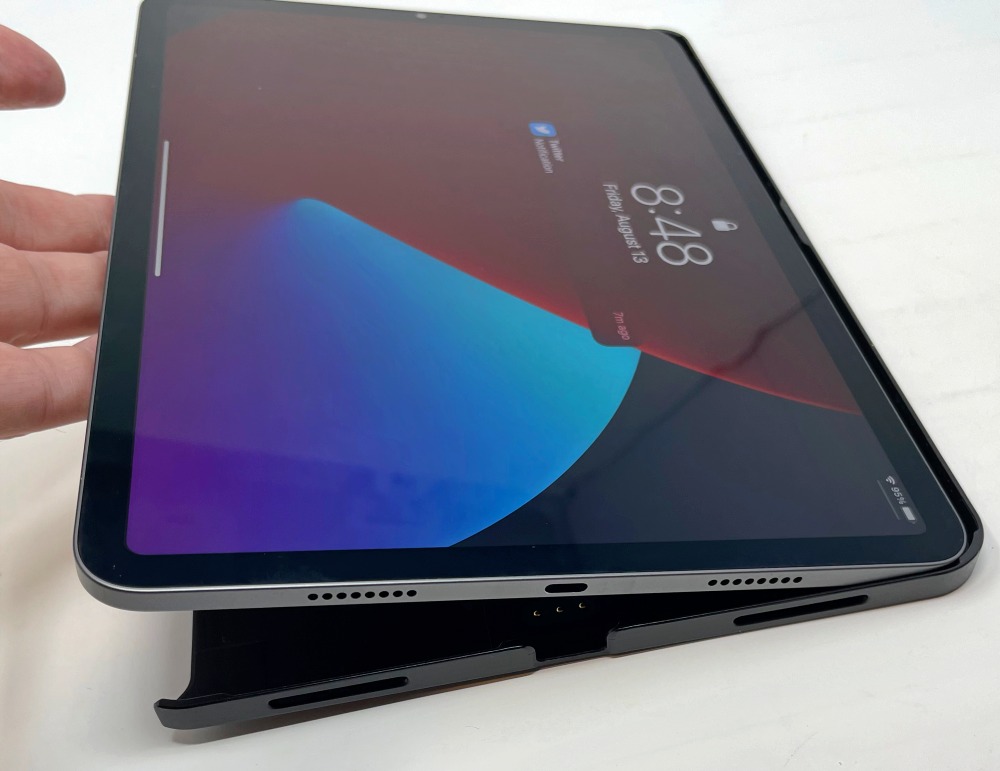 To use the MagEZ Folio…
Open the Folio and place your iPad onto the back where the magnets will snap it into place. The MagEZ Folio will work with or without the MagEZ Case 2 on your compatible iPad.
To use the MagEZ Stand…
Assemble the stand by inserting the upright into the base and then tightening the two screws with the included hex wrench.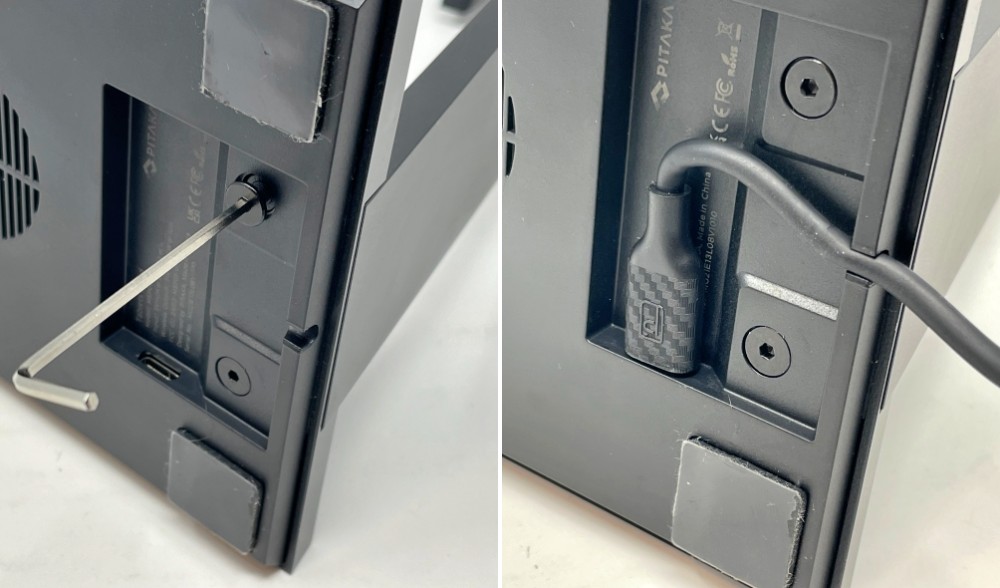 Connect the USB-C cable to the bottom of the stand and the other end to a power source.
Place it where you want on the desk and if you want to keep it from moving around, peel the backers off the 4 nanogrip feet first.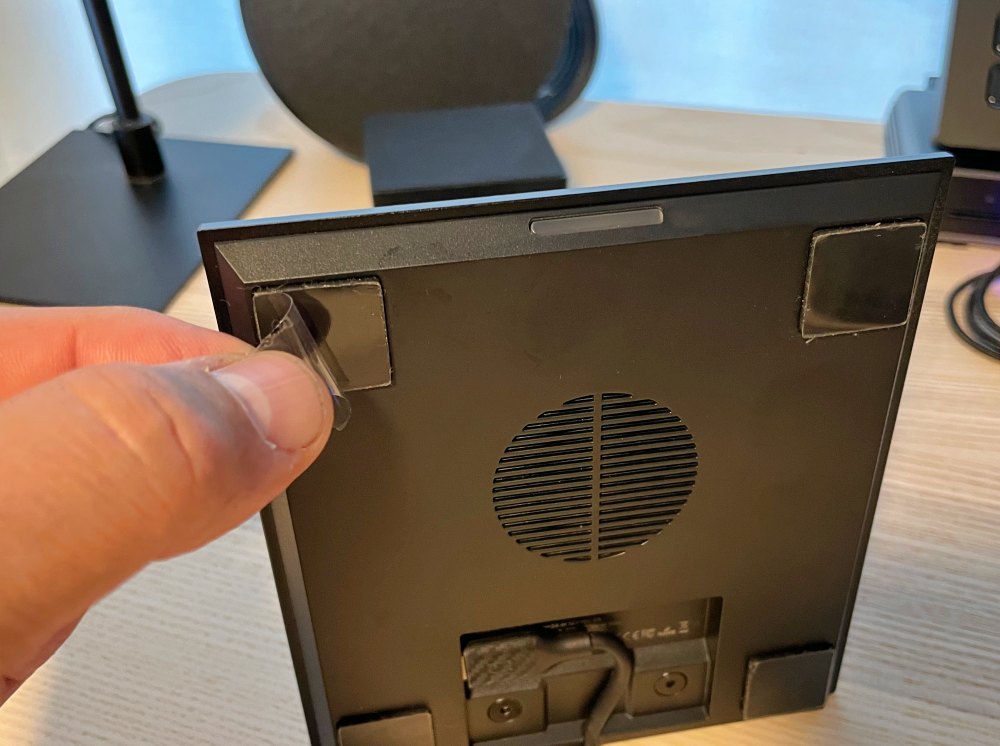 You can now easily place an iPad with MagEZ 2 Case onto the stand by placing it in the center of the stand head. You'll feel a very satisfactory magnetic pull and 'thunk' as it finds its home. Once in place you can rotate or adjust the tilt easily.
If you want to attach any tablet without a MagEZ 2 Case, use the included MagEZ sticker and template to locate it on the center back of a tablet or outside of a case if you're running one.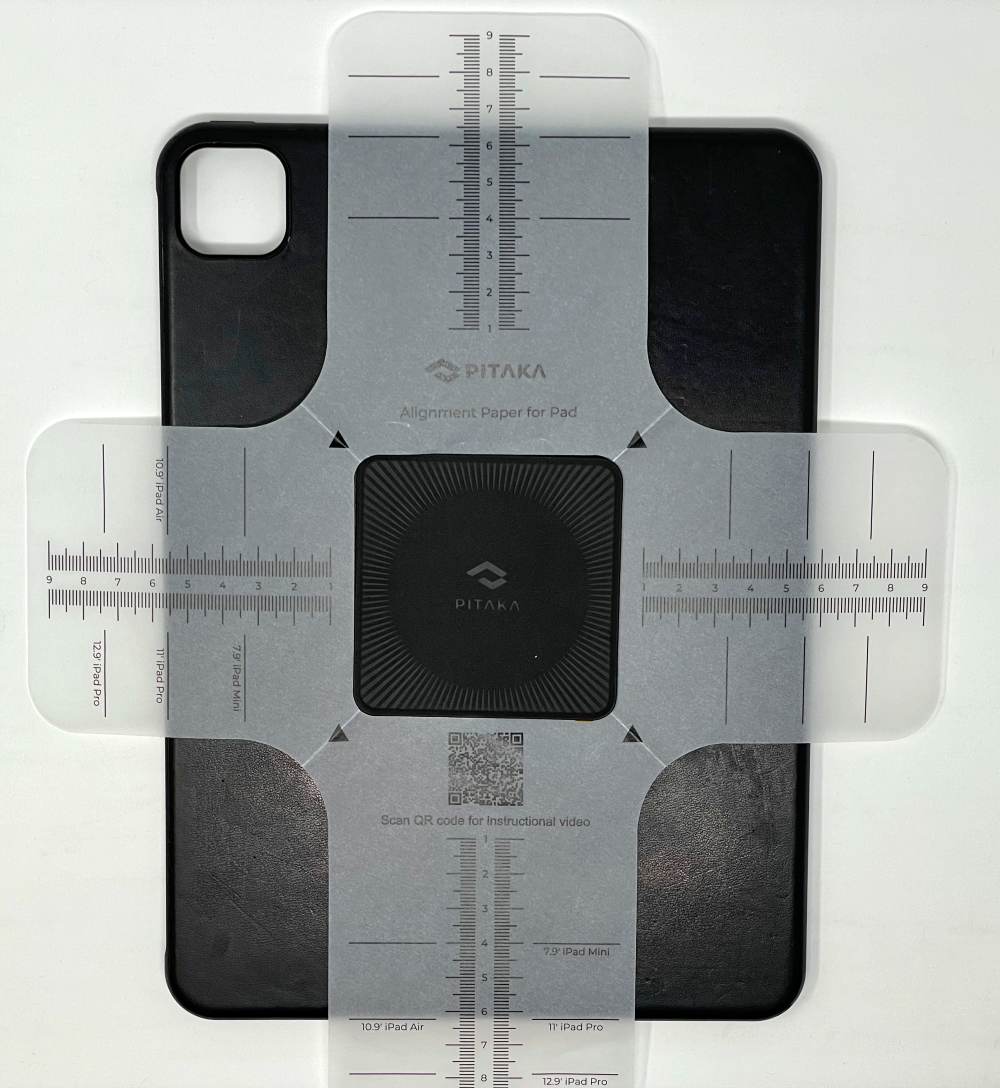 To charge a Qi compatible product on the base of the stand, just place it in the center of the marked landing zone. You may need to move your device around a bit if the charging coil in your device isn't centered.
Performance
I have always run cases on my iPad. Too afraid of fumbling and one of the reasons Apple's keyboard solutions have unnerved me a little as there are plenty of times where I don't want the keyboard on. The MagEZ Case 2 directly addresses these points while adding new functionality. It's thin enough that you don't lose sight of how awesomely thin the iPad Pros are. It has enough protection to provide some assurance that my iPad would survive the mishap I know is somewhere in my future.
Pitaka sells each of the products in the Pita!Flow system separately (at least for the newest iPad Pros), so if you're using one of the aforementioned keyboards, you can gain some peace of mind without changing anything else about your setup.
But, the centerpiece in my opinion is the MagEZ Stand. The moment it's set up, you gain a Qi charging platform and your iPad has a new home on your desk. I can describe how well this works in words, but it's easier just to show you.
If you've spent any time with Apple's Magic Keyboard, then you know it works really well as a keyboard and an adjustable landscape stand. You'll also be aware of its limitations when just wanting to hold your iPad or use your iPad in portrait mode. The MagEZ Folio solves for both protection and holding when you don't need a keyboard, while the MagEZ Stand seriously improves everything else when it's on your desk.
To take full advantage you'll want a keyboard and mouse that support multiple devices. That way, with a couple of key strokes and maybe a button push on your mouse you can quickly switch over and drive your iPad. I found it very useful for isolating an app or two to the iPad to let me focus on tasks on my computer. Facetime and other video chat apps definitely work better with the iPad this high, especially with the new centerstage feature for keeping you in frame.
If you do want to use the included magnetic sticker directly on your tablet, tablet case or other product (phone, small whiteboard, etc.) just make sure that you use the included template to help center the plate (if you want to rotate cleanly) and that the weight of whatever you want to mount is less than a 12.9″ iPad in a MagEZ Case 2. You'll also want to make sure that the surface is clean and untextured.
Two key things to note.
The MagEZ Stand does not charge your iPad. You'll need to bring your own cable for that. It's a bummer, but understandable in that you really can use any tablet with the stand with the adhesive magnet plate, so connector compatibility comes into play.
The MagEZ Case 2 has a couple of semi-pointy corners on the open side that can dig into your fingers or palms if you game on your iPad or hold it in the landscape orientation for extended periods of time.
Pitaka also pays attention to details and in this case it's a little thing where stand has a magnet in the cavity underneath keeping the hex wrench close at hand.

What I like
Magnets are awesome! Easily move your iPad from Folio, to Stand to an Apple Magic Keyboard
Stand functionality is near perfect; angle, rotation, magnets! Qi charging for phone or earbuds
Folio works really well and thin enough to easily carry along as an additional option
What I'd change
Stand desperately needs a charging cable for the iPad itself as you'll use your iPad more
MagEZ 2 Case has a couple of semi-pointy corners on the open side that can irritate when holding landscape
Final thoughts
Pitaka has a hit here as far as I'm concerned. The magic is definitely in the MagEZ Stand and how it works with the MagEZ Case 2, especially if you use the Apple Magic Keyboard. It's awesome to be able to seamlessly remove the iPad from the Magic Keyboard and snap it onto the desk stand and go to work. Being able to rotate from landscape to portrait, adjust the angle, use Sidecar or take a Facetime call makes any concerns over desktop real estate instantly fade. This one is staying on my desk.
Price: $169.99 – Case 2 + Stand + Folio Bundle | $69.99 – MagEZ Case 2 | $89.99 – MagEZ Stand | $39.99 – MagEZ Folio
Where to buy: Pitaka and Amazon
Source: The sample of this product was provided by Pitaka