We use affiliate links. If you buy something through the links on this page, we may earn a commission at no cost to you. Learn more.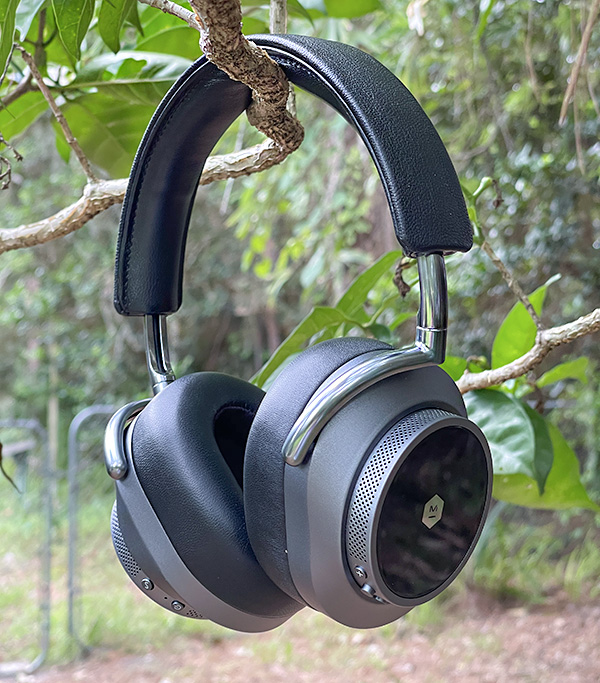 REVIEW – In the world of personal audio, sometimes it feels like headphones come in two categories. There are those that are great at music, noise canceling, calls, whatever, but not something you want to be seen wearing. Then there are those luxury models that aren't great at anything but look great doing it. Then there are headphones that both look and sound great—like the MW75 by Master & Dynamic.

What is it?
The Master & Dynamic MW75 Active Noise Canceling Wireless Headphones are the successor to the MW65—which are still available. The MW75s are a much more modern take on the retro design of the MW65 headphones. They are bigger, with larger, more cushy ear pads and headband. Plus, the metal mesh on the ear cup—an M&D icon—has been replaced with flat, tempered glass.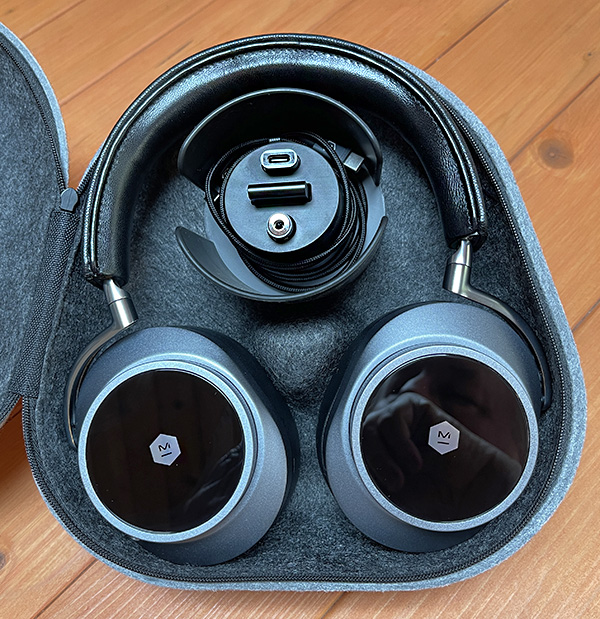 Active Noise Canceling (ANC) comes with two Ambient settings. Bluetooth has been updated to 5.1 with a range of 100 ft. Ear cups are magnetically attached. Four microphones are used for phone call clarity and four additional mics are for ANC. Ear pads and headband are clothed in lambskin leather. The headphones have a proximity sensor for on-head detection—they will pause music when removed and resume it when put back on.
The MW75's are available in four colorways: Black metal/Black leather, Gunmetal/Black leather, Silver metal, Grey leather, Silver metal/Brown leather.
Specs
40mm beryllium drivers

Up to 32 hours of battery life,

Charges to 6 hrs. Playtime in 15 minutes

5.1 AptX Bluetooth range of 100+ feet

Active noise-canceling with ambient mode

Lambskin ear pads and headband

Protective case

Design and features
It's no secret how much I've appreciated Master & Dynamic's headphones and earphones. With each new model, they have consistently improved their headphone tech and design. However, the all-new MW75 Active Noise Canceling Wireless Headphones are an exception—in a really, really good way. They both look and feel premium—as they should, considering their cost.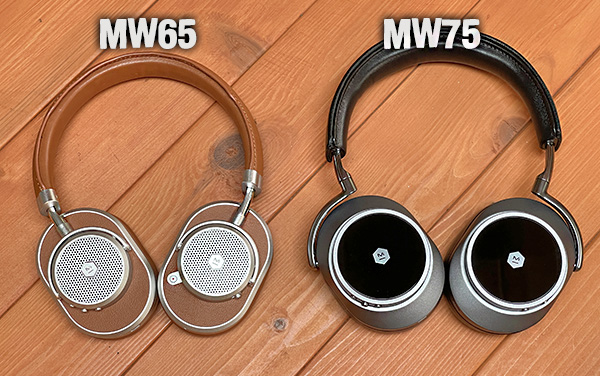 One glance at the Master & Dynamic MW75 Active Noise Canceling Wireless Headphones and you know these are not your usual set of cans. The new design is an evolution from the retro look of M&D's previous headphones which were all variations of the original (and iconic) MH40 headphones. M&D has gone back to the drawing board and only used the MH40 as an inspiration, rather than a foundation. Think Ford Mustang and you get the point.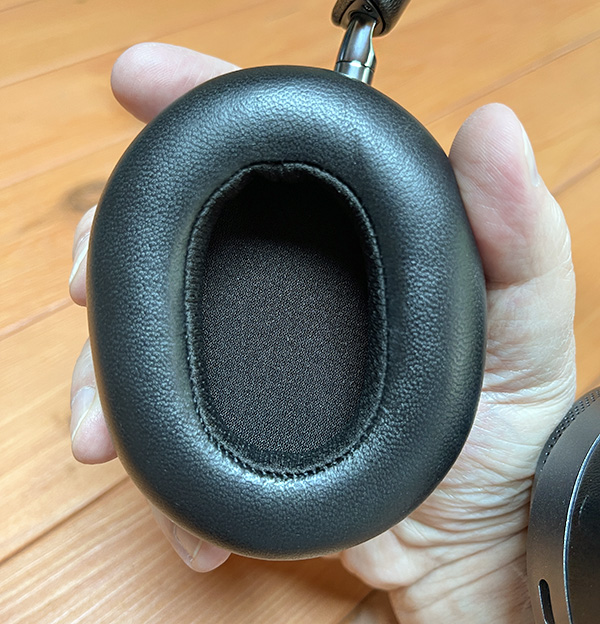 Master & Dynamic is known for using natural vs. man-made materials where possible. There's a good bit of aluminum in the MW75 headphones which may account for the extra 3.5 oz. over the previous MW65 headphones. Added padding on the headband helps with this added weight. The MW75s also fit better on people with larger noggins (yes, I have a big head). My brother has an even bigger head and he has no complaints, as he did on their previous headphones. They are the most comfortable M&D headphones yet.

Ear cups are magnetic for easy removal and replacement. They have thicker and softer padding and are a bit larger than before. These are more over-ear headphones, unlike the smaller padded MW65s which were somewhere between on-ear and over-ear.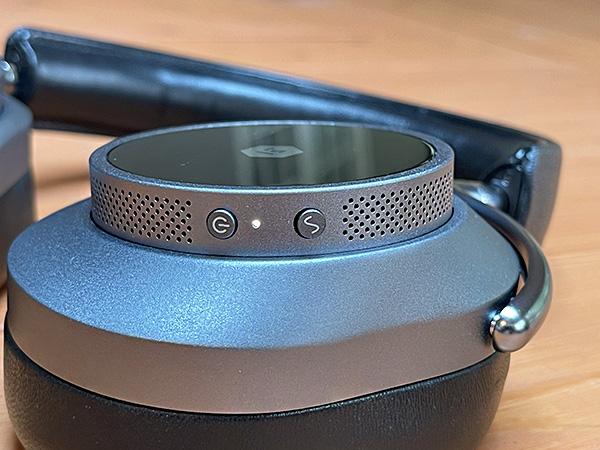 The left ear cup houses both the on/off/pairing button and ANC/Ambient button. Pairing requires pressing and holding the On button for a few seconds. What action the ANC/Ambient button performs is determined in the M&D Connect app—available on iOS or Android.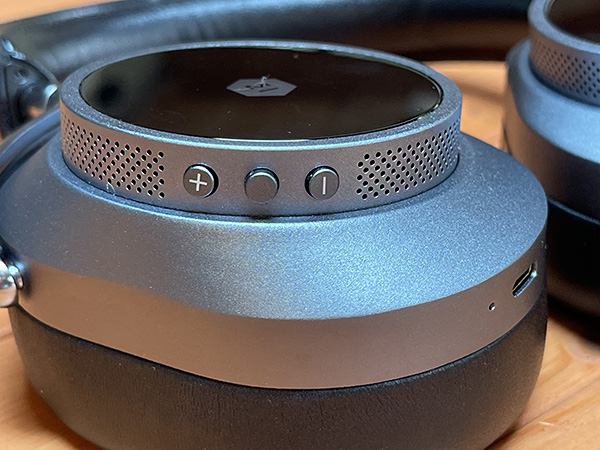 The right ear cup houses volume and pause buttons. The Pause button also doubles as skip/repeat/Answer call and Voice assistant. The manual explains the learning curve required to know the difference. At the bottom of the ear cup is USB-C charging (cable included). A light shows Green/yellow/red indicating battery status. Unfortunately, the USB-C needs to be connected to see battery life. Note that the app does give the exact percentage of battery life left.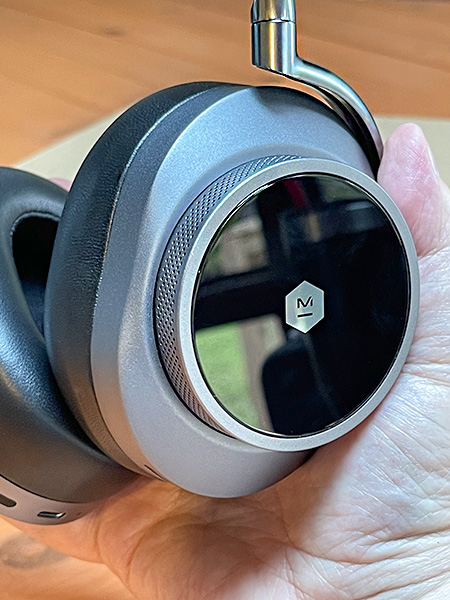 Each ear cup has tempered glass on the outside. It looks like it should be touch sensitive as on some other headphones, but they are not. However, I've always felt this was a tiresome gimmick that sounds more promising than in actual use.
Early on, active noise canceling (ANC) was a weak area for M&D in both their headphone and earphones. Maybe they listened to customer complaints or whatever, but ANC has gradually improved and is now much improved on the MW75s.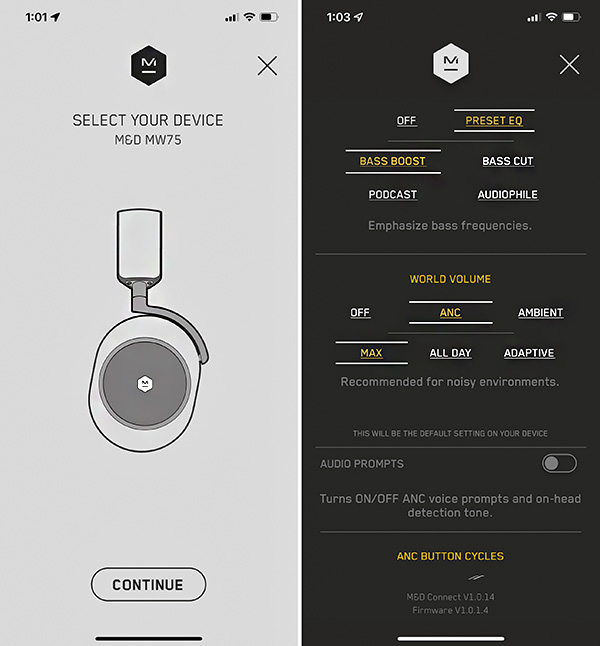 M&W offers three World Volume modes: ANC Max, All Day, and Adaptive and Ambient. Max is what it says—maximum ANC all the time. I prefer this mode, even though it shortens battery life more than All Day or Adaptive. All Day mode is more comfortable for longer listening periods and it also allows some background in so the listener is not completely isolated. Adaptive uses four built-in microphones to adjust how much ANC is needed depending on your surroundings. When using ANC, I always have it on MAX, but that's me.
Ambient uses those same mics to let background noise in for when you need to be more aware of your surroundings. Note that all ANC preferences can be controlled in the M&D Connect app.
Along with ANC and Ambient, the app also controls Sound Profiles (equalizer settings) and Audio Prompts. However, the Audiophile EQ setting and Audio Prompts in the app do not work. Hopefully, a future firmware update can fix this. Note that all EQ settings are preset, there is no customization available. The available presets are: Bass Boost, Bass Cut (treble emphasis), Podcast (Vocal and middle frequencies) and Audiophile. I'm not sure what the Audiophile sounds like because as I said, it doesn't work. If I had to choose one of the EQ choices, I prefer Bass Boost. It's the most listenable with its added bass thump, but it's still a bit too heavy sounding for my ears. The other choices alter the audio too much for my tastes. In the end, I just leave the Presets turned off.
Also included in the app is an Audio Prompts selector switch, Auto Off Timer and ANC Button Cycles—which lets you determine what setting the ear cup's physical buttons perform.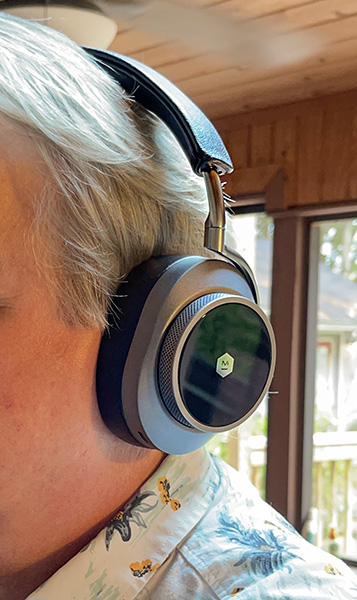 So how do the MW75 headphones sound? In a word: Glorious. As I said at the beginning of the review, the MW75s sound as good as they look. The 40mm beryllium speakers are able to capture my music as I like to experience it. Accurate, but not so much that they sound sibilant. There's just enough of a bass boost (even with Presets off) to warm up the audio giving songs a fuller, more intimate sound. Amber Rubarth's album, "Sessions From the 17th Ward" was recorded live in hi-res audio and is one of my standard test recordings. Even though the MW75s are whisper quiet with ANC on (duh), the music does not exhibit any artificiality—at all! Some headphones make vocals sound over-processed or even robotic. Not these. Everything remains natural-sounding—ANC off or on. It makes no difference. That ain't easy to do, folks.

What I like
Impeccably made
Natural materials
Sound as good as they look
Replaceable ear pads
What I'd change
Expensive
Some buttons in app don't work
Final Thoughts
It's getting harder and harder to review Master & Dynamic headphones without repeating myself. But the Master & Dynamic MW75 Active Noise Canceling Wireless Headphones have enough differences to make this review informative. Plus, they are so dang fun to use. It's wonderful to enjoy great audio in comfort while also looking good doing it. The MW75 headphones are an absolute treat.
Price: $599.00
Where to buy: Master & Dynamic and some models are on Amazon
Source: The sample of this product was provided by Master & Dynamic.