We use affiliate links. If you buy something through the links on this page, we may earn a commission at no cost to you. Learn more.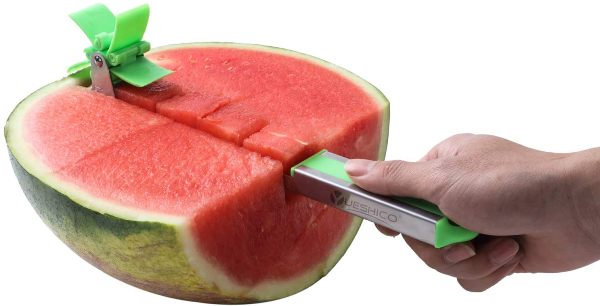 NEWS – Summer is the perfect time for watermelon. But, if you're like me, you hate cutting them up. I recently came across this watermelon slicer which is supposed to make this task easier. The Yueshico Watermelon Slicer is made up of a stainless steel channel with a handle on it and rotating plastic blades on the end.
To use it, you use a kitchen knife to cut your watermelon in half and slice off the ends. You then push the watermelon slicing tool through the watermelon horizontally. The cut pieces collect in the channel to be dumped into a bowl (see the above video).
I don't have this slicer but it has several good reviews from users on Amazon (4.3 stars out of 5). Many love it and say it makes quick work of cutting up a watermelon. One reviewer stated that their 9-year-old was fascinated by it and was eager to use it on the next watermelon. A tool that encourages your kids to help out in the kitchen? Sign me up!!
However, one of the one-star reviews mentioned that their slicer came apart and left the rivet portion of the tool in the watermelon. And according to other Amazon customers, it's messy, it gets jammed, it doesn't cut perfect cubes, nor can you adjust the size of the cut as the website seems to imply.
If the Yueshico Watermelon Slicer piques your interest, check it out on Amazon. It's selling for $10.51 at the time of this writing.